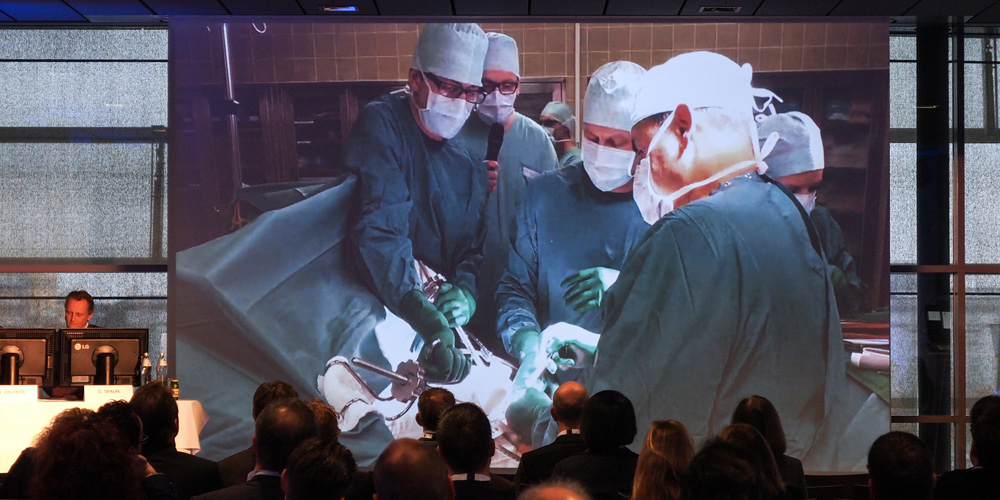 Photo: Martin Hieslmair
Technological progress in the medical field makes it more important than ever for physicians to partake of continuing professional education on an ongoing basis in order to keep up with developments in their field. In conjunction with an international surgical conference hosted by the Department of General and Abdominal Surgery at Linz's Krankenhaus der Barmherzigen Schwestern under the direction of Dr. Klaus Emmanuel, top surgeons from around the world gathered at the Ars Electronica Center in Linz November 12-14, 2014.
One of the highlights of this congress was the live broadcast of several operations direct from three of the hospital's ORs to the main auditorium at the Ars Electronica Center, where internationally renowned specialists provided real-time commentary. We recently spoke with Dr. Klaus Emmanuel about his expectations in connection with this form of presentation and the technical possibilities available today to assist surgeons operating on the abdominal organs.
This conference is extraordinary in several respects. One is, of course, attendance by internationally renowned specialists. Another is that operations being performed at the Krankenhaus der Barmherzigen Schwestern will be shown live with simultaneous expert commentary at the Ars Electronica Center. What do you expect to achieve with this form of presentation?
Prim. Univ.-Prof. Dr. Emmanuel: This form of presentation is a good opportunity to simply look over the shoulder of colleagues while they're working. And, naturally, to convene a rather large group of specialists and engage in a fascinating exchange of ideas on a variety of issues with them. For instance: Under what circumstances should particular operations be performed, and what tactical approaches should be taken? On the other hand, there's the dissemination of highly specialized updates: What is the current international standard for both malignant and benign tumors in the stomach and esophagus? And in line with the international trend towards specialization, we've invited several experts who have developed and mastered certain special operative techniques. They include Prof. Lee Swanstrom from Portland and Dr. Joerg Zehetner from San Diego, as well as German professors, Dr. Hubert Stein and Dr. Jörg Rüdiger Siewert, who've made major contributions to the development of surgery on the esophagus and stomach, and Prim. Univ.-Prof. Dr. Rudolph Pointner from the KH Zell am See.
So, in spite of the possibilities of teleconferencing, this sort of "physical" gathering is still necessary today.
Prim. Univ.-Prof. Dr. Emmanuel: Needless to say, this could be simulcast worldwide, but then, of course, people would also have to convene locally to view it. And it's a simple fact of modern, everyday life that it's hard for a lot of people to do this. You need a platform that enables physicians to take time out from their regular routine at the clinic and to really dedicate themselves to continuing professional education.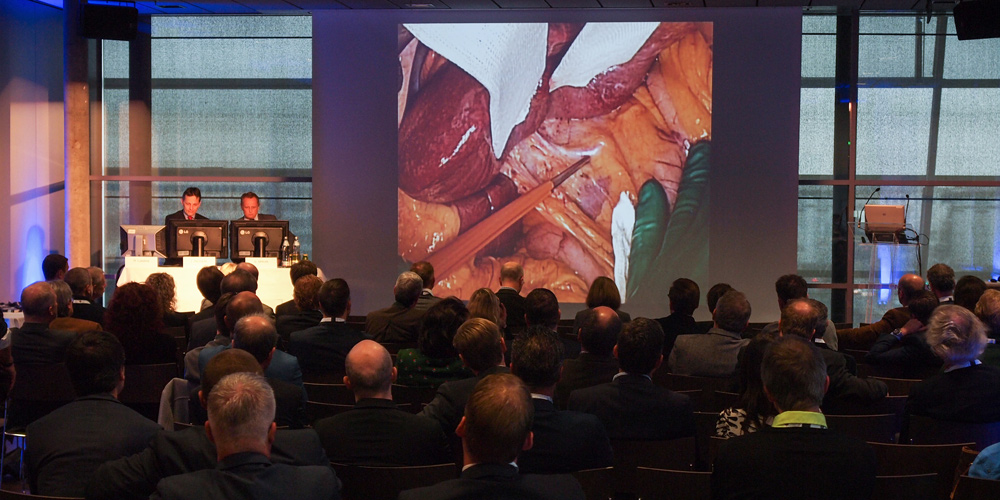 Photo: Martin Hieslmair
You specialize in operations on the organs of the abdomen. What technological developments have made an impact on operative techniques in this field? In other words, what's possible now that was merely a theoretical prospect a few years ago?
Prim. Univ.-Prof. Dr. Emmanuel: There have been enormous developments in the technology as well as the operative techniques in recent years. Much of this progress is attributable to modern anesthetic and surgical procedures. Plus, there's already quite a lot in the field of abdominal and thoracic surgery that can be performed using minimally invasive techniques. These have been in use for a couple of years now. What's absolutely current is that we're starting to perform various operations through the body's naturally existing holes and openings—for example, the mouth, the rectum and the vagina. This is an emerging trend, though, indeed, one that's existed for a while and has been subjected to critique. But the technological instruments are constantly being improved, and that's making more and more things possible.
Because this entails fewer complications?
Prim. Univ.-Prof. Dr. Emmanuel: There aren't necessarily fewer complications—the tremendous amount of experience surgeons have amassed with conventional techniques has significantly reduced the complications in conjunction with them too. But these new operative techniques are simply gentler; they go easier on the patient.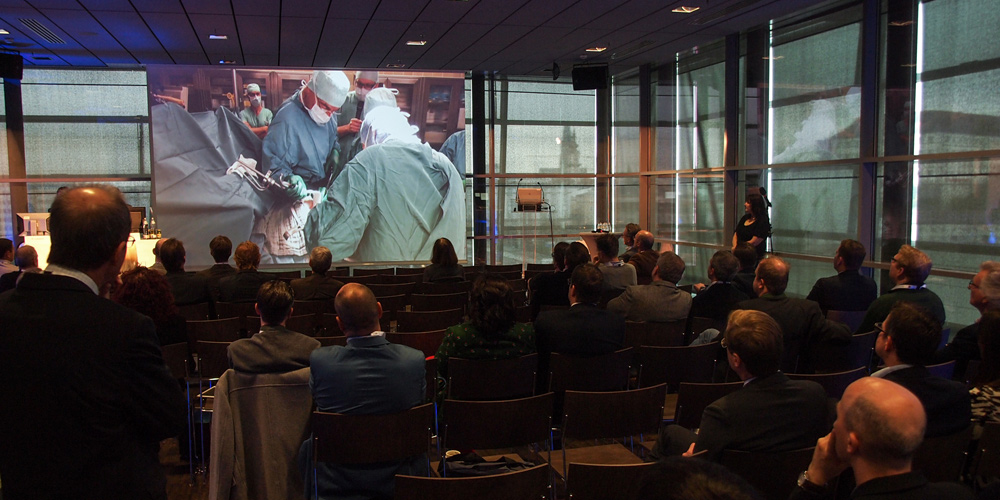 Photo: Martin Hieslmair
Imaging procedures have assumed greater importance in medicine. Which imaging procedures would surgeons like to have at their disposal some day?
Prim. Univ.-Prof. Dr. Emmanuel: What we'd like to have is a really complex, three-dimensional depiction of the human body; a fusion of the various imaging systems—MRI, computer tomography, ultrasound, etc. If these images could be merged into a 3-D system that could simulate the organic structures a surgeon will be encountering during the course of an operation, then this would be a very, very big help in conjunction with certain procedures—surgery on the liver in particular.
Why did you select the Ars Electronica Center as the venue for this three-day conference?
Prim. Univ.-Prof. Dr. Emmanuel: Several factors made the Ars Electronica Center the right choice. First, its central location here in Linz—and, to boot, a beautiful setting on the banks of the Danube. Plus, we are sure that the live broadcasts of surgical procedures right from the OR are technically feasible and the AEC has an experienced crew that has already successfully carried this out for other conferences. And the Ars Electronica Center offers adequate capacity for 100-150 medical colleagues to convene in spacious premises that also feature a pleasant ambience, a setting in which participants can meet & greet and one that's conducive to highly productive one-on-one chats and exchanges of views during the breaks.

Prim. Univ.-Prof. Dr. Emmanuel is specialist in surgery, visceral and thoracic surgery and the head of the Executive Board and the Primary General and Visceral Surgery of the Krankenhauses der Barmherzigen Schwestern Linz, the oncological leading hospital in Upper Austria (Photo: BHS/W. Harrer).
Information of how you can use the ambiance of the Ars Electronica Center for your event, please contact the Eventservice of the Ars Electronica Center.