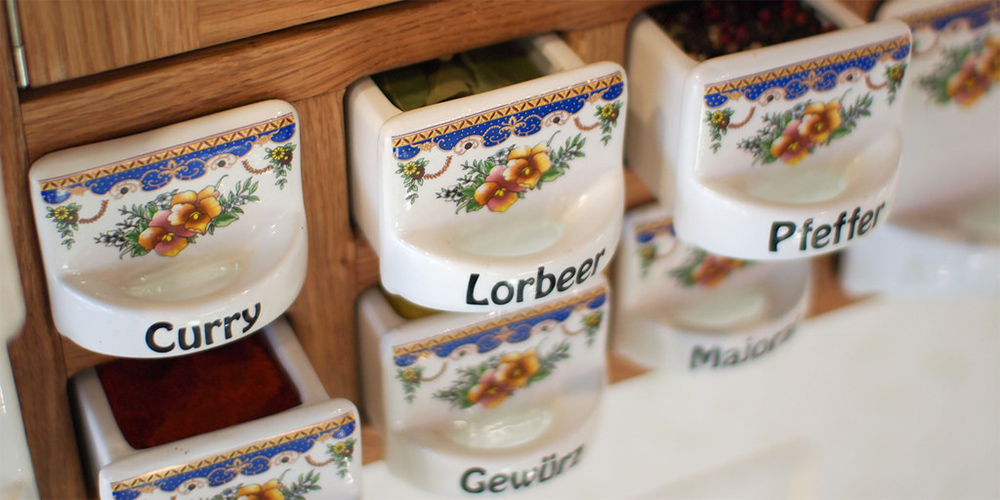 Photo: Martin Hieslmair
The Alps, Mozart, Wiener Schnitzel, "The Sound of Music"—when people think about Austria, they have certain images about this country in mind. While conversing with strangers who had never been to Austria, Verena Mayrhofer was confronted by numerous such stereotypes, which she's now collected in the form of interviews and sorted into acoustic historic documents neatly arranged in a multi-compartment dispenser system for kitchen staples. "Draw:er" is currently on display in the "TIME OUT .03" exhibition staged by the Ars Electronica Center in cooperation with Linz Art University's Time-based and Interactive Media program.
What sort of questions did you ask these people?
Verena Mayrhofer: In my interviews, I posed three questions. First, I wanted to know what images come to mind when they think about Austria. Then I asked where, in their opinion, these images come from. And another question was whether they're acquainted with anyone from Austria. These interviews were then translated into various Austrian dialects, recited by native speakers, and the resulting audio files were assigned to the various drawers in the staples dispenser. The playback volume of the content in the drawers is adjustable—the wider the drawer's opened, the louder it gets. Plus, users can leave several drawers open at the same time and mix the sounds as they like.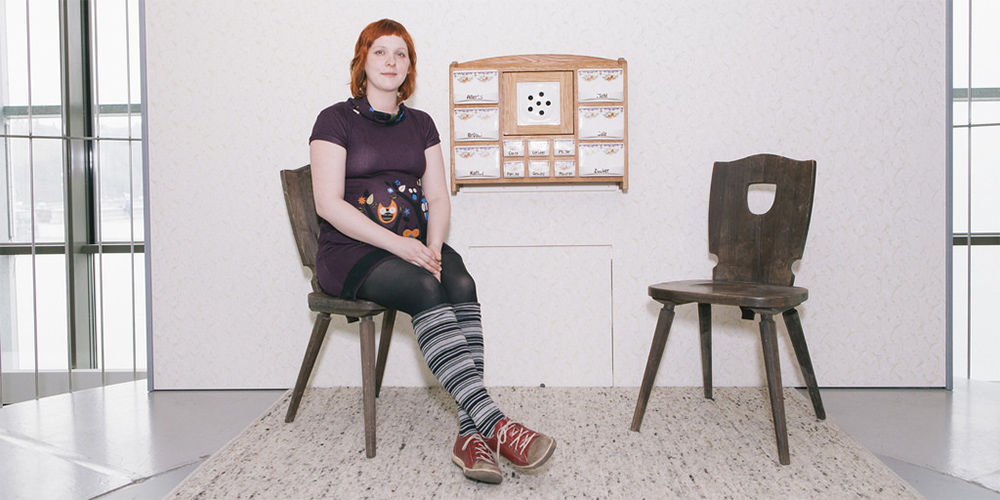 Photo: Florian Voggeneder
This brings to light lots of stereotypical images of Austria …
Verena Mayrhofer: Needless to say, this is a matter of preconceptions and clichés, but also of how people deal with them. When somebody from another country talks about your own nationality, do you take it personally? A big reason why this is so fascinating is that you only hear the dialect version of the interviews. And in this installation, you hear only the answers. Are you nevertheless able to recognize where these people come from when they speak about Austria in dialect?
Who were your interviewees?
Verena Mayrhofer: There were people from Namibia, New Zealand, Japan, Chile and Hawaii, as well as Europeans—for instance, people from Great Britain and Italy. I made an effort to conduct interviews about Austria with people from a variety of regions worldwide. There were more interviews than drawers. The speakers who recite the answers as translated into Austrian dialect are folks I know here in Upper Austria. This went quite well; I even read a few of the answers myself.
Why did you choose this dispenser for kitchen staples as the storage system for your audio installation?
Verena Mayrhofer: For me, this set of ceramic compartments is a traditional symbol of Austria. In bygone days, there was one of these in every household's kitchen, with labeled drawers to conveniently indicate what's inside—pepper, coffee, sugar, etc. Nevertheless, it turned out to be rather difficult to find the setup that's perfectly suited to my project.
And why did the subject of nationality interest you in the first place?
Verena Mayrhofer: Actually, I came up with the idea for "Draw:er" during my Asian trip, when I was constantly getting into conversations with people and telling them I'm from Austria. This was during the time when there was a lot of international media coverage of that case of incest in Amstetten—about Josef F., who kept his own daughter imprisoned in his cellar. The reaction I often got was: "Ah so, you too are from Austria!" And it was also interesting how I reacted to this myself. So it turns out that, in a certain way, you do identify with your own nationality.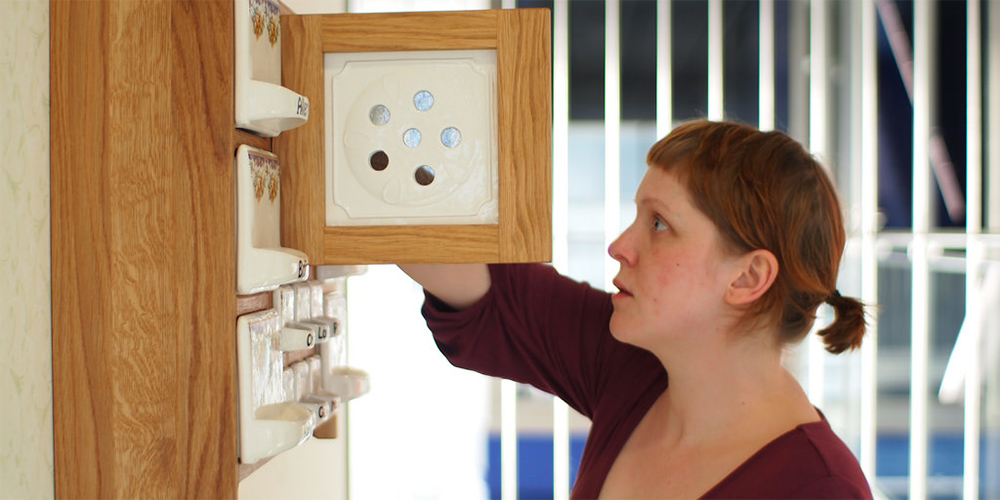 Photo: Martin Hieslmair
Were you surprised by the answers?
Verena Mayrhofer: With some people, it was pretty clear that the answers would turn out the way they did. But, then again, several of them said that they'd actually never given the least bit of thought to Europe. And that gave me food for thought too.
The exhibition TIME OUT .03 will be opened until June 2015 at the Ars Electronica Center Linz.