The five-member Indonesian R&D collective XXlab is an exclusively female staff composed of designers, artists and programmers. With SOYA C(O)U(L)TURE the winners of the [the next idea] Art and Technology Grant voestalpine 2015 want to combat water pollution and poverty in Indonesia by taking advantage of an innovative process, which takes the toxic residues and polluted water that are byproducts of Indonesia's intensive soy production and utilizes them as inputs for manufacturing edible cellulose as well as bio-fuel and biologically tanned leather. All the equipment and ingredients necessary for this treatment are low-cost, commercially available items and there's no need for on-site experts to start up the process. In do-it-yourself fashion, anyone can get busy in their kitchen at home.
At the Ars Electronica Futurelab, the team now had a residency to develop the research project. We met the five team members, Irene Agrivina, Eka Jayani Ayuningtyas, Atinna Rizqiana, Asa Rahmana and Ratna Djuwita, at the 2015 Ars Electronica Festival at the beginning of September, and talked to them about their ambitious project.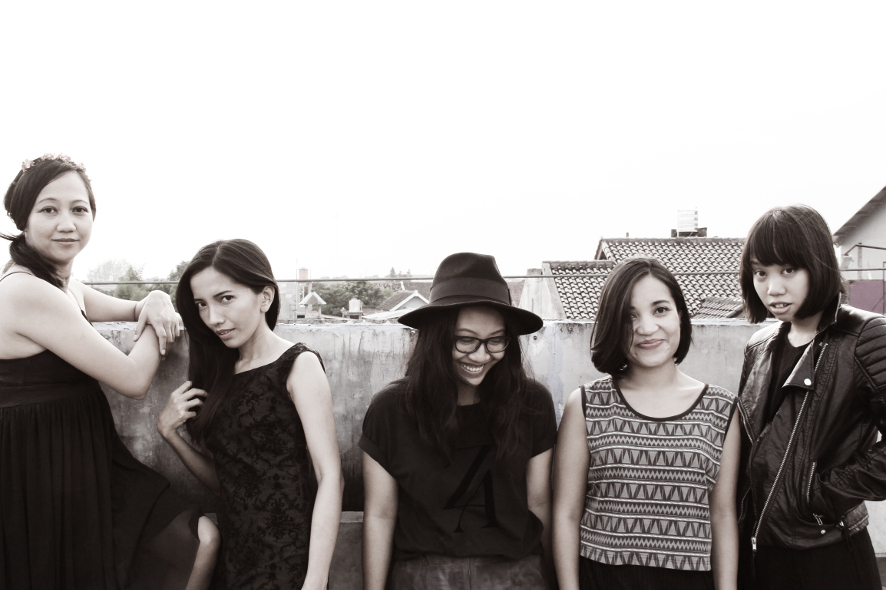 Credit: Yudhistira Purwa Anugerah
You all have different areas of expertise. How do you know each other and how did your collaboration start?
Irene Agrivina: We met at a workshop on basic open source software and hardware called Miss Baltazar's Laboratory ID. Some of us had known each other and worked together for several years. Our collaboration started with curiosity, how far we as females could achieve in terms of making and experimenting in art, science, and technology.
Your ambitious goal is to combat water pollution and poverty in Indonesia. Why is the Soya production so environmentally harmful?
Eka Jayani Ayuningtyas: Tofu production wastewater will increase the amount of organic compounds in the water, which will harm the water's biota. Due to the high chemical oxygen demand (COD) value, the anaerobic decomposition will yield ammonia, carbon dioxide, acetic acid, hidrogen sulfide, and methane, which are highly toxic to the biota. The wastewater will turn dark brown in colour and emits strong odor over time, decreasing quality of life for local people.
Atinna Rizqiana: On the other hand, tofu production is a common home industry in Yogyakarta (and Indonesia) with factories located all over the region. Furthermore, a large number of Indonesians still use water from rivers for bathing, washing, fishing, and children playing. When tofu wastewater is disposed to the rivers, the polluted water causes diarrhea, cholera, skin and bowel diseases, and other ailments.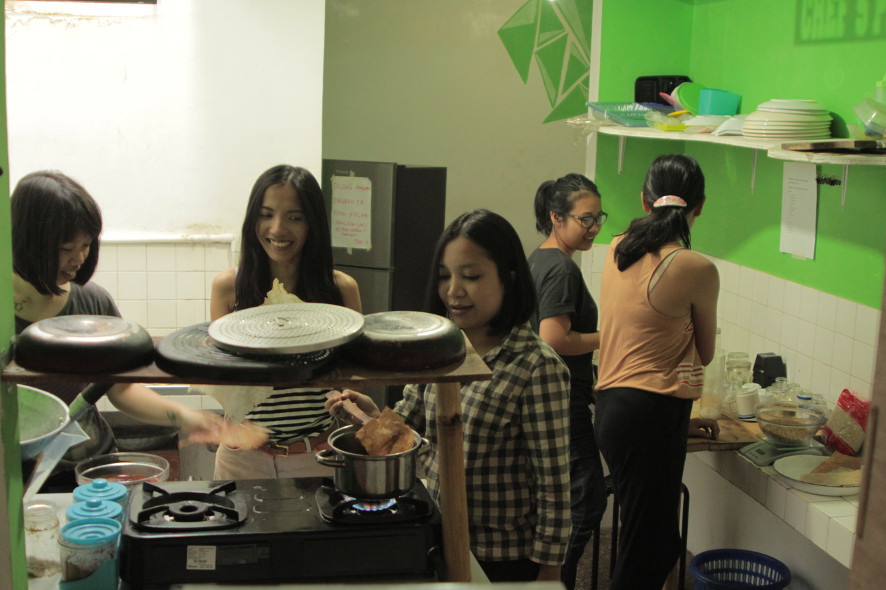 Credit: XXLab
How does SOYA C(O)U(L)TURE work?
Asa Rahmana: We take wastewater from tofu factories and put it in a homegrown starter culture medium. The Acetobacter xylinum bacteria converts glucose into cellulose fibres, forming microbial cellulose sheets known locally as nata de soya in 10-12 days.
Ratna Djuwita: These cellulose sheets can either be used for consumption – nata de coco, a variant made of coconut water, is a popular snack food – or further processed (pressed, dried, enhanced with colouring and coating) to make clothing and craft materials. Additionally, the residue water from the bacterial process contains a small amount of microbial fuel.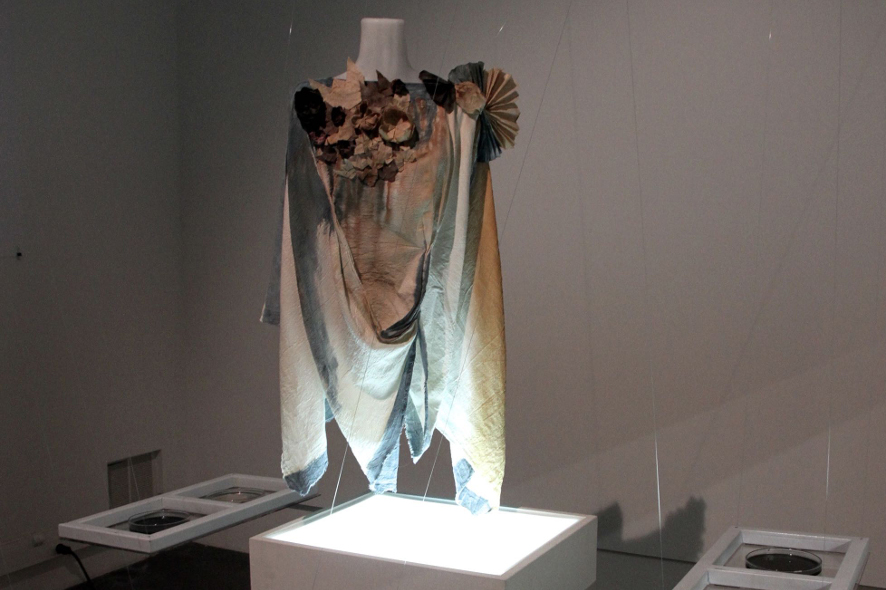 Credit: Tommy Surya Rahadyanto
That sounds great! How far are you with the implementation?
Irene Agrivina: We have been documenting the entire process, trying out alternative materials (coconut and seaweed water) and different methods for several stages of the process (cultivating starter, pressing, enhancing) to find out which methods yield the best results.
Asa Rahmana: Throughout the process, we have been involving local female homemakers from the village of Srandakan, Bantul, Yogyakarta, and consulting our work with a professor of Microbiology from Gadjah Mada University, Yogyakarta.
Atinna Rizqiana: For the residency at the Ars Electronica Futurelab and the exhibition for the Ars Electronica Festival, we built a small incubator with Arduino, simple sensors and switches, making use of regular household objects to keep the temperature stable while starter cultivation and the cellulose formation are taking place.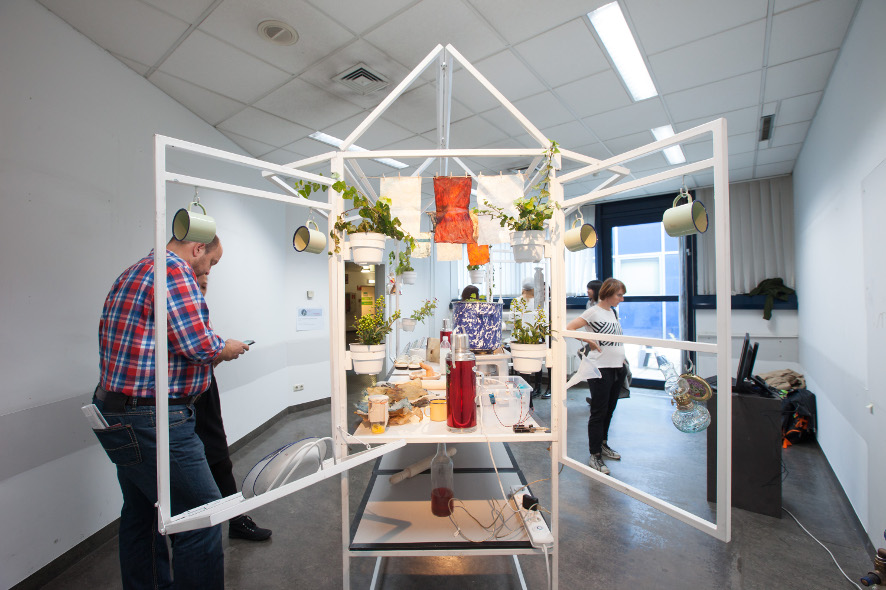 Credit: Florian Voggeneder
At the Ars Electronica Futurelab you have the chance to enhance/upgrade your project in collaboration with an experienced crew. How can the members of the Futurelab support you?
Eka Jayani Ayuningtyas: The advanced equipment at the Ars Electronica Futurelab makes it possible to measure and control different variables throughout the cellulose formation process (such as acidity, organic contents and other compounds of the bacterial culture) to improve production efficiency and reduce spoilage.
Asa Rahmana: More importantly, we can gain feedback and insights for this project from people at the Futurelab with their diverse expertise.
Ratna Djuwita: In addition to those, seeing other projects at the Futurelab has given us so much inspiration and ideas for possibilities to implement on our project!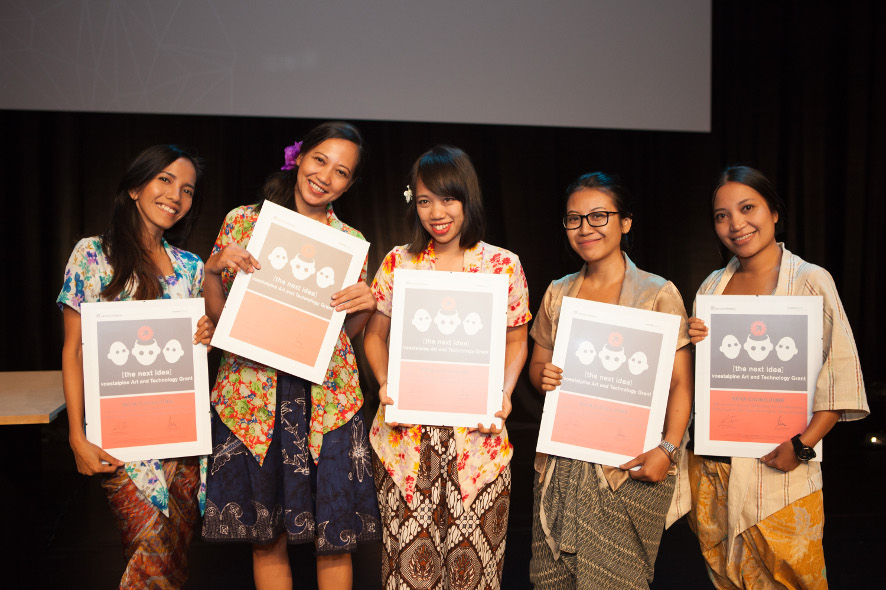 Credit: Florian Voggeneder
At the 2015 Ars Electronica Festival you are represented several times. Of course at the Ars Electronica Gala, where you get your Grant, at talks and at workshops. What are the talks about and which workshops do you offer?
Irene Agrivina: We will talk about the process behind XXLab's work, the biomaterial production process, its environmental impacts on the city of Yogyakarta, and how it creates entrepreneurship opportunities for women, especially from low-income households.
Atinna Rizqiana:The workshops will be an introduction on bacterial culture for the public, using equipment and ingredients easily found in ordinary kitchens to do biological experiments. The workshops will show the process of making biomaterial using kitchen waste.
About XXLab
XXLab is an all-female collective from Yogyakarta, Indonesia with members from interdisciplinary backgrounds. They focus on the exploration of art, science, and free technology using open source software, hardware, and materials. They also run a number of DIY (Do It Yourself) and DIWO (Do It With Others) workshops.
Open systems advocate, technologist, artist and educator Irene Agrivina is a graduate of the Graphic Design Faculty at the Indonesia Institute of Art (ISI), Yogyakarta and Culture and Religion Master Program at Sanata Dharma University, Yogyakarta. She is one of the founding members and current directors of the House of Natural Fiber (HONF), a Yogyakarta-based new media and technology laboratory. Created in 1998 as a place of open expression, art and cultural technologies in the wake of the Indonesian "revolution", HONF was born out of the social and political turmoil against the Suharto regime, its nepotism and governmental corruption. Agrivina runs HONF's 'Education Focus Programme' (EFP) which focuses on the application and practical use in daily life of collaborative, cross-disciplinary and technological actions responding to social, cultural and environmental challenges. In response to the needs of societies in development and transition, HONF and EFP apply open, collaborative and sustainable actions that systematically expand or convert accessible technologies to be used as multifunctional tools and methodologies. In 2011, Agrivina established Fablab Yogyakarta as the first Fablab in South East Asia, and in 2013 Agrivina co-founded XXLab, a female collective focusing in art, science and free technology. Agrivina is also a co-founder of Transformaking, an annual International Summit in Transformative and Critical Making. Currently she is initiating OSHW (Open Source Hardware for Citizen Science) projects in Asia.
Eka Jayani Ayuningtyas has a Bachelor's Degree in English Literature but spends more time as a self-taught front-end developer and musician than as a translator. She is interested in media studies, the web and the open culture, co-founding one of the first Indonesian language music podcasts DeadmediaFM in 2007. Her activities in the local music scene brought her into contact with the new media art laboratory House of Natural Fiber in early 2010s. She has been involved in some of their projects since, and she joined the all-female collective XXLab in 2014. She writes and performs music with her bands, Nervous and Brilliant at Breakfast.
Atinna Rizqiana is a researcher and a costume designer. She graduated from University of Indonesia on 2008, and work as a part time researcher for corporate and NGO ever since. After her moving to Jogjakarta, she decided to run her own eco-conscious fashion label called Draoupads, along her activity as a costume designer for theaters and movies. She is also an active member of xxlab, an open female collective who explores art, science and technology in their own kitchen.
Asa Rahmana is a singer-songwriter, maker, and multi-discipline artist. She is founding member and singer-songwriter of Belkastrelka, an experimental-digital based music group. They currently initiated a long term collaborative project called "Jalan Emas" with Garasi Performance Institute, an experimental contemporary theater performance which use collective artist approach. Beside her musical activities, she belongs to an interdisciplinary female collective on art, science, and technology called XXLab. Following her passion, she runs a homemade and natural personal care brand called Kitchen Table Science Club where she busy experimenting with butter and oils, while trying to grow awareness and sharing knowledge about natural and healthy product.
From 2003 to 2008 Ratna Djuwita work and managed Ripple Magazine, one of Youth media who represent youth generation's criticism towards movements, culture and lifestyle. along with her career in media, she developed Open Labs, a community for electronic music and media art under common room network foundation. She was be director of marketing communication for EAT, one of street wear brand that recognize as pioneered the Indonesian board riding and street wear industry. she was actively involved in House of Natural Fiber ( HONF). She start initiative project with HONF called Open Apparel, a platform that tries to open new opportunities fir fashion industry in Indonesia, developing secondary industries, increase employment opportunities and new possibilities. supported by HONF she and another 4 girls from Yogyakarta collected an open group called XXLab, it's a collective for art, science and free technologies. their last project is SOYA C(O)U(L)TURE a research project to develop producst from soya waste water. In this ambitious research program XXLAB use bacteria and tissue culture to generate bio fuel, food and leather like fabrics from soya liquid waste. The aim is to create a sustainalbe and cheap production process for such products and to reduce water pollution. she also developing her fashion line called PARD and BEHAVIOR Yogyakarta fashion brand who present selected works by international and regional commission artist.