Organic structures and twisted houses – the artworks of Nick Ervinck are a very special eye-catcher. After all, they look like organs and vessels of living beings and are showing at the same time what kind of sculptures can be converted into reality thanks to 3D printing. In the Elements of Art and Science exhibition at the Ars Electronica Center selected works by the Belgian artist can be viewed from all different angles.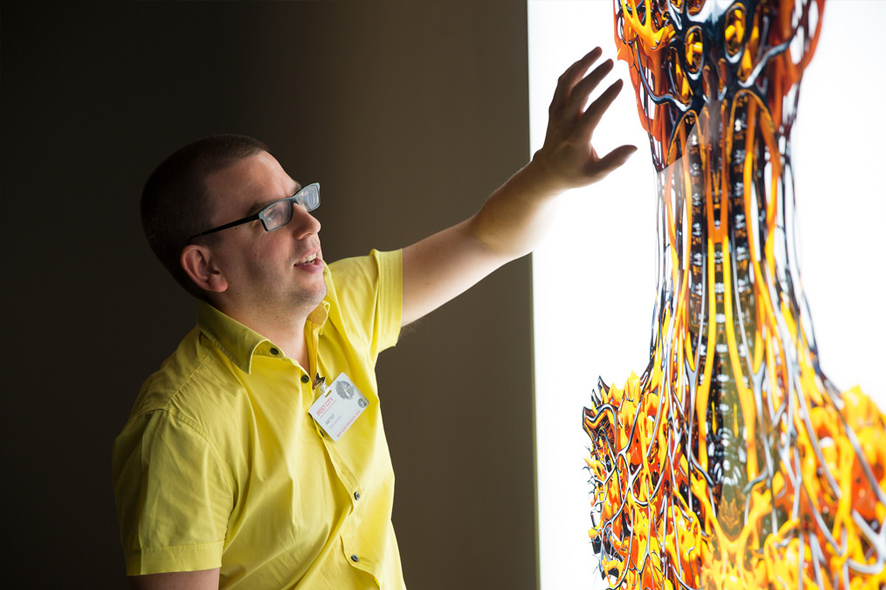 Nick Erwinck presented his works at the 2015 Ars Electronica Festival in Linz. Credit: Tom Mesic
The exhibition "Elements of Art and Science" is currently showing some of your 3d printing works. Why are you so fascinated about 3d printing?
Nick Ervinck: Somewhat disappointed in contemporary sculpture and its lack of renewal, I turned towards new media in order to elaborate a new language generated by computer software, and to compose forms that were previously unthinkable. The computer offers new ways for designing and thinking. With 3D printing I can produce almost any type of intricate geometry. It enables me to find new solutions for the art of sculpture.
Although I use copy paste techniques in a 3D software environment, my work holds numerous references to the tradition of sculpture (such as the work of Hans Arp, Henry Moore or Barbara Hepworth) and to architecture (think of Greg Lynn, who introduced the blob as an architectural constructive principle). I am particularly interested in the ways computers can be used in the realization of new, organic and experimental (negative) spaces and sculptures within sculptures.
AGRIEBORZ, Credit: Martin Hieslmair
Where do you get inspired for your organic forms like Elbeetad or Agrieborz? Are you studying medical books?
Nick Ervinck: I derive images, shapes and textures from different sources: basilicas, corals, dinosaurs, cottages, Rorschach inkblots, Chinese rocks and trees, manga, twelfth-century floral wallpaper, anatomical parts, and so on. For AGRIEBORZ, I indeed used imagery of human organs that I found in medical manuals as construction materials to create an organic form, a larynx or voice box 'gone wild'. Though imaginary, AGRIEBORZ seems to retain some familiarity due to its visual connection to human organs, muscles, nerves, etc. AGRIEBORZ was also inspired by the conversations I had with two professors at KU Leuven: Pierre Delaere, who is a researcher in the field of the reconstruction of the larynx, and Koen van Laere, whose research is situated in neurology and nuclear medicine. This cross-fertilization inspired an imagery that hovers somewhere between the organic and the mechanical. It produces a perfectly symmetrical cyborg figure.
ELBEETAD on the other hand is inspired by the voluptuousness of the so-called 'Rubens woman'. It brings into question the 'skin' of the sculpture. This artwork tries to create a dialogue between old and new, and shows how new technologies can be used to renew or reinvent the art historical tradition.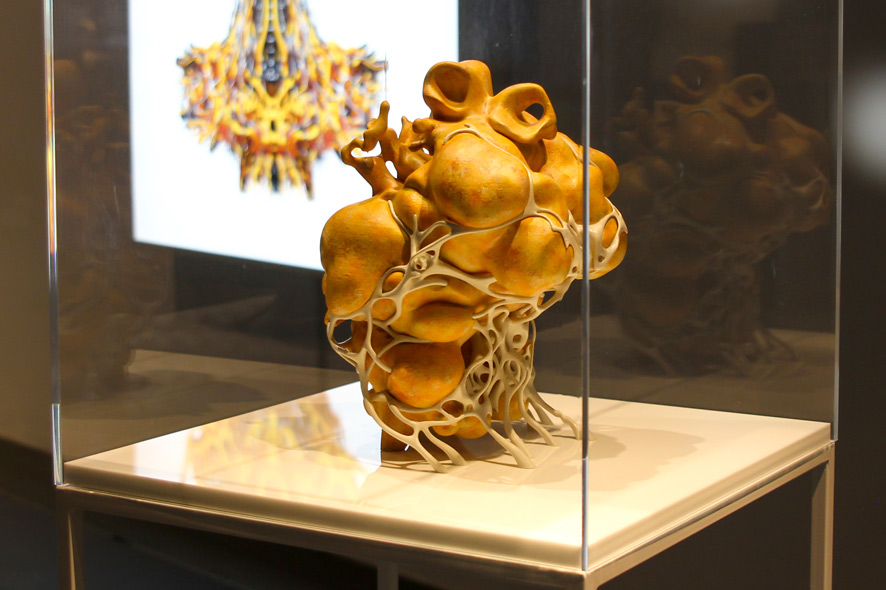 ELBEETAD, Credit: Martin Hieslmair
What do you think are the decisive differences if you print out an object instead of looking at it on a screen?
Nick Ervinck: I am always searching for a cross-pollination between the digital and the physical. In my work I balances the narrow border between traditional sculpture and working with new media. I always tries to respect the (art) historical heritage and history and archeology. I do have a big fascination for the sculptural arts. That's why it is really important for me to bring my (on the computer designed) sculptures into reality. Some of my sculptures are 3D prints, others are manually made in my studio.
My biggest fascination is the interaction between the three-dimensional sculptures and the environment they are in. It is interesting to see how the daylight reflects on the shiny surface, causing the atmosphere to change constantly. By printing out an object, it is possible to look at it from many different angles and perspectives, whereby you can continuously rediscover the artwork. Furthermore, the interaction between a 3D printed object and a two-dimensional print seems a very interesting dialogue to me.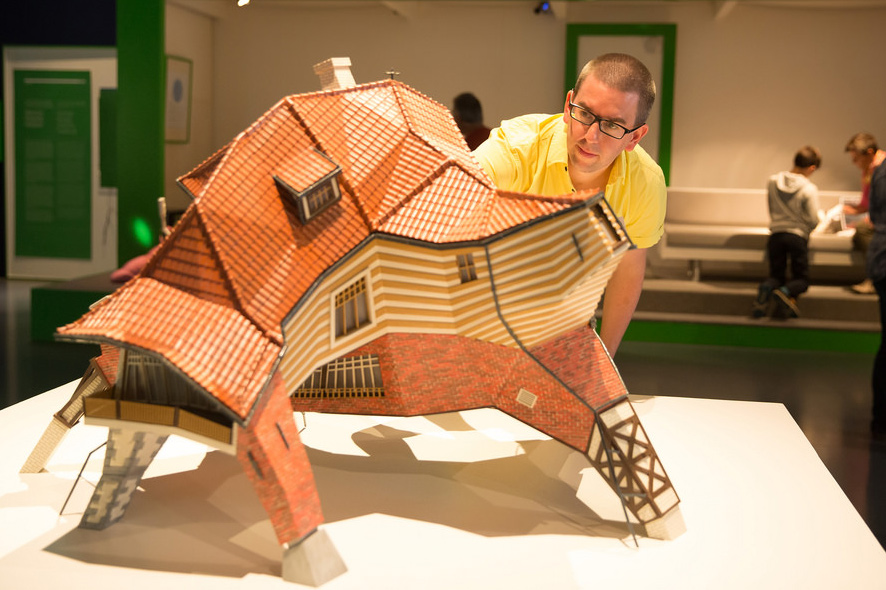 Viunap, Credit: Tom Mesic
If we look at your buildings like VIUNAP – does architecture need more links to nature?
Nick Ervinck: It is particularly fascinating to me how organic and dynamic designs are translated into reality, by examining the limits of the possible and searching for new ways to create such intricate, dynamic art and architecture. VIUNAP is one building on the EGATONK-wallprint, which was developed for the exhibition 'Horizon 8300' in Knokke that was set up to promote new architecture for this typical Belgian seaside town. I used the typical cottage style and turned it into something absurd. Constantly examining the relations between reality and virtual reality, I took the cottages as the basis for the construction of a personal virtual world where the barriers of physics or logic know no right of existence. The cottages are no longer static but become figures with connotations to crabs and other sea animals that walk along the beach.
Architects like Gaudi and Hundertwasser reached the possible of the impossible when their so-called impossible architectural dreams were finally turned into stone. Dali realized his surrealistic dwelling in Port Lligat on the basis of two simple fisherman's huts. Fascinating in this respect is surely also Erich Mendelsohn's Einsteinturm, the astrophysical observatory in the Albert Einstein Science Park in Potsdam. EGATONK will likewise once be translated into reality; a less futuristic undertaking than one would think.
The first step into reality is made in this computer designing process. The next step is the actual building of these designs – the absurd VIUNAP villa maybe has windows and walls that are all crooked but the floors inside will be perfectly leveled. Again there is the play between the virtual and the real, the inside and the outside. These designs give a completely other take on futuristic-organic architecture, both contemporary and from the past.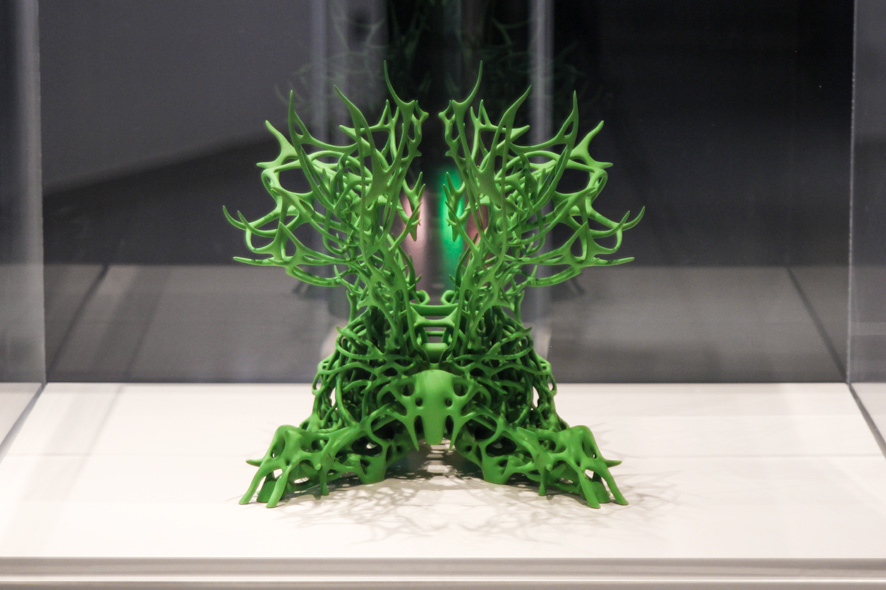 Ayamonsk, Credit: Martin Hieslmair
What are you currently working on?
Nick Ervinck: There are multiple exciting projects that we are currently working on, for example the realization of a second building in 3D print from the EGATONK-project. Also, we started a cooperation with Stratasys, a revolutionary 3D printing company. With their 3D printing machines I am able to create unique sculptures the way I envisioned it. I explore how to deploy the current techniques of 3D printing to surpass sculpture, for example by capturing colored surfaces and lines in a transparent shell. And there is more exciting artwork to come, of which I am sure you will hear about in the future…
The work of Nick Ervinck can be seen at least until the end of February 2016 at the Ars Electronica Center Linz in the Elements of Art and Science exhibition. AGRIEBORZ is also part of the Materia Prima exhibition that was realized by LABoral Centro de Arte together with Ars Electronica Export in Gijón, Spain.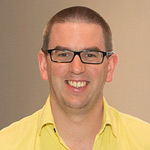 Nick Ervinck (BE) explores the boundaries between various media, fostering a cross-pollination between the digital and the physical. Studio Nick Ervinck applies tools and techniques from new media, in order to explore the aesthetic potential of sculpture, 3D prints, animation, installation, architecture and design. Ervinck's work, in short, oscillates between the static and the dynamic, prospecting new virtual or utopian territories. www.nickervinck.com