Hi! Let me briefly introduce myself. My name is Hilal Celepci, I'm 20 years old and I was born in Germany. Over the last seven years, I've lived in Austria and completed an apprenticeship as a retail sales associate. This coming May, I'll be taking an additional test for certification as an office clerk.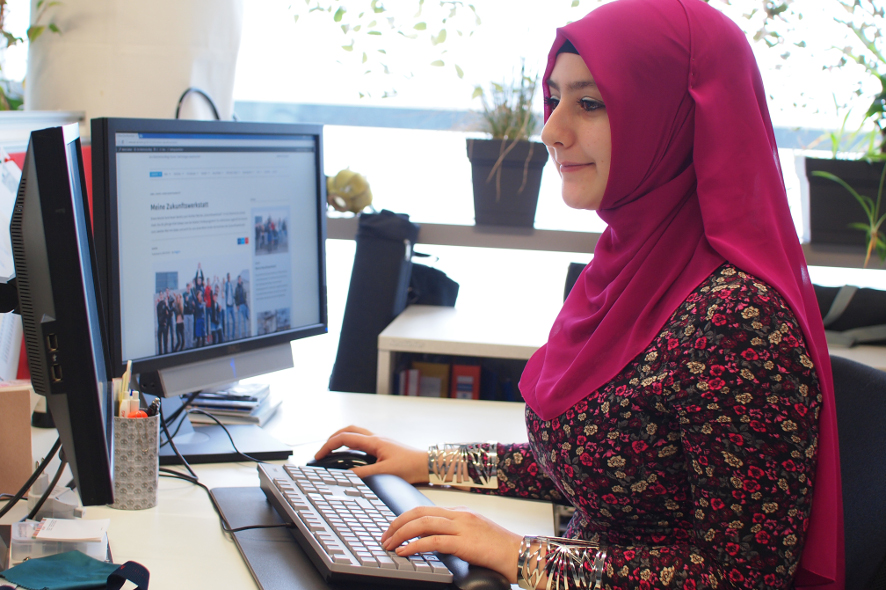 Hilal Celepci (Credit: Martin Hieslmair)
This week, I'm taking part in the FutureWorkshop at the Ars Electronica Center for the second time, and I'd like to take this opportunity to thank Andrea Fröhlich and Michael Thaler, the two project supervisors, for permitting me to attend a second time. I'm writing this blog posting because it's so much fun spending a week in the Ars Electronica Center and there are lots of great activities that I'm really interested in.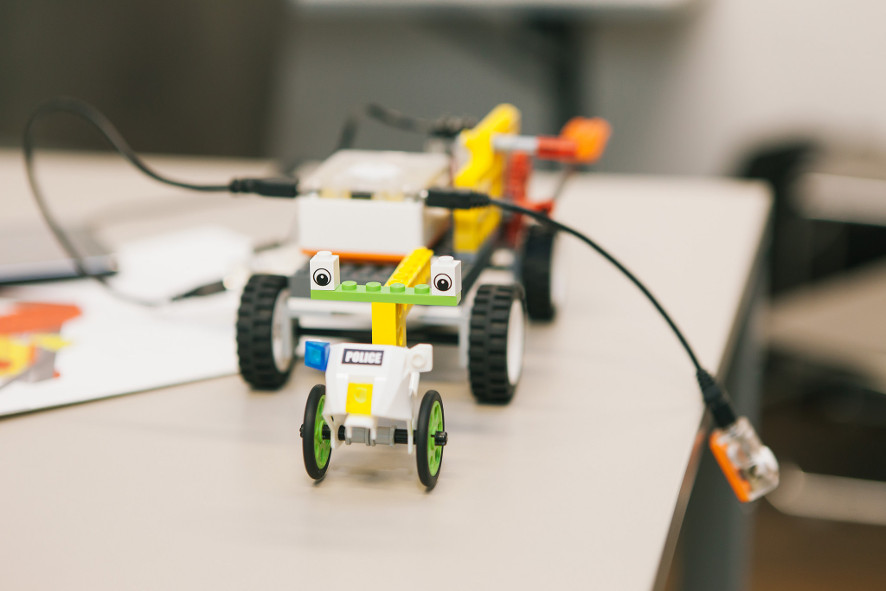 PicoCricket (Credit: Florian Voggeneder)
What is the FutureWorkshop, actually?
Sometimes, young people have to take detours, gain experience and discover new opportunities in order to make their way in this complex world.
Unemployment in general, but especially among young people, has wide-ranging negative consequences—for instance, a very limited social milieu and a low standard of living. The Province of Upper Austria's government and the local employment office are offering various courses to young people who aren't currently attending school and can't find an apprenticeship position. In conjunction with these courses, young people get the opportunity to take part in the FutureWorkshop at the Ars Electronica Center.
This project's aim is to impart skills and experience, to bring out previously undiscovered talents and to demonstrate teamwork in action.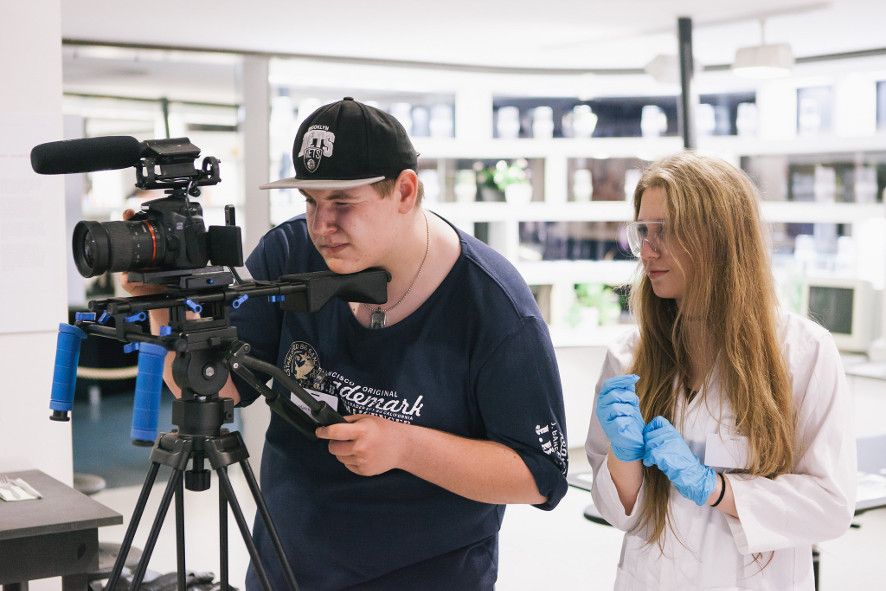 Dreharbeiten (Credit: Florian Voggeneder)
The week includes lots of different programs:
During the week, all participants keep their own online blog. This individualized blog is the "logfile" to the whole process, the objective of which is to gain media competence, to reflect on experiences and to achieve tangible success.
Participants spend a considerable portion of the week shooting a video: writing a screenplay, assigning roles, learning the equipment, getting into the roles, shooting the scenes and creating the audio with professional support in the SoundLab. Martina Sochor and Manuel Diepold also instruct the young filmmakers in editing techniques. It's a big challenge, but the participants get a great overview of film production.
Since August 2015, the Ars Electronica Center has offered visitors something they'll find nowhere else in the world: Deep Space 8K. That means the Ars Electronica Center can now showcase material with 8K resolution, and also present a wide array of projects like ultra-high-resolution photos, 2-D and 3-D videos and interactive 3-D programs. For young people, Deep Space is the most exciting feature and their favorite activity during the multi-day workshops. You can also play lots of games there, which is really fun. A visit to Deep Space 8K is unique, fascinating, impressive, overwhelming!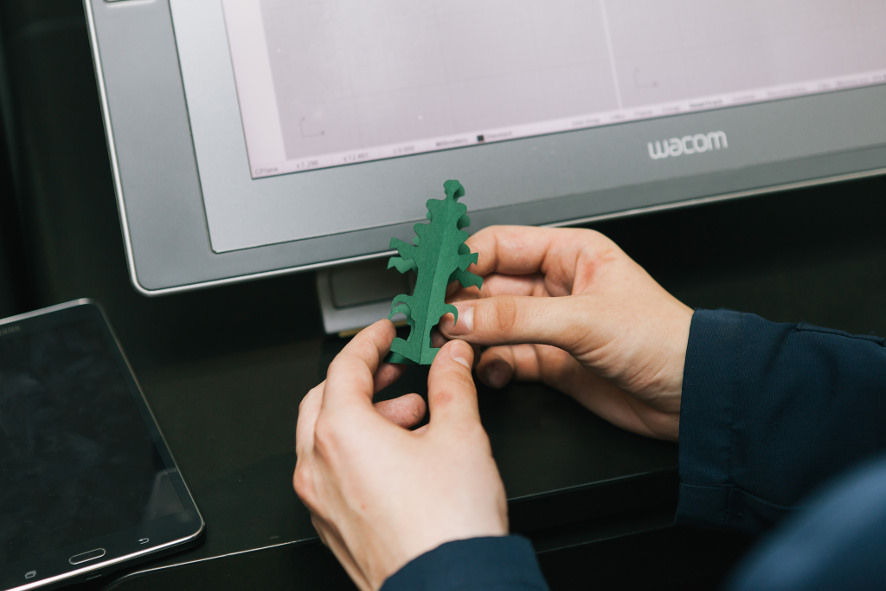 FabLab (Credit: Florian Voggeneder)
In the FabLab, you can use state-of-the-art technologies to create your own designs, implement ideas and, at the end, hold the finished product in your own hands.
At PicoCricket, youngsters get an introduction to robotics and assemble various models, which are put on display at the workshop's final presentation.
FabLab (Credit: Florian Voggeneder)
Participants have the opportunity to get a behind-the-scenes look at a museum, and find out what it takes to keep everything running smoothly.
A few FutureWorkshop participants have even gotten summer jobs and internships. In fact, one of the girls in my group was hired by the Ars Electronica Center as an Infotrainer.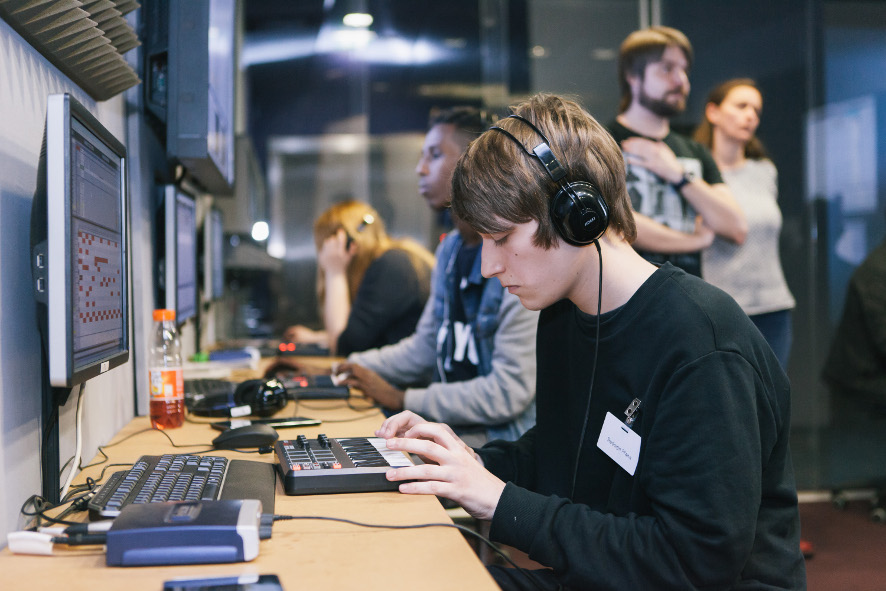 SoundLab (Credit: Florian Voggeneder)
Interview with Ars Electronica CFO Diethard Schwarzmair
To get some additional information about the FutureWorkshop, I posed a few questions to Ars Electronica CFO Diethard Schwarzmair.
What's the aim of the FutureWorkshop?

Diethard Schwarzmair: The FutureWorkshop is quite an ambitious project! Ars Electronica is very strongly rooted in the educational field and the addition of this project now closes a gap in our offerings—namely, to target not only school pupils but also young people and young adults.
Why is Ars Electronica making an effort to support young people?
Diethard Schwarzmair: That's generally our mission. It's not that we're just promoting the advancement of young people; we want to make a positive impact at the interface of technology, society, art and culture. Of course, young people constitute our most important target audience. Since the beginning of the year, the Ars Electronica Center also features a Kids' Research Laboratory, which means that our educational offerings already start out with 4-year-olds. We try to arouse their curiosity about and interest in technology and the natural sciences. Plus, we offer a comprehensive program for school kids of all ages, who can spend a half-day or even longer at the Ars Electronica Center. And now we've launched this FutureWorkshop series for young adults.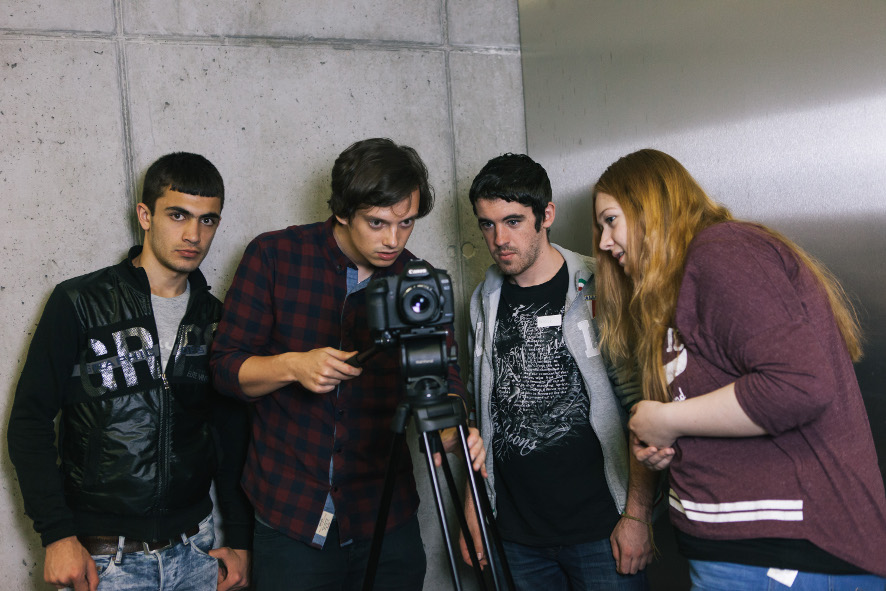 Dreharbeiten (Credit: Florian Voggeneder)
Why is Ars Electronica especially well suited to this approach?
Diethard Schwarzmair: For several reasons. First, because we've already amassed a great deal of experience in the educational field. Secondly, we have outstanding infrastructure that enables us to offer active interaction and feature exciting content. Plus, we have very dedicated staffers who possess the high level of professional competence an educational program calls for.
You've attended several of the FutureWorkshop's final presentations. Is there one particular project that made an especially strong impression on you?
Diethard Schwarzmair: There've been a lot of excellent projects, but the films fascinate me the most. I find it extraordinarily impressive that the participants can produce such great films in the short timeframe available to them! But I also really appreciate the enthusiasm these youngsters display every time and the commitment they bring to bear.
When you think back to the time when you were as old as the young people in the FutureWorkshop today, what helped you find your way?
Diethard Schwarzmair: Always being curious and open to new experiences. It's always important to know what your strengths are and what your goal is. And that holds true throughout life.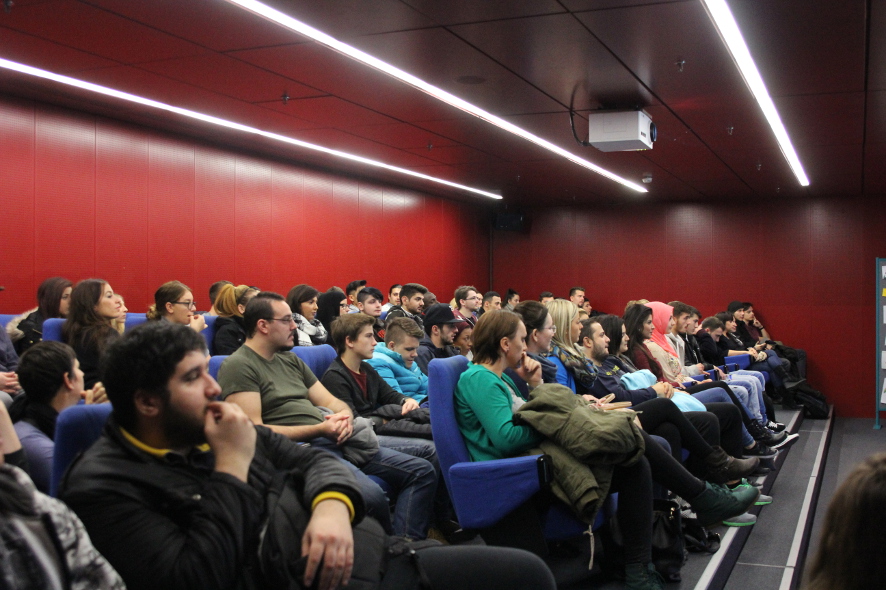 Abschlusspräsentation (Credit: Florian Voggeneder)
Interview Frau Andrea Fröhlich
FutureWorkshop supervisor Andrea Fröhlich provided some further insights into the project.
Since when has there been a FutureWorkshop and whose idea was it?

Andrea Fröhlich: The FutureWorkshop was initiated last May, when we first implemented the project and spent a whole week working together with young people in the Ars Electronica Center. Susi Windischbauer and Christoph Kremer, director of the Ars Electronica Center, had the idea. They realized that it made sense to use the Ars Electronica Center not only for quickie workshops of only a few hours for pupils, but also to work together with young people there intensively for an entire week.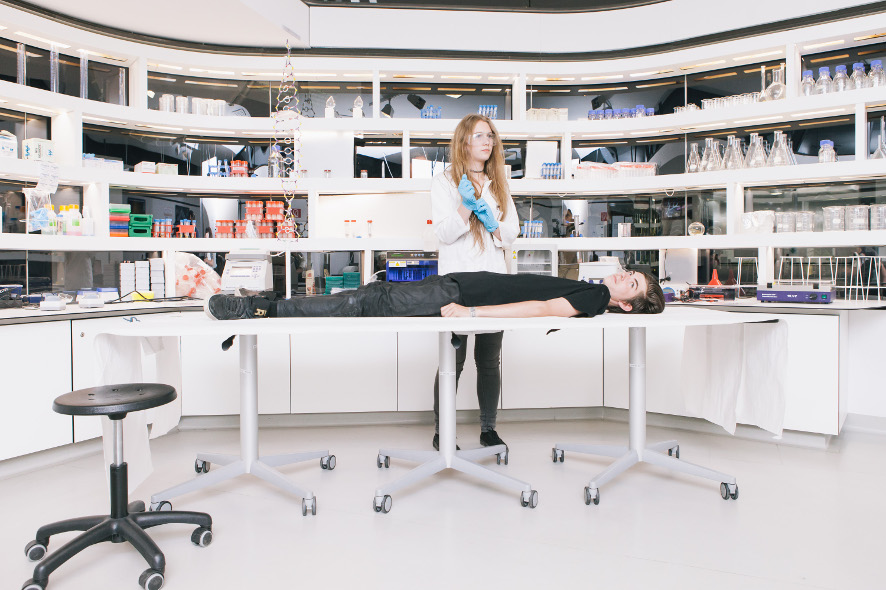 Dreharbeiten (Credit: Florian Voggeneder)
How do you like working together with young people?
Andrea Fröhlich: It's really fascinating for me to work together with the same group of youngsters over a relatively extended period of time. In most instances, they're youngsters who are in the process of finding themselves and their direction in life, and figuring out what they actually want to do with their life. At the Ars Electronica Center, they encounter a totally different situation than they're accustomed to at Austria's various vocational training facilities. Here, they simply have access to different possibilities then they do in conventional classrooms.
What sort of tasks are the participants assigned to perform?
Andrea Fröhlich: Throughout the week, we take advantage of the Ars Electronica Center's entire infrastructure—the labs, the installations and all the exhibitions. The workshop content and the assignments the young people get from us are oriented on the options available here in the Center. During the workshop, we also teach filmmaking and animation, and participants spend a major portion of the time making their own film.
https://www.youtube.com/watch?v=FUBYauk5Bo4
An example of a film made by young people as part of the FutureWorkshop
On Friday, December 5, 2015 10 AM the final presentation of the now fifth FutureWorkshop group will be held at the Deep Space 8K. This time even with live performance by the rapper Burak, one of the participants of the workshop. During his time at the Ars Electronica Center he has produced an original song in zhe SoundLab, while the others FutureWorkshop participants have produced a music video for the song.
Here you can find the blog diary of the participants: http://create.aec.at/zukunftswerkstatt/