TIME OUT is a series of exhibitions that offers Linz Art University students the opportunity to display their work at the Ars Electronica Center. This collaborative effort was initiated by Prof. Gerhard Funk, director of the Time-based and Interactive Media program, who curates each show jointly with Ars Electronica Artistic Director Gerfried Stocker. The students install their works on site themselves and then present them personally at the opening.
One of the four students participating in TIME OUT .05 is Thomas Schwarz, who's already familiar to many Ars Electronica Center visitors as the creator of "Urfixed Light Animation," a time-lapse video currently running in Deep Space 8K. In conjunction with his studies, he's now developed a new 3-D printing method. Ceramic pour printing utilizes water-soluble filament to print out a mold that's then used to form the final output. In this interview, Thomas Schwarz elaborates on this new 3-D printing technique and also tells us about the "Gitterlinge," the first series of designs he's created with ceramic pour printing.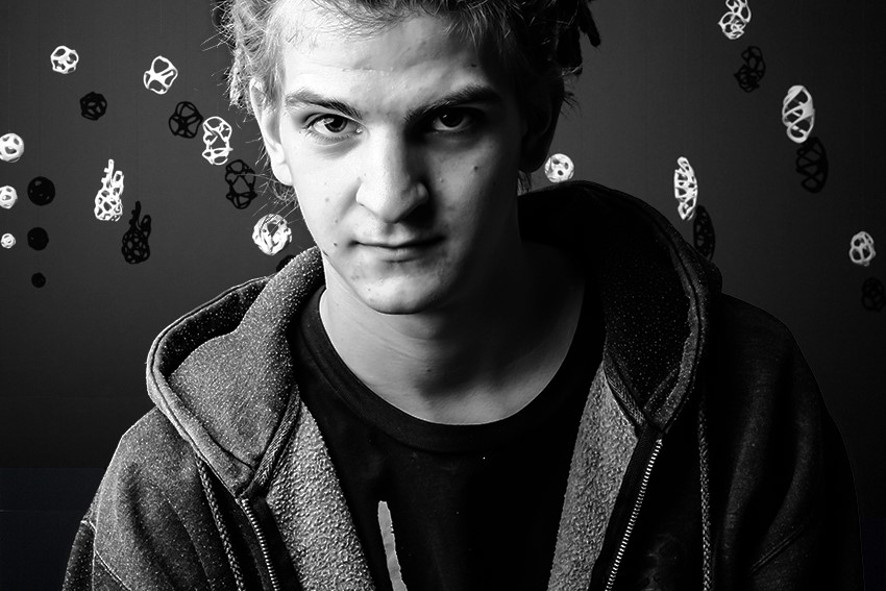 Thomas, many visitors to the Ars Electronica Center are acquainted with your time-lapse video "Urfixed Light Animation." Now, with the "Gitterlinge" produced via 3-D printing, you're going in a totally different direction. What's up?
Thomas Schwarz: The "Gitterlinge" project went through quite a metamorphosis during its one-year process of origination. My love of experimentation in the fields of photography and 3-D printing gave me the idea of creating a time-lapse video documenting the melt-down of the filament form produced in a 3-D printer. My first shot at this involved printing out molds made of common, everyday PLA plastic and then melting them off in the oven or with a heat gun. I really liked the visual results, but the ceramic objects were severely damaged and broken by the high temperature. Then I started experimenting with water-soluble 3-D printing filaments. The solution turned out to be PVA, which has excellent printing characteristics and is water-soluble. Thus, the basic idea of a time-lapse video was left by the wayside, but the further development of the ceramic 3-D printing process had begun.
How does 3-D printing work with the ceramic pour printing method?
Thomas Schwarz: As my printing material, I use water-soluble PVA filament that I can dissolve in water heated to 80° C. This filament is typically employed as support material for dual-extruder 3-D printers, but, in my method, I use it as the main material. It's not until later, in the pour process, that it's used as a support material. Basically, how it works is that I print out the object as a negative form [mold], fill it with liquid ceramic, let it harden for 24 hours, and then free the ceramic shape from the surrounding plastic mold via immersion in hot water.
Tell us a little more about how you came up with this 3-D printing method.
Thomas Schwarz: The idea of developing this new procedure was actually the upshot of a series of flops. First, there was the attempt to fill a 3-D printed object with ceramic and then melt off the plastic in the oven. The next brainstorm was the heat gun—to use 600° C air to melt off the plastic shell around the ceramic object. Both approaches yielded only minimal success, so I moved on to water-soluble filament, whereby the hydrophobic characteristics of the ceramic I use make it the perfect choice for this procedure.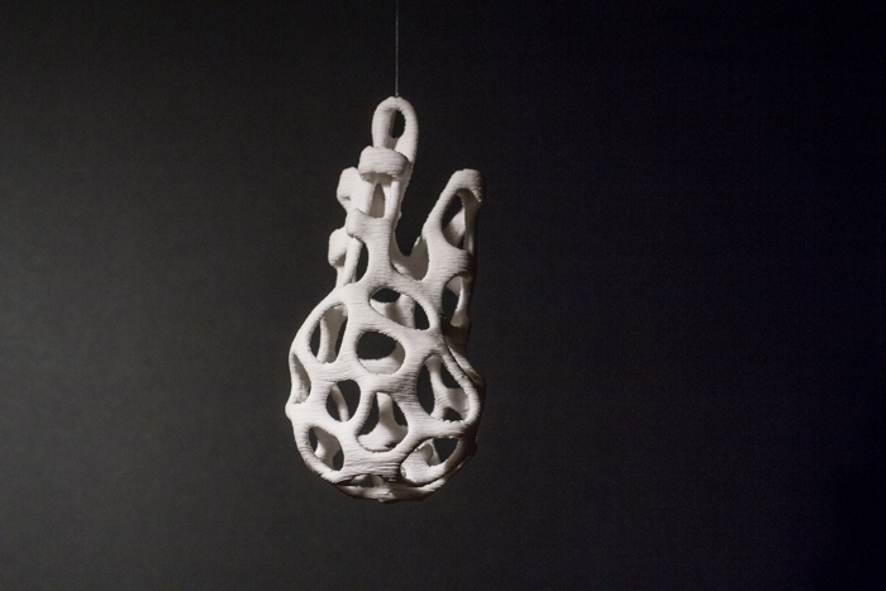 But what led you to the idea of even attempting to develop a new 3-D printing method?
Thomas Schwarz: For quite some time now, I've been interested in the production possibilities of 3-D printing. The first time I was able to work with an FDM printer was during my freshman year in college. Nevertheless, the limitations inherent in the plastic materials and the effects this had, in turn, on the objects that could be printed out with them severely restricted the possibilities of bringing my sculptural ideas to fruition. Thanks to my previous experience with negative forms and ceramic molds, I came upon the idea of combining the possibilities of 3-D printing with the casting techniques traditionally used by craftsmen.
What inspired you to create the Gitterlinge? Wouldn't it also have been possible to turn these out using conventional 3-D printing methods?
Thomas Schwarz: Gitterlinge are organic forms; the core element of each one consists of delicate column-like constructions. The shape of the Gitterlinge strongly resembles the latticed stinkhorn fungus (Clathrus ruber), so this provided the inspiration for the name of this series of designs. Moreover, the ceramic objects are sculptures that could not have been produced via conventional use of a 3-D printer with a simple extruder. Of course, existing industrial ceramic printers could produce similar objects out of ceramic material, but this would involve astronomical costs so it would be difficult for individuals to take advantage of this technology.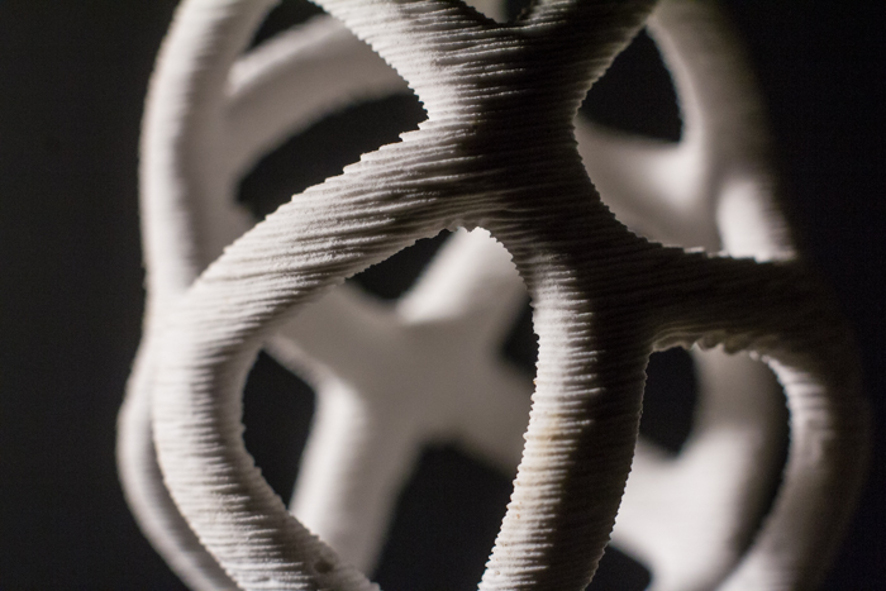 This method makes possible a new means of fabricating complex three-dimensional objects characterized by higher quality and greater stability than conventional plastic materials could deliver. So, where does the ceramic pour printing method go from here?
Thomas Schwarz: I'd be delighted if other people would use my mold printing procedure to implement their own ideas and designs, and if this would get lots of other people interested in producing ceramic objects. Ceramic pour printing could significantly expand the 3-D printer's range of production possibilities and thus functionally upgrade it.
The exhibition "TIME OUT .05" opens at the Ars Electronica Center on Wednesday, March 16, 2016.