Last weekend, cyclists took over the Ars Electronica Center! At the "Deep-Space-Weekend: Bike Visions", visitors enjoyed a diversified program on the topic of cycling. In addition to slide shows and films with contents ranging from bike trials to a honeymoon bike tour around the world, there also was a World-Café discussion on various aspects surrounding biking in and around Linz. Another special feature was the spectacular performance by Dominik Raab in the Lobby of the Ars Electronica Center, during which he negotiated an obstacle course on his bike.
Trials biking involves breathtaking jumps, balancing on handrails and negotiating obstacles while staying on the bike at all times. Riders need perfect control of their bikes for this extremely challenging sport. Dominik Raab from Linz is one of them. He ranks among the big stars of the international trials biking scene and has played a major role in the organization of this Deep-Space-Weekend. We talked to him before the event.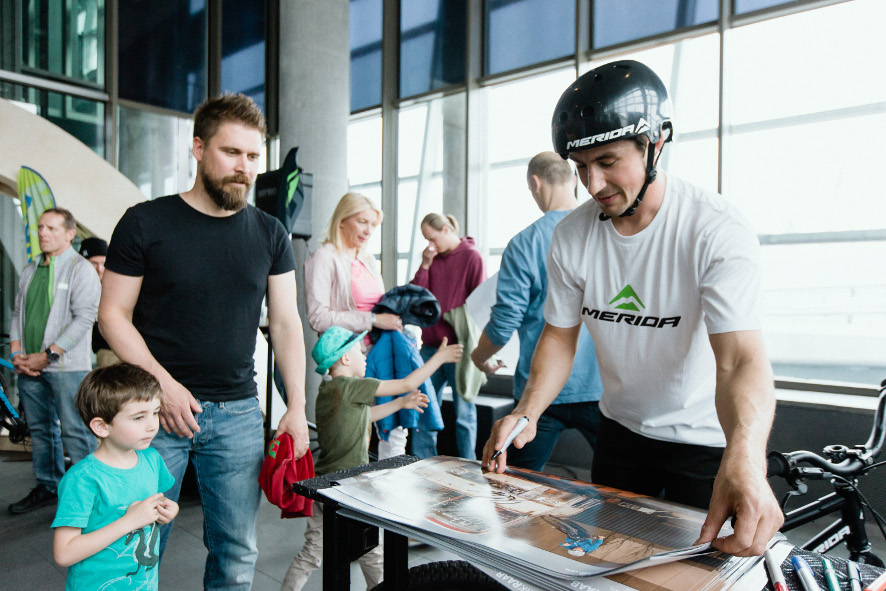 Dominik, you are among the best and most popular bike trials riders in the world. How and when did you first get involved in cycling?
Dominik Raab: I started with mountain biking twenty years ago and then discovered my passion for trials biking. At first, I only competed in observed trials. In these competitions the riders attempt to negotiate an obstacle course without letting their feet touch the ground. I also won an Austrian State Champion title in this discipline. But that was a long time ago.  Later, I began to focus on street trials, which is the creative variant of trials biking. I have been exclusively riding street trials for many years now and I'm on the road a lot with my shows.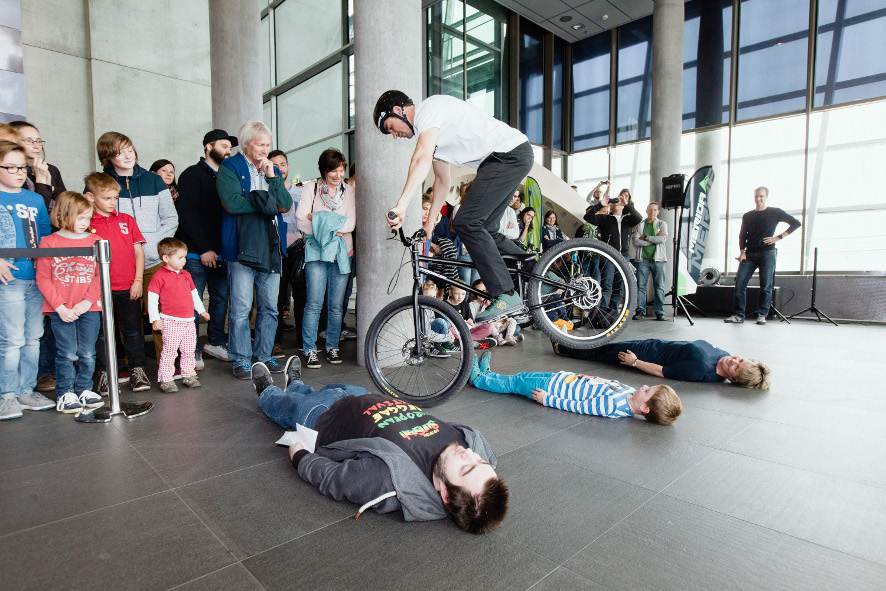 Why do you prefer shows to competitions? What exactly fascinates you about it?
Dominik Raab: I have always preferred street trials. Street trials is a sport where riders use existing structures in the city, such as handrails and walls, to perform their tricks. You have to be creative in how to use the urban environment and every rider picks a different line. Street trials is all about getting quality footage. You don't have to compete with others. It's always hard to tell if one rider is better than the other. Maybe the first one performs more difficult tricks, but the other rider is more creative with his stunts and has a cleaner execution. As far as I am concerned, this is much more exciting than an observed trials competition!
A video that features you performing stunts in the streets of Linz is part of the content shown in Deep Space 8k at the Ars Electronica Center…
Dominik Raab: Yes, this was my first real video project! That's how it all started. The video was shot under completely different circumstances than my current projects. In most cases, I make a video for a client such as a sponsor. I have to go to a specific city or location and complete the video within a prescribed time period. This means that there also is a certain amount of time pressure. When we made the Linz video, it was a completely different story! Back then, the camera man, who also is a biker, had a broken arm and was unable to ride a bike for three months. Since he didn't want to sit at home and do nothing, we made the video during this time period. On top of this, we didn't do it for a sponsor or a company. For us, it was just a free, personal project for fun. I liked doing my tricks and he liked filming them. Over a period of three months, we shot some video footage whenever we felt like it and the weather was good enough. We continued to do this until we had enough material for a movie. It's a lot easier when you have this much time. On some days you only shoot three tricks, but they are top-notch.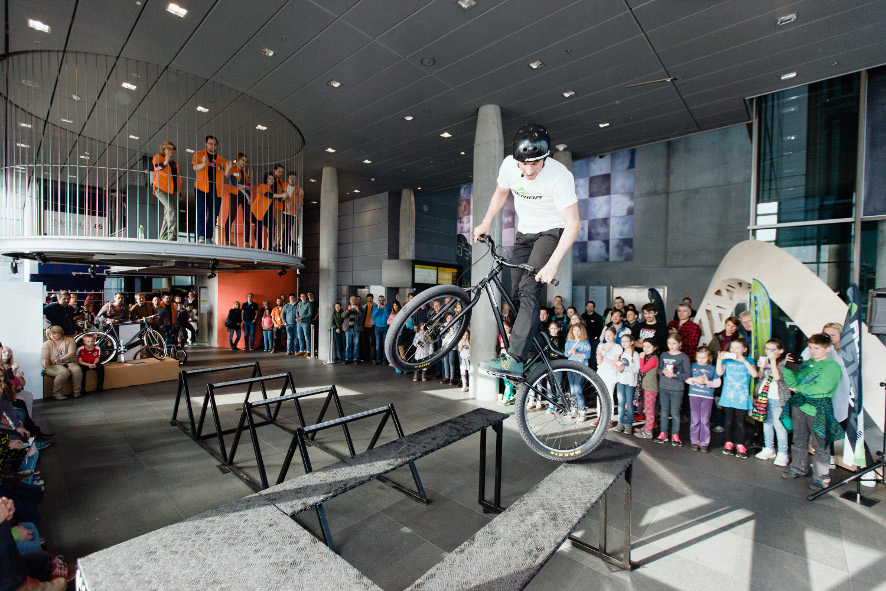 How often do you practice to make your stunts look this good?
Dominik Raab: Almost every day. This sport requires a lot of practice. You need very good bicycle handling skills. You have to get on the bike every single day in order to develop them. You can't really practice where to do what stunt, but that's what makes it so exciting. I've been in this sport for 20 years and still don't find it boring. In other sports, you have to train hard and prepare for a specific date—the day of competition. In street trials, you simply meet with your friends and go biking. If you do this for five hours a day you will get better and still have fun. Needless to say, if you want to make a living from this sport, then it's not always just about the fun. However, it is much more relaxed.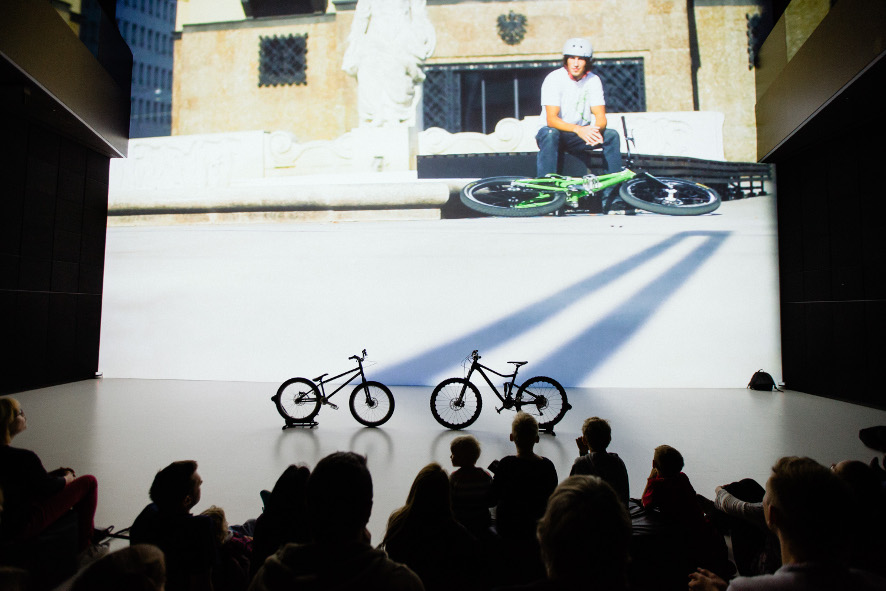 You have played a major role in the organization of the Bike Visions Deep-Space-Weekend. What can visitors of the Ars Electronica Center expect from this event? What are the highlights?
Dominik Raab: The idea of the Bike Visions Weekend at the Ars Electronica Center was to show movies and slide shows on the topic of biking. When I say 'different', I mean that we tried to incorporate all different variants and aspects of biking in the program. As I have already mentioned before, there are two different variants of trials biking. Apart from that, there are so many other bicycle sports such as mountain biking and road racing. The program not only deals with sport, but also with biking in everyday life. From trials biking to a honeymoon bike tour around the world; from a three-month-long bike tour through Madagascar to BMX biking, extreme mountain biking and e-biking. We have really tried our best to cover all different aspects of biking.
In addition to presentations of films and slide shows, performances and group activities will also be part of the program. I will perform a bike trials show in the Lobby of the Ars Electronica Center. There also will be a World Café discussion on the topic of cycling. Different bikers will talk about their thoughts and experiences in connection with biking in and around Linz—an everyday cyclist, a mountain biker, a pensioner and a bike messenger will each share their perspective. This will be followed by a brainstorming session to come up with ideas on how to improve biking in and around Linz for everyone.
More impressions of the Deep Space Weekend Bike Visions are on Flickr: https://www.flickr.com/photos/arselectronicacenter/albums/72157667425283352