The students from Brisbane's Queensland University of Technology, Alice Brown, Joshua Wilkinson and Revy Hamilton developed the project that enables strangers to share personal stories about their lives using tacit technologies.
SquareTalk is an installation of hanging polyhedra "lanterns", that visitors activate by touching them with a technical "torch". When a lantern is touched, festival visitor's recording of their personal story of "change"  are played back, and the lantern glows in synchrony with the sound. The collective character of the installation is heightened by the ambient sound design and the fact that the lanterns themselves had been created by festival visitors (in workshops with the student artists), combining and crossing means of visual expression with personal storytelling.
Joshua Wilkinson and Revy Hamilton accompany their project 'Square Talk' during the Ars Electronica Festivals 2014. 
The technology behind the project includes the physical computing platform "LinzerSchnitte", developed at the Futurelab and given to the students in the course of the Futurelab Academy as a challenge in designing for particular technical constraints. Now, after gaining acknowledgement by IxDA, the happy winners speak about their experiences ever since they "ignited" the jury of interaction design via Square Talk.
What does winning such an acclaimed award mean to you on a personal level?
Alice: It brought back a lot of memories from the Ars Electronica Festival. For me, it validated that the essence of what we've created could be understood and inspiring for people who did not directly experience the project at the festival. At the time we were still students, so it gave us confidence to have worked at an industry-level. Being among competitors who share a high level of creativity and expertise definitely encourages you as an emerging designer. It was also quite humbling, accepting an award that so many people played a part in – especially the festival attendees who shared their stories. It felt like the award belonged to them just as much as us.
Josh: It just gives me confidence in my practice. It let's me know there are people who are interested and find this area of design research worthwhile. When working with new technologies and across multiple research disciplines you sort of aren't sure if what you are doing will resonate with people, and then when you win an award like this it just gives you the confidence to push your projects even further.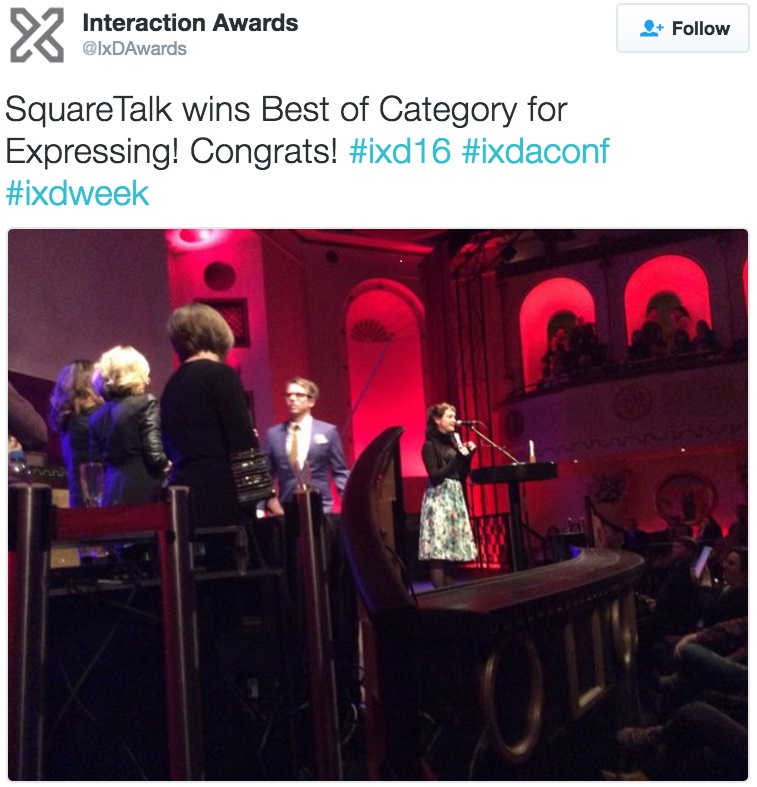 The great moment for 'Square Talk' has been spread throughout the social media immediately. Credit: Alice Brown
How has the project developed since you presented it at the Ars Electronica Festival until now?
Josh: It has basically just become more refined, in terms of its physical design and the type of stories that we are receiving. I feel like every time we do the project, we learn more about what the project can achieve in terms of connecting people, and allowing personal expression. It's got many sides this project… Just like the lanterns.
Alice: Yeah, it has in a lot of ways – the number of stories that we've been collecting has grown into a very rich collection. As finalists, we had the opportunity to display and discuss our project at a dedicated Interaction Awards booth, allowing all conference attendees to experience and share in the work. We made the lanterns reusable by changing from cardboard to laser-cut wood, which makes it easy to assemble the parts together very quickly We also archived the lanterns digitally, so that we can eventually re-present them.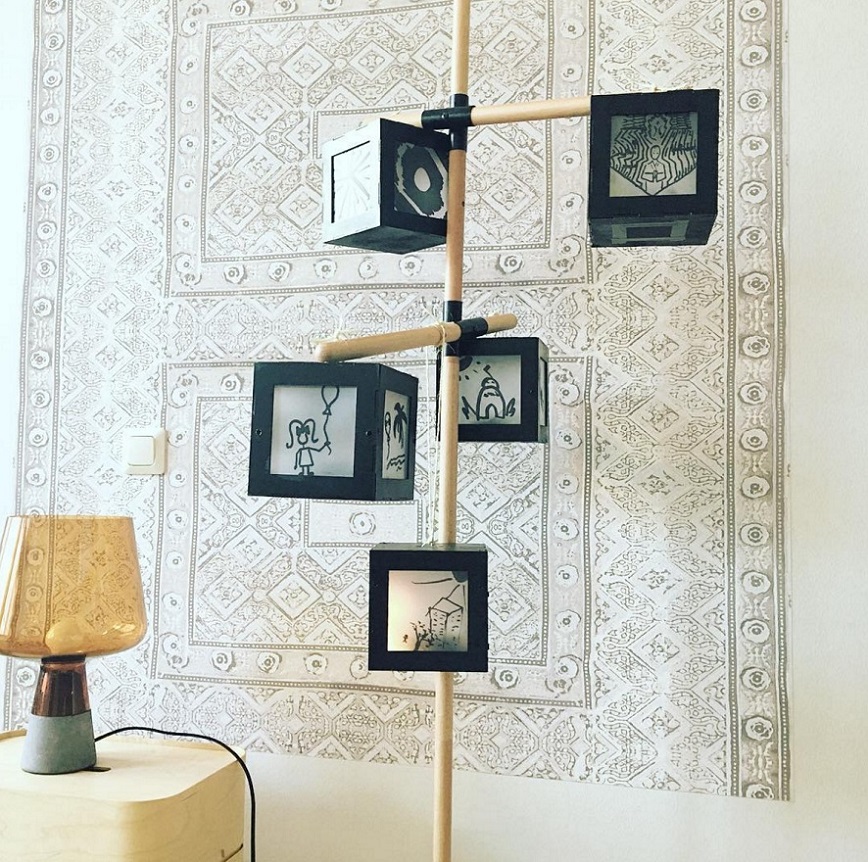 A mini-display of 'Square Talk' at the XIDA-Awards. Credit: Alice Brown
What role did the Futurelab play in the development process back then?
Alice: First, there was Veronika (Pauser), Ray and Josh (Gardiner) who developed the technical process with us and during the trajectory we had been given access to the use of the Linzerschnitte, which enabled us to conduct the whole project. The academy itself enabled us to think outside of the box and helped us to push ourselves beyond our usual limits.
Josh: The academy really changed the way I think about technology. Through the mentorship program and seeing what kind of work happens at the Ars Academy I was simply inspired. I think about technology and use technology in my creative practice differently now. Also working with such a great team and having the opportunity to present at Ars Electronica raised the bar on our standard of work. I don't think the project would have got to the level that it did to win the IXDA award without the 4am mornings we consistently put in, in the lead up to Ars. Ha.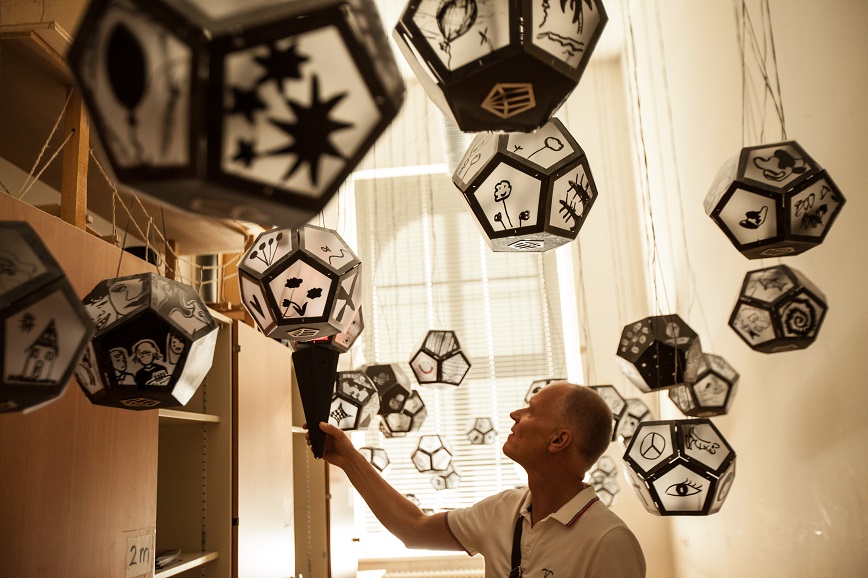 "Enlightening moments" at the exhibition of "Square Talk"during the Ars Electronica Festival 2014. Credt: Florian Voggendeder. 
Do you go on working together as a unit for advanced versions of this project?
Alice: We'll definitely go on working for Squaretalk. We look for ways to make it stronger and how it can be dispersed more efficiently, to get as many people as possible involved. A lot of people at the festival wanted to take it to their own country, or to their schools and conferences. We are brainstorming ways to disperse SquareTalk kits, so that people can set the project up at their own events, without the need for our facilitation.
Josh: Yep. To be honest after a year of work on a project it's about time for something new, but with the success this project has received and because it always offers something a bit different every time, we are excited about continuing to work on this project.  The FutureLab was an intense experience and fostered a hard-working relationship between me and Alice.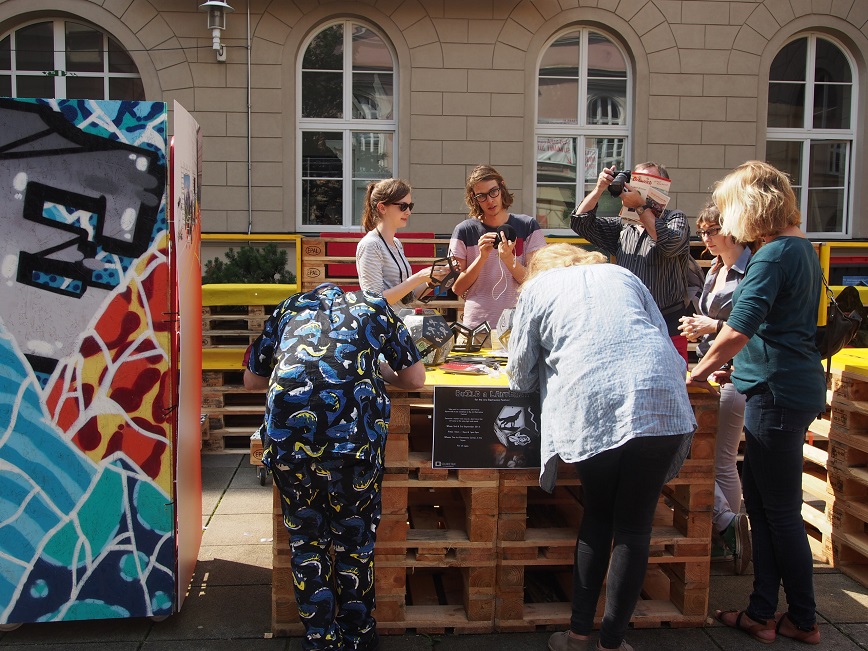 Alice Brown and Joshua Wilkinson at the Ars Electronica Festival 2014. Credit: Revy Hamilton
Has the jury of the IXDA awards made it public why SquareTalk was selected to win the category "expression"?
Alice: There's something about having real people participating in that project, to have them involved in the design process and to share their own experiences. It's that realness of people combined with the technology that enables people to feel connected in an overwhelming festival environment. It also facilitates self-expression in a very simple way, through a medium that does not force them to be too sophisticated – in fact the imperfection of the lanterns is what gives the project a certain charm. It's like giving people a space in which they feel safe and where they are heard, which encourages them to self-reflect and then share their story with pride.
Josh: In their comments the juror's mentioned the word "sublime", but I agree with Alice, I think this project's strength is in it's simplicity, in the way the technology fades into the background, allowing peoples actual expressions to be easily presented and viewed by the public. Technology is often enabling, but it can also cloud or re-code people's expressions depending on what form the technology takes. I don't know, but like to think the Juror's picked our project for the award because it uses technology in a way that enables, but doesn't cloud human expression.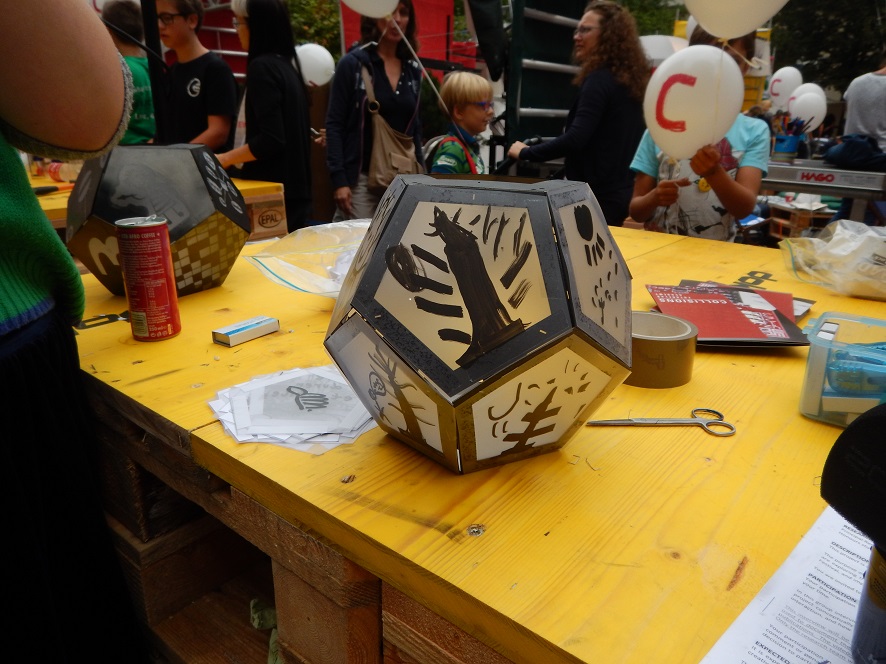 One of the results of the Square Talk-workshop at the festival-booth. Credit: Revy Hamilton
Hat die Erfahrung Auswirkungen auf folgende Fragestellungen oder Projekte?
Josh: Yeah, as I said I now view technology in a more humanistic way. I am currently working on an interactive projection art project for Vivid Festival in Sydney called Impossible Voyage. The experience of the Ars Academy and the validation of winning IXDA make me eager to apply the things we learnt in SquareTalk to future projects.
Alice: I'm currently working on a PhD, designing creative resources of care for people who have experienced trauma. The creative reflection and storytelling qualities of SquareTalk have really driven my approach to current research. At the festival, I met a psychologist who told me how interesting SquareTalk could be as a tool in therapy, which has also got me looking into art therapies and the importance of narrative development after experience trauma.