The Ars Electronica Futurelab has been involved in an interesting lineup of projects produced in cooperation with the Technisches Museum Wien (TMW), and Futurelab Director of Research & Innovation Christopher Lindinger has been on the museum's advisory board since 2015. Now, the atelier-lab is serving as scientific associate in conjunction with an innovative five-year series of special exhibitions at the TMW, a role that entails both an advisory function as well as specific project-related design tasks. Three exhibitions are planned for this "Weiter_Gedacht_" series that premieres on June 8th and will run from 2016 to 2021. Its overarching theme, "The Urban Future," takes up an encounter with life in tomorrow's metropolises that was launched by the 2015 Ars Electronica Festival entitled "Post City – Habitats for the 21st Century."
1,000 m² of exhibition space in the TMW's East Wing provide an impressive architectural setting for the exhibits elaborating on big-city innovation that have been assembled for "The Urban Future." And the Ars Electronica Futurelab is the ideal scientific associate in conjunction with this new focus at the TMW, a museum dedicated first and foremost to the history of technology. After all, Ars Electronica has made an international name for itself as a source of expertise on the social challenges posed by technical developments—for instance, future mobility and energy harvesting.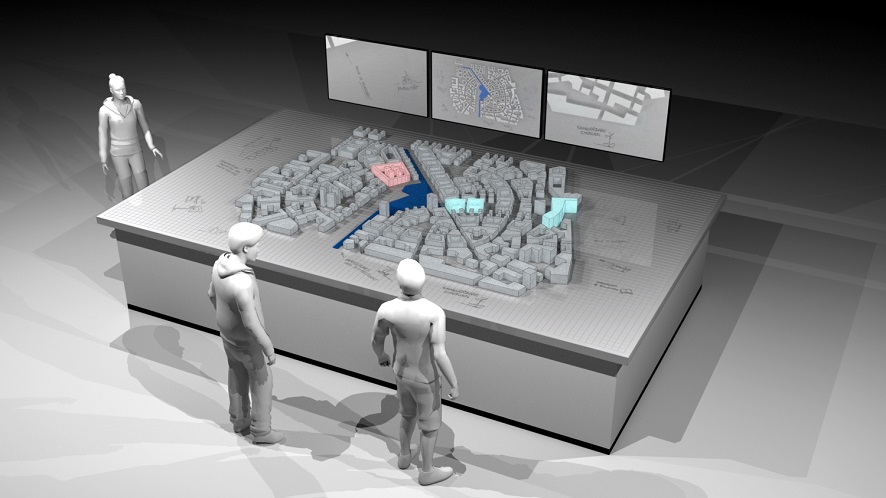 The planning table in the planning stage as a 3-D model. Credit: Andreas Jalsovec
To kick things off, the Linz-based media lab worked with the TMW on the selection and preparation of research topics. The next step involved helping to conceive and construct the exhibits, the centerpiece of which is a Sketch Table showing the development of Aspern, a newly designed lakeside city, as a 5.5-by-3.2-meter model. This highlight also clearly demonstrates a second core competence of the Ars Electronica Futurelab staff's: the capacity to integrate sociopolitical discussions. Serving as the bridge here is a table that teaches how urban planning actually works and invites exhibition visitors to get hands-on experience in it.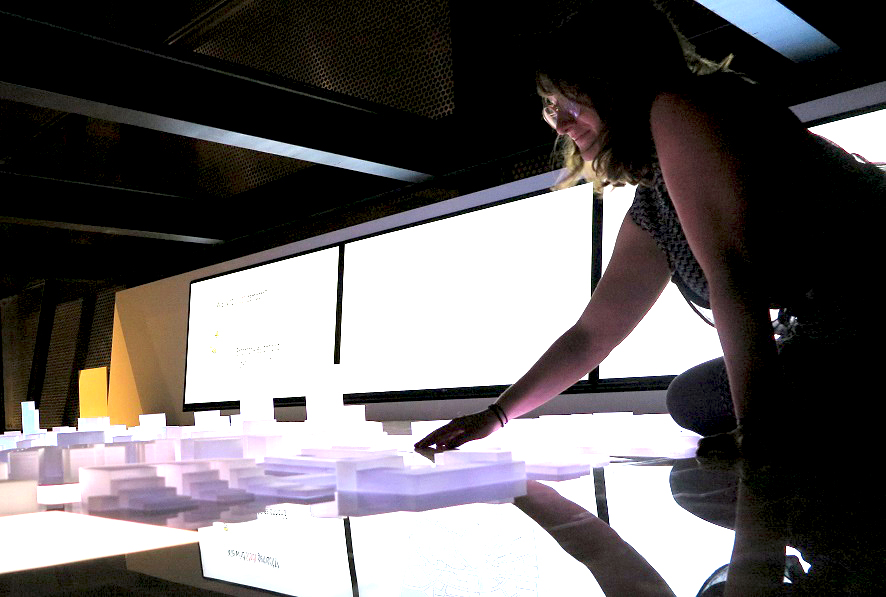 Project director Marianne Ternek is making some adjustments, while setting up the table. Credit: Marianne Ternek
Project director Marianne Ternek recently talked to us about the challenges her crew faced in designing and constructing this installation.
What were the specific problems and what answers did you come up with in connection with the planning and construction of the Sketch Table?  
Marianne: Aspern is the prototype of a futuristic urban development concept in which the structural approach is implemented. The issue was how to get this concept across in a contemporary way—that is, not simply as a fait accompli but rather in a way that provides for open lines of communication. In Vienna's 22nd Municipal District where Aspern has been taking shape since 2010, there had already been some industrial development but there were no preexisting structures on about 75% of the site. In order to showcase the design character, we decided to set up the Sketch Table as a sort of whiteboard.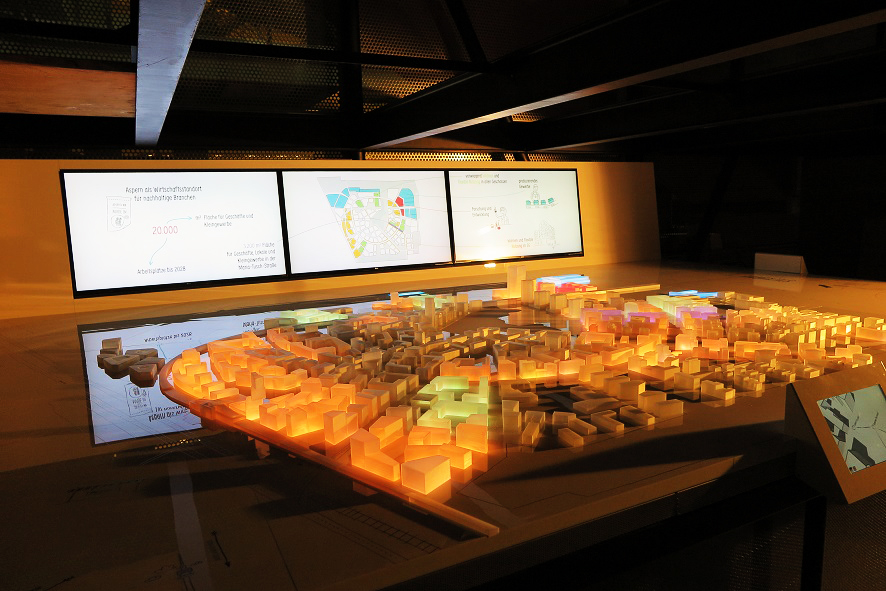 After the full setup, the planning table is fully illuminated. Credit: Marianne Ternek
This idea of allowing potential renters to have some input into the design—saying to them: "make a wish"—is diametrically opposed to a unitary "one size fits all" approach. So, how far do these participatory elements in urban planning actually go?
Marianne: Generally speaking, the promotional gain of using an exhibit like this one to attract renters is a side-effect. The primary intention is to develop an initial mode of dealing with the challenges posed by such concepts. Thus, the point is to sensitize visitors to what urban development calls for. The ultimate aim is for this playful, interactive approach to launch a discussion. In the final phase, we'll stage various workshops as setting for an ongoing confrontation with the limitations and possibilities of urban planning.


Short films in the style of "Visual Thinking" explain every single theme. Credit: Marianne Ternek
So, give us a few specifics as to how this plays out.
Marianne: In principle, this is a planning table, although the Sketch Table also functions as an aesthetic element. The city model consists of individual edifices and plots of land to be constructed, all of which can be illuminated from below. Located behind it are several screens that visitors can use to select various topics. These themes or concepts are explained, whereby the individual elements are color-coordinated with the corresponding project elements. For instance, when the subject is parks, the areas that are proposed for such usage are illuminated in green.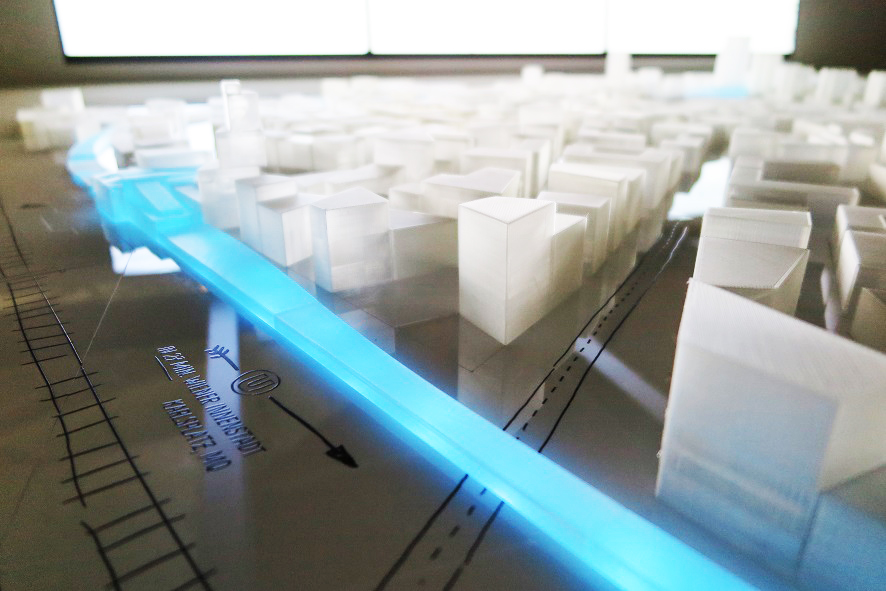 The public transport is rendered in blue. Credit: Marianne Ternek
Sounds enlightening! What challenges or limitations came up in implementing the table?
Marianne: The most difficult part of this was taking the complex interrelationships inherent in an urban planning project and putting them into very simple language without thereby trivializing them. We had a huge amount of text, which means that you really have to immerse yourself in this material in order to grasp the essence of it all, and then, in turn, to enable exhibition visitors to comprehend those interconnections. Michael Mayr and I worked together to achieve this objective—for each topic, he shot short films that were stylistically coordinated so as to screen just the right corresponding image during the explanation. The drawings are the work of Stefan Eibelwimmer, and the table was physically constructed by Jakob Illera.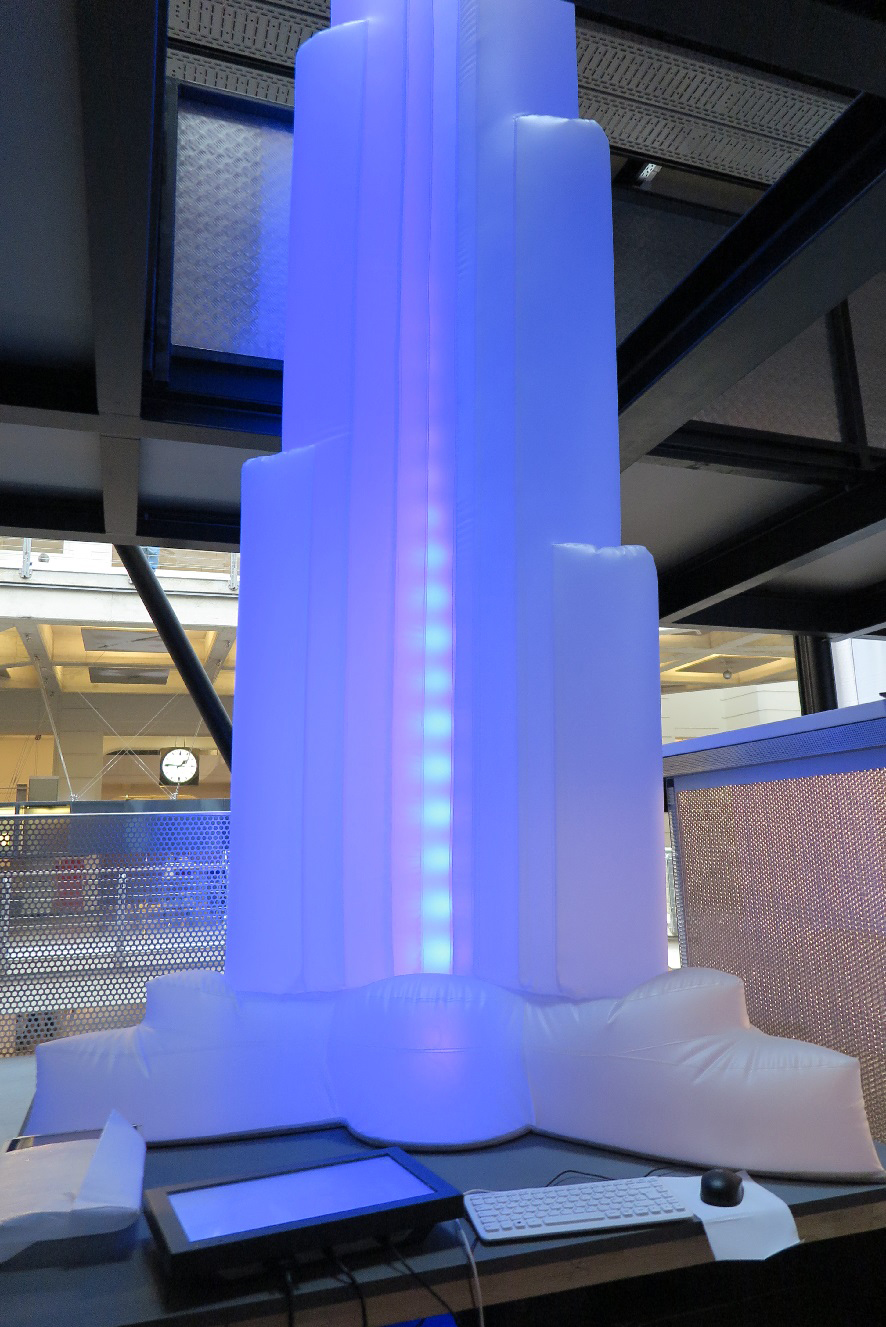 Burj Khalifa as a fully blown-up model. Credit: Marianne Ternek
Since the Ars Electronica Futurelab has been called in to take part in this ongoing exhibition project on a broad front, what are some of the other notable exhibits besides the table?
Marianne: There's the Burj Khalifa, currently the world's tallest building, which we show as a two-story-high inflatable model that gives visitors an idea of the magnitude of this structure. The object is equipped with an illuminated display employing the same LED technology used in the Aspern Sketch Table. This lighting feature and a touch-interface enable visitors to directly compare the height of the Burj Khalifa with those of three other buildings they're familiar with. For this installation, we contributed the interface; the software for it was programmed by Clemens Scharfen.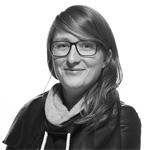 Marianne Eisl (Ternek) has been a senior researcher at the Ars Electronica Futurelab in Linz since 2015. While working in Vienna as a developer of applications for use by law & notary firms, she studied media informatics at the Technical University of Vienna and gained experience as a tutor in conjunction with undergraduate courses: Algorithms and Data Structures, Video Analysis, and Video Analysis of Human Motion. For her master's thesis, she dealt with microcontroller programming, sensors and intuitive interface design, and, following graduation, continued to work in this area at TU Vienna.