POSTCITY, a sprawling facility previously used to sort and forward packages, was decommissioned in 2014. Ever since, this 80,000-m2 piece of real estate immediately adjacent to the main downtown train station has been mostly unused, awaiting the wrecking ball. The date of that destruction was set recently, the building's fate decided once and for all. Nothing will be left standing; it all has to go.
But before that happens, POSTCITY will end its brief career as a fabulous event venue with one final curtain call. For the second year in a row, Ars Electronica will use this heavy-duty space as its autumn festival location, and bring it to life with art and technology one last time. The festival takes place September 8-12, 2016; the theme is "RADICAL ATOMS and the alchemists of our time." Martin Honzik, the director of the Ars Electronica Festival, recently took some time out from his busy schedule to take us on a tour of the still empty space. Here, he explains POSTCITY's current appearance, what will soon change, and some unique features of this interesting edifice.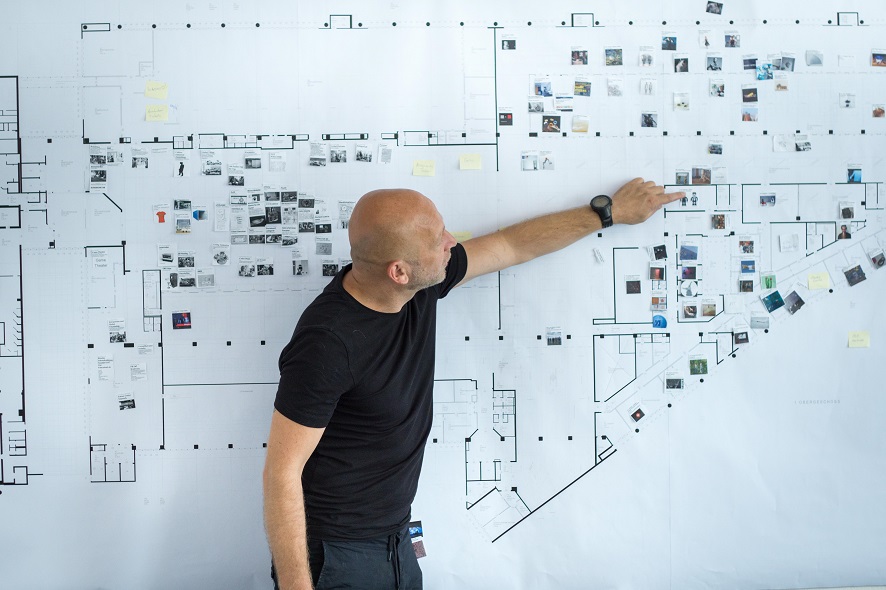 Martin Honzik explains the POSTCITY layout. The small post-its mark the locations of the different projects.
Credit: Vanessa Graf
Now, before we even enter the first hall, we're stopping at a table, on top of which is a mini-model of the entire POSTCITY. So, what's the story with this architectural mockup?
Martin Honzik: This model was designed by Julius Jell and Felix Ganzer, our exhibition architects this year. This is a solid basis, one that we can actually use to assess the practical feasibility of all the ideas we come up with here. This model will be even more decisive over the coming weeks, the phase in which it comes down to actually doing detailed planning. In projects like this, I demand to have authoritative information on which to base my decisions, so the outlay for this model was definitely worth it. It's a manifested, materialized, overall picture, which is crucial to have at a festival with so many project managers and exhibitors.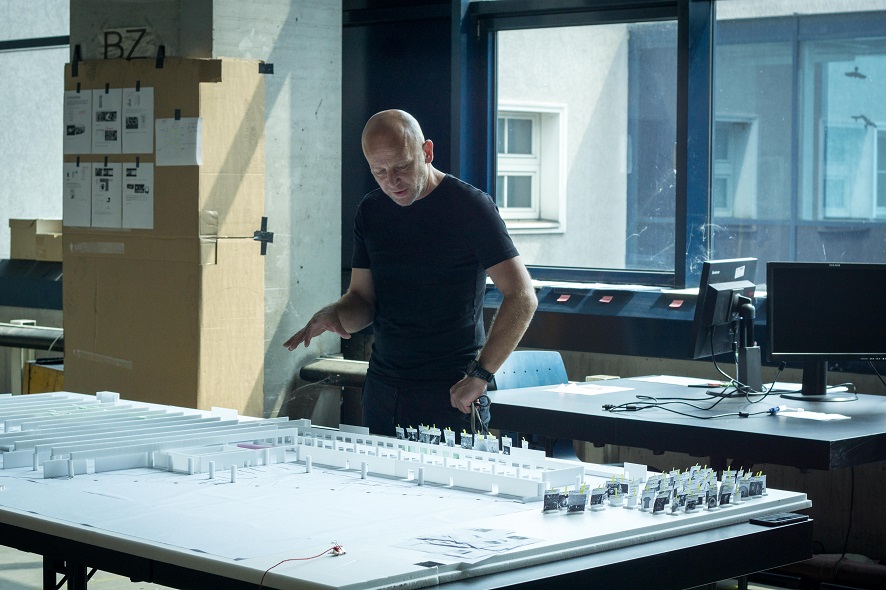 Credit: Vanessa Graf
Standing right next to it is red scaffolding like what you might see on an actual construction site. What role does scaffolding play at the festival?
Martin Honzik: The scaffolding is one of the "load-bearing" elements that will architecturally shape this space. It's common, everyday scaffolding. An Upper Austrian company, Ringer, is making available more than 600 of these modules, which will be performing a wide variety of functions—not only as a means of architectural design but also as benches, showcases, interview platforms, front- and back-office elements and spatial interventions serving as what you might call room dividers. Our festival is imparting a temporary imprint to POSTCITY, just like scaffolding does to an edifice. It's perfect as a material metaphor. When you renovate a building, the first thing you do is pack it in this scaffolding. It's something transitory; it's installed and removed soon thereafter. It's a sign of change.
After the festival, Ringer will get its scaffolding back and deploy it at construction sites. A festival of these dimensions quickly runs the risk of going through massive quantities of resources and amassing trash, so it's imperative to consider how you can go about condensing and filling a space while, at the same time, staging this in terms of a material mix that doesn't ultimately end up as a garbage heap. This is practically analogous to ants—they're the world's largest species, and all the waste products they generate enrich the world. We humans have yet to achieve this.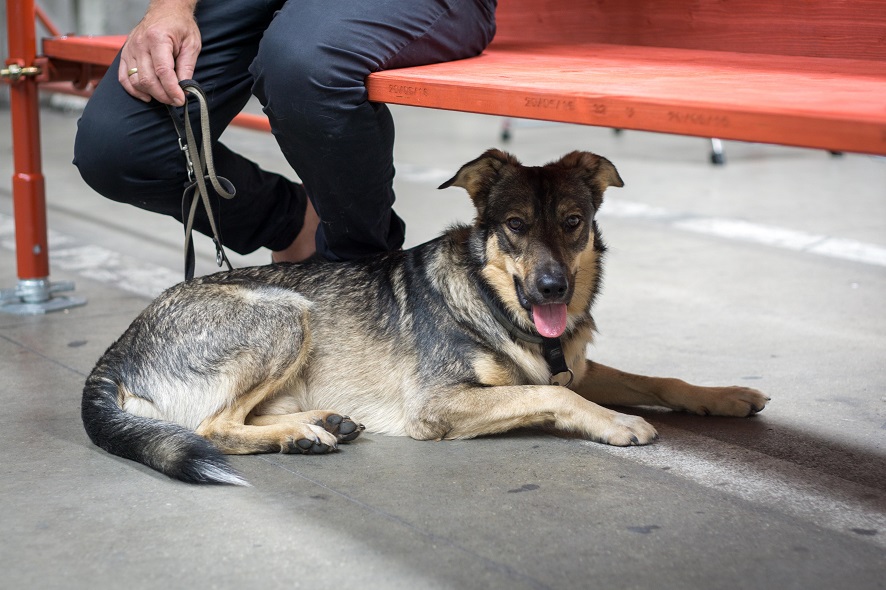 Credit: Vanessa Graf
We're standing now in the large conference hall. What'll be happening here?
Martin Honzik: The City of Linz's Department of Gardens will be providing arrangements of over 60,000 flowers and grasses to impart an atmospheric design to the spaces where the conferences are taking place. You have to keep in mind that POSTCITY had previously been the structural equivalent of a machine. It wasn't made for human beings, but rather for transshipping freight. The people here were practically just servants, tenders of a machine. Thus, you have to implement an architectural makeover—so that, upon entering the hall, people aren't overcome by associations with smoke and soot; they've got to perceive sweet scents. You enter the space and the body says: industry. But suddenly there are these aromas: bread from our organic bakery, and four different kinds of flowers, all in bloom. Moving on, what you see next are 200 trees. Here, we'll set up an installation that's an ideal example of a forest floor. The questions and potential answers that the eyes evoke in the brain are totally inverted. The answers are: this machine smells like freshly baked bread or like a flower. The atmosphere here has the same humidity as a forest; same goes for the air quality. And this approach is evident throughout the exhibitions. We'll have a drinking fountain, water sources, an organic market. We're a green event; we use only things from the region. And this has developed into a culture of implementation here, into a rule: You have to be able to face yourself in the mirror the morning after! Are we really following through on our principles, or are the things we say just marketing hype? This is what's important to me as a person.
Credit: Vanessa Graf
Conferences were held at last year's festival too, but the ancillary program was different. How did it come to nurturing flowers here this year?
Martin Honzik: In addition to the conference here last year, we also exhibited 750 architectural models of construction projects in Upper Austria. And on the very day after the festival—during which we were prophesying that, just beyond Europe's borders, lots of people were waiting to surmount this Fortress Europe, to climb the outer walls of this bastion, to make their way to Europe in search of peace; after we had shown that in Syria on the Jordanian border, there were refugee camps that had assumed the dimensions of cities—after all this, all of a sudden, practically as soon as the festival was over, these people were right here. This was one of the most intense reality checks of my entire life, and for my crew as well. Then, in this emergency situation, we were assigned the task of providing accommodations for refugees arriving from Hungary, where they had been treated very badly. The largest Austrian hub was the Westbahnhof train station in Vienna, and this place was #2. Within a matter of hours, we had to dismantle the 750 architectural models and set up almost exactly 750 cots, and by the next day, every one of them was occupied by a refugee. It was as if people who had just been exhibiting art—artificiality, so to speak—were then being subjected to a very real and extreme ordeal that put to the test what they had been maintaining throughout the festival: Whether we also practiced what we preached, and were willing to help and, despite our fatigue, do our duty as human beings? It was really a huge, powerful experience for me that I didn't have to tell any of my crew members what had to happen; everyone thought and acted completely spontaneously, motivated solely by their inherent humanity. We also received congratulations from the Red Cross. I'm so proud of the outstanding job my crew did, and that the people who worked here refused to allow themselves to be influenced by the media. We were unafraid. We received these people right on site, and we all comported ourselves in a thoroughly humane way.
We have the same setting again this year. Once more, a conference, but with a difference—in the meantime, about 36,000 refugees in transit passed through these premises. So, we aim to pay a sort of tribute to them in the form of approximately 36,000 flowers symbolizing what has transpired here in recent months.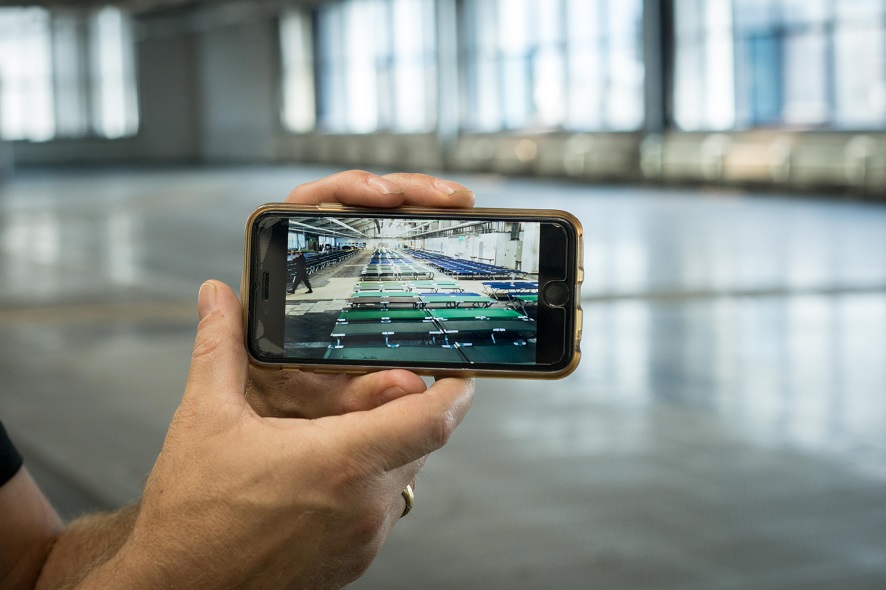 Martin Honzik shows a picture of the emergency beds that were in this hall just one year ago.
Credit: Vanessa Graf
Perhaps POSTCITY's most striking feature is the bank of blue spiral packet chutes. How are they being brought into play at the festival?
Martin Honzik: As far as using the chutes as an artistic medium, we're taking a different approach. Last year, this was the setting for "Diaspora Machine" by Anatol Bogendorfer and Peter Androsch. Taking over this year is FM Einheit, a former member of Einstürzende Neubauten, so this is stacking up as a pretty intense experience for spectators. With Einstürzende Neubauten, he was famous for bringing out the heavy artillery when it came to percussion. In any case, it's gonna get loud here.
It's very nice that you can still see the users' traces on the packet chutes. For one thing, of course, this was the workplace of people who personalized it to some extent—for instance, with stickers. These are things we'll be playing on, stuff we gratefully accept because, taken together, they tell the story of this place. And then there are our traces from last year. In the meantime, nobody removed the sheet music hung up for the percussionists. Then there are the small signs that refugees left behind on the walls and various places. Now we're back, and, needless to say, we're not going to do a clean-up; instead, we're simply taking things as they are and playing with the history of this place. After all, the chutes are sensational, almost like an organ!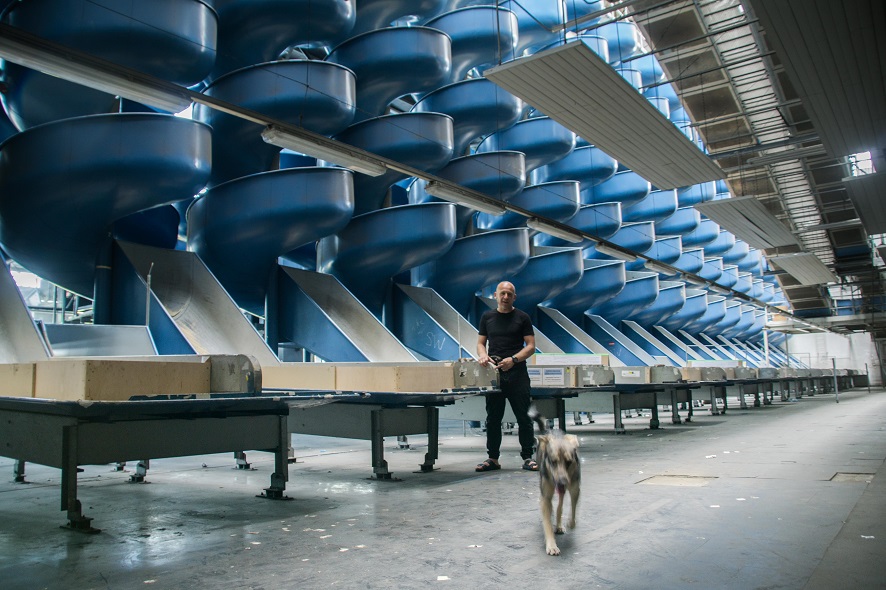 Credit: Vanessa Graf
The Gleishalle takes its name from the train tracks that actually do lead right into the building. At the 2015 festival, it served as a concert hall, and it'll be filled with music again this year. What are the challenges of working in this space?
Martin Honzik: The Gleishalle is approximately 250 meters long; an echo reverberates for about six seconds. In a musical sense, this is a highly complex and complicated place but, when the right artist or artistic ensemble has access to it, it's one in which space and sound can be placed into an experimental setting and experimentally interrelated in a way that ultimately yields a better understanding of one's own situation in space. There will be several demonstrations of this. One is a concert by Sam Auinger, who'll enable the audience to behold tonal and spatial phenomena under this particular set of circumstances from a variety of perspectives. There'll be a series of concerts here throughout the festival. This hall will be one of the key venues of the festival opening, and host a broad spectrum of approaches to playing this space—from classical music to noise art. This will be the location of the Nightline, and the Bruckner Orchestra will perform here.
The space is huge. And we're amidst the workings of a machine, a three-dimensional, open-plan space in which there's basically no hard-and-fast separation of spectators and performers. So, for example, there'll be productions designed to arouse audience members and get them to participate. Of course, the Bruckner Orchestra needs its own space for 100-120 musicians. There'll also be projections between the columns. And festivalgoers will also occasionally hear the distinctive musical sounds of Taurus electric locomotives since, needless to say, the Austrian Federal Railway won't be suspending service on account of Ars Electronica. So this means we're in for interesting multi-layered arrangements of the sounds of everyday life with the accent on the noise of rail traffic, and the staged acoustic artistry added on top.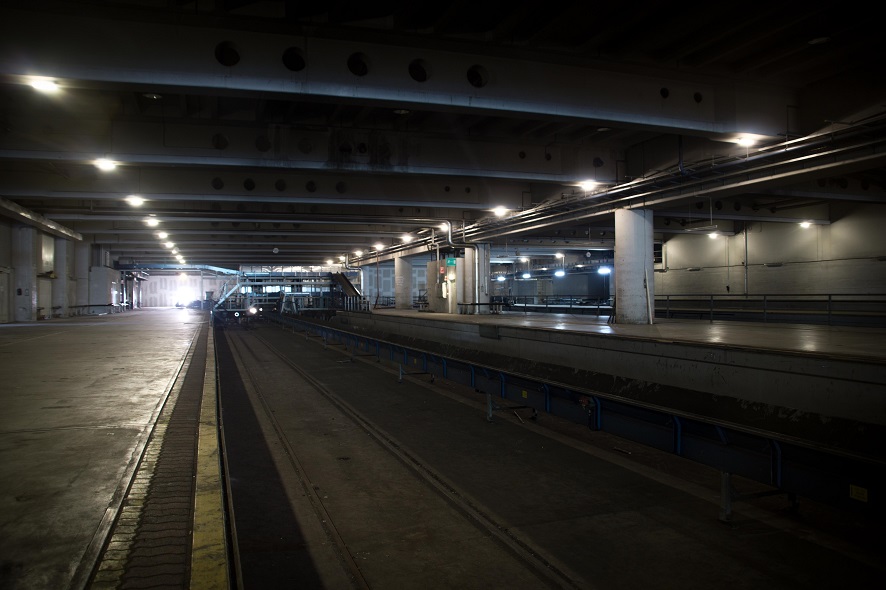 Credit: Vanessa Graf
Deep in the bowels of POSTCITY, there's a spacious fallout shelter. What plans are you making for these subterranean spaces?
Martin Honzik: In the '80s and '90s, when buildings larger than some predetermined size were built, they had to include a bunker to shelter a given number of people in case of a nuclear attack or accident. This one can hold 3,000 people. Fortunately, it was never used and will be torn down with the rest of the building. We'll be using the corridors and rooms to exhibit art. There'll be absolutely no lighting in some areas, and they'll alternate with the exhibition spaces. Of course, Infotrainers will also be on hand. The works of art on display here will be subject to a highly orchestrated curatorial concept—for example, we're planning to set up a table with a cloud of smoke magically hovering above it, almost like an eerily lit scene in a swamp.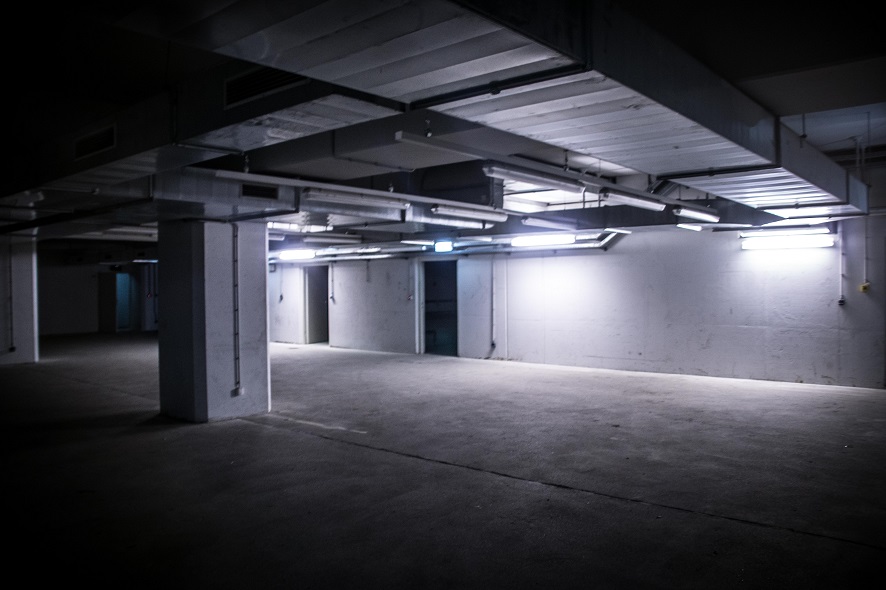 Credit: Vanessa Graf
Unfortunately, some doors are locked, but we know that there are treasures hidden behind them. What's the story with these special spaces in POSTCITY?
Martin Honzik: Down here, there's another very mysterious area—the packet repository. There was a room the size of a football field filled with conveyor belts. This was a system that wasn't operated by humans; it only needed to be tended. The purpose of this space was for packages to come in on one end and then be sorted so they could be delivered to the addressees. But, of course, there were also parcels that were undeliverable. That's the reason for this room, two levels underground, in which, 24/7, three shifts a day, the conveyor belts parked parcels marked undeliverable, those awaiting an impulse from the system that meant they're to be sent back up to ground level and finally be delivered. In my imagination, this his developed into a whole world in its own right, one in which there are packages that, for no other reason than the fact that they're packages, have been introduced into a system in which they're permanently in motion and awaiting delivery although the destination is still unknown. And, in my conception of romanticism and poetry, that's exactly what this is to me: an incredibly poetic moment that's played out completely in a parallel world in which there are no human beings. 
The 2016 Ars Electronica Festival of media art will take place September 8-12 at various locations in Linz. This year's theme is RADICAL ATOMS and the alchemists of our time; the prime venue is once again POSTCITY adjacent to them main train station. To find out more, check us out on Facebook, Twitter, Instagram and Co., subscribe to our newsletter, and log on to ars.electronica.art/radicalatoms.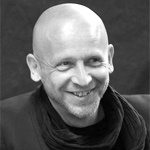 Martin Honzik is an artist and the director of Ars Electronica's Festival/Prix/Exhibitions division. He completed his studies in visual experimental design at Linz Art University in 2001, and went on to get a master's in 2003 in the Culture & Media Management program at Johannes Kepler University Linz and ICCM Salzburg. He was a member of the production crew at the OK Center for Contemporary Art from 1998 to 2001, when he moved to the Ars Electronica Futurelab where, until 2005, he was involved in exhibition design, art-in-architecture, interface design, event design and project management. Since 2006, Martin Honzik has been director of the Ars Electronica Festival, the Prix Ars Electronica, exhibitions at the Ars Electronica Center, as well as Ars Electronica's international exhibition projects.