The theme of the 2016 Ars Electronica Festival is RADICAL ATOMS – and the alchemists of our time, an encounter with the alchemists and inventors whose innovative ideas are blazing trails into humankind's future. But scientists and artists aren't the only alchemists these days. Farmers—the men and women of BIO AUSTRIA—are hard at work on innovative, sustainable solutions with great future promise. First and foremost, this is all about alternative future agricultural scenarios in which technological innovations play an essential role.
These farmers will be putting a colorfully diverse array of products on display: organic ice cream from Putzleinsdorf, vegetarian seitan from Biohof Auger in Sarmingstein, edible oils refined with poppy, hemp, thistle and sunflowers in Neukirchen, home-distilled spirits from Biohof Thauerböck, and lots of other delicacies made right here in the region, which festivalgoers will be able to taste-test and purchase. Plus, BIO AUSTRIA is planning an interesting program of ancillary offerings that will make for a relaxing, enjoyable setting ideal for informative chats about healthy, sustainable nutrition.
Marlene Wolfsteiner, BIO AUSTRIA's manager in charge of trade shows and events, told us more about the Farmers Market on Saturday at the 2016 Ars Electronica Festival.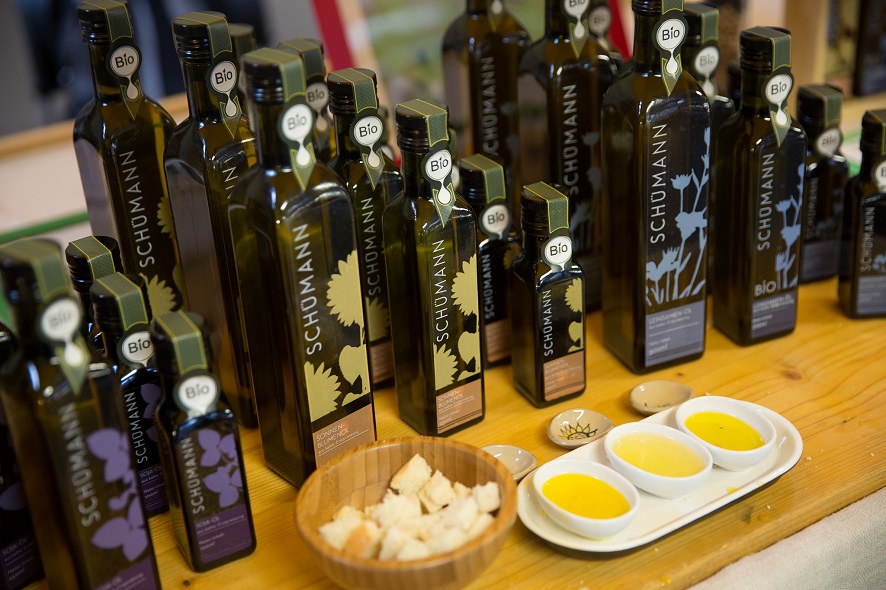 Credit: Tom Mesic
What criteria do you apply in selecting the participating farmers?
Marlene Wolfsteiner: The precondition for participation is that the man or woman is the proprietor of a BIO AUSTRIA farm. In addition to complying with the EU's organic guidelines, BIO AUSTRIA farmers have to fulfill much stricter BIO AUSTRIA guidelines. For example, the whole operation has to be farmed organically, animals have to be fed primarily with feed grown right on the farm, and there are much more stringent demands concerning things like free-range grazing and availability of space for each animal to recline in its stall. The use of fertilizer is heavily restricted and heating of greenhouses is permitted only by renewable energy or waste heat.
It's also important to us that visitors find a wide selection of regional, organic foodstuffs and specialty products. We want to show how innovative our farmers are in producing and marketing organic products.
This year's festival theme is RADICAL ATOMS – and the alchemists of our time. It's about people who are innovatively configuring our future. Are BIO AUSTRIA farmers futuristic?
Marlene Wolfsteiner: While researchers and engineers are coming up with more and more technological possibilities, our BIO AUSTRIA organic farmers are contributing to protecting and conserving the precious natural basis of our world and using it to produce organic foodstuffs. Organic farmers look at the big picture: Only if the land remains fertile can we assure that humankind can be fed and that we can maintain the diversity of our way of life.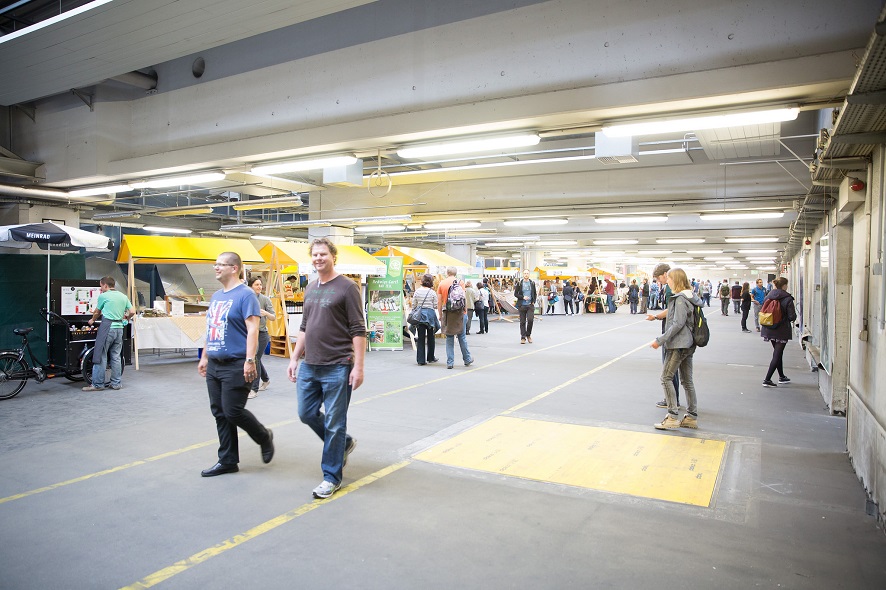 Credit: Tom Mesic
What can we especially look forward to at this year's Bio AUSTRIA Farmers Market?
Marlene Wolfsteiner: Above all, the colorful hustle-and-bustle of a real market! Tasting high-quality organic products raised by our farmers and chatting with them about what they do. Visitors will quickly realize how valuable and essential the work of our organic farmers is, how healthy soil produces healthy grain for nutritious bread, and how that contributes to people's physical health and to social wellbeing too.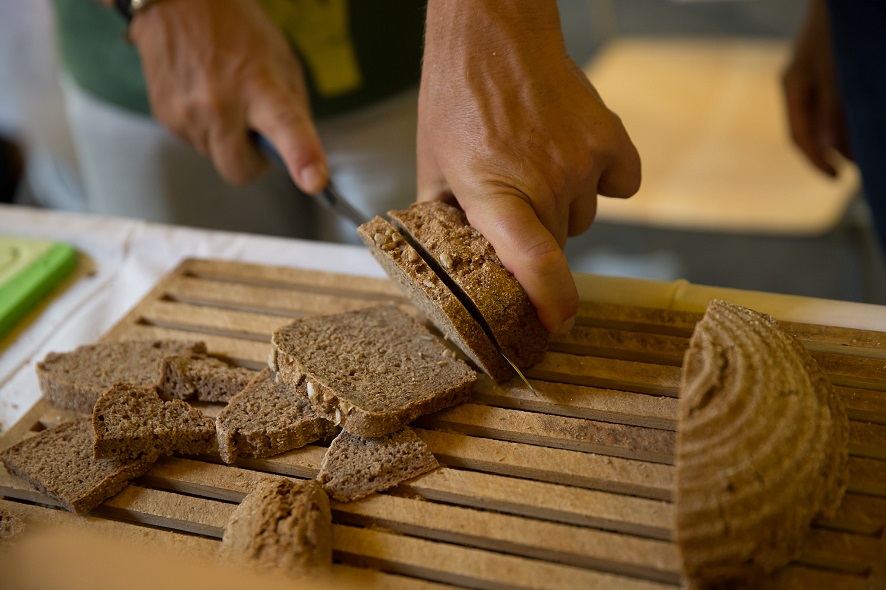 Credit: Tom Mesic
In producing this festival, we attach great importance to purchasing materials and products in the region. Now, your farmers are all regional producers too. Where exactly are these agricultural operations located, and what makes them especially sustainable?
Marlene Wolfsteiner: Almost all of them are in Upper Austria, and many of them are in Mühlviertel [the district north of Linz]. Half of all BIO AUSTRIA farms in Upper Austria are located in this area. This is easy to see on our BIOMAPS that show consumers where they can find direct marketers of organic foodstuffs right in their vicinity.
Organic agriculture means taking a holistic approach. As a result, organic farmers do a lot for society. Organic agriculture assures the production of high-quality foodstuffs. In going about this, farmers protect the foundations of life like soil, water and climate, and maintain the diversity of life by caring for our cultivated landscapes characterized by many different animal and plant species.
Organic farming is a modern, ecological form of agriculture that can serve as a best-practice example of a new, sustainable agrarian system suitable for the 21st century. And remember: agriculture is everybody's business. More than 60% of the Earth's surface is dedicate to agriculture and forestry. Thus, agriculture not only delivers nutrition; it also makes an impact on nature and the environment, our shared natural heritage. The future development of agricultural practices will thus be one of the key determinants of the fate of our biosphere.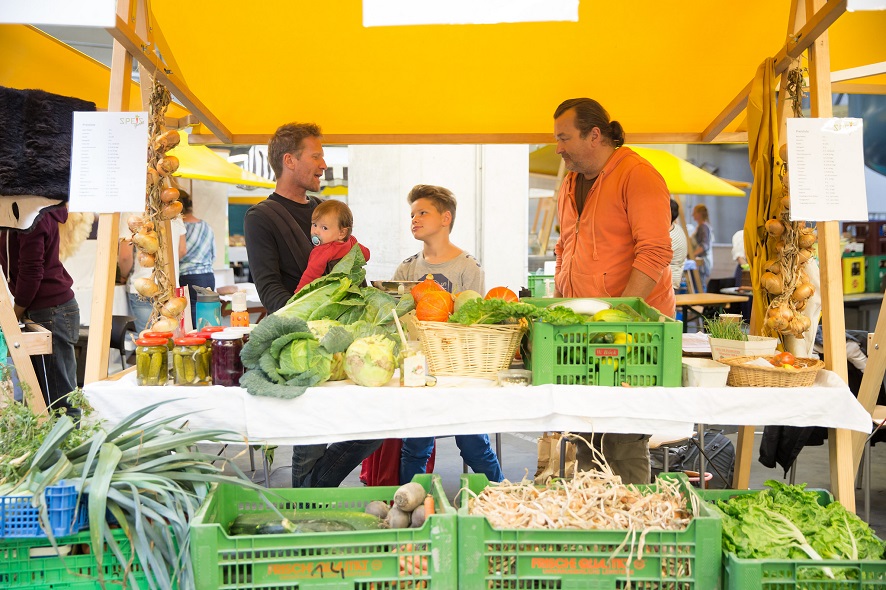 Credit: Tom Mesic
The BIO AUSTRIA Farmers Market will also be offering a framework program. What do you have in store for our festivalgoers?
Marlene Wolfsteiner: The BIO AUSTRIA Farmers Market has it all—A for apples, B for broccoli, C for cheese, and right on through the alphabet. In addition to the basics, there are lots of specialties and delicacies you can buy right from its producer. Our organic farmers will also present their handicrafts and demonstrate things like how to press oil, how potatoes grow, how to bake bread, and what a beehive looks like from inside. There'll be bustling market activity combined with fascinating information!
At the BIO AUSTRIA Infostand, our seminar farmers will be disseminating useful information about organic agriculture, organic foodstuffs, and the labels that distinguish them. And the BIO AUSTRIA Chill-out Meadow offers recliners for festivalgoers to tank up on natural energy. By way of interactivity, we offer a BIO AUSTRIA Guess-the-Cow Game. And at the BIO AUSTRIA Photowall, visitors both young and old can get creative shooting souvenir pictures they can take home with them.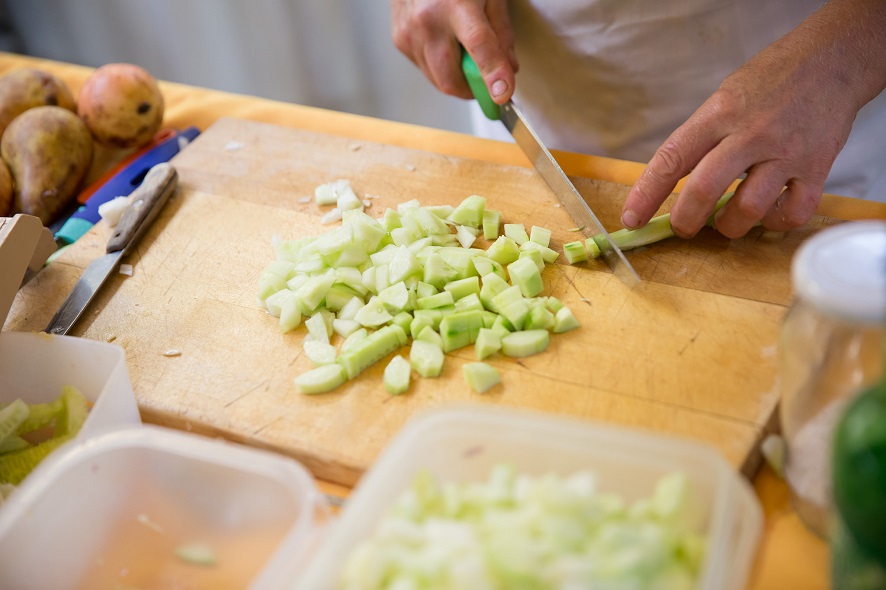 Credit: Tom Mesic
A very special highlight is seminar farmer Franziska Schafleitner's live cooking show. What exactly does a seminar farmer do, and what will she be demonstrating to the audience in POSTCITY?
Marlene Wolfsteiner: After completing a program of study and earning their certificate, our seminar farmers are prepared to provide authoritative, practical information about organic agriculture and organic foodstuffs for youngsters and grown-ups alike. They have great experience and bring tremendous commitment to the job: interactive instruction, workshops and projects, cooking courses, preparing breakfasts or snacks at fairs, and disseminating information about organic agriculture in speeches and at meetings, festivals, events and trade shows. And the people they reach out to are in all walks of life: kindergarten kids and school pupils, parent-teacher associations, communities, folks in homes for the aged, members of clubs and organizations, and opinion leaders such as teachers and physicians.
BIO AUSTRIA seminar farmer Franziska Schafleitner will be passing on some of her knowledge at a cooking demonstration on Saturday, September 10th. The UN has declared 2016 the International Year of Pulses, so she'll be preparing a delicious organic dish with legumes, which festivalgoers will get to taste. Franziska is also pleased to offer advice on how to use good ingredients to make a dish that turns out just right.
Pulses such as beans and lentils provide nutrition containing lots of high-quality protein. Plus, in organic farming, legumes like this are very important elements of a crop rotation to maintain the fertility of the soil and assure good yields of organic foodstuffs.
Did that whet your appetite? On Saturday, September 10, 2016, you can sample the good stuff produced by the organic farmers of BIO AUSTRIA and take some home for your friends and family. The Organic Farmers Market in POSTCITY is open from 10 AM to 7:30 PM.
To find out more about the festival, follow us on Facebook, Twitter, Instagram and Co., subscribe to our newsletter and check out our website at ars.electronica.art/radicalatoms.