The tiny plants have been growing in Linz's Municipal Nursery for several weeks now. About 60,000 flowers are being raised for the 2016 Ars Electronica Festival, where they'll add lots of color to the big conference hall in POSTCITY. Each flower symbolizes a person who was able to spend a night in safety here since September 2015, when this decommissioned logistics facility was placed in service as a transit camp for refugees.
For a small donation, Ars Electronica festivalgoers can take a bunch of flowers home with them. The entire proceeds will benefit Linz's Über den Tellerrand community that has enriched the care Linz is providing to refugees in the form of cooking events and other communal activities like painting "KulturSesseln" (culture chairs).
On the occasion of the 2nd Helpers Conference being organized by ZusammenHelfen in Oberösterreich as a conclave for professionals and volunteers providing aid to refugees, the community is gathering at the festival on September 10th for collaborative activities like cooking and painting. Beate Adam, the founder of Über den Tellerrand, told us more about her project.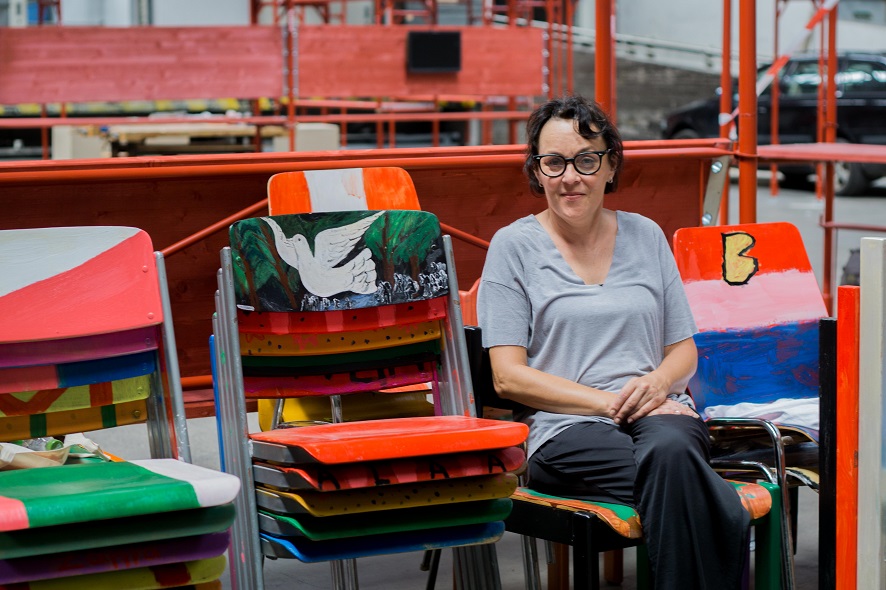 Beate Adam, founder ofÜber den Tellerrand Community Linz. Credit: Vanessa Graf
What's the mission of the Über den Tellerrand community?
Beate Adam: This is an opportunity for people to encounter one another on equal terms, people who are convinced of how important it is for society to display solidarity and mutual respect, and that society is enriched by diversity.
The various Über den Tellerrand communities create opportunities for encounter among local natives and refugees. We stage these activities in several countries—cooking and eating together and getting to know one another. There are 25 so-called satellite communities. The headquarters is in Berlin, one of my most beloved cities as far as projects are concerned. The satellites are in Germany, Switzerland, the Netherlands, Spain, and now Austria.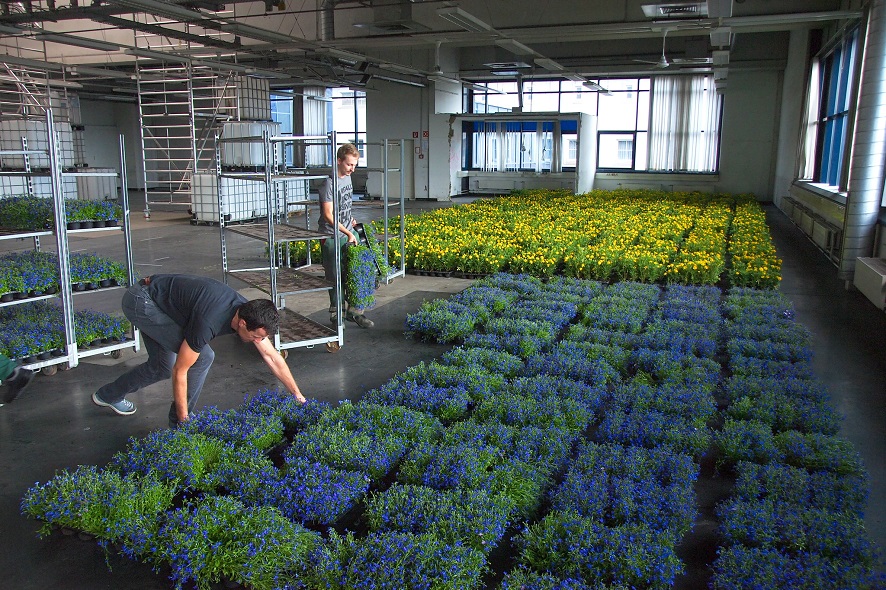 The flowers are already being put in place in POSTCITY. Credit: Martin Hieslmair
What led up to the founding of one of these satellites in Austria?
Beate Adam: I became aware of this initiative and I told people in my circle of friends about the Berlin community, which, in the meantime, has already published its third cookbook. I obtained one of them, and my friends and I checked it out together, and we decided: We want to do this too!
But it really got started in October 2015. Since then, a girlfriend, Elif, and I have been caring for a group of Afghans. Elif began to give German lessons twice a week, and I was her assistant. We started by going shopping, and then, at some point, I said: Let's cook something! That was the first cooking event in May 2016. We cooked with a group of young Afghans, all of whom were good cooks. We invited people from our circle of acquaintances simply to test how it went. It was a very enriching afternoon for all involved. We really had a lot of time to get to know one another. After that, I decided to write to Berlin. I sent a couple of photos and they answered immediately.
They furnished material like a logo, which I'm very thankful to have received. Shortly thereafter, we held the second cooking event with a somewhat expanded guest list. At present, we're still in a phase in which a lot happens via word-of-mouth and personal contacts. I've been working with immigrant families since 1998, so I'm well aware of how important it is to take people by the hand and show them: I'm with you; we'll go there and do it together. That imparts a tremendous sense of security. In time, they start to loosen up and can do things on their own. That's the way it is with immigrant families, and it's even more so with refugees. The second cooking event was, once again, a wonderful afternoon—we cooked a lot, laughed a lot. We held the third event in June together with guests from Vorarlberg—a sociologist and a group of teachers and officials in charge of integration. We gathered together to break the fast. 65 people attended, so this was a totally different dimension.
After this, I heard about the KulturStühle (culture chairs) initiative at the University of Göttingen. I thought this was a very nice idea so I contacted the artist in charge of it there and she got back to me via e-mail after a while. She was delighted that this idea—which we call KulturSessel—had made its way to Linz and she wished us success. Plus, our ladies began to make bags out of T-shirts bearing our logo. So, as you can see, we're trying to expand on the cooking idea.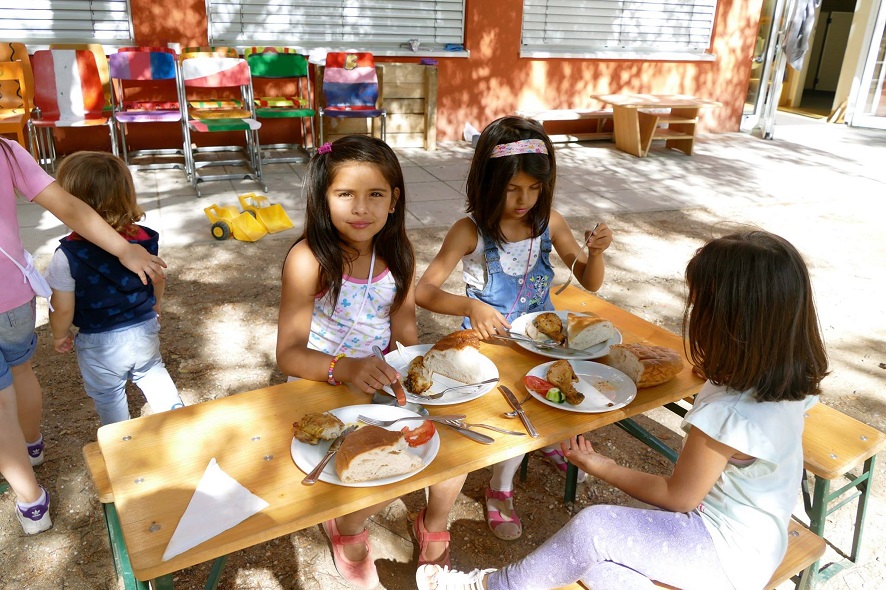 Credit: Über den Tellerrand Community Linz
Your work is based on volunteerism; you're highly committed. How did you get involved in this?
Beate Adam: In September 2015 when the flow of refugees reached Austria, I began a collection drive. I then fulfilled a heartfelt wish: I visited the refugee project that had been launched by Ute Bock, who's one of the people I admire most. If I were permitted to fulfill another wish in my life, then it would be to have a house like Ute Bock, where I could do good for others until the end of my days. During this visit, we—my daughter and I—heard on the radio that clothing and water were needed at Vienna's main train station. When we learned that enough supplies had arrived in the meantime, we drove instead to Nickelsdorf. That was the decisive day for me, for the two of us actually. I'd describe us as very strong women, but when we stood in that hall there, we were utterly speechless, and somehow helpless too. That was the point at which we started to consider what we could do personally.
On the way home, we drove through Traiskirchen, where we witnessed scenes the likes of which I'd never seen before in my life. We were driving a small truck full of donations. We brought the rest back to the Tabakfabrik in Linz, which was serving as a transit camp for 500 refugees at the time. That whole summer, I made an effort to help. Since September, we've been getting together on a regular basis—at least once a week—with a group of young Afghans and engaging in recreational activities together. The last time, we attended a German course at the zoo. We've shown them the Wissensturm; we've been to the Ars Electronica Center and City Hall—important facilities, which are also relevant to their life here in Austria. Most recently, one of our main activities has been to prepare them for the A1 and A2 German tests. Then, we'll really be able to make a concerted effort to find them an apprenticeship or an internship.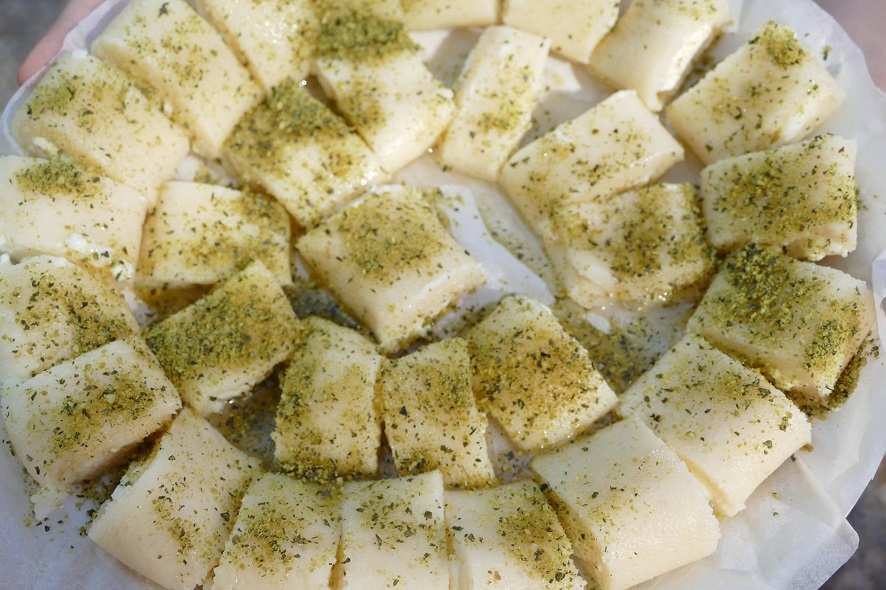 Credit: Über den Tellerrand Linz Community
You've already done a lot of cooking with refugees. What are your favorite dishes?
Beate Adam: My favorites are kofta—Afghan meatballs, almost the size of a tennis ball—and Biryani, a Pakistani dish, a sweet-and-sour rice dish. But everybody was also delighted the first time I made an apple strudel at one of our dinners. So, I always make an effort to include Austrian dishes on the menu, since they're something new for these people. It doesn't always have to be dishes from these people's native countries; they're enthusiastic about trying new things too.
How does the actual food preparation work? Does everyone cook together?
Beate Adam: It depends! The last couple of events were set up so that some people cooked and some painted chairs. And then, of course, everyone ate together. Otherwise, we cut up the ingredients and cook together. For instance, the Afghani dish qabuli calls for julienne carrots, and I tried my hand at it but I was immediately reproached because my slices weren't long and thin enough. There are always head cooks—that's very important to them personally. The last couple of time, the weather was beautiful, so we ladies sat outside, cut up all the ingredients, prepared everything and drank tea while the cooking went on inside.
Credit: Über den Tellerrand Linz Community
Ars Electronica festivalgoers will be able to buy flowers, and the proceeds will go to Über den Tellerrand Linz. What do you intend to use the money for?
Beate Adam: Various things—for example, we're creating 10 cooking cards, each containing a recipe, and we're going to publish them, and we'll market them in time for the Christmas shopping season. We also need promotional materials so we can increase our presence in the public sphere. And of course, we'll be able to pay for the foodstuffs, which have been financed by a small circle of donors up to now. We'd also like to expand our bag production, since we're constantly in need of sewing materials and fabric. For some members of the group, this is truly an excellent pastime. They're really proud of the fact that people buy these bags and they achieve a presence in Linz thereby.
And, naturally, I think about what the individual men and women could use. For us, it would be so important for our boys to be able to have access to a laptop so they can learn German more effectively. And, for instance, we have with us a journalist from Kabul who's in the process of shooting a short film about Upper Austria. And it has to be edited …
The Über den Tellerrand Linz Community will do some group cooking and "KulturSessel" painting at the Ars Electronica Festival on September 10, 2016. While that's going on, the 2nd Helpers Conference will be in progress in the main conference hall. 60,000 flowers will be adorning the venue, and for a small donation, you can take a bunch home with you. The entire proceeds will benefit the Über den Tellerrand community! For more info, visit our website: https://ars.electronica.art/radicalatoms/en/.