Visitors of the 2016 edition of the Ars Electronica Festival can't miss "The People's Thinking Lab", presenting itself in the entrance area of the PostCity. Those who are not shy to perform are invited to express their thoughts about the future via a Shadowgram, that is striking a pose which will be taken as a picture and whose silhouette will be produced as a vinyl sticker. But first, visitors are presented with one of five questions of how they feel about the years to come. After the vinyl-print has been plotted and got stuck to the wall, the participants can discuss their idea behind the posture and the accompanying answer to the question bubble. Project manageress Shoko Takahashi found the time to talk about the details in the midst of all Festival preparations.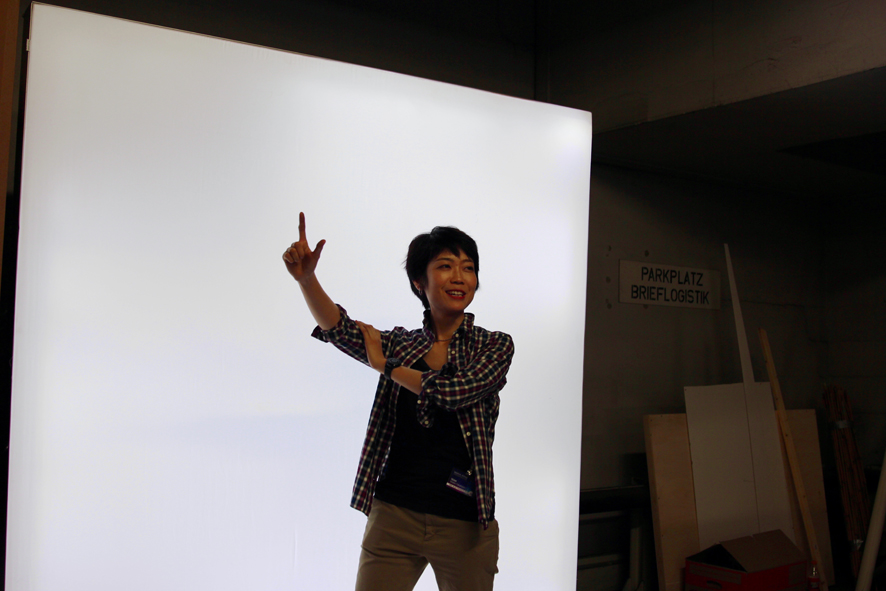 Project-manageress Shoko Takahashi is striking a pose to demonstrate the way Shadowgram works. Credit: Markus Scholl
In Shadowgram, the aim was to have a creation process to foster a collective brainstorming. With the "People Thinking Lab", you take the preconception of people's creativity in order to make them think and express themselves about the future. How do you think will people respond to an abstract topic like that and how did you develop the idea.
Shoko Takahashi: The idea is an initiative by the Future Catalysts (Hakuhodo x Ars Electronica Futurelab) to have a platform of collective thinking, to get different ways of thoughts – not the ones by experts, but the general public, ordinary people who in some places need an initial spark to think about their own lives. When individuals are being asked to think about the future, they rather think in terms of their own, but not humanity's prospects. People generally tend to isolate their personal views from the collective perspective. In fact, there is also a bias between the individual's positive views on humanity's future in contrast to their personal fate, which they evaluate more negatively. Thinking about their personal next five years, they tend to block out the good things ahead – in contrast, they anticipate humanity's future much brighter. Assuming that every individual is taking part in creating the future, it is also responsible for global warming and fair trade or the education of future generations. The idea of the "People Thinking Lab" was to bring the personal and the social perspective in line with each other. And the Shadowgram is a superb way of synchronizing those two dimensions, the outlook on the personal and humanity's tomorrow.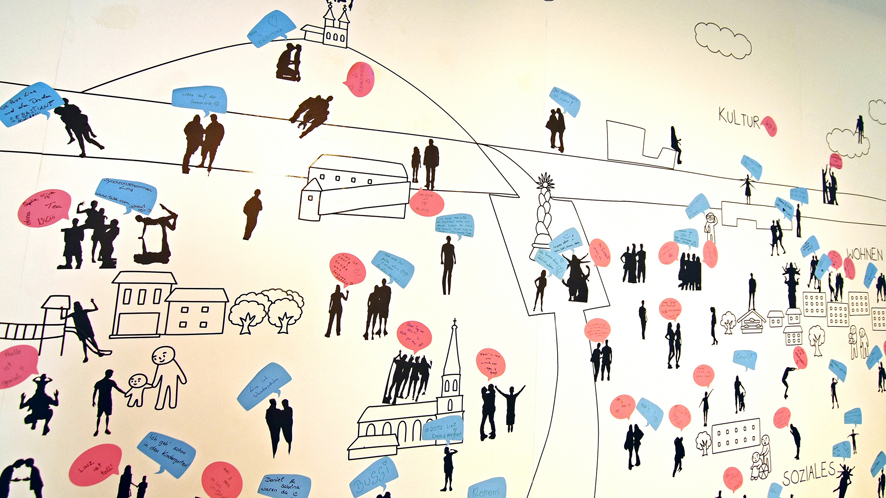 The Shadowgram-wall during the event The Future of Linz" in 2012 " . That's how the wall at People Thinking Lab will look alike. Credit: Robertba
In what way can Shadowgram support a different way of thinking? You talked about developing questions…
Shoko Takahashi: Hakuhodo and the Ars Electronica Futurelab have developed initial questions which are raised in a certain way, to make participants think about themselves and the collective future. Hakuhodo has a specialized unit, Hakuhodo Insutitute of Life and Living (HILL), performing experiments you expect from social psychologists. So they have their own methodology of how to observe people and how to derive the right way of asking. In contrast, the Ars Electronica Futurelab's Research & Development department has a vast tradition of investigating relationships between art, science, and society in art-based experimental forms. Hakuhodo is drawing together all sorts of behavior in order to yield the perfect wording. I don't say the current questions are perfect, rather, we will try out in the festival, to learn from the feedback, and improve the wording for future investigation. To set up this lab itself, is a very interesting challenge for us. We would love to see how people will work through these questions, how they will inspire each other.
In general, the "People Thinking Lab" aims to create future scenarios.
When visitors enter the Lab, they will be faced with 5 possible questions which are given on a speech bubble. Then, they are asked to "perform" a Shadowgram on the basis of that question, consequently, they will sit down in a round with an infotrainer as a guide, trying to give the answer by filling out their own, yet blank speech bubble, which in the end will be stuck to the wall next to the Shadowgram. At that stage, they can exchange ideas and views on what the other is thinking about the future. For sure, the participants then will also give some details on their nationality, age, gender and so on.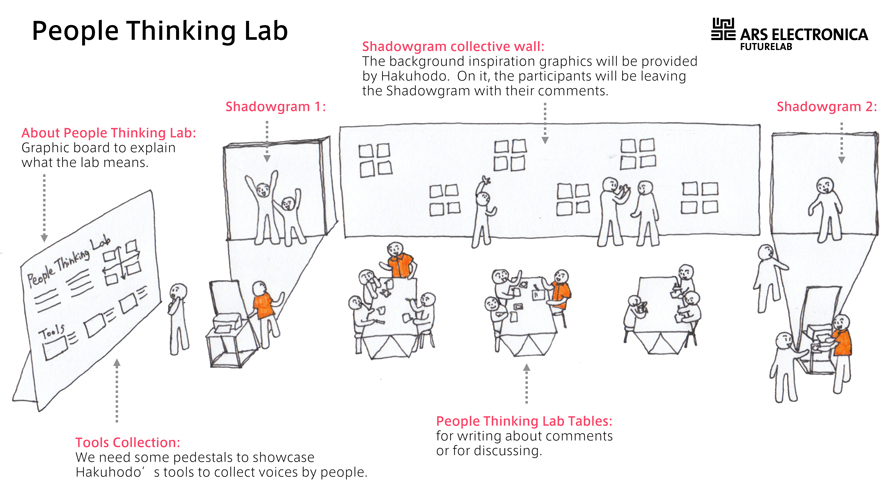 The People Thinking Lab design as a lovely drawing. Credit: Emiko Ogawa
Apropos nationality… Since every culture is different, in what way do you expect the answers to differ? Does the visitor's cultural heritage influence the way of evaluation?
Shoko Takahashi: Yes, definitely. In Japan, for example, people tend to think more collectively and identify themselves as part of a unit. The most significant example is them being asked about their profession. Japanese people tend to answer with the company's name they belong to, rather than what they do as a professional, such as engineer, accountant, etc. If people are asked "What change do you see in the future?", the answer will be diverse not just because of their personality, but also because of their cultural background which has a huge influence on how people see the now or future, the self or society, etc. And it is very important to take this into consideration when we analyze and evaluate answers.
But since we are asking about the people's homeland, we can take that into consideration in the evaluation of the results. If we can develop future scenarios from the samples, it would be awesome to have them exposed to the public. We also have the idea to install other People Thinking Labs in different places of the world. We are curious about to find about the answers to the same question in different settings!
A frame of this years' Ars Electronica Festival-edition in the entrace area of the PostCity. Credit: Markus Scholl
If there will be expressions of fear that would have to be displayed in a crude or maybe even unethical manner, would you censor them by refusing to exhibit the results?
Shoko Takahashi: At this stage, I have no idea what kind of answers will come.  As I said earlier, the "People Thinking Lab" itself is an experiment. I do not plan to censor, nor refuse any expressions. We assume that since this is a cultural event, there will be an overall homogeneity of visitors at the festival. We don't claim that the results will mirror society's view on the future. We only say that the results are from the visitors of that particular festival, who are probably well-educated and interested in arts and technology. Still, we want results that are not influenced by the outside, so the Infotrainers are advised to interfere or moderate as little as possible. The discussion and collective brainstorming surely will foster new ideas, but it is different from social media where the opinion seems dominated by opinion leaders like the news. I think the "People Thinking Lab" is a unique approach in that it is a platform to exchange personal ideas and global views and to extract opinions that are not too objective but also not too subjective. Situated at the entrance, the "People Thinking Lab" invites participants before and after their visit of the PostCity, so it will be interesting to notice how the exhibition might have fostered people's ideas about the subject.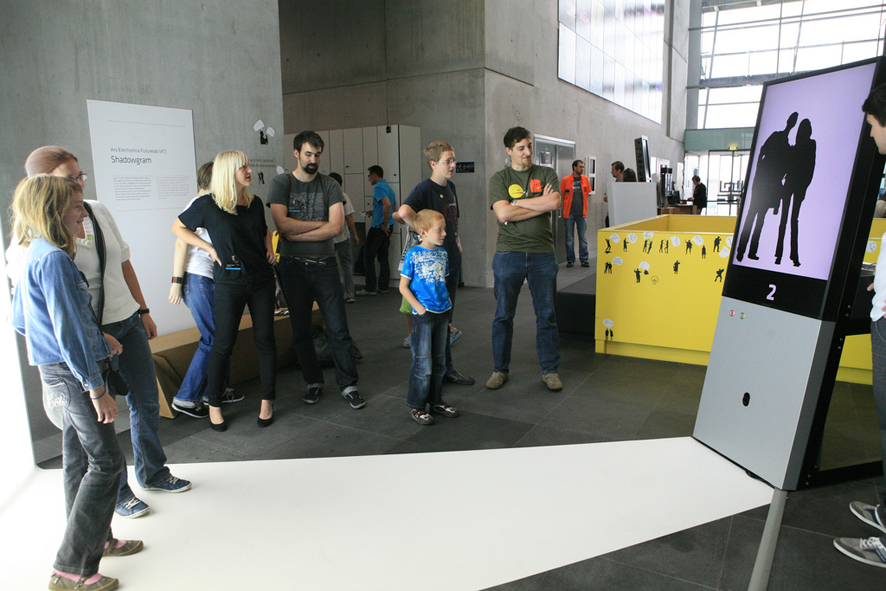 Vistors of the Ars Electronica Center already tested the Shadowgram in 2011. Credit: Markus Scholl
By having social media as a tool, I noticed that people only show positive things to get approval. Don't you think we live in a world of indoctrinated optimism?
Shoko Takahashi: We certainly don't want to avoid the negative outlook on the future, actually that would be very unlikely. So if there is fear of creepy stuff ahead, visitors should certainly feel invited to express their concerns and again, I think that because this is analogue life and not social media, there is no such thing as a code of behavior. Plus, participants won't get no likes or thumbs down, they are free to perform their very own Shadowgram, producing their very own vinyl sticker.