This is their world. They're growing up at a time when most of us stay connected with family and friends via smartphone. And they're taking this route too—into territory that's uncharted for us as well, a course set and paved by new technologies, first and foremost virtual reality and 3-D printing. The upshot is that the options open to young people these days are made up of possibilities that most of us could hardly even imagine just a few years ago.
In September, the POSTCITY, the former postal service logistics facility at Linz's main train station, once again morphed into a hub and conclave custom-tailored to this young generation of creative artists and knowledge-hungry programmers.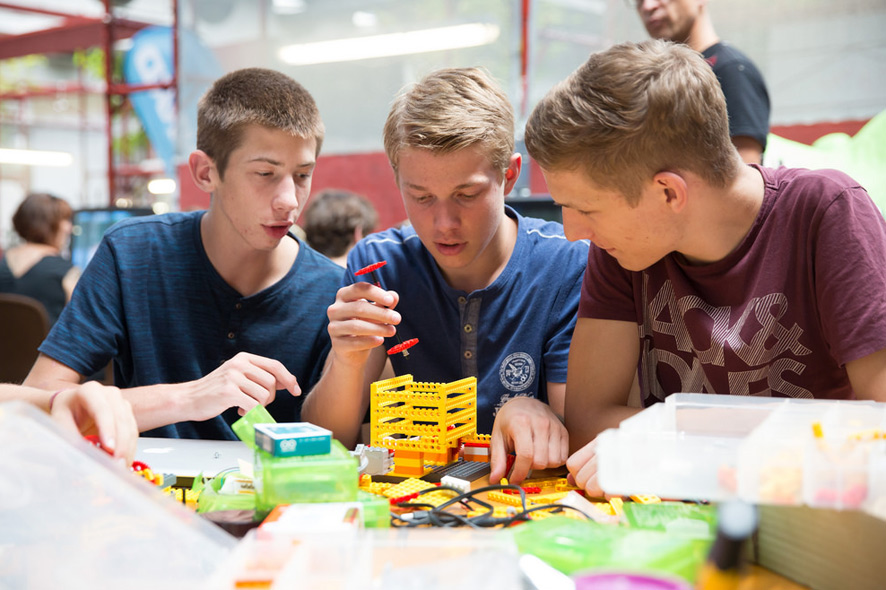 Credit: Tom Mesic
The youngsters' various ages made no difference. There was something for everyone—little kids and young adults, boys and girls found activities and offerings that appealed to their respective skill level and interests. While high school seniors—like this crew from the media & art program in Bad Leonfelden – were employing technical construction kits to implement their goal of independent experimentation and collaborative learning …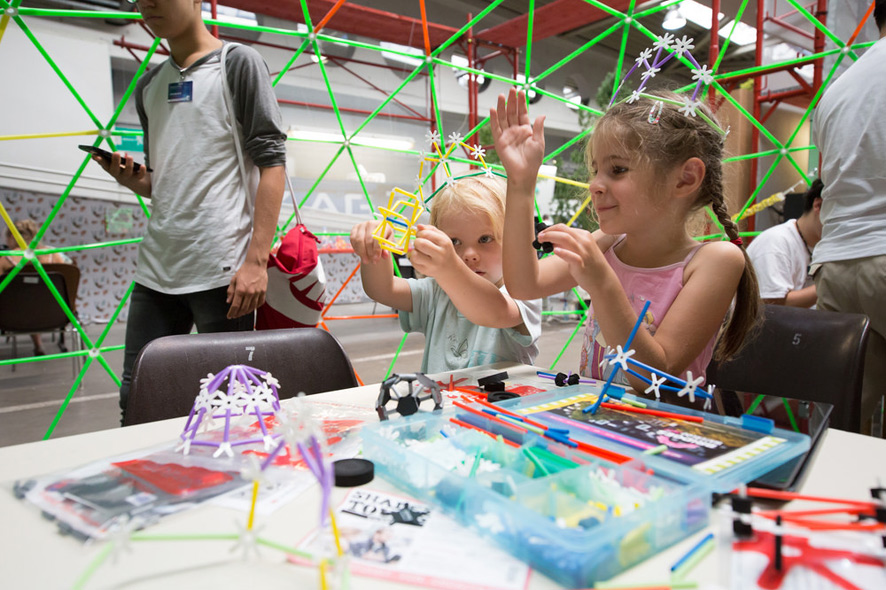 Credit: Tom Mesic
… kids who still had their secondary school career ahead of them were interconnecting elements of the 4DFrame Toolkit to create imaginative visuals strongly suggestive of the depiction of molecules. An observer might even get the impression that this playful pastime was establishing the basis for a smooth transition from arts & crafts to science!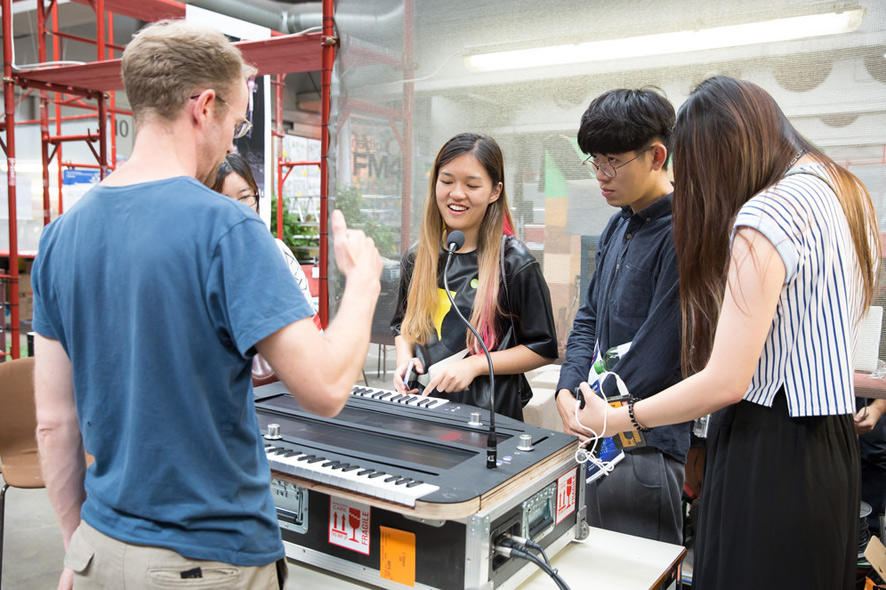 Credit: Tom Mesic
The opportunity to make music together was promised by an instrument named the "Collidoscope" that quickly became a gathering place for young composers. Equipped with interactive interfaces and a microphone, it's much more than just a piano. Anybody from beginners to professional musicians can use it to collaborate on live arrangements of tonal artistry.
Credit: Florian Voggeneder
A learning game developed by Otelo eGen gave youngsters a chance to experiment with new high-tech consumer products like virtual reality glasses, to come up with new educational formats that make use of them, and to engage in a discussion with their peers about how they deal with new media.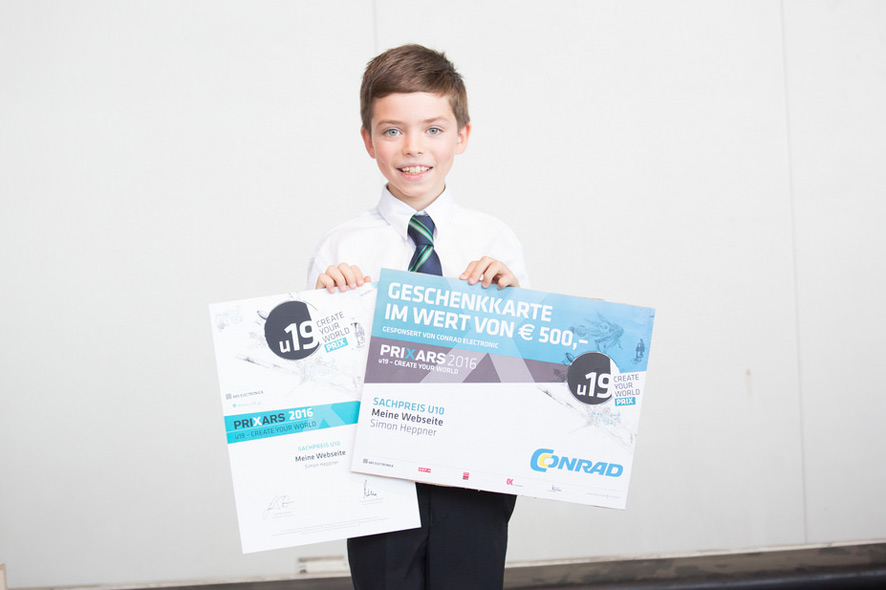 Credit: Tom Mesic
u19 – CREATE YOUR WORLD isn't just a festival-within-a-festival for the next generation; since 1998, it's also been a Prix Ars Electronica category honoring outstanding media art projects by young people under 19 years of age. In 2016, the jurors were delighted by the work of Simon Heppner, a 10-year-old website designer and game programmer. This shot taken at the u19 ceremony in POSTCITY shows the proud recipient of a merchandise prize.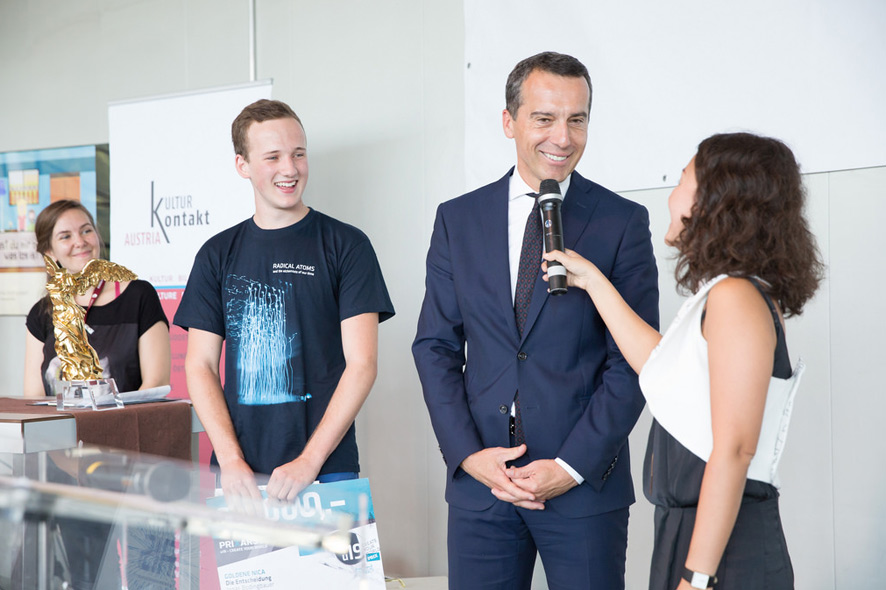 Credit: Tom Mesic
The Golden Nica statuette emblematic of the grand prize in the u19 – CREATE YOUR WORLD category was personally presented to 19-year-old Jonas Bodingbauer by Austrian Chancellor Christian Kern at the awards ceremony in POSTCITY. Jonas Bodingbauer developed "Die Entscheidung" [The Decision], a computer game in which players have life-or-death power over a fictional cancer patient.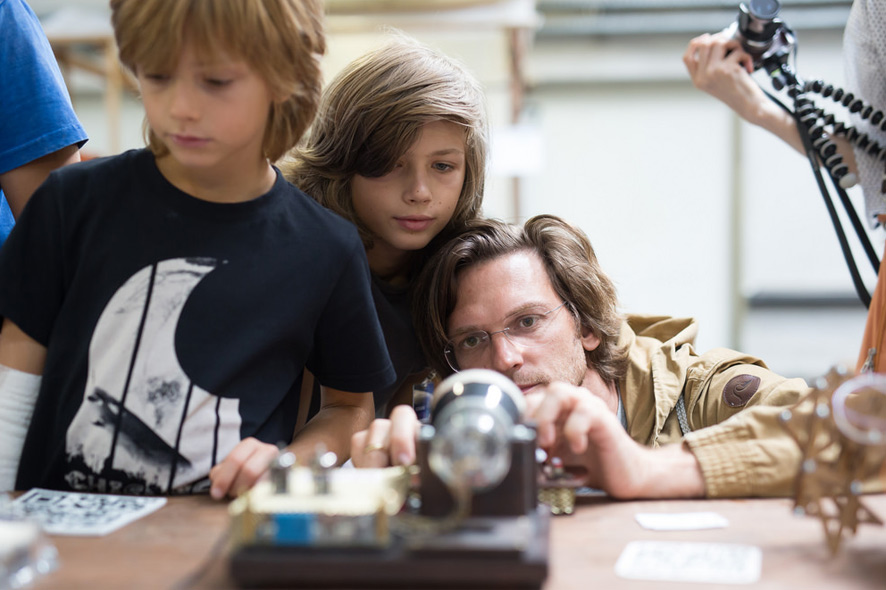 Credit: Florian Voggeneder
The 2016 u19 – CREATE YOUR WORLD Festival was once again a get-together of experimenters and tinkerers who presented their do-it-yourself projects to festivalgoers at the first Mini Maker Faire Linz. This was also an ideal setting for substantive discussions with the many experts in attendance.
Credit: Tom Mesic
For all those Minecraft enthusiasts interested in enhancing their computer game and its multifarious worlds with additional dimensions, Minecraft 4D in POSTCITY was the place to go. But this wasn't just a matter of stunning new visuals; the point was to be able to feel these virtual worlds too!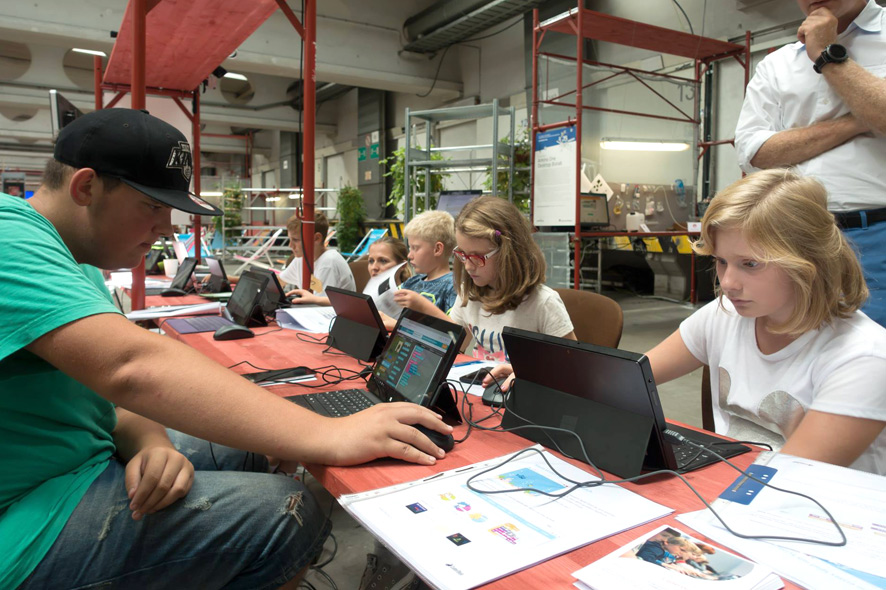 Credit: CoderDojo Linz
Participants in the CoderDojo in POSTCITY even went a step further. Here, you could not only play new computer games; you could also develop games of your own from scratch. Young programmers convened for workshops designed to produce collaborative projects in a setting in which assistance, if needed, was conveniently available from adult mentors on site.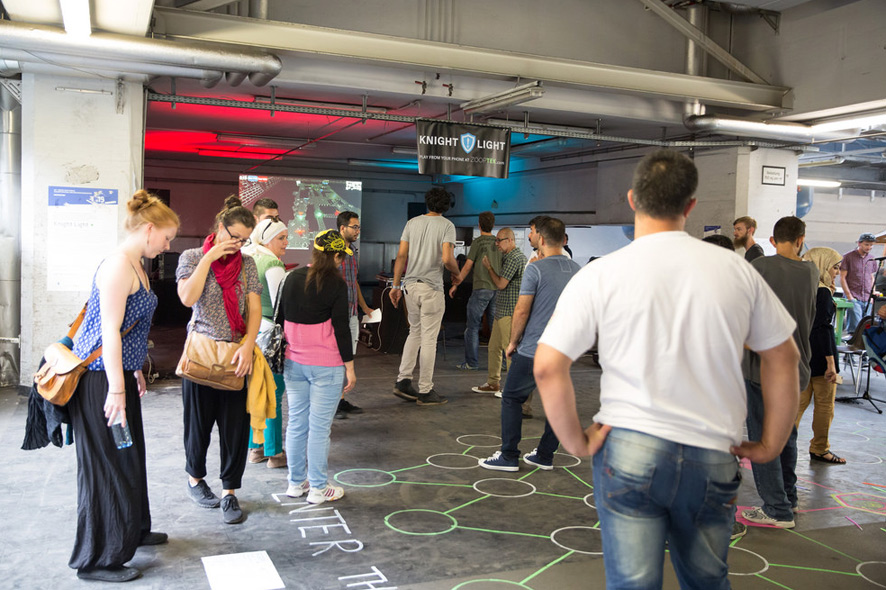 Credit: Tom Mesic
Of course, there was plenty of space for experiencing and trying out new games too—like the live gaming event Knight Light. This game was strongly inspired by Roman gladiatorial contests. And just like in the days of Antiquity, the audience could intervene and have a say in the outcome.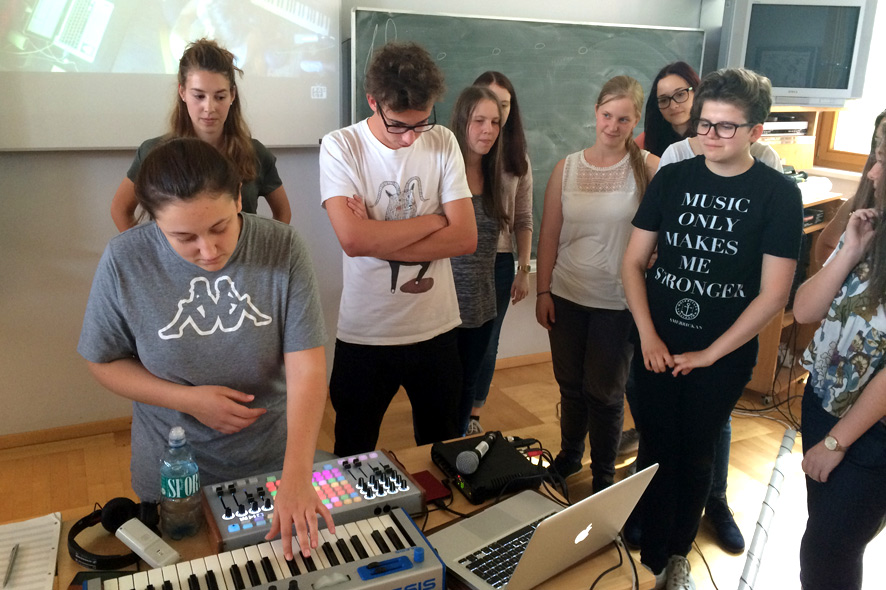 u19 – CREATE YOUR WORLD TOUR: The Festival Goes to School
So, that was a quickie overview of the 2016 u19 – CREATE YOUR WORLD Festival. Until the next one is staged in September 2017 in Linz, there are opportunities to experience u19 – CREATE YOUR WORLD in the form of workshops held at selected schools and institutions. Beginning in winter semester 2016-17, schools can make arrangements to be a tour stop. Simply submit a proposal (including preferred workshops/content) to tour@aec.at!
u19 – CREATE YOUR WORLD PRIX: A Golden Nica for Your Project!
Now that school's back in session, creative youngsters can once again begin submitting their projects for prize consideration in the Prix Ars Electronica's u19 category. The medium is up to you—sculpture, model, picture, film, game, action or a futuristic idea. Enter your project or idea for the world of tomorrow, and maybe you'll be the next recipient of a Golden Nica and €3,000! The deadline for submissions is March 3, 2017. All young people under age 19 who live in Austria are cordially invited to take part. Additional conditions of participation and the entry form are online at ars.electronica.art/u19!
Merken
Merken
Merken