"Engineering the Future" was the title of Digital Design 2016 as well as the theme of the event curated by Ars Electronica that kicked off the weekend program at the Austrian Cultural Forum. The lineup included three live performances and an exhibition.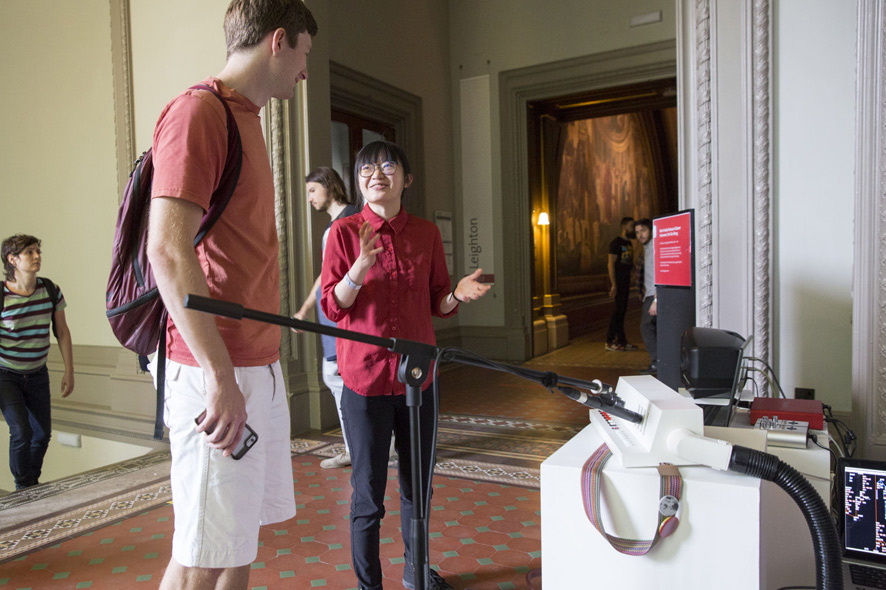 Retro Product-Vacuum Cleaner Instrument / Yen Tzu Chang (TW), Credit: Victoria and Albert Museum, London
Leading things off was Yen Tzu Chang, a Taiwanese artist living in Linz, with a live session on her Retro Product – Vacuum Cleaner Instrument. The unusual appliance is a reconfigured vacuum cleaner from which the artist derives analog and digital sounds, and mixes them with great improvisational skill.
She was followed by Indonesian artist Andreas Siagian's 8-bit Mixtape. Reconfiguring/repurposing old objects plays an essential role in this performance too. Andreas Siagian transforms old music cassettes into synthesizers that play a repertoire that is, proverbially, unlimited. The artist makes the technology behind the virtuosity available as Open Source, and thus implicitly invites others brimming of musical creativity to build a synthesizer of their own. At the Austrian Cultural Forum in London, the 10-minute sample of Andreas Siagian's artistry gave an idea of all the effort and insights that had gone into opening up the sound generation possibilities of "8-bit Mixtape" as a DIY medium.
Next up was Austrian artist Stefan Tiefengraber with WM_EX10 WM_A28 TCM_200DV BK26, an audiovisual live performance that imparted substantial vibrations to the historic salon and its huge chandelier. The sounds and visuals are generated by short circuits the artist produces with his wet fingers on opened devices such as an old Walkman or a Bontempi keyboard. The skin's resistance and the conductance of the human body are the essential physical phenomena at work here, visualizing the signal in flickering and abstract shapes and lines in black-and-white projections.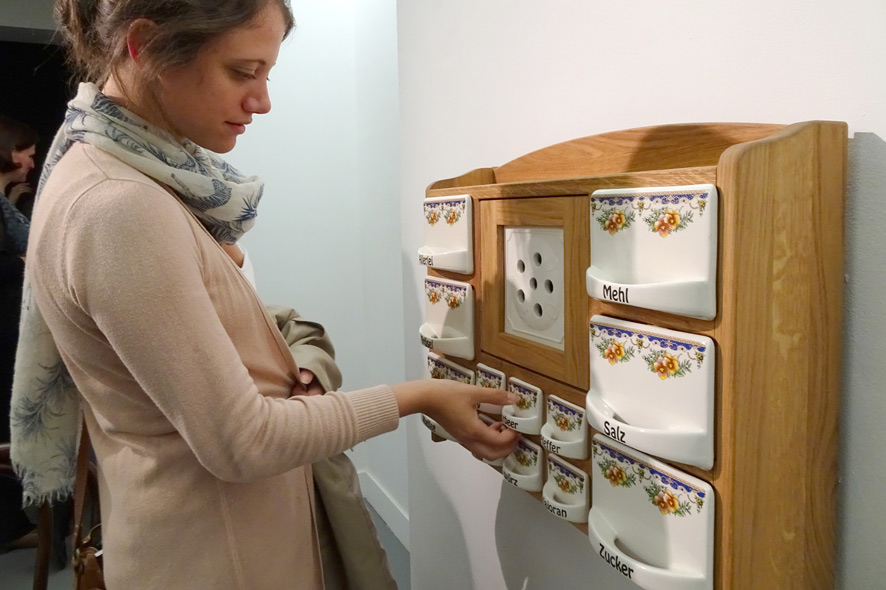 Draw:er//16 / Verena Mayrhofer (AT), Credit: Andreas Zingerle
Following the three performances, the audience was invited to proceed to the underground gallery space for a presentation of "Draw:er//16" by Verena Mayrhofer and Dawid Liftinger's "Flashlightinstallation #1": Draw:er//16 is an interactive audio installation that delves deeply into stereotypes of Austria. To this end, it packs a journey back in time into a spice rack. Interviews that the artist conducted are activated by opening up one of the little pull-out compartments in what used to be standard infrastructure in an Austrian kitchen. Breadcrumbs, flour, caraway seeds, paprika—each drawer stands for an exploratory encounter with the Austrian soul and cynical scrutiny of stereotypical ascriptions. For this presentation in the Austrian Cultural Forum in London, the work was supplemented by interviews with refugees in Linz awaiting a decision on their application for asylum.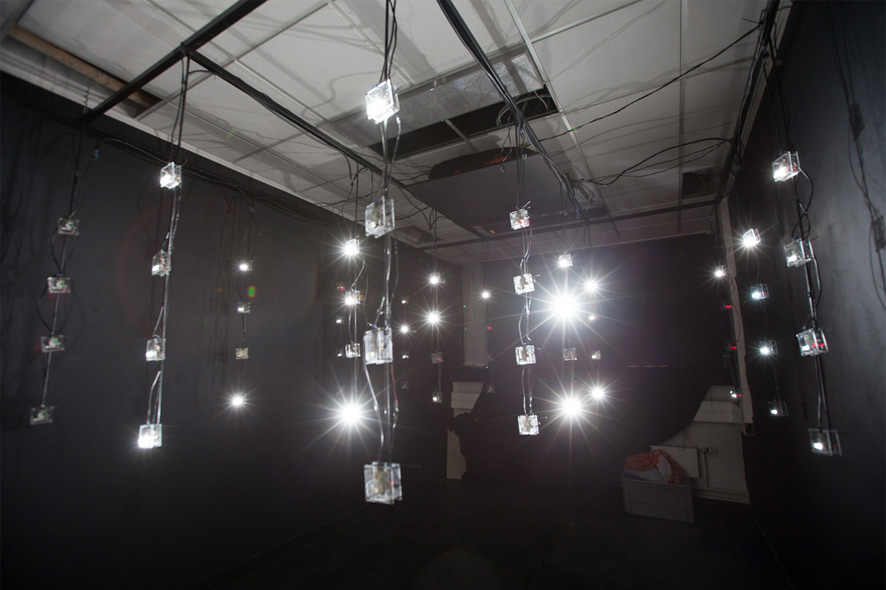 Flashlightinstallation #1 / Dawid Liftinger (AT), Credit: Florian Voggeneder
Flashlightinstallation #1 by Dawid Liftinger consists of 64 analog flashes [camera attachments] that engender a walk-through matrix encompassing an entire exhibition space. An installation visitor entering the space activates the system and triggers the electrical storm. Once visitors' eyes adjust to the bombardment of light, sounds suddenly become audible—an apparently thoroughly orchestrated work powered by the explosive discharges—popping—of the condensers of the individual flash devices.
Merken
Merken