"Wild Card+" und "Deformation Lamp" showed the direction of NTT's intended signage system.
To test the possibilities for 2020, the hallways and exhibition spaces of the PostCity at Linz main station offered the ideal scenario for both projects, which were seamlessly imbedded in the Ars Electronica Festival 2016. The technology of "Deformation Lamp" was featured at different stations and in more than one way. Those who minded the information experienced something like an illusion, if they would not have been informed about the pulsating nature of letters, icons and shapes. Even the big Radical Atoms sign in the entrance hall featured the hypnotizing 3-D effect, flaunting over the Wild Card+ display in a bold manner. The App which can render information by simply holding a smart phone onto many exhibition objects from any angle, is supposed to guide the visitors of Tokyo effortlessly through the city.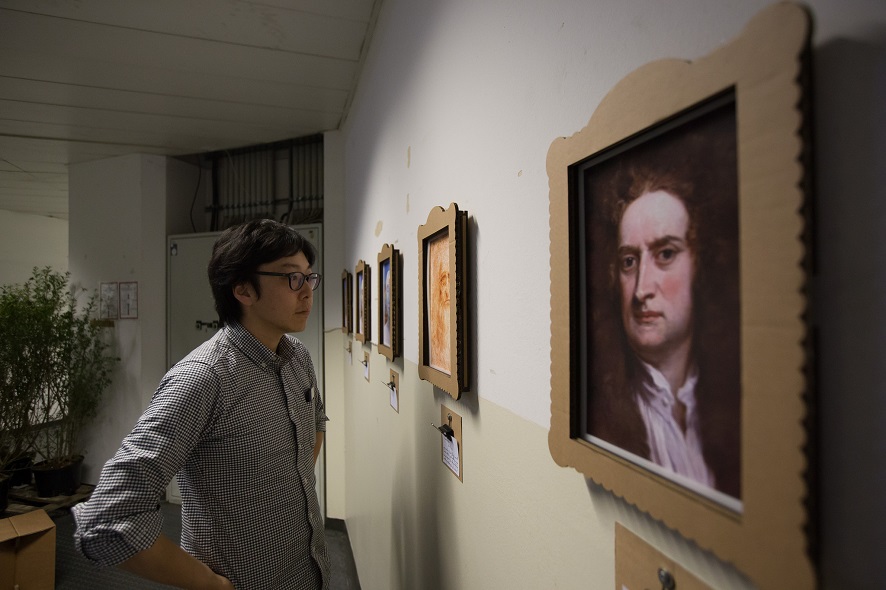 Hiroshi Chigara of  NTT in front of the picture exhibition, a part of the Deformation Lamp-demonstration at Ars Electronica Festival. Credit: Florian Voggeneder
Shingo Kinoshita and Hiroshi Chigara of NTTs Service Evolution Laboratories gave us an intimate look behind the approach of the collaboration with Ars Electronica Futurelab and on its future purposes.
What was the initial spark to have a common project between NTT and AEFL and how did you get the ball rolling?
Shingo Kinoshita: Toward 2020, NTT will try to contribute to the event by providing not only "high quality, reliable and secure network services" but also "Omotenashi", which is Japanese style hospitality, and impressive experiences. NTT research laboratories is the world's largest organization among communication carriers. It has developed cutting edge technologies of wide range in research fields, such as physics, communication science, network, security, clouds, Artificial Intelligence, Internet of Things, media, and UI/UX (User Interface/User Experience). However, we have keenly become aware that technologies alone are not sufficient in order to achieve the above mentioned missions, especially to provide highly impressive experiences for audiences. We believe the key to success is to combine art, creative, and social elements with technologies. Ars Electronica FutureLab is definitely one of the most sophisticated organization that can combine all of the elements and provide innovative and impressive user experiences as evidenced by the example of Drone 100 and DeepSpace. Therefore, NTT expected that we can become an ideal collaborative partner and started to discuss the possibilities of joint research in May.
Through several meetings, we have succeeded to share common visions and reached an agreement of joint research in a short time, and decided that we would develop and exhibit instances of social communication infrastructures to the Ars Electronica Festival 2016 as the first joint research kickoff activity. After defining the goal, members from two organizations could collaborate well and succeeded to develop the works in a very short time.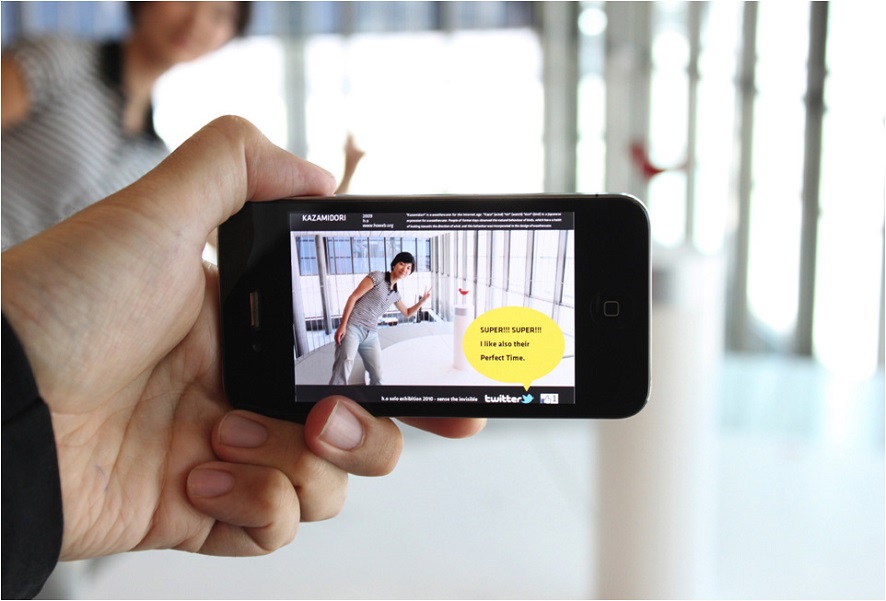 Ars Wild Card, a free-of-charge iPhone app by the Ars Electronica Futurelab that was already developed in 2011 found its advanced version in WildCard+ in 2016 . Credit: Hideaki Ogawa, Emiko Ogawa, Manuela Naveau
What did both sides bring to the table for the development of Wild Card+ and Deformation Lamp? Would you tell us your core technologies and explain the innovation with each project?
Hiroshi Chigara: Ars Wild Card+ is a combination of the Wild Card-App of Ars Electronica Futurelab and NTT's "angle-free object-search technology". "Angle-free" is a new image recognition technology which can accurately specify a three-dimensional object from a photographed image of it. This works from any angle. It enables us to capture the target-objects or images themselves, and get detailed information of them. One common conventional approach is to use QR-Code. However, compared to putting them additionally in museums for artworks, or on any signage in public spaces, this natural image recognition based approach can definitely provide users better experiences. Using Wild Card+ in the Ars Electronica Festival, we provided a natural experience of scanning artworks, browsing descriptions, capture photos, and create or share archives on Simple Notification Service. Of course, just like the original feature of Ars Wild Card, the shared artworks can be printed out as postcards.
Ars Wild Card+ was featured in the foyer of the Ars Electronica Festivals 2016. Credit: Markus Scholl
Deformation Lamp is a light-projection technique NTT developed, which brings completely novel visual experiences by utilizing the processing characteristics of the human visual system. Conventional projection mapping changes visual impressions by way of projecting a well-designed pattern onto the object's surface as a screen. However, they cannot produce movements of static objects themselves since they "paint" a new color and texture on the object's surface without preserving the original surface's appearance. Unlike the conventional projection mapping, Deformation Lamp makes use of visual illusions, and this can add a movie-like dynamic appearance to a two-dimensional (2D) static object, such as fluttering flames and blowing wind. In this festival, we created a very unique signage system which combines static (printed on the wall), physical images and navigates people by very natural and magical movements.
As an experimental attempt, we made a toilet signage which is created by a combination of conventional projection mapping and Deformation Lamp. Also we made a workshop style exhibition in which people could make their own sketches which started to move right after they would be framed and hung to the wall.
Deformation Lamp was installed in many different places and in various forms at the Ars Electronica Festival 2016 Credit: Markus Scholl
What were your expectations towards the festival-installments and in how far do they differ from the actual reactions of the visitors?
Hiroshi Chigara: One challenge before the festival was to imagine how we could promote the Wild Card+ to the visitors. From the second day onwards, we started to use a flyer to make more visitors use the app. Once they got to know the existence of the app, many of them liked it and they created and shared many archives of artworks. Although this was our first try to use Deformation Lamp as a signage-system, the series of the prototypes – from big signage deformation, arrow navigation, or in combination with conventional projection-mapping at the toilet, and ground floor deformation – could successfully give visitors a very natural and magical impression. The most challenging part was the ground floor deformation.
Regarding the workshop, it was also a challenge to make a good deformation effect template for the visitors' sketches and AEFL and NTT made a lot of trial and error before the event. The result was beyond our expectation. We successfully got many visitors who were surprised, when they made a sketch and saw its deformation with delight.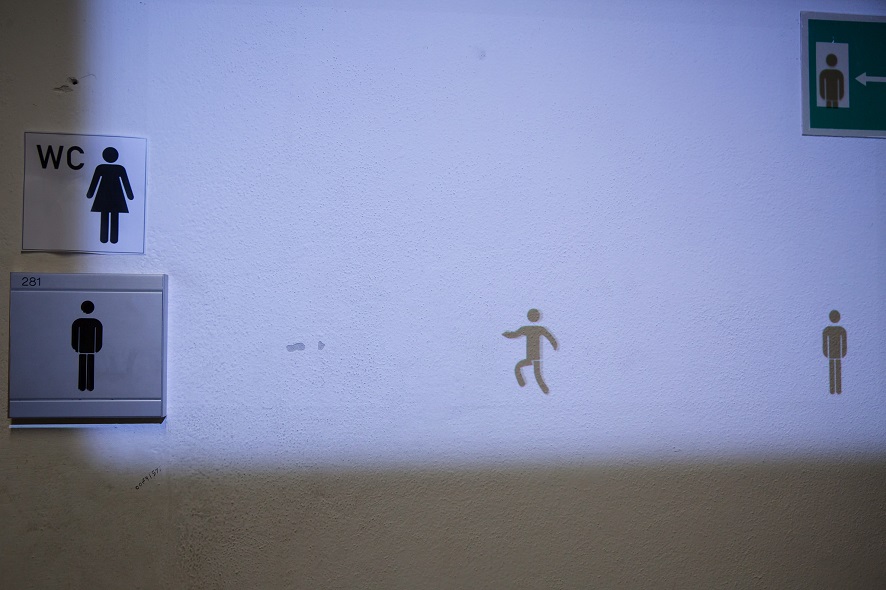 Deformation Lamp led the visitors of the Ars Electronica Festival to the rest room in a playful manner. Credit: Tom Mesic
How can you improve or develop the projects until they will become a commonly utilized matter in 2020?
Shingo Kinoshita: The Ars WildCard+ – prototype could be furtherly developed in order to obtain a better cycle, meaning a better eco-system. To scale up this system, it would need to involve more and more people, including artists. Updated prototypes could be achieved by a shared potential, that affords an exchange of ideas around questions like what kind of features we should add, how many objects should be involved, which area should be covered and so on. To create updated prototypes it needs to have more feedback. A better approach to introduce people to this app or system could be a starting point. An increase in the number of the registered objects is of course important. However, at the same time we also need to think about an effective design which promotes this app/system to make people aware whenever they gather around a target(=registered) object. In the Ars Electronica Festival 2016, we put a sticker next to the object, indicating the registered target artwork. The combination of Deformation Lamp and the signage-system at the Festival was a very interesting challenge and the feedback from this project is definitely utilized for better designs of signposts in public spaces. We are tackling this issue as an on-going project. This time we showed several patterns (arrow, toilet) as a deformation target.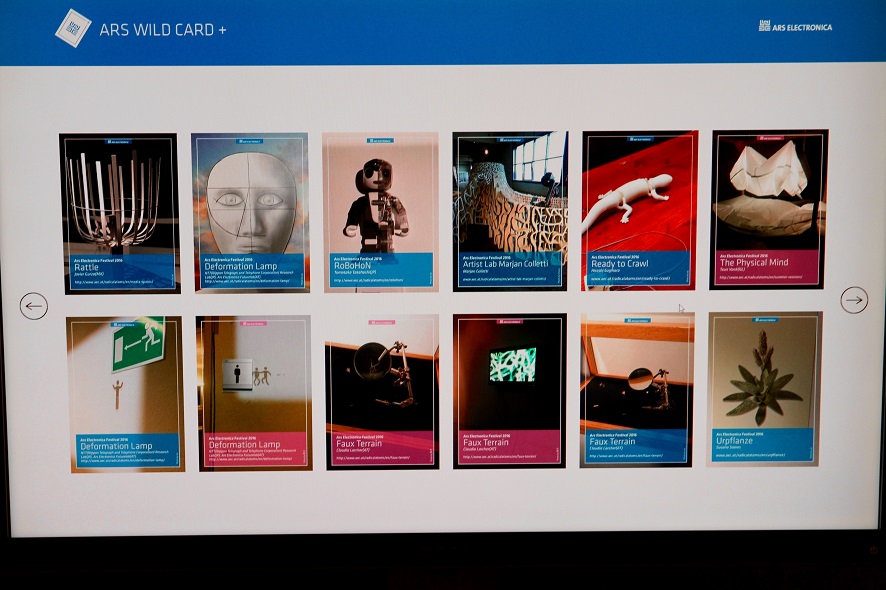 The computer screen in the foyer of the Ars Electronica Festival 2016 displayed pictures of exhibition pieces, which had been uploaded via the Wild Card+ App. Credit: Markus Scholl
Are there any other plans of joint ventures between NTT and AEFL besides Wild Card+ and Deformation Lamp – which functioned as a pilot to the corporation?
Hiroshi Chigara: After the festival, where we demonstrated Wild Card+ and Deformation Lamp as the kick-off projects, a few members from FutureLab came to NTT in Japan, and had a workshop to discuss the future possible projects. The workshop is very successful and we could find the main directions to proceed from now on. Main focus area of joint research could be social communication design of city and ultra- realistic sensation media by combining AI, IoT and media technologies with art, creative, and social elements.