A diverse array of people, countless motifs, and five days to spend among them—the Ars Electronica Festival staged annually in September in Linz has also recently been serving as a shooting location for all sorts of photography & film projects. And that applies just as well to a crew of young people with physical handicaps who, in conjunction with their EDP training, spent time in September 2016 conducting video interviews with artists and festivalgoers in PostCity, and then used their footage to create a 20-minute documentary about the 2016 festival theme, RADICAL ATOMS and the alchemists of our time.
The "studio" behind this film entitled "The Alchemy Box" is FAB, an association to foster work and employment, and its Virtual Office initiative. Its three-year EDP training program is offered primarily to physical handicapped young people in Upper Austria for whom manual labor would be difficult or impossible. The aim of this educational program is to provide these youngsters with qualifications that enable them to enter the workforce in some way depending on their particular capabilities. That projects of this sort certainly do build these youngsters' self-confidence and make them better team players is richly attested to by the resulting film. This is also the impression that trainer Birgit Pölz took away from this experience.
First off, what was your approach to the film project with these young people?
Birgit Pölz: In the preparatory phase and above all for the production of our teaser, we first focused our classroom instruction on the subject of alchemy. We jointly inquired into what alchemy actually is, and went into the various alchemists we were familiar with from movies, history and mythology. What were the alchemists trying to achieve, and what was their place in society at that time? Plus, our young people went on an outing to Medienkulturhaus Wels for a workshop to learn interview techniques as well as to prepare our questions for the shoot at the Ars Electronica Festival. Our youngsters brought a really high level of commitment to this project right from the start!
Credit: Martin Hieslmair
What did you like about the festival as "playground" for this film project? When you look back on it, what were your favorite impressions and situations?
Birgit Pölz: What appealed to me the most was the tremendous diversity of the guests and artists at the Ars Electronica Festival. And, of course, the location, the former postal service logistics facility, offered us lots of "playing fields." I look back fondly on how we grew together as a team during this time. The cooperation among the members of the crew was amazing, as was how well they got along with the Ars Electronica staffers. A pleasant, low-stress atmosphere prevailed in PostCity.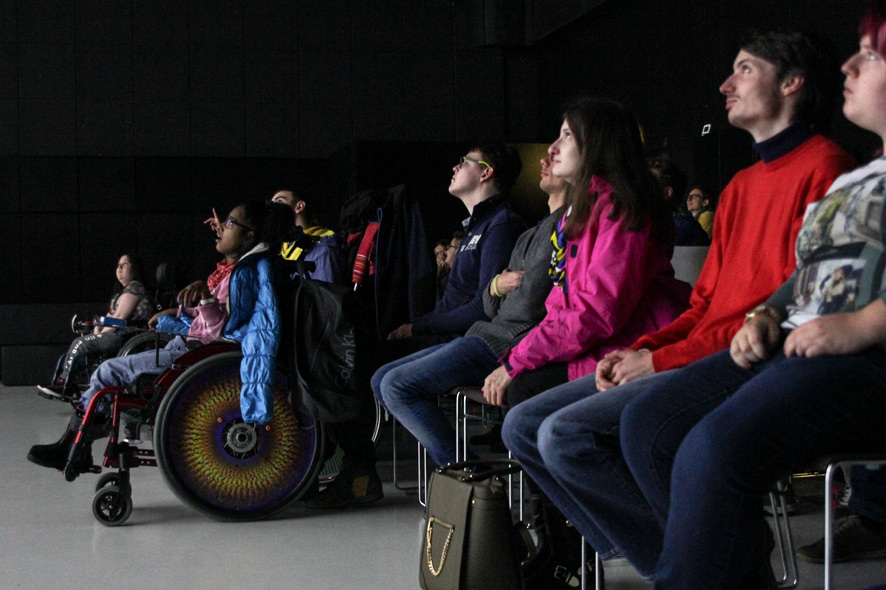 Credit: Martin Hieslmair
How did the young people take to this project?
Birgit Pölz: Our youngsters displayed a really positive attitude—curiosity and enthusiasm. And what I'd especially like to accentuate—without apprehensions or anxiety. Their behavior was highly professional. They simply had a lot of fun and they showed it! I particularly want to mention some very valuable feedback we received from our participants—they got over their shyness of having to/being able to talk to "strangers." They exhibited more self-assurance in their demeanor. For each and every one of these young people, this project was an enriching experience that will sustainably benefit their personal development.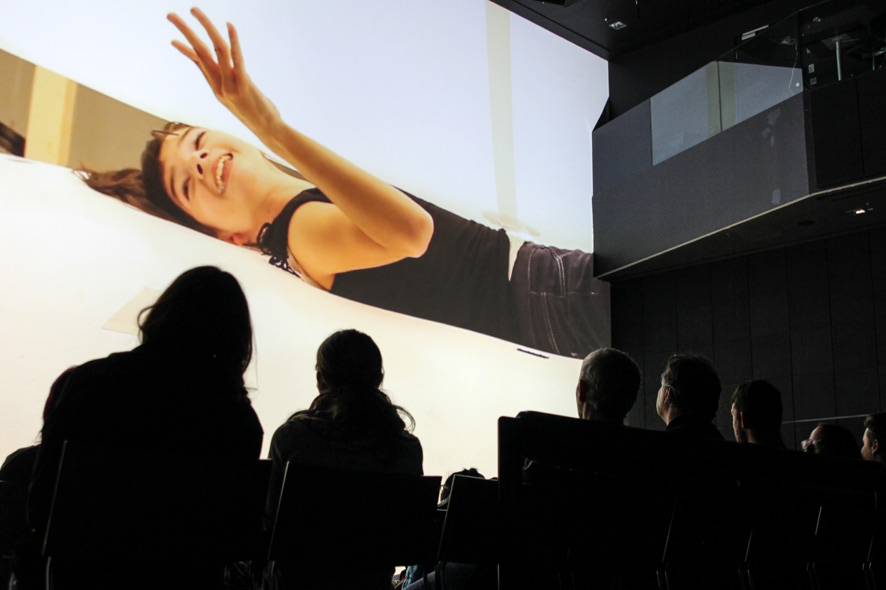 Credit: Martin Hieslmair
What did the participants like the most?
Birgit Pölz: It varied. Ivan, for example, really enjoyed being the director. What Anamaria preferred was doing the interviews and lying in the big "cloud bed." Susanne was thrilled to have interviewed Austrian Chancellor Christian Kern. Marcel's favorite was the art installation with the dynamometer and the inflatable jacket. Isabelle liked "everything, actually." Nicole thought that the interview with Martin Honzik, director of the Ars Electronica Festival, was terrific, Wolfgang liked the interview with Rudi Anschober, regional minister of integration, and Tobias liked the one with Christian Kern. Arber, on the other hand, most enjoyed flying a drone.
Credit: Martin Hieslmair
The documentary film "The Alchemy Box" will premiere on February 16, 2017 at 7 PM in Deep Space 8K at Ars Electronica Center Linz.
By the way: young people in Austria under age 19 still have until March 3, 2017 to submit their (film) projects for prize consideration in the Prix Ars Electronica's u19 – CREATE YOUR WORLD category. Participation is a rewarding experience! Details are available online at ars.electronica.art/u19/prix!