This year's Prix Ars Electronica prizewinners come from the Democratic Republic of the Congo/Belgium/Germany, Canada, Ireland, Slovenia and Austria. David OReilly (IE) is the recipient of the Golden Nica in the Computer Animation category for his work entitled "Everything"; the Golden Nica in Digital Musics goes to Cedrik Fermont (CD/BE/DE) and Dimitri della Faille (BE/CA) for "Not Your World Music: Noise in South East Asia"; and "K-9_topology" garnered the Golden Nica in Hybrid Art for Maja Smrekar. Lisa Buttinger from Schalchen in Upper Austria is this year's honoree in the u19 – CREATE YOUR WORLD category for young people in Austria. But now everything in sequence:
Hybrid Art: K-9_topology / Maja Smrekar (SI)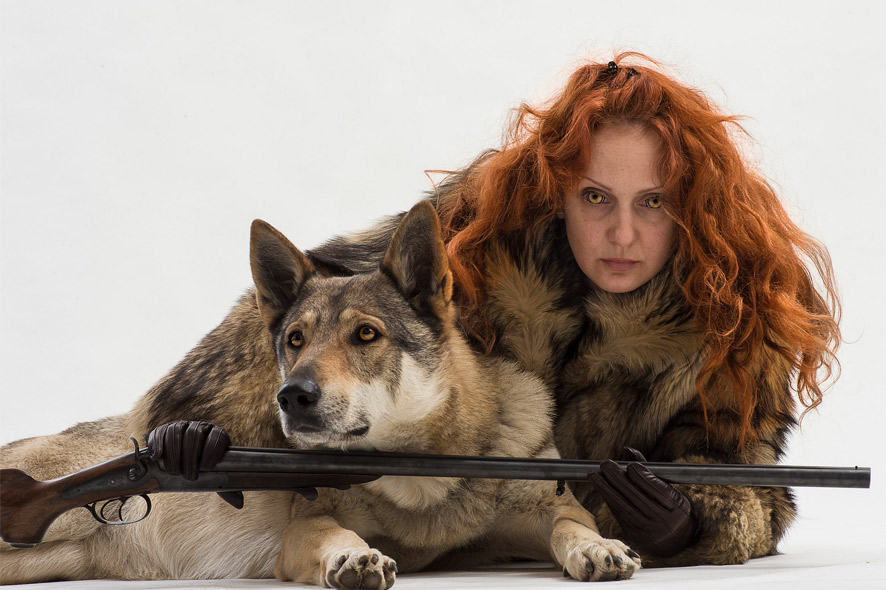 Credit: BORUT PETERLIN
"K-9 TOPOLGY is a true hybrid artwork with profound bio-political message and is certain to bring a lot of discussion to the audience from both art and science sides." – Statement of the Jury
Where do we come from? What are we? And where are we headed? Marja Smrekar's work of art revolves around issues humankind has been wrestling with since time immemorial. The Slovenian artist is being honored with the Golden Nica in Hybrid Art for "K-9_topology," a series of works that proceed from a variety of perspectives in their dealings with the essence and the role of human beings—and especially women—in an increasingly bio-political and post-panoptic world. The work entitled "Ecce Canis" focuses on metabolic processes; chemists used serotonin, a tissue hormone and neurotransmitter, provided by the artist and her dog, Byron, to create a fragrance that symbolizes the chemical essence of the relationship between a human being and a dog. "I HUNT NATURE AND CULTURE HUNTS ME," a performance she created during a residency at JACANA Wildlife Studios in France, has to do with the phylogenetics of the wolf and the interrelationship among wolf, dog and human being. It's an inquiry into animal ethics.
The subject of "Hybrid Family" is the social and ideological instrumentalization of the female body and beast feeding. Over the course of three months, Maja Smrekar stuck to a lactation-enhancing diet and, by systematically pumping fluid from her breasts, stimulated the production of the hormone prolactin. A side-effect of this process was the production of the hormone oxytocin, which plays an important role in interpersonal trust and empathy between mother and child. In the fourth project in this series, "ARTE_mis," an ovum provided by the artist was denucleated and used as a host for a somatic cell of her dog. The result is a hybrid cell, inherent in which is a dystopian scenario but which also could create a new species whose chances of survival on Planet Earth are better than ours—due in no small part to the probability that this hybrid creature would treat its environment in a more humane way than we do.
Digital Musics & Sound Art: Not Your World Music: Noise In South East Asia / Cedrik Fermont (CD/BE/DE), Dimitri della Faille (BE/CA)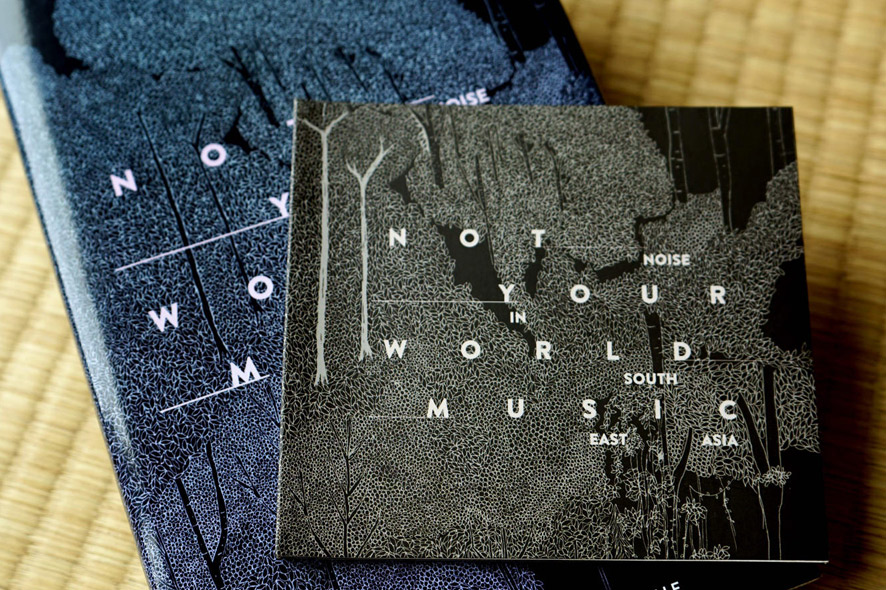 Credit: Dimitri della Faille
"(…) an outstanding book and CD compilation project." – Statement of the Jury
"Not Your World Music: Noise In South East Asia" is a book about art, politics, identity, gender and global capitalism. And it is one of the very few works about noise & sound art and about electro-acoustic, experimental and industrial music of the past and present in Southeast Asia. This volume contains political, historical and sociological essays and interviews with artists as well as an extensive bibliography on Southeast Asian music and noise & experimental musicians. Its compilers define "Not Your World Music: Noise in South East Asia" as a political, anti-sexist and anti-colonial contribution to a discourse on society, social representation, inequality, marginalization and colonialism.
Computer Animation / Film / VFX: Everything / David OReilly (IE)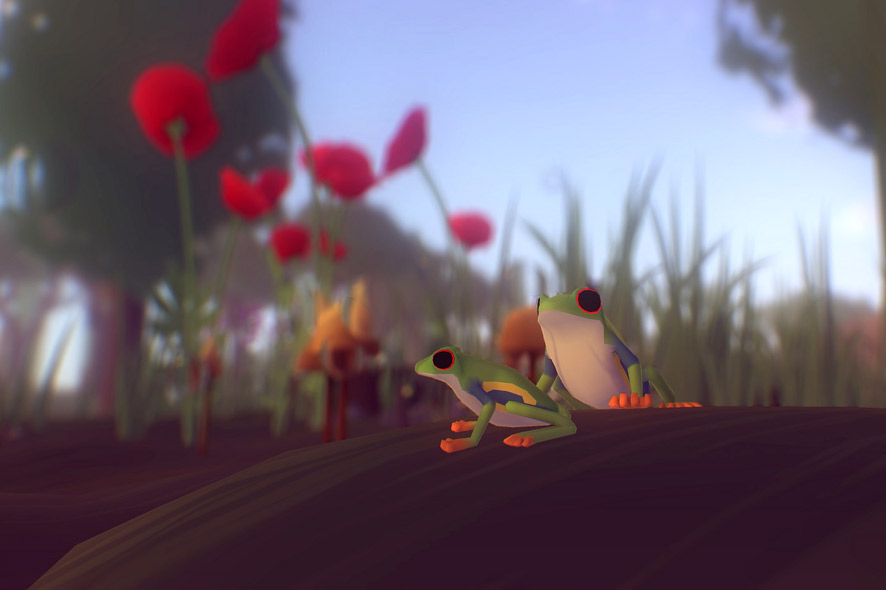 Credit: David OReilly
"(…) a unique and innovative approach to animation that pushes the boundaries between linear, nonlinear, and interactive experience. (…) also serves a highly educational purpose and includes an important political statement (…)" – Statement of the Jury
This year's Golden Nica in the Computer Animation / Film / VFX category goes to "Everything" by David OReilly. This nature simulation dispenses with tasks, objectives and point requirements. In this half-game/half-work-of-art, everything that users see they can play too. At the push of a button, players transform themselves from a protozoan into a ladybug, a hot-air balloon or an entire galaxy. "Everything" entails a very special trip, includes commuting back and forth between the microcosm and the macrocosm, and permits observation of the entire universe from the point of view of thousands of subjects as well as objects.
What emerge almost instinctively during the course of the game are thoughts about the players own existence, and not only that … players can also read the thoughts of many of the objects in the game, thoughts ranging from the philosophical to the absurd. The voice of the narrator in "Everything" is that of Alan Watts, the philosopher who died in 1973. "Everything" is available for PC, Mac, Linux and the PS4.
u19 – CREATE YOUR WORLD: nonvisual-art / Lisa Buttinger (AT)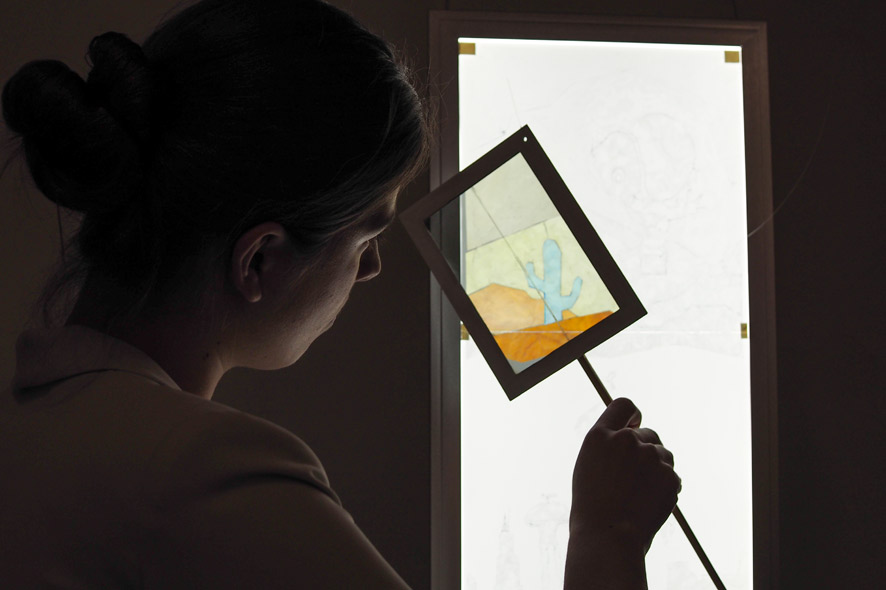 Credit: Martin Hieslmair
"(…) has developed a new medium, a new material that artists can utilize to form images." – Statement of the Jury
"nonvisual-art" is an image that is simultaneously visible and invisible. Cellophane foils and air bubbles trapped in a layer of adhesive refract in a highly artistic way the light shone onto them. In this way, natural science becomes a tool for graphical depiction. First, a polarizing filter refracts invisible light into visible colors and then forms them into an image. Viewed through 3-D glasses, the image becomes a space. Lisa Buttinger painstakingly constructed this "enchanted world" piece by piece. "nonvisual-art" was created as a design project at HBLA–High School for Artistic Design Linz. Lisa Buttinger gained the necessary theoretical insights in conjunction with her diploma thesis.
The 2017 Golden Nicas, Awards of Distinction and Honorary Mentions
You'll find the complete list of all those singled out for recognition with Golden Nicas, Awards of Distinction and Honorary Mentions in 2017 at ars.electronica.art/prix/gewinner
Where do we go from here?
The Ars Electronica Blog will be running interviews in which the 2017 Golden Nica recipients elaborate on their prizewinning work. Throughout the 2017 Ars Electronica Festival, set for September 7-11, 2017 in Linz, you'll be able get a close-up look at many of these prizewinning works of media art in the CyberArts exhibition running in Linz's OK Center for Contemporary Art. The festival lineup also includes the Ars Electronica Gala at which the Golden Nica statuettes will be bestowed on the grand prize winners, as well as the Prix Forum in which they'll personally discuss their work and do some Q&A with festivalgoers.