What would Ted Kaczynski's daughter do? In the wake of several deadly mail bomb attacks by Ted Kaczynski in the 1980s, the American mathematician was sought for years by the FBI and finally arrested in the '90s. A few months before he was caught, he published a manifesto entitled "Industrial Society and Its Future" in which he called for technology, which was said to have increasingly catastrophic consequences for society, to be used only to halt this development. Austrian media artist Kathrin Stumreich has produced an elaborate allusion to this critique of technology and media, and her work is now being singled out for recognition with the City of Linz's 2016 Marianne.von.Willemer Prize. "What would Ted Kaczynski's daughter do?" will be presented on June 21, 2017 at 6:30 PM in Deep Space 8K and in the "Out of Control" exhibition at the Ars Electronica Center. Kathrin Stumreich provides some background about her work in the following interview.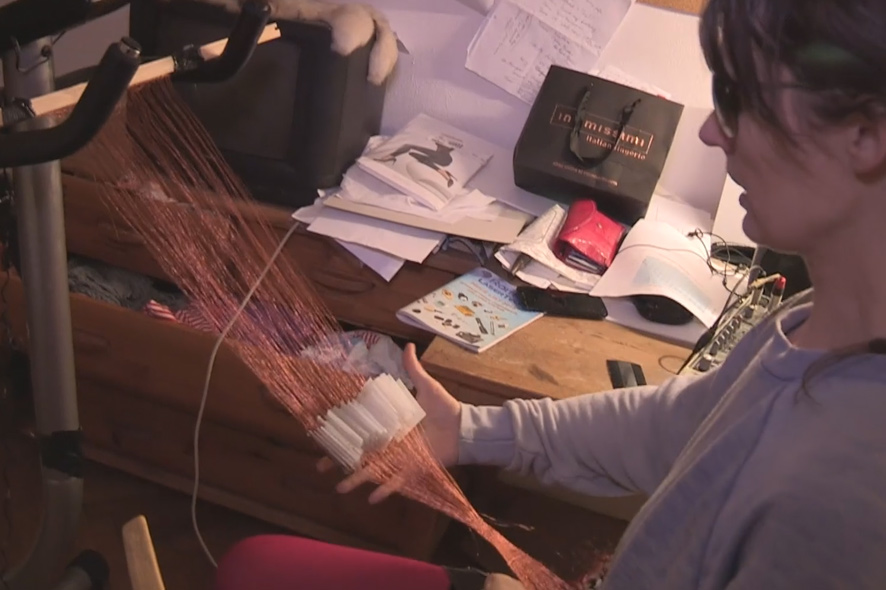 Credit: Kathrin Stumreich
The chief protagonist of your fictional account is named Chrystal Tesla. Could briefly introduce this "average citizen" to us and provide a few details about what makes her tick?
Kathrin Stumreich: Chrystal Tesla is the fictitious daughter of Theodore Kaczynski, a mathematician who went on to become the notorious Unabomber. Chrystal studied ethno-linguistics and engineering in the USA, and utilizes her insights in this field to evade the NSA's surveillance network. Oscillating between her technophile and technophobe tendencies, she builds objects and develops practices to protect her privacy. Her radius of action is restricted by her ability to finance her activities, but also determined by the extent of her knowledge, her degree of commitment and level of self-empowerment. Chrystal actively deploys her technical insights and artisanal skills to take full advantage of the possibilities afforded by this radius.
What differentiates Chrystal's character from other self-empowered civilians is the fact that she is somewhat more justified than many others to give thought to the surveillance she's being subjected to solely because of her genetic potential and her background. Accordingly, she builds absurd yet rationally thought-out objects and orders their deployment within her idiosyncratic system of thinking. She goes into a spiral that drives her to act and create. In stark contrast to her father's ultimate hostility towards technology, her powerfully manifested aspiration is to participate without constraint in high-tech developments. Whether her current activities were just triggered by her father's schizophrenia that was diagnosed in prison and publicized in the media, or even emerged due to genetic inheritance, or whether Chrystal is simply confronting extraordinary facts & circumstances and acting accordingly are things we simply do not know.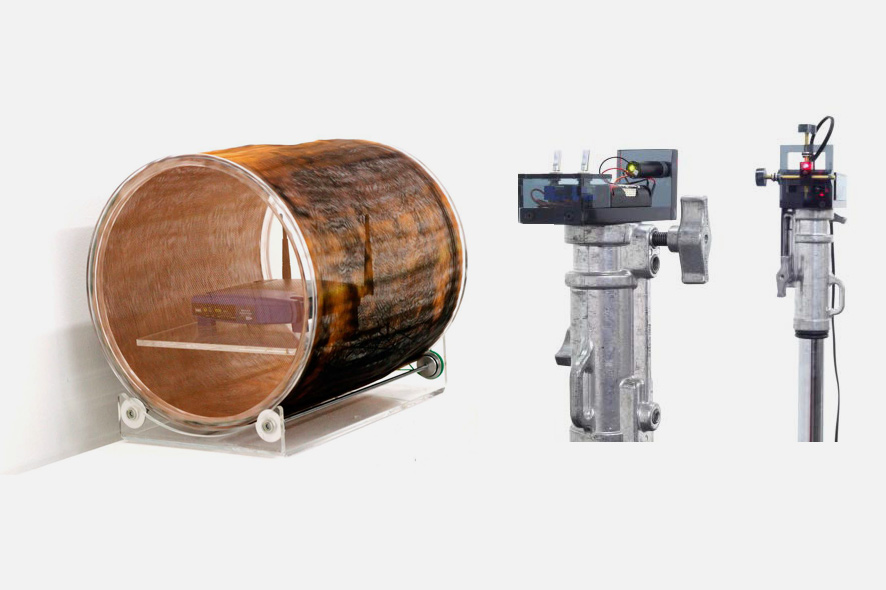 The "Wi-Fi Shredder" (left) and the "Laser Microphone" (right). Credit: Kathrin Stumreich
What's the story with the apparatuses she builds—the Wi-Fi Shredder and the Laser Microphone?
Kathrin Stumreich: Both devices have a media archeology connection. Chrystal Tesla builds them with the intension of acquiring tools with which she can defend herself against surveillance and, at the same time, keep tabs on her own surroundings. The Wi-Fi Shredder is based on the principle of the Faraday cage—it's made of a copper fabric that can screen out certain wavelengths. In Chrystal's theory, this device shreds data packets that are transmitted via Wi-Fi by the router set up inside the cage. The copper fabric completely shields off the 2.4 GHz bandwidth, but has been perforated at certain spots by Chrystal. Due to the motor-driven rotation of the fabric, data packets can escape the cage only when the router's antenna is positioned near the perforation. Then, the data that even manages to get outside the cage are shredded—in the case of a video, just a bunch of glitches. These disturbances are matters of great importance to Chrystal.
The Laser Microphone is based on an invention by Graham Bell, who had early success transmitting sound via a light source, and then on the work by Leon Theremin for the Soviet espionage agency. He applied this principle in conjunction with an infrared light source aimed at a window pane to eavesdrop on what was being said behind the window. This works because the vibrations of the glass are imparted to the rays of light reflected from it, which makes them audible when the light is received by a phototransistor. Once again, Chrystal employs a home-brew version of this technology to follow up on her inclinations and listen in on conversations from a great distance.
Will we too someday have to resort to what Chrystal Tesla did—open up the DIY toolkit to protect ourselves from surveillance "from above"?
Kathrin Stumreich: I'm fascinated by technology, even by the techniques that make this surveillance possible. And here we have it again, this ambivalence. As an artist, I can address and question this technology.
What bothers me is that all of us, with our online omnipresence, provide content that corporations use to make huge profits—and this content is capitalized and fed back into our lives. If end-users don't get informed, they get the shaft. It was 15 years ago in a major hospital when I was taking part in a training session about the patient program, and I asked what the penalties were when staff personnel examined the medical files of their own co-workers, which was totally simple at the time. Not a single one of my 25 colleagues was interested in this data security vulnerability, and I have the feeling that this proportion is still representative of the general public's interest in this issue.
"The process of dealing with this issue automatically sensitizes people to it."
In the case of an encryption app for news, for example, so-called privacy by design means that the developers can't release data that are of interest to government officials because these data aren't even stored to memory. The contents of conversations are protected with the help of end-to-end encryption and can be accessed only by the participants in the conversation itself. Wolfie Christl, a researcher and internet activist I highly admire, published a comprehensive study about this. It's freely available online.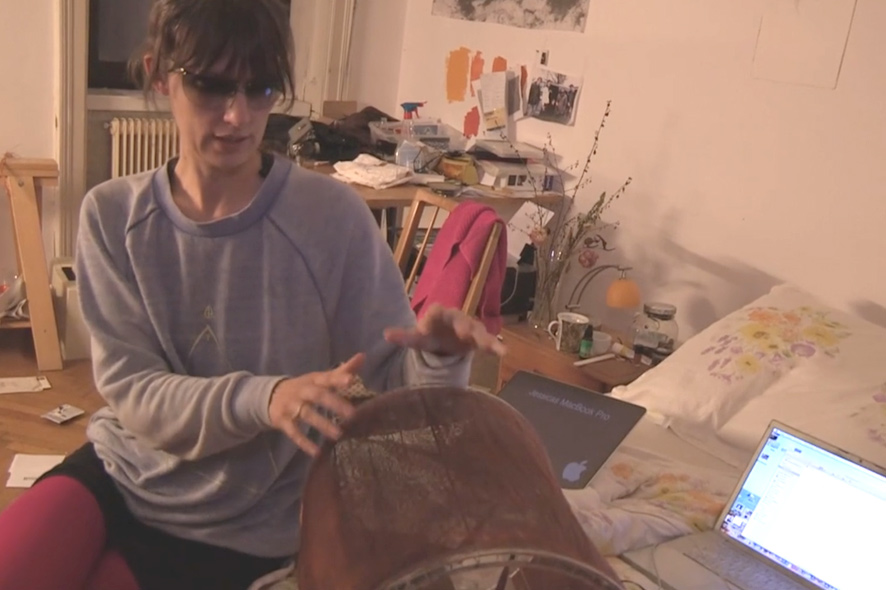 Credit: Kathrin Stumreich
"What would Ted Kaczynski's daughter do" is both media critique and self-promotion. What motivated you to launch this (video) project?
Kathrin Stumreich: I've been doing research on all sorts of encryption and bugging methods since 2013. I'm interested in the standard on which the NSA is operating today and in what positions NGOs like the Chaos Computer Club take on these methods. What is publicly accessible, and are there also realms that I'm unable to penetrate?
My research began with theoretical work and analog technology—Heinrich Hertz, who used an induction coil [spark coil] to provide first proof of the existence of electromagnetic waves, and Claude Shannon—and went right up to the present and methods such as Prism, Van Eck phreaking, Tempest and techniques for configuring copper fabric to make rooms bug-proof, and on into the future in the form of predictions of post-quantum encryption.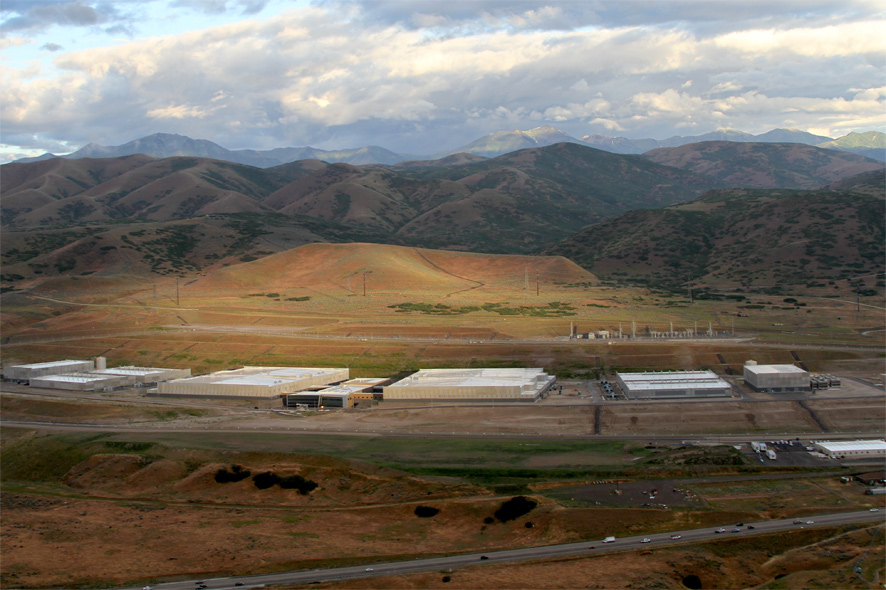 Utah Data Center, Credit: eff.org
Parallel to this, I began familiarizing myself with how encryption is done in actual practice. I traveled to Albuquerque, New Mexico to meet one of the last living Navajo code talker, and to shoot a film about the alphabetic code based on the Navajo tribe's language, which was used during World War II to encrypt messages. I visited the Utah Data Center three weeks before its official opening, and had a chance to chat with the guard on duty. When I showed him the announcement of the opening with a picture of the so-called Administration Office, he laughed and said "This doesn't even exist." These two personal contacts were strongly at odds with the image that had previously been conveyed to me in the media.
On the basis of this research, I began to construct devices—using DIY instructions for some, or else simply by means of a trial-and-error approach. And it became necessary to manifest a position, one that's neither black nor white, but instead moves about between these two ambivalences and deals with them "naturally." So that's how "W.w. T. K's d.d. …?" took shape, with me as Chrystal Tesla, the new agent on the case, as she was dubbed by Lisa Spalt in her article in Die Referentin.
The Marianne.von.Willemer Prize is awarded by the City of Linz to honor women living in Austria who employ digital media as an artistic tool and means of expression. What impression do you as a media artist have about the proportion of women and men in media art in 2017?
Kathrin Stumreich: New media and digital art constitute the artistic state-of-the-art, and the City of Linz's Marianne.von.Willemer Prize, ever since its inception in 2000, has been Austria's only award honoring female artists in this genre. I'd like to see more institutions follow suit and issue calls for submissions to bestow grants on women working in new media and digital art.
There is still a preponderance of men in this field, although, institutionally speaking—with respect to the recipients of awards and grants, and gender ratios among teachers and students—it's evident that things are moving in the right direction. Whether these statistical relationships are an upshot of media art's close proximity to technology is a matter of conjecture. In sound art, the disequilibrium is even more extreme.
The City of Linz's Marianne.von.Willemer Prize for Digital Media Art is a grant awarded annually to honor excellence by a female artist who uses digital media as an artistic tool and means of expression. The jury seeks to recognize innovative works of art that are characterized by the use of or explicit reference to digital media. The prize is named in honor of Marianne von Willemer, who was born in Linz in 1784. As a 14-year-old, she and her mother moved to Frankfurt, Germany, where she met Johann Wolfgang von Goethe. Goethe's "West-östlicher Divan" (West-Eastern Diwan) was published in 1819, but it wasn't until nine years after Marianne von Willemer's death in 1860 that it was revealed that several of the loveliest poems in that work had actually been written by her. The authoress' achievements were overshadowed and garnered scant recognition from literary scholars.