The huge halls of the Austrian Postal Service's former Linz logistics facility are still empty, but there's action aplenty in the adjacent office suites. This is the workplace of Martin Honzik, director of the Ars Electronica Festival, and his staff, who are busily transforming POSTCITY into a spectacular festival location for the third year in a row now.
We made a concerted effort to get him to tip off some of the surprises POSTCITY has in store for us and some of the new wrinkles developed for this year's Ars Electronica Festival.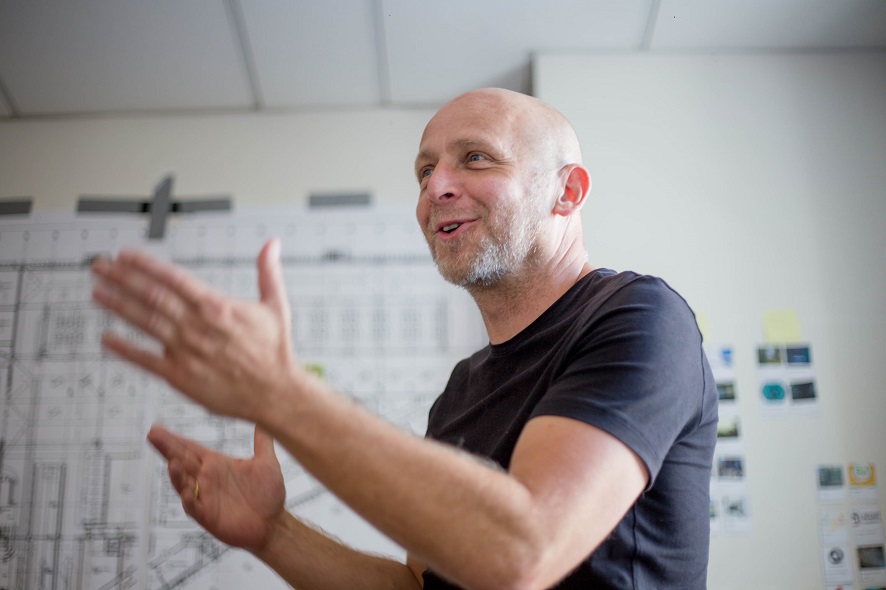 Martin Honzik. Credit: Vanessa Graf
This is the third consecutive year that POSTCITY is serving as the festival venue. What's new this time around?
Martin Honzik: Aside from the theme, the big difference is the architecture. For instance, we took the edge off the atmosphere last year with a lot of green foliage. This year, we're working with similar elements but the accent will be on commercialized plants. Grain has already been planted for us, which we hope will yield flour that we'll ideally be able to make into POSTCITY bread. There'll be sunflowers and corn too. Linz's Municipal Gardens and various nurseries are already hard at work.
Instead of the scaffolding from last year, we're using snow poles and a heavy-duty warehouse shelving system by Lenox Trading. Plus, we're working together with Wacker Neuson in an attempt to drive their earthmovers via BCI masks [brain-computer interface lets a user operate a computer with his/her mind].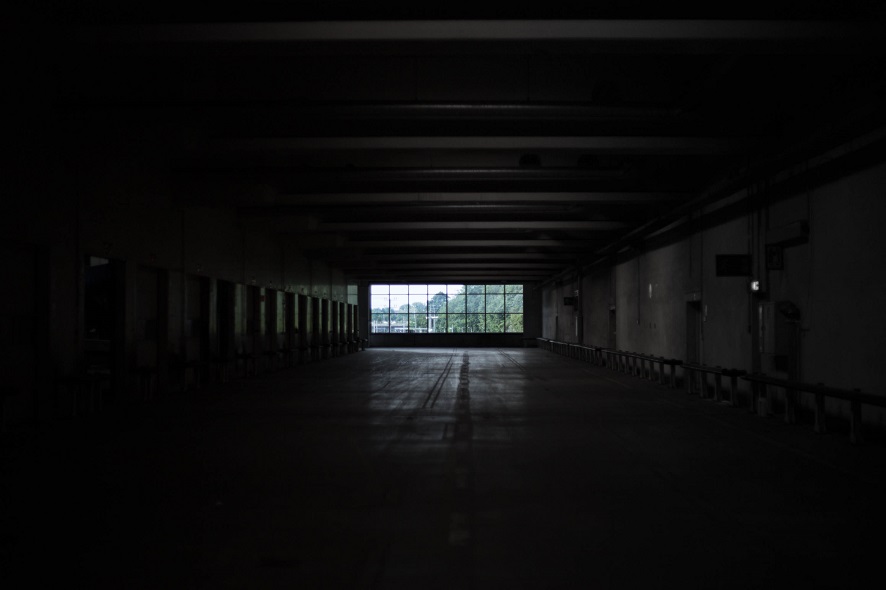 It's still dark at POSTCITY – for now. Credit: Vanessa Graf
How will the Ars Electronica Festival's diverse offerings be distributed throughout POSTCITY?
Martin Honzik: On the whole, we'll be somewhat more generous with the space. One reason for this is that, on a recent foray in the basement, we came across some new rooms! At a spot where, last year, we believed we had reached the absolute depths of the belly of this beast, we happened upon a nondescript door and, lo and behold, we were confronted by whitewashed space that literally left us speechless. This had previously served as an Internal Revenue warehouse where returns whose statute of limitations had expired were being stored. They had all been digitized and the shelves cleared. Behind this space is a corridor that's 80 meters long, 8 meters wide and 7 meters high—where the echo reverberates 3 seconds long! This acoustic phenomenon will pose a real challenge to our artists. So, the folks who want to go down here during the festival are going to stay a lot longer. This is going to be very intense.
In addition to POSTCITY, we'll have access to St. Mary's Cathedral, which will be the site of, among other things, a Taiwanese dance performance. A movie theater in Moviemento is reserved for animation screenings. As ever, the OK is on board, don't forget about Bruckner University, and, of course, CENTRAL. And we're thrilled to have as our FEATURED ARTISTS the Linz-Harbor-based TIME'S UP collective, whose work will be installed at Lentos Art Museum.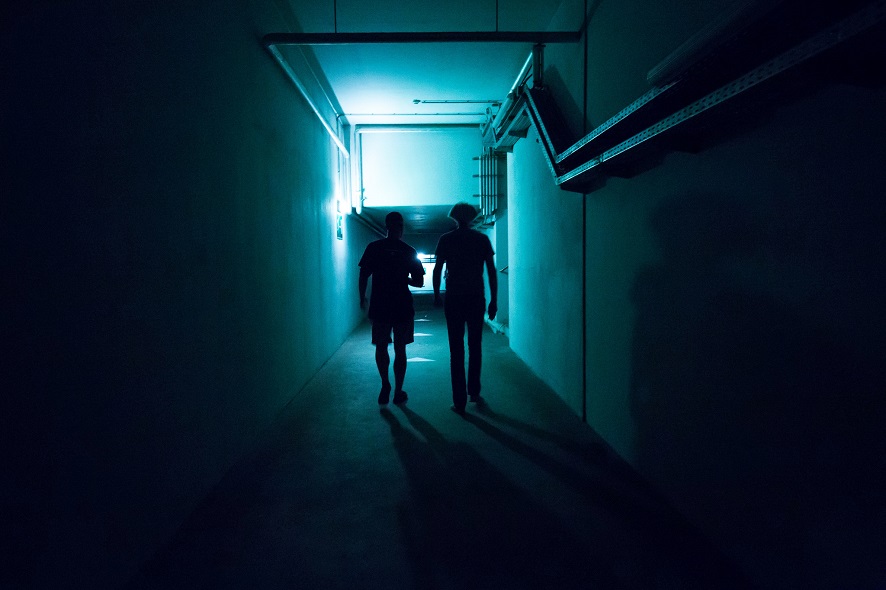 The fallout shelter at POSTCITY. Credit: Tom Mesic
What awaits festivalgoers in the cellar spaces and POSTCITY's old fallout shelter?
Martin Honzik: The basement will definitely host an expanded program that has been identified as one of the chief attractions last year, and to which we're adding additional depth and breadth. The former fallout shelter—or, actually, the entire cellar level—is being dedicated to a curatorial inquiry into questions limning the essence of BEING A HUMAN BEING in contradistinction to the essence of BEING A MACHINE, and into the "existence" of data. This is another facet of our encounter with and interpretation of this year's festival theme, "Artificial intelligence – The Other I," which will culminate in a comparison of the respective species, one of which was invented by the other.
Following their sojourn in the bunker, festivalgoers arrive in the parcel storage facility, still spectacular after all these years. Here, we'll be scrutinizing the marketing of art—that is, the art market in its existing, traditional form but also, above all, in a possibly different, innovative form, for art for which, heretofore, there hasn't been a real market. The really exciting element here is that the inevitable upshot will be an experimental encounter of two very different worlds and cultures, and the setting of this confrontation is a space that's nothing less than exotic for both parties.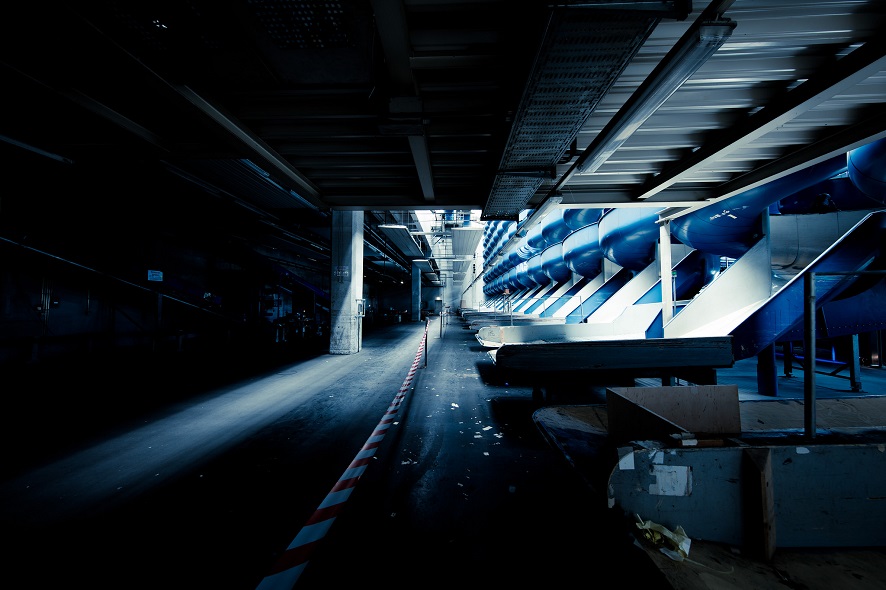 Credit: Tom Mesic
Dealing with the art market is a new item on the Ars Electronica Festival's agenda. How is this being integrated into the festival?
Martin Honzik: Amidst our dreary, patina-coated parcel depot, the art will be exhibited in pure-white, temporary trade fair booths that are familiar fixtures in the art market. Throughout this domain that's about 120 meters long, there'll be presentations that are incredibly spectacular—for the gallerists as well. Totally outside the box, but still in line with the natural laws that a market like this needs—white background, neutral. Several galleries will be exhibiting—Eduardo Kac is attending; so is Hans-Ulrich Obrist, artistic director of the Serpentine Gallery in London, who'll be coming by for the art market and the discourse dealing with it.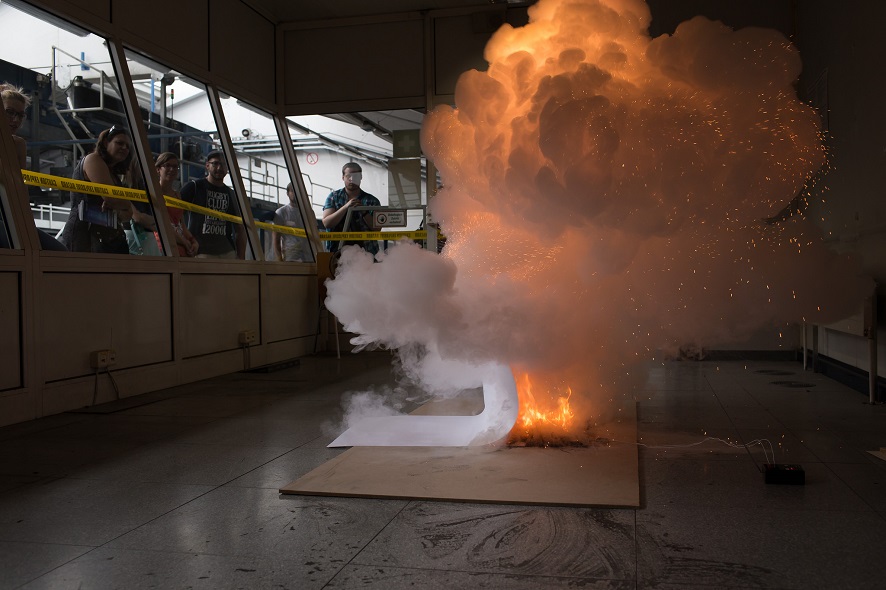 Aoife van Linden Tol is coming to the Ars Electronica Festival once again this year to show parts of her explosive work. Credit: Florian Voggeneder
Can you give us a little foretaste of some of the exhibition highlights?
Martin Honzik: Our approach to the Artificial Intelligence theme includes cyber-sex and sex dolls. With respect to AI and the human-machine level in general, this is actually the aspect in which the future has long since become a commercial product. We're not talking about cheap, vile inflatable manikins anymore! Basically, the core issue here is: In which areas of existence are machines replacing human beings? What relational status are they assuming?
Aoife van Linden Tol is another one who'll be stirring things up around here. She's producing an event, a unique affair to which only about 50 people will be admitted—an opera of the explosive kind. This will be a quantum leap in comparison to last year, and I'm delighted to report that we have the full support of the pros at BVS and the State of Upper Austria fire department.
We're setting up a Hackathon, a hotbed of brain technologies, where the hackers will spend two days working before the prying eyes of the general public. And, as you can imagine, this deployment is controversial to say the least.
Then, more or less the top item on our to-do list is to make these brain technologies—which are, after all, pretty abstract—a hands-on experience. When you stand in front of the Infodesk at the Festival and look to the right, all the way back in the corner, you'll see a painting one-armed robot by Dragan Ilic. The evolution beyond last year is that, now, a human being is controlling the machine with his thoughts, with the power of his mind. This makes the painting very complex, it becomes a human-machine co-production. The ETH–Swiss Federal Institute of Technology in Zurich will stage a hands-on demo to explain the idea of a Cybathlon, a competition on the university level. Here, institutes of technology that are working in robotics, add-ons and prostheses will be seeking technical means—without aiming to conjure up a superhuman—to help a minority that no longer quite fits into the "Society" interface. These are things that people can use to compensate for disadvantages in life. This and lots of other stuff are what make the brain-machine interface easier to imagine and easier to grasp. This promises to be quite an interesting parcours.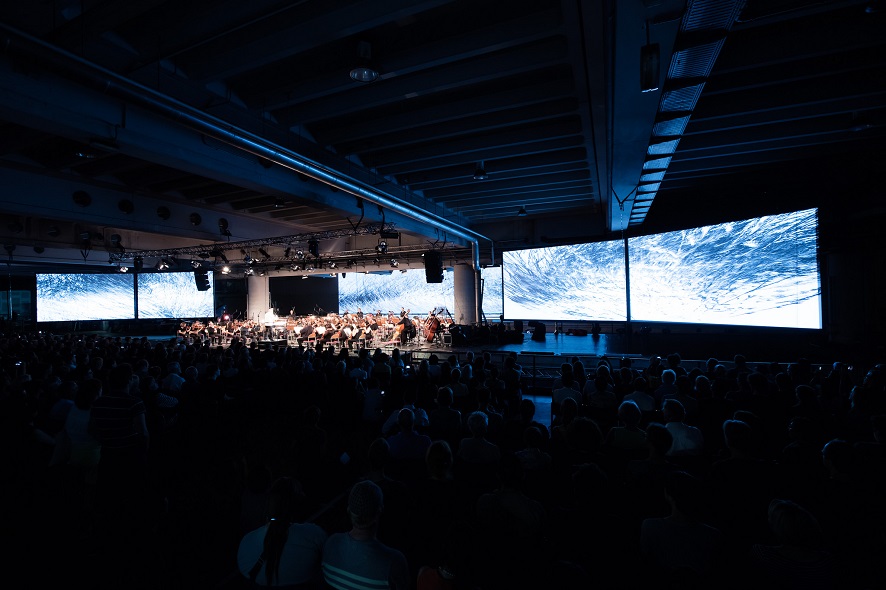 The Big Concert Night 2016. Credit: Florian Voggeneder
A big part of every Ars Electronica Festival is music in the form of concerts and events. What are you planning this year?
Martin Honzik: As always, there's the Grand Opening, an evening of performances at Bruckner University, the OK Night, the Big Concert Night on Festival Sunday, and Music Monday, which kicks off on Pöstlingberg at Bruckner University, so music pervades the entire festival and culminates with a piano concert by Maki Namekawa in the Gleishalle [railroad loading facility] at POSTCITY.
The Big Concert Night will also take place in Gleishalle. This will be the first concert in Linz conducted by Markus Poschner. This year's production is based on a mobile concept that will transport the evening's guests into spectacular proximity to the conductor and all the musicians. To achieve this, the "track trenches" are being closed and the entire hall given a flat surface. Bruckner will be featured in the first part of the concert, but a Bruckner interpreted in various perspectives.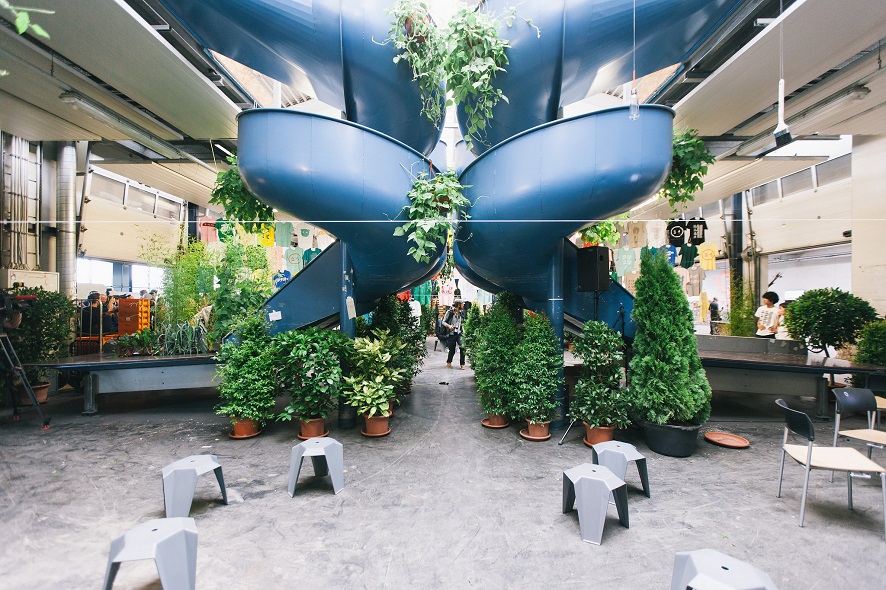 Credit: Florian Voggeneder
So there's a lot going on at the festival! Where and how can we occasionally kick back and relax a bit?
Martin Honzik: Central Park [the area amidst the old spiral packet chutes] will be a chill-out zone to a far greater extent than last year. You'll be able to move from clearing to clearing. IKEA is furnishing the Lounges at the Future Innovators Summit. Then at the end of the festival, we'll be staging a big flea market where visitors will have the chance to sell stuff.
The food & beverage service is once again provided by BIO Austria. Adjacent to the big entrance ramp, there'll be a farmers' market. We'd also like to do something up on the roof—for instance, a work with brain interface that measures your fear, a sort of arm you're fastened to and that lifts you seven meters high and spins you. If you're very frightened, the machine rotates slowly, which, of course, diminishes your fear. The braver and cooler you get, the more the arm rotates. The interesting thing about this is the metaphor—what you can do with this sort of technology with disadvantaged people like the blind. This moves very concretely into the realm of actual usages, and is no longer just a matter of the fun you can have with this stuff.
The Ars Electronica Festival of media art will be held September 7-11 in POSTCITY Linz. This year's theme is Artificial Intelligence – The Other I. To find out more about the festival, follow us on Facebook, Twitter, Instagram et al., subscribe to our newsletter, and check out our website at https://ars.electronica.art/ai/en/.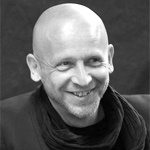 Martin Honzik is an artist and the director of Ars Electronica's Festival, Prix and Exhibitions divisions. He studied visual experimental design at Linz Art University (2001 graduate) and completed the master's program in culture & media management at the University of Linz and ICCM Salzburg (2003 graduate). From 1998 to 2001, he was a member of the production team at the OK Center for Contemporary Art. In 2001, he joined the staff of the Ars Electronica FutureLab, where, until 2005, his responsibilities included exhibition design, art in architecture, interface design, event design and project management. Since 2006, Martin Honzik has been director of the Ars Electronica Festival and the Prix Ars Electronica and in charge of exhibitions in the Ars Electronica Center as well as Ars Electronica's international exhibition projects.