The assignment: framing media art, conducting festivalgoers through POSTCITY's huge exhibition halls, creating the appropriate atmosphere, and spatially evoking the festival theme. This year, the exhibition architecture in POSTCITY Linz, the prime venue of the 2017 Ars Electronica Festival, is the work of Jürgen Haller and Christoph Weidinger of ANY:TIME ARCHITECTS. We met with them to learn more about their work and the festival layout.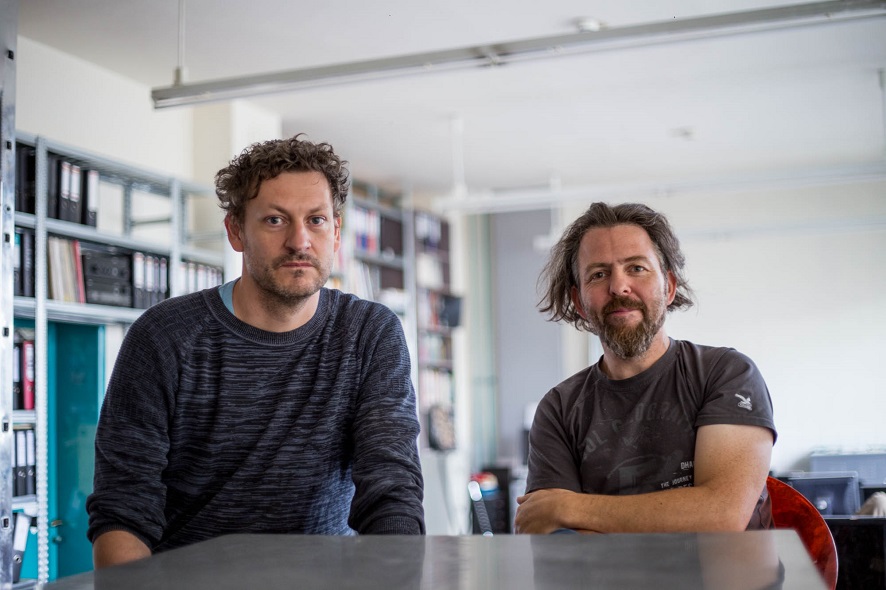 Jürgen Haller and Christoph Weidinger. Credit: Vanessa Graf
What factors have to be considered in designing exhibition architecture for media art?
Jürgen Haller: We attempt to present the works of art in an attractive way that corresponds to their essence. Actually, we create something like a picture frame, which is possible even for media art. Our approach is always to bring out the location's inherent qualities and to create a space that's an interesting one in which to present the objects on exhibit. It's truly a balancing act, seeing to it that we don't call attention to ourselves as architects. When the frame is much bigger than the picture or the content itself, then the exercise has been a failure.
What's the challenge of POSTCITY as a space?
Christoph Weidinger: The greatest challenge is the size of the premises. That you're working with a festival venue or exhibition space that has huge dimensions and contains a great multiplicity of spatial situations—sometimes extremely bright spaces; sometimes very dark. The atmospheric conditions are also quite challenging.
Jürgen Haller: POSTCITY simply has a post-industrial visual aesthetic. We're seldom called upon to design exhibition architecture in an industrial space like this—or, actually, post-industrial, since it's no longer being used as such. This is much different from a white cube in a modern museum where you're creating something within a beautiful space built expressly for art. The difference is that POSTCITY wasn't built specifically for exhibiting art, which engenders a very special atmosphere.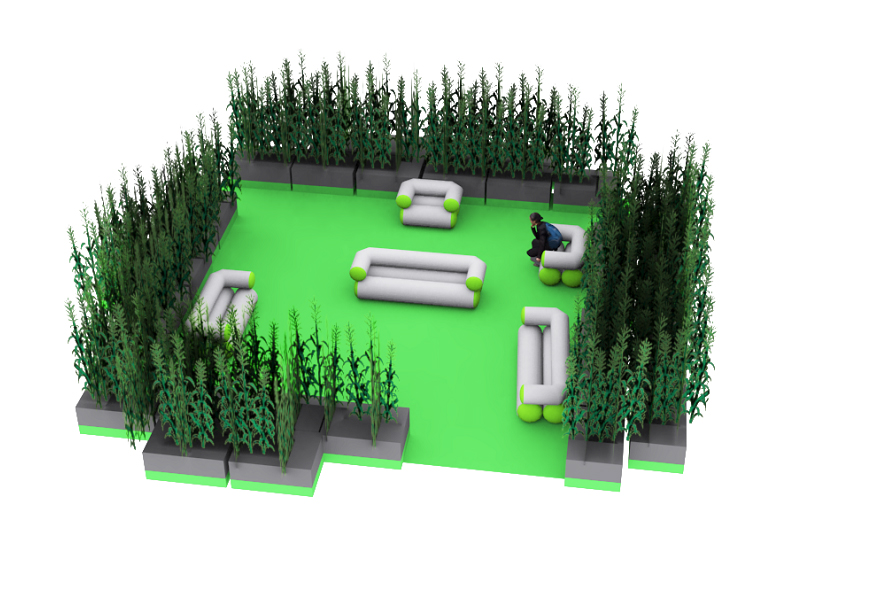 First ideas and drafts of the festival architecture. Credit: ANY:TIME ARCHITECTS
What do you see as the particular allure of designing a media art exhibition?
Christoph Weidinger: The most exciting aspect is that it's highly diverse. Also, how one can grasp media art. And this is precisely what produces the difficulty that Jürgen referred to: creating a suitable picture frame. Actually, the essential question is: How do I create zones in which to present within this setting the various assertions made by these works of art? It's also important to divide the space in such a way that the works of art are presented well there, regardless of which type of media art that is.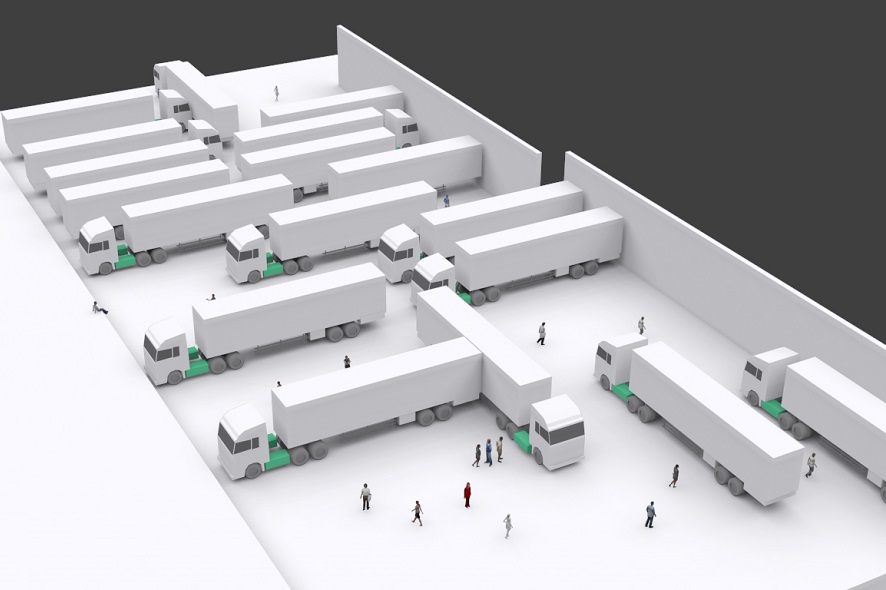 Not all ideas make it to the festival. Credit: ANY:TIME ARCHITECTS
How do you approach the creation of an exhibition concept?
Jürgen Haller: We attempt to come up with a system in the industrial sense and, particularly for the artificial intelligence theme, within which rough commonalities can be found. We ask ourselves how this theme can be expressed in spatial terms. Here, our initial thought was: We're in a logistics facility; how would an artificial intelligence arrange this space? Probably no differently than a big shipping company like FedEx—a warehouse with thousands of individual components. In principle, the infrastructure we're creating is the same—support structures to make works of art available. We've taken this so far as to use warehouse shelving and containers for the presentation of art, albeit without lining up the shelves in row after row like it's usually done. We're arranging them in spatially interesting ways that correspond to the particular facts & circumstances. For instance, there's an elongated hall in which we're working diagonally. And then there's one where there'll be a lot of pedestrian traffic—here, we're working lengthwise. And various mixtures of these orientations.
Christoph Weidinger: Nevertheless, this isn't purely a matter of implementing warehouse logistics per se; there's a second theme on a meta-level: industrial agriculture. In this sector, massive efforts are being put into the large-scale production of foodstuffs via artificial intelligence. In response, we've made a concerted effort to utilize such crop plants as greenery in POSTCITY's spaces. Once again, we're working with Linz's municipal nurseries, which are cultivating plants such as corn and sunflowers for us. We're installing the most spacious fields possible amidst the high-rise shelving units so that the space exudes a bit more atmosphere.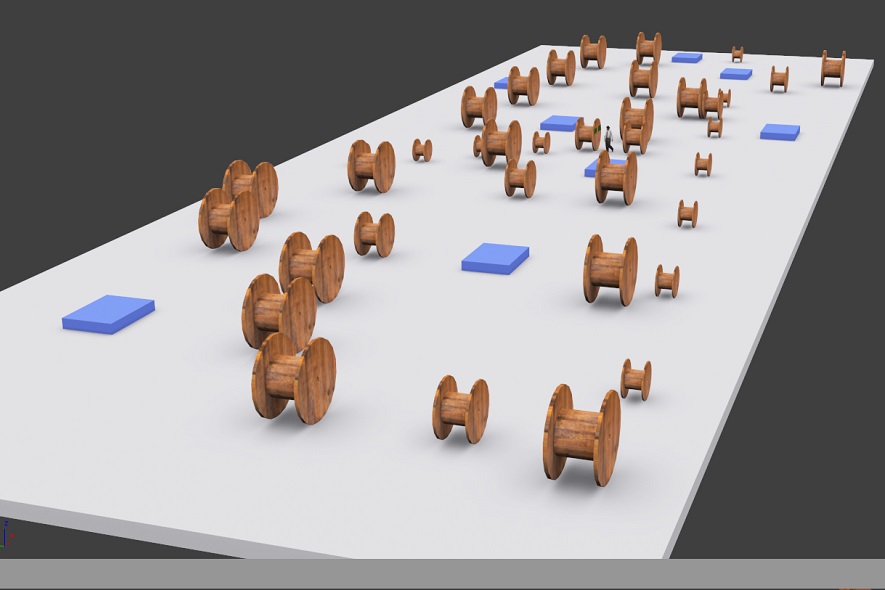 Credit: ANY:TIME ARCHITECTS
How do you maintain an overview as you go about designing the exhibition architecture for such a large festival?
Jürgen Haller: We believe that the use of industrial shelving as a framing element that repeatedly occurs in POSTCITY creates a certain systematic basis, and the orientation of these things overlays a certain imprint on each particular space. In the Lower Levels, for example, we're creating totally different zones as setting for very different themes. It's not even possible to work with industrial shelving in these rooms because the ceilings aren't high enough. Here, our assignment was to create exhibition architecture that's as inconspicuous as possible. These are small-dimensioned spaces containing very special exhibits, practically custom-tailored to the particular room.
Another interesting challenge is that each level of POSTCITY is so different. It has a labyrinthine character. You open a door and suddenly you're standing in a large corridor or a gigantic hall, and amidst a different theme, a different atmosphere, a different smell. All of this flows into the concept.
Christoph Weidinger: On one hand, you work with what's available on the extant premises with their multifarious spatial situations, and, on the other hand, with new elements that even further intensify the impression. On the Upper Level above all, this is a matter of positioning the shelving system in different ways, spatially constricted or sprawling, high or low, bright here and dark over there—that is, working with these opposites. What we want most of all is to underscore that the exhibits are of supreme importance. How we configure the threshold from one such domain to the next affects how we carry out our assignment of interpreting and modifying each room.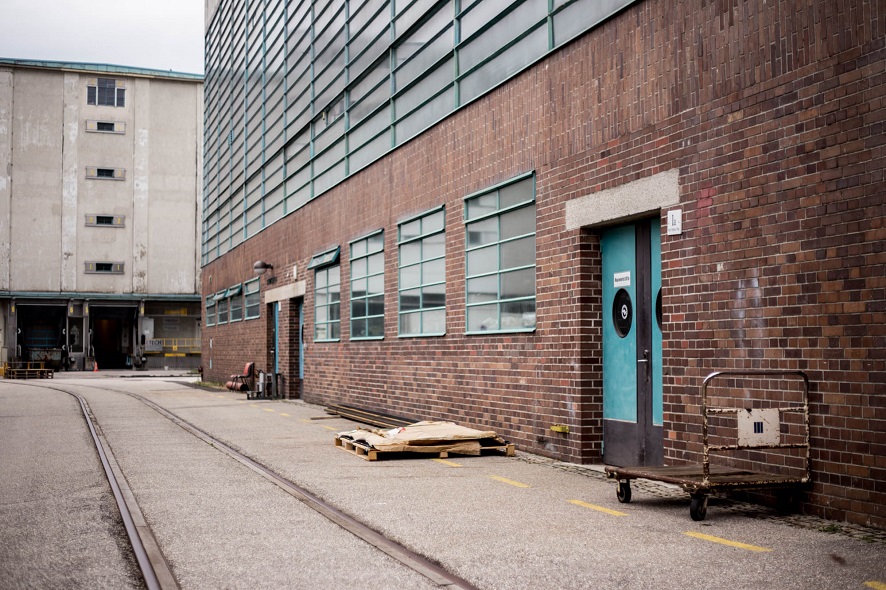 The architects work at Linz's old tobacco factory on this year's festival architecture. Credit: Vanessa Graf
You've been creating exhibition architecture for 10 years now. What have you taken away from this experience?
Christoph Weidinger: In 10 years of work in exhibition architecture, from tiny spaces to huge ones, we've gleaned a certain amount of experience with respect to procedures. We know where and when we need to exert more energy and at what point we have to keep a lower profile and give the people space to work things out themselves. It's almost like an elaborate musical composition—you know that it's ultimately going to be performed so you start the rehearsals, which get increasingly intensive and ever better until it's finally time for the big premiere. That's how it is for us as well.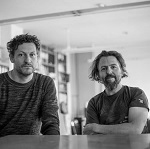 Jürgen Haller, born in 1973 in Linz, studied architecture at Linz University of Art. He ist the co-founder of pixelhotel and of the e-mobility enterprise b turtle, as well as co-owner of gentletent gmbh. Christoph Weidinger, born in Linz, was a master of carpentry before he studied architecture at Linz University of Art. He is the initiator of zeroLab, co-founder of pixelhotel and chairman at Architekturforum OÖ (afo). Together, they make up the team of ANY:TIME ARCHITECTS.
To really experience the exhibition architecture right up close, visit the Ars Electronica Festival September 7-11, 2017 in POSTCITY Linz. To learn more about the festival, follow us on Facebook, Twitter, Instagram et al., subscribe to our newsletter and visit our website at https://ars.electronica.art/ai/en/.