CyberArts 2017 features the crème de la crème of 3,500+ submissions for prize consideration to the Prix Ars Electronica, one of the most coveted awards honoring creativity and innovation in digital media. The exhibition at the OK Center for Contemporary Art will once again present a selection of the outstanding work being done in media art today. The OK Night on Saturday, September 9th musically rounds out this showcase of excellence in four Prix Ars Electronica categories.
We talked to Genoveva Rückert, CyberArts curator, Maria Venzl, curatorial assistant, and Markus Reindl, curator of OK Night, to find out about what they have planned.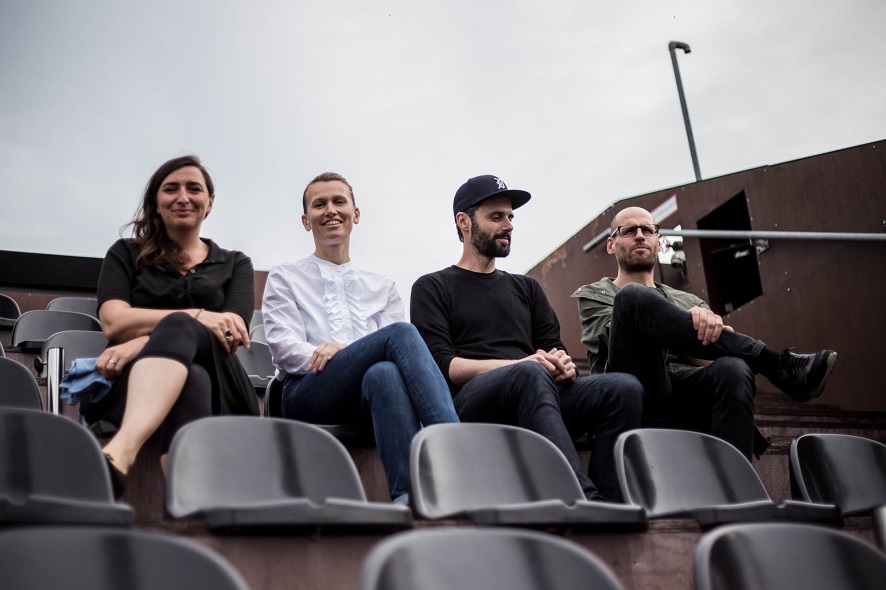 Genoveva Rückert, Maria Venzl, Markus Reindl, and Andreas Kurz of OK Center. Credit: Vanessa Graf
The Prix Ars Electronica's been around since 1987. What's happened in the last 30 years?
Genoveva Rückert: Media art has developed very rapidly. Beginning in 2000 at the latest—with the arrival of the internet—the categories have changed dramatically. You can get a very good idea of the changes made to the categories by referring to the Ars Electronica Archive. For example, this is shown very clearly by Digital Communities, the internet category, which has undergone a major makeover from an award for the best-designed website to a strictly community-oriented view of the internet. The Hybrid Art category has gone through a transition too. It originally emerged from the realization that hybrid forms that amalgamated different genres were coming to the fore. But at this point, it's clearly developing in a bio-political direction with a focus on the bio-sciences—especially in light of this year's entries.
This is the 21st time that the OK is hosting CyberArts. What's new this year?
Genoveva Rückert: This year's exhibition is more of a curatorial and production-oriented team effort, with Martina Rauschmayer as exhibition manager, Andreas Kurz as technical director, Maria Venzl as curatorial assistant, me as curator, and Markus Reindl as curator of the OK Night, the event program staged together with CyberArts.
What were this year's Prix Ars Electronica categories whose prizewinners will be on display this September in the CyberArts exhibition?
Maria Venzl: The categories are Computer Animation/Film/VFX, Hybrid Arts, Digital Musics & Sound Art and u19.
Festivalgoers will be able to play David O'Reilly's game "Everything" that won the Golden Nica in Computer Animation, and use an HTC Vive virtual reality system to interactively experience "Out of Exile" by Nonny de la Pena and Emblematic Group. An installation will showcase the work of Hybrid Art winner Maja Smrekar. And two artists honored in Digital Musics & Sound Art will perform at OK Night. In addition to the installations showing works of art, our Digital Music Lounge will let you hear them too.
The most striking feature of this year's CyberArts is surely that almost all works are shown as installations. So, in contrast to documentations, they can be experienced spatially.
There was a record number of submissions this year, almost 4,000. What trends did you spot?
Genoveva Rückert: Right, there were 3,677 entries from 106 countries. This is due above all to the many submissions in Computer Animation/Film/VFX. In this category in particular, we see a strong trend towards virtual reality. For several years now, there have been experimental projects using this new technology among the submissions, but there was a marked increase this year. You can see from the works singled out for recognition by the juries that substantive criteria played the biggest role. The Golden Nica winner in Computer Animation, for instance, wasn't honored for the best 3-D animation but rather for its philosophical theme. The technique and the animation of "Everything" are downright primitive, which is unusual in this category. The prize awarded to "Out of Exile," the account of a coming-out, was also in recognition of its content.
The entries to Digital Musics are extraordinarily wide-ranging. There've been years when purely sound works outnumbered the installations, but that's definitely not the case in 2017. We cover the entire spectrum from large installations to purely musical compositions. This category demonstrates that there's a huge interest in archives. The grand prizewinner is an archive of Southeast Asian Noise music, "Not Your World Music: Noise In South East Asia" by Cedrik Fermont and Dimitri della Faille. And "A Study into 21st Century Drone Acoustics" by Gonçalo Freiria Cardoso and Ruben Pater, a work from Hybrid Art that will be performed at OK Night, is a sort of archive.
What awaits us on OK Night?
Markus Reindl: OK Night is an Ars Electronica Festival mainstay—the Saturday evening program produced by OK. It's a showcase of musical works and performances by Prix winners, and there's also entertainment on the program. Needless to say, we can feature the Prix Ars Electronica's prizewinning musicians at OK Night only every two years because the competition in this category is biennial. In between, we have other areas of emphasis.
"Study into 21st Century Drone Acoustics," which will be performed on OK Night, poses a fundamental question: How does a drone actually sound? Of course, you immediately have a sound in mind. There are gigantic military drones, but few people know how they sound—and this isn't what immediately comes to mind. The artists actually have assembled an archive of such sounds. This goes in a direction that's very popular at the moment—field recordings of real scenery and sound settings. They take the material and process it further. This will be the highlight of the first part of the evening, before we segue into club sounds and danceable music.
Here, we're getting into another area that's become very popular of late in electronic music and especially in the club scene—hybrid club, which means much more mixing of genres. One of our guests is a lady from Berlin named Ziúr whose live performance mixes various styles. This is actually a relatively wild collage, but it's still suited to a dance-floor setting.
From closer to home, we have Linz-based Mischmeister M of Shash Records, a very successful Linz label, as well as Heap, one of the folks behind the Viennese label Neubau.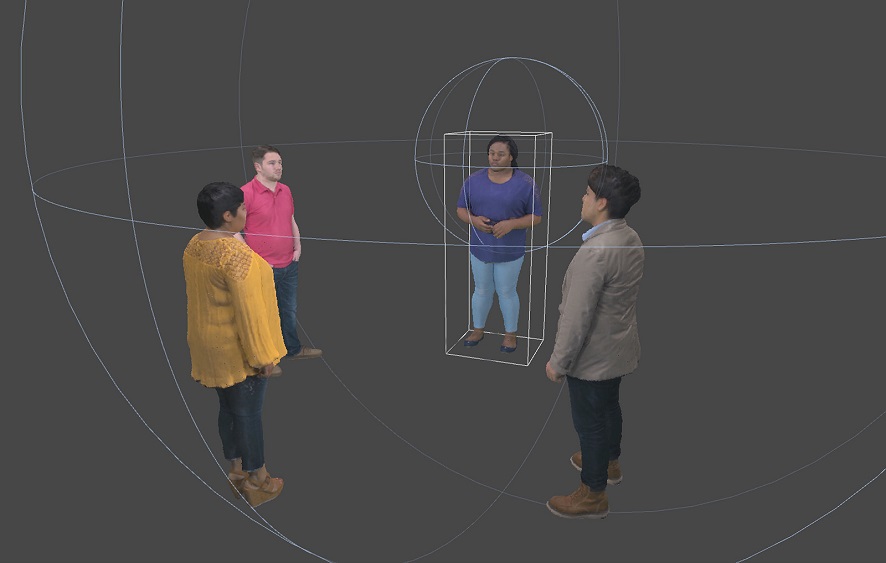 Out of Exile. Credit: Nonny de la Peña, Emblematic Group
What's Electronic Theater all about?
Markus Reindl: Kicking the evening off in the OK is Electronic Theater. It'll be screened twice—once at 8 PM on the roof in Sommerkino as an alternative to the Klangwolke, and later at 10 for everybody in Movie1. Electronic Theater features the best works in the Prix Ars Electronica's Computer Animation/Film/VFX category.
Genoveva Rückert: The prizewinners as well as the best of the also-rans!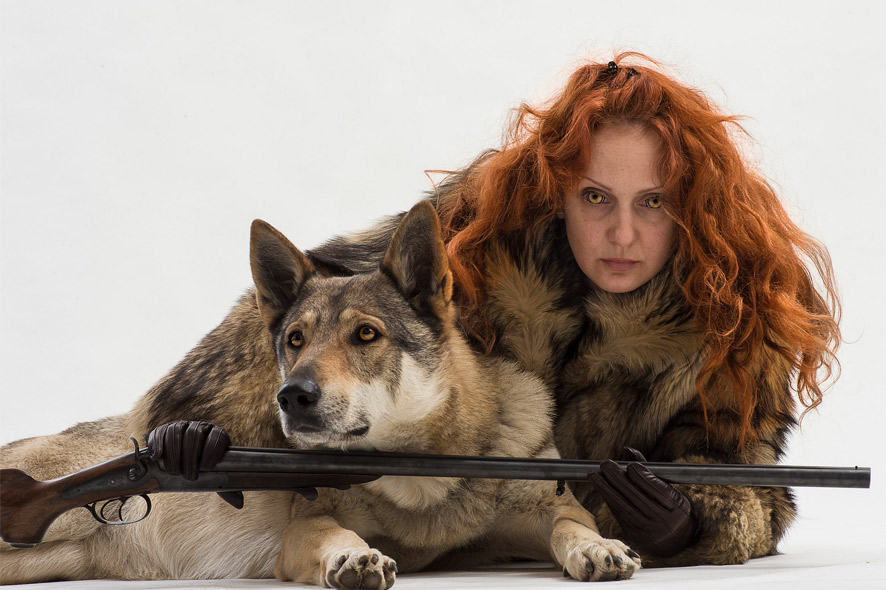 Credit: BORUT PETERLIN
What are some of the highlights in the other categories we can look forward to?
Genoveva Rückert: A major highlight is the Golden Nica recipient in Hybrid Art, Maja Smrekar's "K-9_topology." To produce this work, the artist had an ovum extracted from her body. This egg cell was then denucleated and served as the host of a somatic cell from the body of a dog. The artist thus addresses an explosive socio-political issue, genetic engineering. But for her, this is also a matter of the relation between humans and canines and their ancestor, the wolf. She has a very powerful and impressive visual vocabulary and creates symbolic connections. She adopts methods used by scientists and, as an artist, creates a symbolic object, a symbolic act, and thus something that we can take up as a starting point for discussions of highly divergent opinions. This work is provocative, but a big part of art's mission is to call things into question. In fact, there'll be talk on this very subject of art and ethics featuring Gerfried Stocker and some very interesting guests on Sunday, September 10th in conjunction with CyberArts.
Another highlight will be featured in the Main Hall—"Light Barrier" by the Korean-British duo Kimchi and Chips. This work from the Computer Animation/Film/VFX category is meant to be set in a dark space; it's a multimedia spectacle based on fog, sound and projections.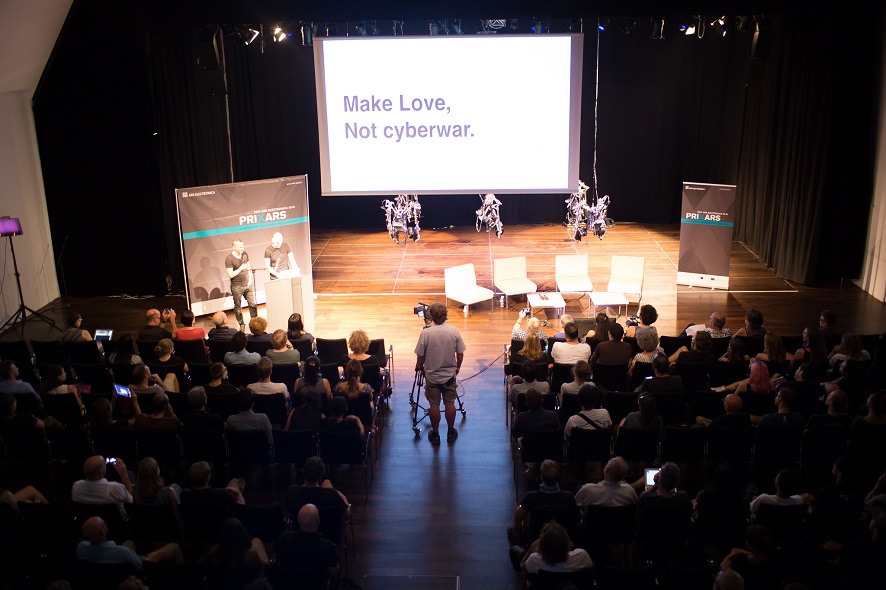 An impression of last year's Prix Forum. Credit: Florian Voggeneder
In addition to the CyberArts exhibition, you host Prix Forums. What can we look forward to?
Genoveva Rückert: Three Prix Ars Electronica honorees—the Golden Nica winner and the two Award of Distinction recipients—are invited to participate in a round-table discussion with experts in their field, often including jurors in their Prix category. This is a great opportunity to get better acquainted with renowned artists. It's scheduled for Saturday, September 9th, once again in Ursulinenhof.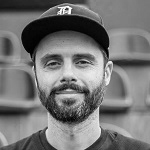 Markus Reindl is a musician and freelance curator. His responsibilities at the OK include the La'Do Club Nights and the OK Night program during the Ars Electronica Festival.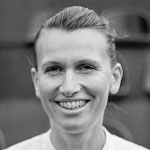 Maria Venzl studied sculpture – transmedial space at Linz Art University. She has worked as a curatorial assistant at the OK since 2016.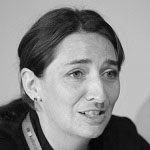 Genoveva Rückert is a curator at the OK. She is responsible for program development and heads the facility's Department of Development and Education. She is a guest lecturer in spatial theory at Linz Art University.
The CyberArts exhibition runs September 7-17, 2017 at the OK Center for Contemporary Art. As always, it showcases the greatest hits of this year's Prix Ars Electronica.
Opening hours during the festival are: Thursday, September 7th to Monday, September 11th, 10 AM to 7 PM daily. On Tuesday and Saturday, CyberArts will stay open until 9 PM. Plus, the exhibition will continue to run at the OK (during regular opening hours) until September 17, 2017.
OK Night is set for September 9th at 9 PM on OK Platz and OK Deck. Admission is free-of-charge.
To learn more about the festival, follow us on Facebook, Twitter, Instagram et al., subscribe to our newsletter and visit our website at https://ars.electronica.art/ai/en/.