A fuse that sets balls in motion, which, in turn, ignite the gas of a Bunsen burner that, for its part, brings a liquid to a boil, which then triggers the next component of the very involved machine that, somewhere on down the line, turns a single page of a newspaper—that about sums up "Page Turner" by Joseph Herscher. This device is only one example of his playful contraptions that perform common, everyday tasks but take long and incredibly complicated routes to these achievements.
It's precisely this passion for playfulness that brings the artist to Linz September 7-11, 2017. In three very different presentations, Joseph Herscher will demonstrate how his kinetic art functions, why it's important to play, and how games are also making their way into the educational field. In this year's youth encounter project, he and 20 European youngsters are building an "Unintelligent Machine"; his "Machine Dream" project is transforming POSTCITY's old spiral packet chutes into a huge mechanism; and on Friday, September 8th at 1 PM in conjunction with the Perspectives on Political Education symposium, he'll discuss how to shift play into the focal point of educational initiatives.
Here, Joseph Herscher tells us more about what he has planned for the 2017 Ars Electronica Festival.
As an artist, you work mostly in the field of kinetic art and frequently build Rube-Goldberg-style machines. How did this fascination start?
Joseph Herscher: I made my first machine when I was five years old. It was a contraption for keeping my sweets in. While it was a very useful contraption for my daily life, I also noticed it made my parents laugh. This encouraged me to continue making more and more elaborate machines.
Your machines take an incredibly long time to perform a single task that could have been achieved much quicker and in a simpler fashion. What is the charm or the excitement for you to always take the complex and complicated approach?
Joseph Herscher: Machines are usually designed to achieve a task as efficiently as possible. My machines are the opposite of that, they are as inefficient as possible. This is inherently absurd. But as human beings we are naturally playful creatures. I think we are tickled when we see a playful machine, as it is somehow more human.
One of the projects you will work on during the 2017 Ars Electronica Festival is the "Unintelligent Machine". What's the idea behind this machine, and how come it is "unintelligent"?
Joseph Herscher: I will be running a workshop with 20 people in the Create Your World space, where we build a huge chain-reaction machine over the course of a week. The final step of the machine will either water a pot-plant or push it over; the outcome is determined randomly by the machine each time it runs.
The festival theme is "Artificial Intelligence – The Other I". How does the "Unintelligent Machine" play into this?
Joseph Herscher: The scary thing about artificial intelligence is not that we might accidentally create an evil AI, but rather an AI with the wrong goals. For example, if an AI's only goal is to draw sketches of fruit with pencil and paper, and we train it to become super-intelligent (far more intelligent than humans), then it might duplicate itself and kill all humans so it can build hundreds of factories that produce billions of sheets of paper so it can make even more sketches of fruit. The AI is not evil, it's just achieving its goal in a super-intelligent way.
It's critical we think carefully about what goals we program into AI. The Unintelligent Machine will be a large, complex, wonderful machine, full of fascinating kinetic movements. But all of that will be irrelevant to the final outcome of the machine; it will either doing something good – water the plant – or bad – punch the plant. As humans, it's up to us to think very carefully about how we program AI and what goals we give it, rather than just focusing on making something as smart as possible.
You will also present an installation in the midst of POSTCITY's huge slides, "Machine Dream". What do you have in store for visitors here?
Joseph Herscher: I am making a playful machine that serves all the workshop students their lunch. It uses the spiral slides to deliver lunch boxes to each student. The machine also uses two huge swings, a collapsing tower of boxes and a giant stuffed panda. We will do performances throughout the day. In the evening there will be a variation: the machine will instead put me into bed.
Lastly, you will give a keynote at the Symposium about political education. The focus will be on "play" – what does this mean for you in the context of education?
Joseph Herscher: Machines are usually designed to achieve a task in the most efficient way possible. We live in a culture obsessed with wringing an external result from everything we do. At school, the focus on exams and results drums this into us from an early age.
Play is the opposite of a results-driven activity, and it's actually very important in education. It enhances players' knowledge of the world and themselves through interactions with others and makes the players feel good through creative self-expression and mastery of skills and tasks.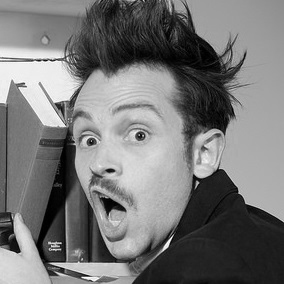 Joseph Herscher specializes in making comical chain-reaction machines. His videos have been viewed by over 30 million people online. His video of "Creme that Egg" racked up three million views online, encouraging him to build more and more elaborate machines. Soon came the workshops with kids, participation in the Venice Biennial and a feature in the New York Times. He has appeared on numerous television shows including Sesame Street and lectured at Parsons the New School For Design. Joseph grew up in New Zealand and now lives in New York, where he continues to create his eccentric machines for film, television and art festivals around the world. He is also a public speaker and has told his inspirational story at international design and business conferences.
Joseph Herscher will have three turns in the spotlight at the 2017 Ars Electronica Festival. "The Unintelligent Machine" youth encounter project will run September 7-11 in the CREATE YOUR WORLD area of POSTCITY. Festivalgoers are invited to stop by at any time during the venue's opening hours and watch "The Unintelligent Machine" take shape. There will be several presentations daily of "Machine Dream," a huge construction going up among POSTCITY's blue spiral packet chutes. The exact times will be posted on our website very shortly. Joseph Herscher will also give a talk at this year's Perspectives on Political Education symposium—"Comedy, Science, and Playful Machines" is set for Friday, September 8, 2017 at 1 PM in POSTCITY. Those who would like to attend the symposium can register here.
To learn more about the Ars Electronica Festival, follow us on Facebook, Twitter, Instagram et al., subscribe to our newsletter and visit our website at https://ars.electronica.art/ai/en/.