One is the leading dramaturge at Landestheater Linz. The other is a sound artist, co-founder of the legendary band Fuckhead, and a Noise/Techno performer. Dramaturge Andreas Erdmann and sound artist Chris Bruckmayr come from worlds that couldn't be more disparate.
What they have in common is the concept of storytelling. Both the theater and musical performance live from narrative accounts. Digital media and new technologies are bringing about massive changes, and indie, experimental theater groups aren't the only ones they're having an effect on; classical institutions as well have been feeling the impact for quite some time now.
Andreas Erdmann, chief dramaturge at Landestheater Linz, will take part in the Ars Electronica Festival's Theater & Digital Media panel discussion. Chris Bruckmayr, sound artist and Fuckhead co-founder, will (together with his brother Didi) give an interactive performance entitled "Breaking the Wall." We met with them to find out how digital media have been changing what they do.
To learn more, attend the Ars Electronica Festival September 7-11, 2017. Theater & Digital Media is being produced in cooperation with the European Theater Convention (ETC). It showcases a broad spectrum of projects and works being done where digital media meet the theater.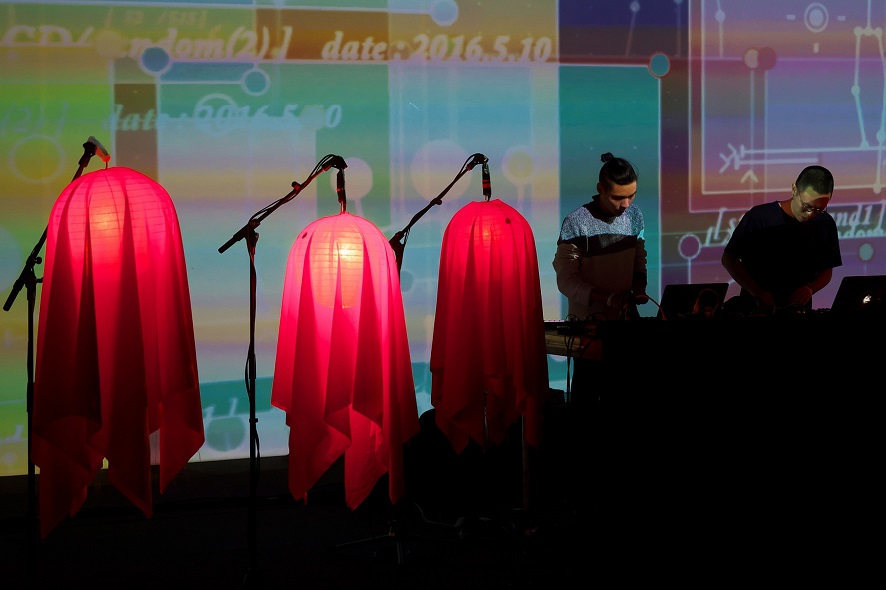 "Étude" by Vibert Thio and Danger Du will be part of Theater & Digital Media. Credit: Quanta Art Foundation
You have years of experience in classical theater. Someone engaged in storytelling today must necessarily confront digital media. Has your institution felt the impact of this trend?
Andreas Erdmann: Naturally. This is most evident when the theater itself maintains a presence on social media such as Facebook, YouTube and Instagram, which has become part of our business model at this point. No less interesting, however, are what these new media are teaching us about the ancient art of storytelling, which is, after all, our core competence. For instance, how important it is to focus on a theme, and the extent to which stories are connected to the teller or the personality of the artist, even though this is actually a matter of a collective work of art in a social medium.
Are technological developments, in the broadest possible sense, also being employed more and more frequently in the theater?
Andreas Erdmann: Throughout its history, the theater has drawn upon new technologies, and theatrical producers have always asked how modern media are changing the world, especially in light of the background that the theater offers, so to speak, an archaic medial framework for this research. In this sense, new technologies change even the theater. The pinnacle of feelings 20 years ago were video projections and computer graphics on a stage; today, there's a wave of interactive theater that also takes leave of the theatrical space and is addressed in the new media.
Its influence on our reality can also become a subject of discussion when absolutely no obviously new technical devices like a smartphone or VR glasses are used in a theatrical production—like in the many new varieties of interactive—what they used to call "join-in"—theater. Technically, such mises-en-scène were feasible a thousand years ago. Today, they're current because they reflect a certain awareness of what's happening, which is an upshot of the internet.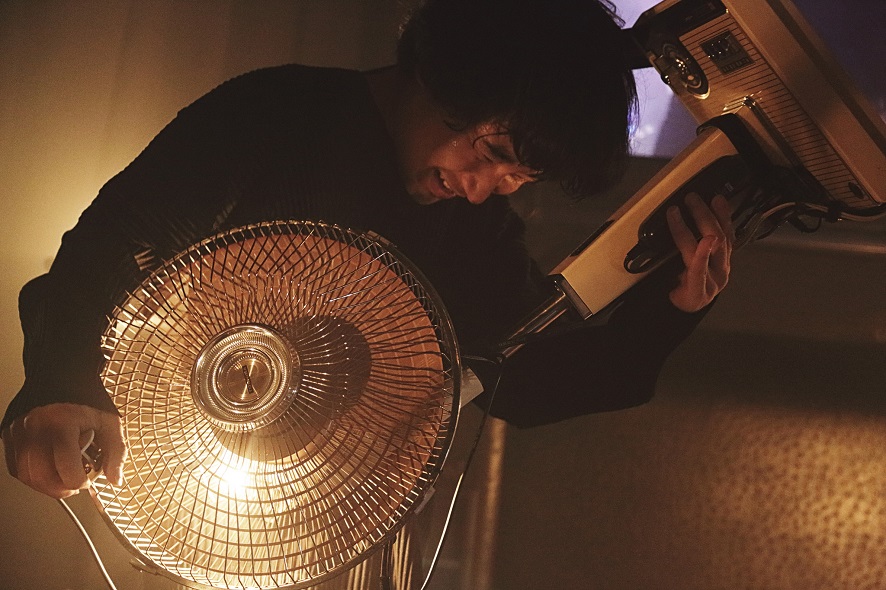 "Sempookin" by Ei Wada is also a part of Theater & Digital Media. Credit: Mao Yamamoto
What's the particular take on new technologies and digital media at Landestheater Linz?
Andreas Erdmann: I can answer this question only in the form of a small excerpt. We're especially interested in theatrical professionals who are passionately in search of new directions—for instance, what composer Michael Obst is doing with electronic music, and director Björn Gabriel with computer algorithms and live video. On the other hand, this is juxtaposed to the previously-mentioned "archaic" aspect of the theater. What this medium has been capable of for millennia and that's expressed in new media only rather exaggeratedly sometimes. We want to carry on and expand this research.
On the other hand, there's what is now the totally normal way to communicate with our audience via a website and social media. This too opens up a completely new dialog with our public who, in turn, provide us with excellent feedback. And more and more artistic content is also exchanged in this way—just consider the videos, blogs, images and pieces of music produced especially for the internet. We want to expand this level of commitment.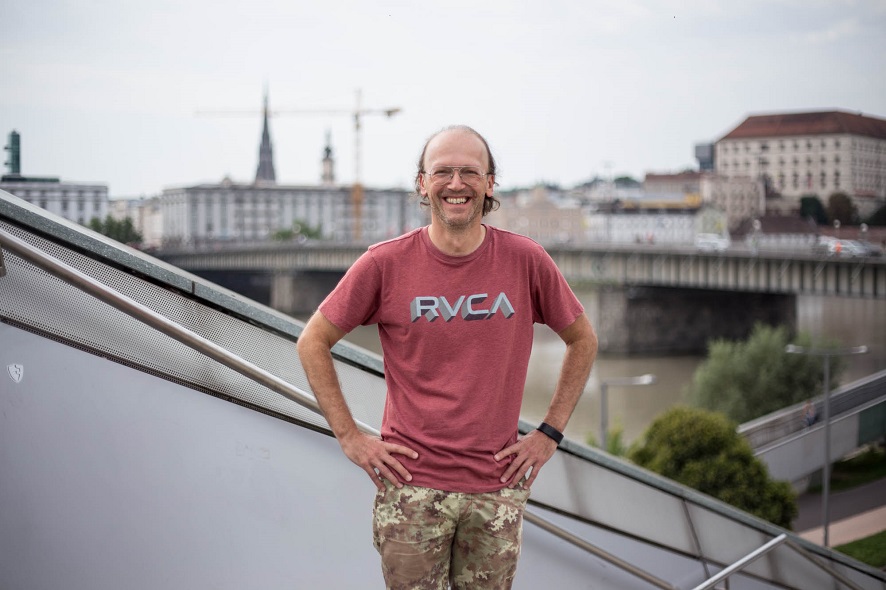 Chris Bruckmayr. Credit: Vanessa Graf
At the 2017 Ars Electronica Festival Chris Bruckmayr and his brother Didi will present "Breaking the Wall," one of a series of interactive performances that premiered in Vienna in June 2017 in Wien as part of a research project on audience interaction.
"Breaking the Wall" originated in conjunction with a research project …
Chris Bruckmayr: This performance is part of a research project at the Positive Impact Games Lab at the Technische Universität Wien. The lab received a grant to do artistic R&D because of its expertise in interaction—first of all, of course, in gaming, but also in the performance field. My brother Didi Bruckmayr and I—as null.head—are participating artists. The name is combination of Fuckhead and my Techno project, raum.null.
So this has to do with various forms of interaction with an audience?
Chris Bruckmayr: Exactly. For example, Susanne Kirchmayr, who performs as Electric Indigo, gives a sort of smartphone concert in which she enables the audience via a special app installed on their cell phones to intervene in die performance. Fundamental structures like rhythmic elements and beats are sacrosanct, but the atmosphere can be modified. In "Breaking the Wall"—at the premiere of all the projects in Vienna—we were very permissive about enabling spectators to intervene in our rhythmic structures, and we finally came to the conclusion that it's functional to maintain a low threshold in this respect.
Didi and Chris Bruckmayr at their performance "Breaking the Wall" in Vienna. Credit: Louise Lindenbolz
So, what form does the audience interaction take in "Breaking the Wall"?
Chris Bruckmayr: Basically, there are various models of audience interaction. In many, there's an attempt to really very actively integrate spectators, that they themselves make the music, so to speak. Such models are difficult and, in my opinion, have always failed up to now. Based on my experience, most audience members aren't even interested in getting very actively involved. This has a lot to do with the concert's dimensions or the size of the audience. So we gave some thought to how audience interaction can happen more by chance. To do this, we work intensively on the level of people's mood and attitude. It's very much possible to actively intervene in our performance—for instance, we're working with laser barriers that, when someone breaks though them, permit intervention in our electronic structure. The objective is to achieve certain randomly controlled rhythms or so-called drones, ebbing and flowing sound elements. We not only let the audience interact with parts of the music but also with the lighting and the moving heads set up in the performance space. The audience's movement pattern, its size and, ultimately, what spectators do influence the lighting.
This influence on our music doesn't have to occur intentionally, though; it can also take place by means of passive interaction. We give the audience a chance to interact, but if they don't do so, the performance functions nevertheless. We create a space in which people act in terms of their normal movements and thus have an impact on the performance.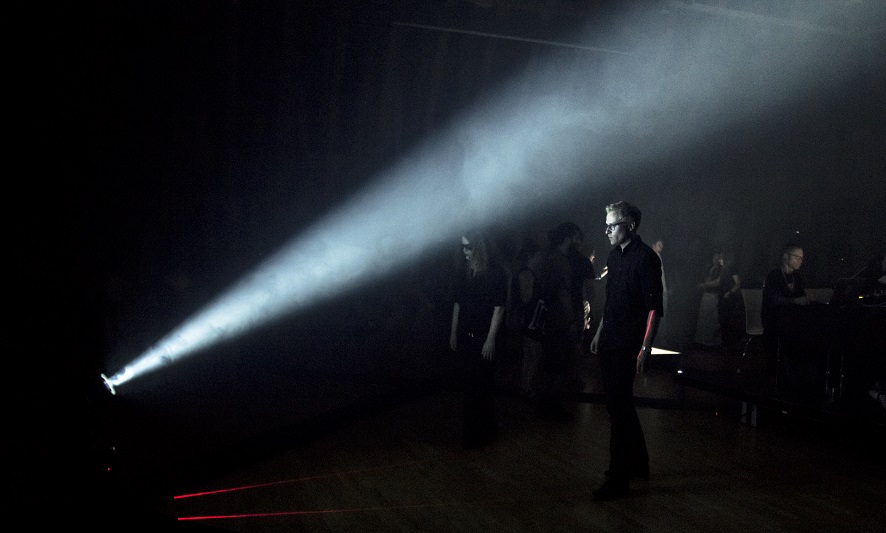 Impression of the events about audience interaction in Vienna. Credit: Louise Lindenbolz
What importance do you attribute to digital media in the performance genre?
Chris Bruckmayr: They're very important. Things like modifying the entire stage set by means of music visualizations and projections play a major role. Plus, the possibilities now made available by tracking are very interesting for the storytelling. In the future, it would be interesting to go so far as to have the entire projection technology and the lighting controlled by the actors/actresses themselves. This would mean setting up a stage space in which the cast's behavior influenced everything—projections, lighting and music. This is precisely what we've tried to do in a rudimentary form in "Breaking the Wall."
"Breaking the Wall" is part of this year's focus on Theater & Digital Media. Why is this important now?
Chris Bruckmayr: For one thing, there are demographic reasons why a certain segment of the population that has heretofore made up the majority of the audience at musical or theatrical institutions is now, due to advanced age, unfortunately, dying off or is no long willing or able to attend. Meanwhile, young audience members have acquired totally different aesthetic perceptions and are also less patient. They're receptive to interweaving the world of smartphones and gaming with the performance being staged. Projections and visual tricks make a performance or a play considerably more palatable for young people. Plus, augmented reality in the theater yields, in any case, a new narrative level, and makes it easier to introduce, for example, different time levels, even those running in opposite directions or that are interrelated in interesting ways. All of a sudden, it's possible to have various kinds of effects on the performance of a play. But very little has happened here; there's still lots to do.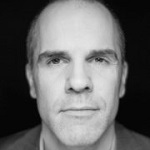 Andreas Erdmann is a dramatist and dramaturge. He studied in Hamburg under Prof. Jürgen Flimm, and has worked in Switzerland, Austria and Germany as an author director and dramaturge. Since 2016, he has been chief dramaturge at Landestheater Linz.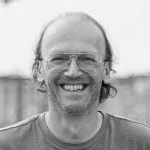 Chris Bruckmayr has a master's degree, is a sound artist and, under the name raum.null, produces Dark Techno music on the vinyl-only label Belgrade dubs / Belgrade. With Fuckhead and raum.null, he performed at the 2014-16 Ars Electronica Festivals and at the 2016 Heart of Noise Festival. He works as a creative producer at Ars Electronica SPAXELS GmbH.
The Theater & Digital Media theme will be illuminated by multifarious projects and elaborated on by panel discussions at the Ars Electronica Festival September 7-11, 2017. Program details will soon be made public on our website.
You can attend and intervene in the performance "Breaking the Wall" at the Ars Electronica Opening on Thursday, September 7, 2017 in POSTCITY Linz. Admission is free-of-charge. Complete details about the event will be provided here.
To learn more about the festival, follow us on Facebook, Twitter, Instagram et al., subscribe to our newsletter and visit our website at https://ars.electronica.art/ai/en/.