In addition to staging the Helpers' Conference at the 2017 Ars Electronica Festival, ZusammenHelfen in Oberösterreich, your go-to source for ways to help refugees, is also organizing a ZusammenKommenLab to present innovative projects, workshops and open labs having to do with volunteer work to aid asylum seekers and immigrants. The highly diversified lineup of activities includes cooking courses, a Fotobox and an innovative language tool. On the day of the Helpers' Conference, September 9, 2017, ZusammenKommenLab will also offer opportunities meet many of the speakers and exchange views with them.
A previous interview here provided comprehensive information about the Helpers' Conference. This time, Melanie Jungwirth of ZusammenHelfen in Oberösterreich tells us what's lined up at ZusammenKommenLab.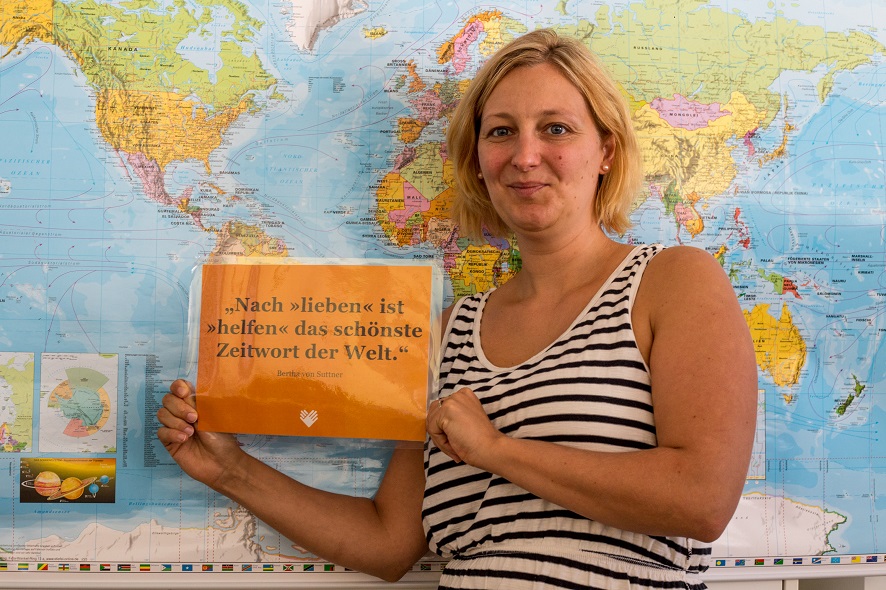 Melanie Jungwirth. Credit: Vanessa Graf
What activities do you have planned for those attending ZusammenKommenLab?
Melanie Jungwirth: Last year, there was a relatively uniform program on all five days of the festival, but that's going to change this year. The ZusammenKommenLab is being held in the CREATE YOUR WORLD village, where this year's theme is Perspectives, so, to go along with that, we've come up with a colorful, diversified program that features lots of different points of view. Various projects offer a shift in perspective. ZusammenKommenLab is meant to be a place where people can really just come together, a setting conducive to exchange among helpers, asylum seekers and anyone else who's interested.
So, representatives of refugee projects & initiatives will be on hand to show want they've been doing and talk about their experiences.
Melanie Jungwirth: Right, along with projects designed to help immigrants get integrated. Plus, this is the place for meet & greet with those experts who've come to speak at this year's Helpers' Conference. Say, if you attended a speech that you found particularly interesting, this is a chance to get in contact with the speaker and discuss at length aspects you need to go into depth about.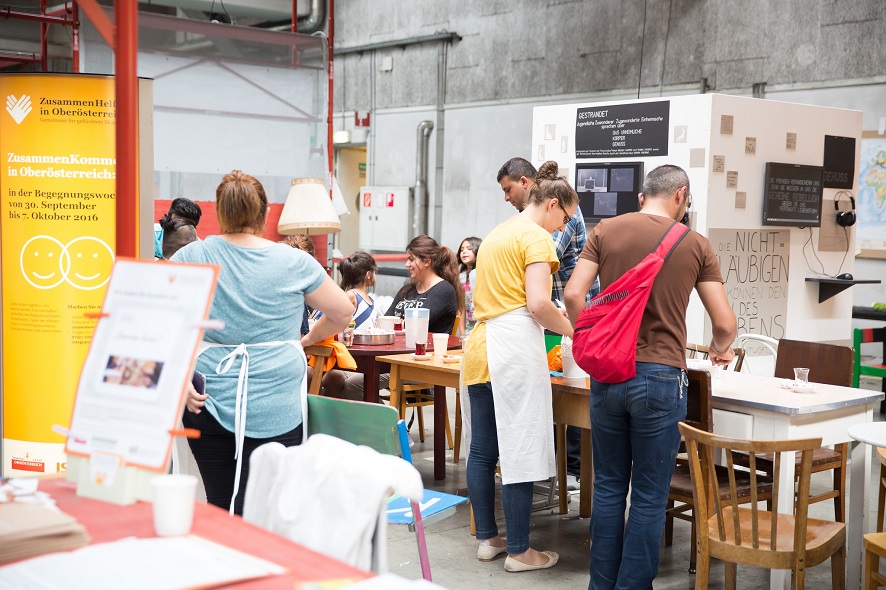 Credit: Tom Mesic
What do you see as the highlights of the ZusammenKommenLab?
Melanie Jungwirth: One is being organized by Jaapo, an association by and for Black women. Together with ENGAGIERT.INTEGRIERT, a project that fosters intercultural volunteer work, there'll be a booth at ZusammenKommenLab with a sewing circle. They'll stitch together turbans, and visitors will be able to admire clothing from many different countries. And on September 7-8, we'll also have a Fotobox in the spirit of shifting perspectives. All festivalgoers are cordially invited to stop by, encounter other cultures, and contribute their own points of view.
We're especially delighted that many of those who'll be speaking at the Conference have agreed to make themselves available for one-on-one Q&A afterwards. For instance, Kenan Güngör, a very well-known integration expert, will be joining us. The staff members of Kattunfabrik and WOHNEN MIT ASYL, two wonderful projects for refugees, will be attending ZusammenKommenLab after their speeches to answer questions and do networking. uugot.it, a start-up that makes it possible to learn a language via TV and smartphone, will be present throughout the festival.
Credit: Über den Tellerrand Community Linz
And on the last two days, Sunday and Monday, the Linzer initiative Über den Tellerrand will be cooking in ZusammenKommenLab. On Sunday, dUNDu, a project by Volkshilfe Oberösterreich, will hold a "coffee klatsch" at which unaccompanied, underage refugees will give narrative accounts of their experiences. On Monday, ZusammenKommenLab will welcome resp@ct, a project by pro mente OÖ that offers various arts & crafts courses and activities for youngsters and young adults.
Another highlight is on the day of the Helpers' Conference, September 9th, when psychologist and psychotherapist Nadja Kasapi-Nawar will be available to chat with volunteers. So attendees will have access to counseling for themselves as well.
Über den Tellerrand was at the Ars Electronica Festival last year too. What do they do?
Melanie Jungwirth: Über den Tellerrand has branches throughout Austria and Germany. Beate Adam started the one in Linz. She cooks with asylum seekers. At this point, she even does catering for major events, and, in fact, Über den Tellerrand will provide the food & beverage service at the Conference, which will feature dishes from the asylum seekers' various homelands. At ZusammenKommenLab, festivalgoers are invited to cook a dish, to sample new cuisines, and to join the conversation.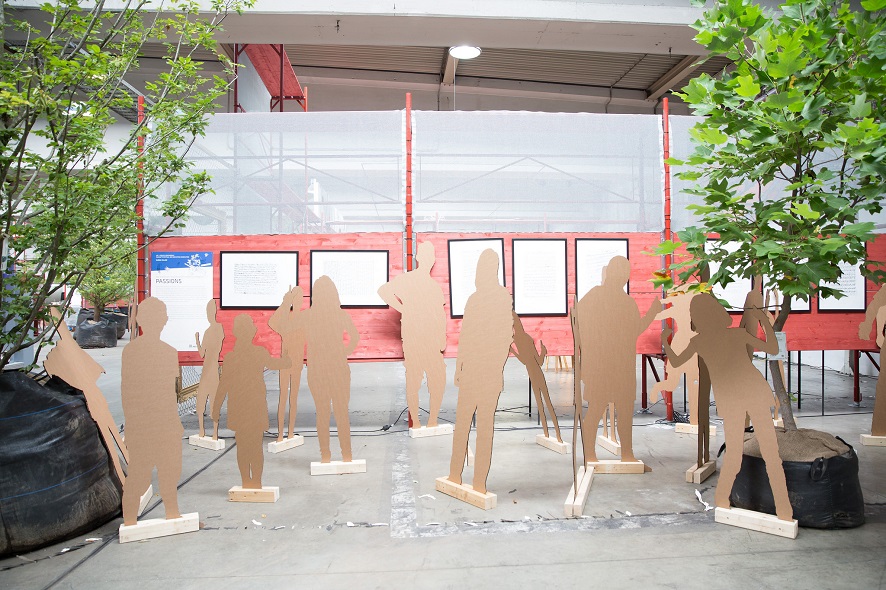 Credit: Tom Mesic
The Helpers' Conference is especially for those who deliver aid to refugees, either in a professional capacity or as volunteers. Is that the case with ZusammenKommenLab too?
Melanie Jungwirth: No, ZusammenKommenLab is really open to everybody. Like I said, the idea of a shift in perspective plays a major role here, and since many Austrians will be attending Ars Electronica, a big part of this is to learn more about one another. So, visitors will be able to see how other people live—for instance, the clothes they wear and how they do their hair. The Jaapo association will have a photo exhibition showing how Black women, men and children wear their hair and all the different styles. The language software developed by uugot.it is an example of a project that's basically useful to all but, of course, is an especially big help for refugees.
By the way, ZusammenHelfen in Oberösterreich will have an info table at ZusammenKommenLab. So even if you don't have time to attend the Conference, you can stop by and find out more about us.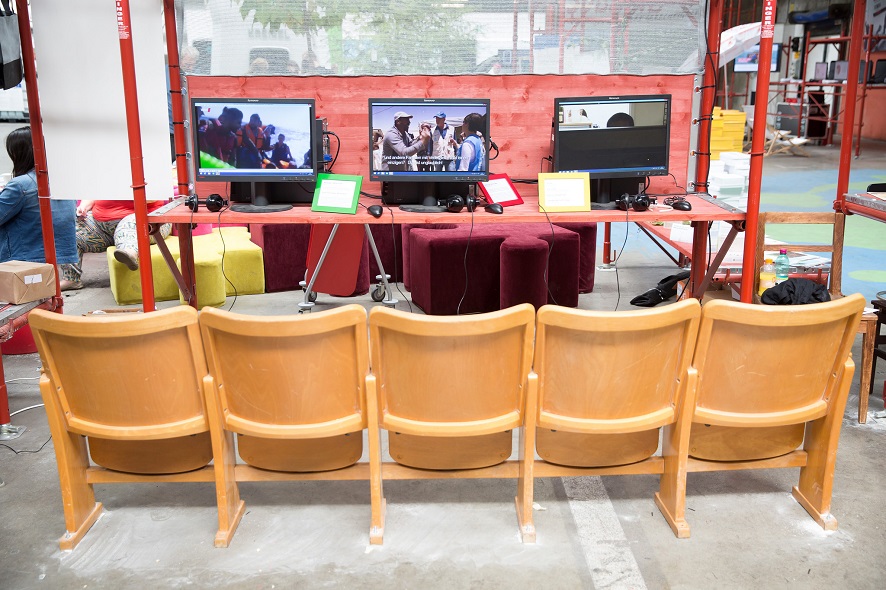 Credit: Tom Mesic
Melanie Jungwirth: The fact that we'll be visible to so many festivalgoers is definitely a great opportunity. Conversely, it's also nice for us to be able to take in all the projects on display at the Festival. What I'm especially delighted by is the fact that the CREATE YOUR WORLD area where the ZusammenKommenLab will be located is freely accessible, so our volunteer helpers can attend together with their asylum seekers without the visit entailing high admission costs.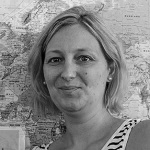 Melanie Jungwirth has worked for ZusammenHelfen in Oberösterreich since 2017. She studied communications, and has extensive experience as a volunteer in social welfare projects, including those providing aid to refugees.
ZusammenKommenLab will be open throughout the Ars Electronica Festival, September 7-11, 2017, in the CREATE YOUR WORLD area in POSTCITY. Festivalgoers are invited to attend the Helpers' Conference on September 9th. Registration for the Conference can be completed on the website of ZusammenHelfen in Oberösterreich. It's not necessary to register for the ZusammenKommenLab.
To learn more about the festival, follow us on Facebook, Twitter, Instagram et al., subscribe to our newsletter and visit our website at https://ars.electronica.art/ai/en/.