An extraordinary combination—Zenbo Hidaka is a Buddhist monk as well as one of the leading experts in the field of artificial intelligence (AI). In his talk at the Opening Symposium on Thursday, September 7, 2017, he'll give an overview of this topic, and then go into specifics the following day. At the Theme Conference elaborating on "AI – The Other I," on Friday, September 8th, Zenbo Hidaka will explain what spirituality and AI actually have in common.
In this interview, Zenbo Hidaka gives a preview of his remarks at the 2017 Ars Electronica Festival.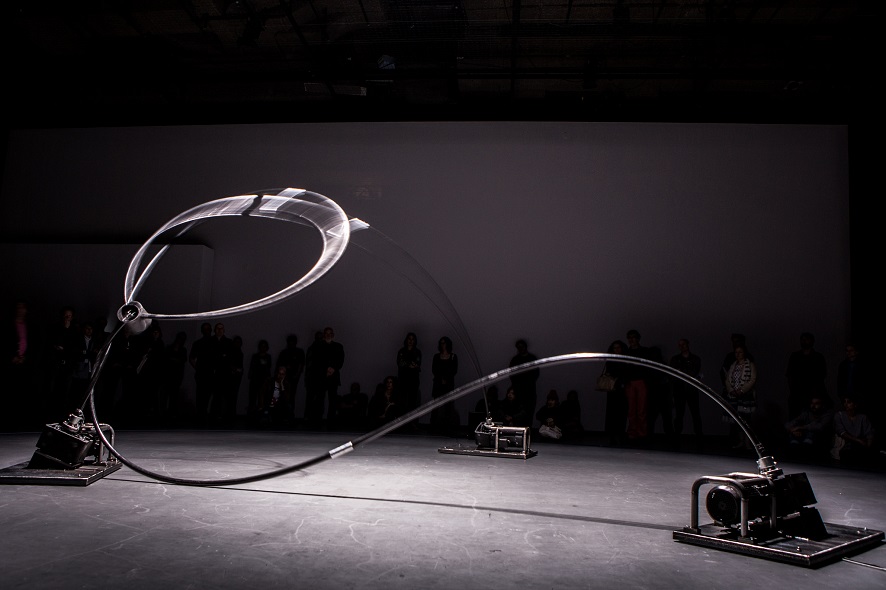 The pictures show works of the festival exhibition "Media Art Between Natural and Artificial Intelligence". Here: Nyloïd by Cod.Act. Credit: Gridspace
How does AI shape our culture, and how does our culture shape AI?
Zenbo Hidaka: Probably the order of the questions should be opposite – we first have to ask what kind of culture gave birth to AI. Technology inherently tends towards universality. If it were really universal, it will be free from the indigenousness of culture. As long as a human belonging to a certain culture uses AI as a universal technology, I think it accelerates human creativity in that cultural area, but when AI surpasses the subjectivity of human beings, it is doubtful whether the thing that AI produces can be regarded as what we regard as our own culture.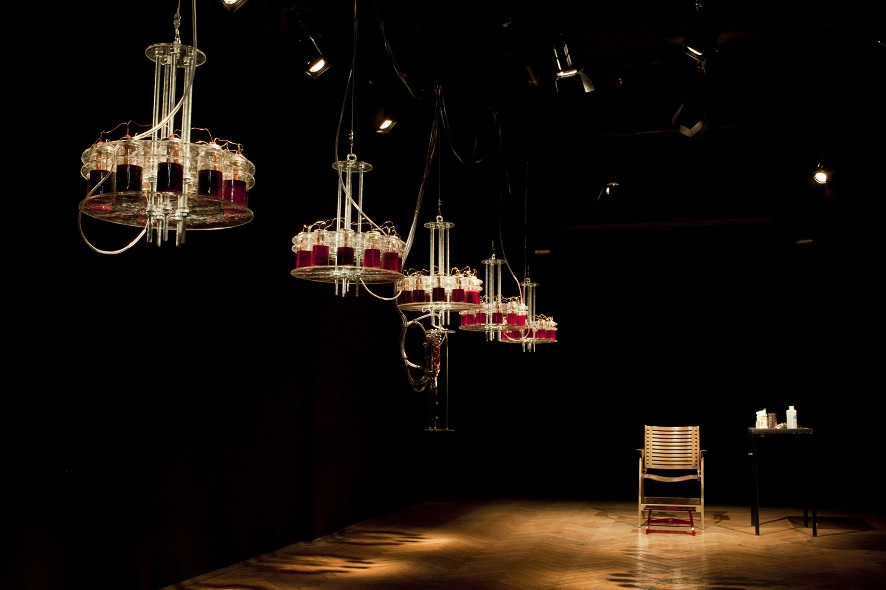 Until I Die by ::vtol::. Credit: Miha Fras
What are the real-life implications of the use of advanced technologies such as machine learning?
Zenbo Hidaka: AI exerts its most powerful capability in complicated computations which are beyond human brain power. Automatic driving of cars is a typical example. If all cars literally become "automobile", traffic congestion and traffic accidents will not happen in principle. No matter how social informatization develops, our bodies will never go away. In that sense, optimization and efficiency improvement of "mobility" will continue to be the most important theme. Already, we cannot think of a trip without Google Maps. It is becoming suspicious how much our freedom of action is limited.
Which ethical implications does the advancing development of AI bring?
Zenbo Hidaka: It may be difficult to definitely define singularity, but I believe it is time to deepen self-awareness by facing transcendental existence. The fact that AI goes beyond human ability may be a threat in the sense that it exceeds our control, but it may also be rediscovery of the sanctity once played by religion.
The title "The Other I" points to the question of what we humans project onto AI. What does AI reveal about human nature?
Zenbo Hidaka: The difference between a human and AI is whether or not they have the awareness that they are mortal beings, and such awareness brings spiritual pains. Memento Mori was supposedly the beginning of philosophy. But in the relationship established only by online communication, distinction between whether the partner is a living person or an AI chatbot will become difficult sooner or later. In other words, in the age of social media prosperity, we are no longer thinking about death by physical death alone. Keiichiro Shibuya's vocaloid opera "The END" is a story that vocaloid "Hatsune Miku" starts thinking about her own death. It is a remarkable work that acknowledged a new philosophical and ethical problem of the relationship between AI and death.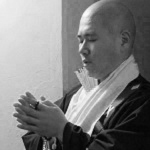 Zenbo HIDAKA Koyasan Sanbō-in Deputy Chief Priest / Koyasan Kōso-in Chief Priest Hidaka Zenbo graduated University of Tokyo, Faculty of Law. During his PhD course, he established an IT startup to develop softwares. Later, he founded JapanStyle.Inc and conducted Japanese performing arts productions such as Tsugaru-jamisen and traditional Okinawa music performances in Central Asia, Middle East and Canada in association with Japan Foundation. In 2007, He was appointed for the committee member of Japan Luxury Travel Forum organized by the Ministry of Economy, Trade and Industry. Currently, he serves as priest in Koyasan Kōso-in and as deputy chief priest in Koyasan Sanbō-in as well as a board member of Local-Area Branding Association.
The Opening Symposium at the Ars Electronica Festival is set for Thursday, September 7, 2017 at 3:30 PM in the Conference Hall at POSTCITY. The opening panel on the subject of "How Culture Shapes Technology," at which Zenbo Hidaka will speak, begins at 5:45 PM. The Theme Conference on "Artificial Intelligence – The Other I" will take place on Friday, September 8, 2017 from 10 AM to 6 PM in the Conference Hall at POSTCITY. As an "Ethics, Philosophy and Spirituality" panelist, Zenbo Hidaka will speak about AI and spirituality at 3:50 PM.
To learn more about the festival, follow us on Facebook, Twitter, Instagram et al., subscribe to our newsletter and visit our website at https://ars.electronica.art/ai/en/.