UCLA's Campus exhibition at the 2017 Ars Electronica Festival goes beyond the binary. Artists, scientists, students and alumni are presenting a variety of projects that show what it means to take leave of rigid, black-and-white concepts, binary gender categories and environmentally destructive thinking. Eco-feminism is the theme of the "FEMINIST CLIMATE CHANGE: Beyond the Binary" exhibition that shows the connections between two topics that many people might not always consider interrelated.
Why climate change is a feminist problem, what it means to cast the binary aside and turn to more fluid ways of thinking, and how eco-feminism is assuming its place at this year's Ars Electronica Festival are explained by Victoria Vesna, artist and professor in the Department of Design Media Arts at UCLA.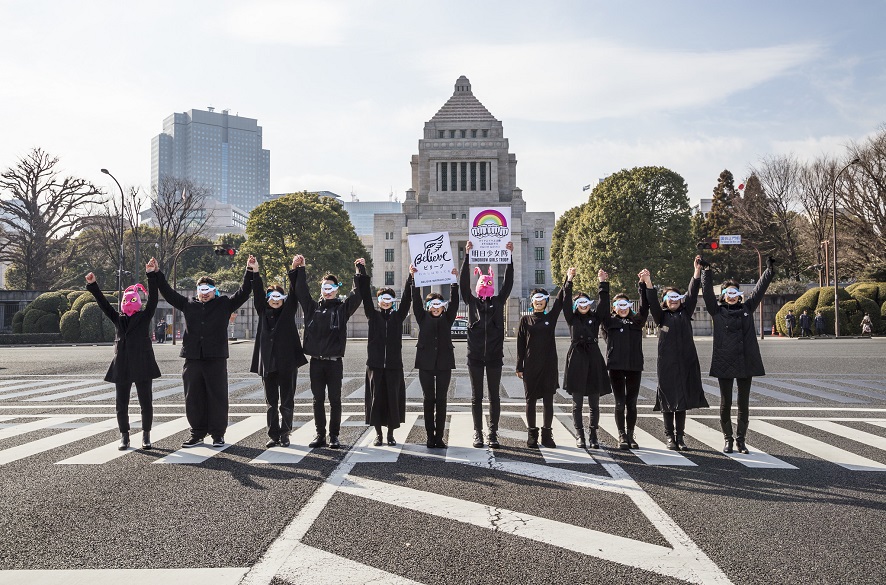 Believe Campaign by Tomorrow Girls' Troop. Credit: Tomorrow Girls' Troop
Victoria Vesna: Actually, this is not a new argument. I arrived to this through my interest in natural systems while also promoting environmental research and artwork through the Art Sci center. When I started working with Xin Xin and the voidLab feminist group on this exhibition, we started converging and researching deeper into the topic. I was surprised to find out how extensive and active the eco-feminism movement is and at the same time so invisible.
Anthropocentric, human-centered thinking is deeply ingrained in Western world-views and rooted in a problematic dualism. If one analyzes English language for instance, very quickly it becomes evident that often women, animals and nature are devalued and even unconsciously the dominant binary narrative is reinforced. Both culture versus nature and mind versus body are historically not gender neutral. The exploitation of women, animals and environments can be seen as mutually reinforcing systems and practices. This unjustified domination ignores the interconnectedness between cultural and ecological diversity. Take a look at any political system and you will see only a small number of women sitting with the decision makers. Just as in computing, the simplistic on and off switch is the basis of incredibly complex systems emerging; these oppositions become more and more refined and hidden.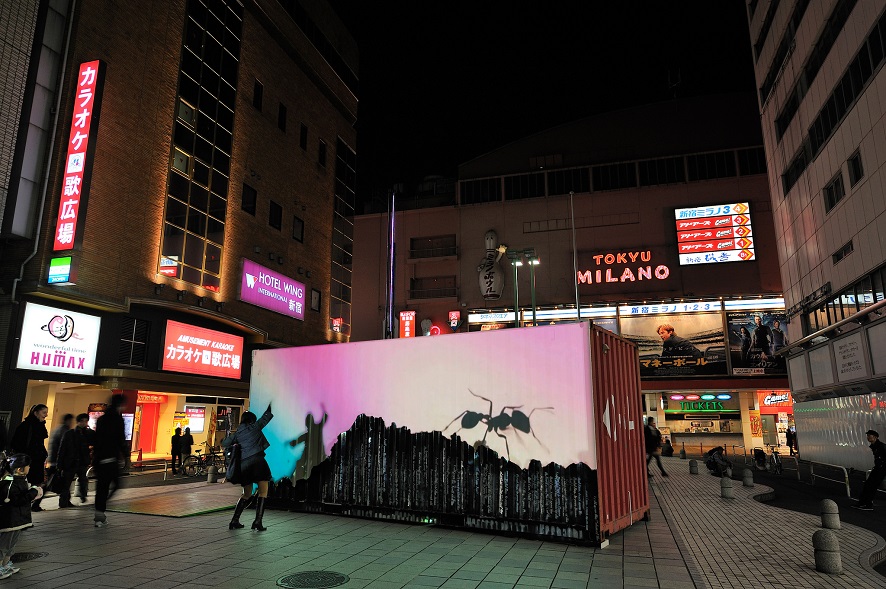 The Antmaster by Gil Kuno. Credit: Gil Kuno
It becomes even more complicated when diversity of gender identity is taken into consideration. Children are taught simplistic explanations about sex and gender through XX and XY. Biology and natural systems are taught in equally reductionist ways and thus we end up with the dominant narrative that edits out any discussion of sexuality or identity beyond the norm of male / female and separates nature from culture. Connected to this way of thinking is the view that humans are superior to non-human animals and other living things. Through this thought process, feminism becomes restricted to women. The idea of feminism being only about women needs to shift. Feminism is about moving away from the simplistic binary oppositions and towards inclusivity, diversity and balancing world wide systems that are currently dominated by our male counterparts.
Carboniferous by Pinar Yoldas. Credit: Pinar Yoldas
What does it mean for you to go beyond the binary, both generally and more specifically within the context of arts and science?
Victoria Vesna: In computing – the driving force of our "global" world – binary code is the underlying mathematical structure that is fundamentally based on yes-no, on-off, and, or not. This mindset is a result of a type of philosophy that builds social systems with simplistic interpretations of true and false, male and female. Although it is amazing how the on and off switch can result in such complexity, this is not sustainable when applied to human beings, culture, and interconnected environmental and cosmic forces.
This approach embeds unconscious prejudice towards non-binary as is evident in social attitudes that ignore what we are learning from current genetics research into the complex process of sex determination. To a large degree, the scientific revolution contributed to the separation of culture from nature by its innate interpretation of nature as mechanistic. This makes it easy to justify the exploitation of our planet Earth.
The division of art and science is a product of the industrial age with the resulting specializations. But with the advent of computing, new sciences have emerged and the old methodologies that are based on binary thinking are reaching a limit. In art, the time of the solitary artist is long gone, although the myth remains.
Cyborg Portraits by Noa Kaplan. Credit: Noa Kaplan
Why was this theme chosen to present at this year's Ars Electronica Festival?
Victoria Vesna: It is no secret that a number of activist females who work in media arts rightfully pointed out that the festival was not recognizing women in technology and the arts. But this is an endemic problem that females confront in the traditional art world, the sciences, engineering, academia and every aspect of our lives. Often it is so deeply ingrained in the system that it is not even recognized as a problem.
I have been involved quite actively with the festival for the last three years in particular, and became aware that the organizers were acknowledging and proactively working on addressing the problem of female inclusion but more importantly equality. So, when I was approached by Christa Sommerer to organize this year's campus exhibition, I decided to use the opportunity to bring this issue to the forefront. To this end, I recruited Xin Xin, a recent alumni of the department of Design Media Arts and a co-founder of voidLab. It was important for me to work directly with someone representing the new generation of feminist media artists and to make sure that their voices are heard. Very quickly I took on the role of a mentor and supervisor and we both learned a lot in the process of pulling this together. The very issues we were seeking to bring to the forefront were showing up in some situations we faced and reinforced our determination to keep going. But I am happy to say that we were also positively surprised by the strong and unswerving support we got from the Ars Electronica director and staff.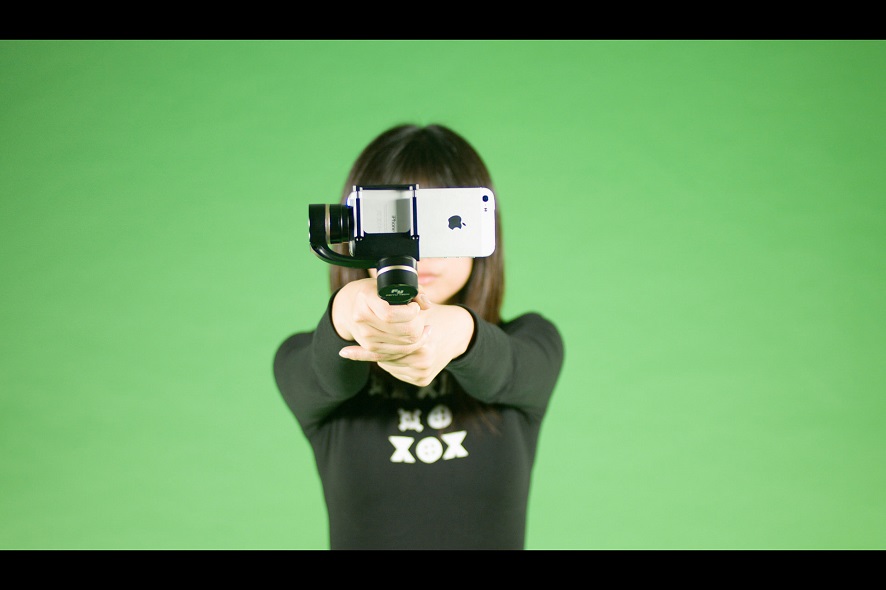 Prologue by Xin Xin. Credit: Xin Xin
At the festival, UCLA will present works of current students and alumni. Which highlights can visitors expect from the exhibition?
Victoria Vesna: Our goal is to bring to the forefront that feminism is related to our perception and relationship to planet Earth, and that diversity is the key to a more positive shift. To this end, the audiences will be presented with many points of view – we are presenting 23 artists who are alumni of the department of Design Media Arts, the Art Sci center and members of the voidLab. To name a few – Anne Niemetz and Xin Xin are addressing surveillance, Mary Maggic and Byron Rich are presenting Molecular Queering, Scott Hessels is sharing documentation of Extreme Environments and A.M. Darke and Lauren McCarthy are dealing with identity shaping with technology.
In addition to presenting alumni who now are active artists and teachers, it was also very important for us to present women scientists who also collaborate with artists. Gender issues in sciences are much deeper and problematic than what the art world faces and we want to honor and support the brave young scientists working with environmental issues. To this end the show includes Art Sci center alumni: Christina Agapakis who was a Postdoc in Molecular, Cell, and Developmental Biology at UCLA , now working in a Biotech company, Olivia Osborne, Postdoc in the UC Center of Environmental Implications of Nanotechnology and Rita Blaik, recent PhD graduate in Material Science, now the education coordinator at the UCLA CNSI.
We are also setting up a reading room in which the audience has an opportunity to learn more about eco-feminism. Even of they only take a glance at the books and resources we have assembled, many will be surprised at how extensive this movement is.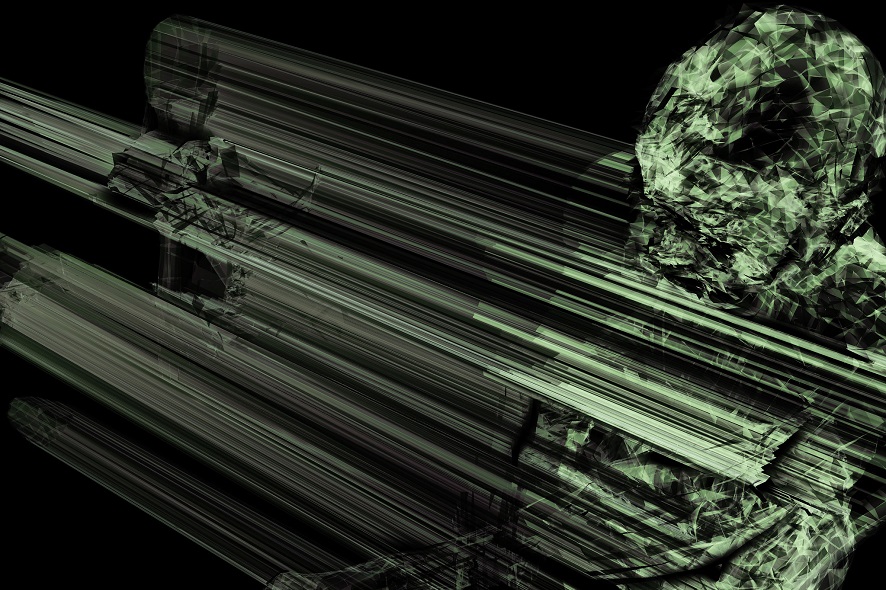 Shadow Glass by voidLab: Jen Agosta, Sanglim Han, Xin Xin. Credit: Sanglim Han
How do the presented works reflect the topic "Feminist Climate Change"?
Victoria Vesna: We seek to be inclusive and with a diversity of narratives and voices with different cultural perspectives. The goal is to shift from a monist and simplistic idea of both feminism and environmentalism while bringing to the forefront the invisible binary forces that shape our discourse. Further, our hope is to promote empathy as a necessary emotional intelligence that helps in forming ethical decision-making and conduct. Failure to care for others, including non-human animals and nature, results in social injustice that is more visible than ever.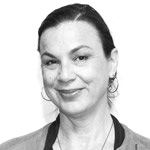 Victoria Vesna (US), Ph.D., is an Artist and Professor at the UCLA Department of Design | Media Arts and Director of the Art|Sci center at the School of the Arts and California Nanosystems Institute (CNSI). With her installations she investigates how communication technologies affect collective behavior and perceptions of identity shift in relation to scientific innovation (PhD, University of Wales, 2000). Her work involves long-term collaborations with composers, nano-scientists, neuroscientists, evolutionary biologists and she brings this experience to students. She is the North American editor of AI & Society and in 2007 published an edited volume – Database Aesthetics: Art in the Age of Information Overflow and another in 2011 – Context Providers: Conditions of Meaning in Media Arts.
More about the Art Sci Center and Victoria Vesna's work can be found in the previous interview with her on the Ars Electronica Blog.
The opening of the "FEMINIST CLIMATE CHANGE: Beyond the Binary" exhibition is set for Wednesday, September 6, 2017 at 8 PM at Linz Art University. Festivalgoers can stop by September 7-11, 2017 during the school's regular hours. For detailed information about the exhibition, click here. You can find additional information at the FEMINIST CLIMATE CHANGE website.
To learn more about the festival, follow us on Facebook, Twitter, Instagram et al., subscribe to our newsletter and visit our website at https://ars.electronica.art/ai/en/.