Average attendance at the last five Ars Electronica Festivals was about 82,500. They came from far and wide during this five-day conclave to take in the exhibitions, participate in workshops and exchange state-of-the-art ideas with one another. The number of visitors as well as the huge lineup of media art works and festival events would be almost impossible to manage without our crew of technicians—the ones who, year in and year out, make this production actually happen on site.
In this interview, the technical director of the Ars Electronica Festival, Karl Schmidinger, talks about the challenges posed by this year's festival location, the technology behind the scenes of this media art extravaganza, and the number of meters of cable he and his crew have to put in to power it all.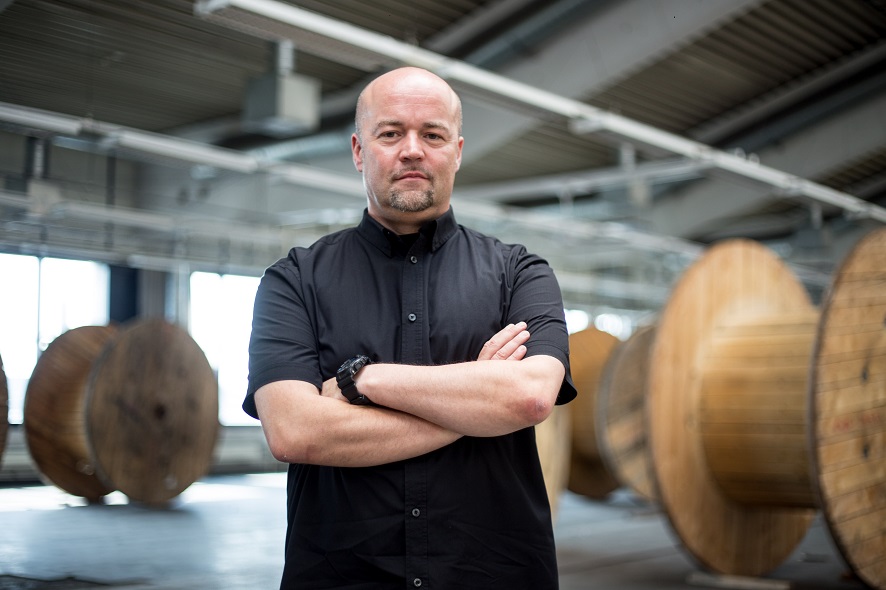 Karl Schmidinger. Credit: Vanessa Graf
What sort of technical challenges are you faced with in POSTCITY?
Karl Schmidinger: Essentially, the challenge is how to transform a mothballed postal service logistics facility into the main venue of the world's largest media art festival. The big advantage of a piece of industrial architecture like this is certainly that the electrical power supply is adequate. Nevertheless, it's laid out to best serve the needs of the way the structure used to be employed—the most power is fed to where the biggest machines were. And that's not necessarily consistent with our needs. For example, there were no machines in the old Gleishalle [railcar loading dock], but we stage concerts and events there so our electricity demands are correspondingly high, which means we have to lay a lot of electrical cables. Generally speaking, we install several kilometers of cable for the festival. But here we get help from certified electricians, since the entire facility was decommissioned electrically. We need to put the building into service, measure its exact dimensions, and shut it down again completely after the festival.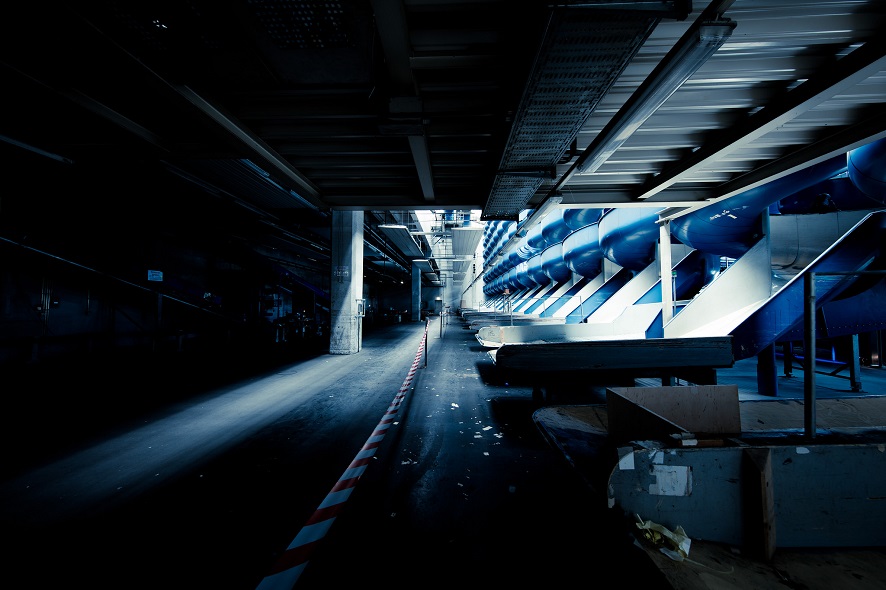 Credit: Tom Mesic
This is the third year that the Ars Electronica Festival is taking place in POSTCITY. Is nothing left over from previous events that you can build on?
Karl Schmidinger: Individual electrical cables could remain installed in POSTCITY, especially the preexisting ones. The first time here, we simply repurposed the available material. Otherwise, we actually do uninstall everything that was put in for the festival.
What difficulties arise from a building that hadn't been used for many years?
Karl Schmidinger: For example, in previous years we realized that the facility's sewage pipes no longer worked properly, since POSTCITY had been mothballed and the pipes were no longer being used. That had led to repeated problems with the toilet facilities, which is why we've installed a completely autonomous system this year.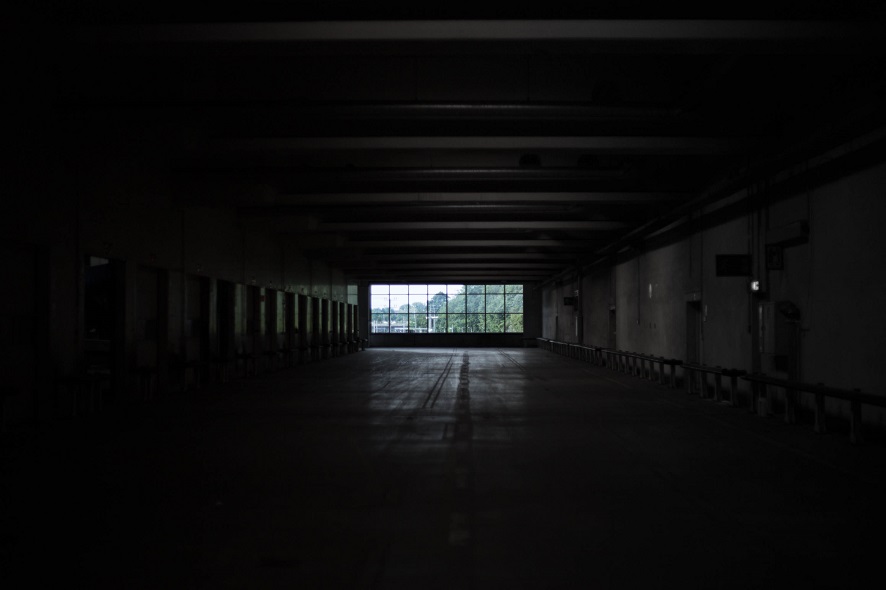 Credit: Vanessa Graf
The festival is using literally these entire premises including the fallout shelter in the basement. Which sites are most interesting from a technical standpoint?
Karl Schmidinger: By all means the basement. This year, we're utilizing this level to a much greater extent than ever before. There's no wireless contact for our internal communications, so we have to work with additional amplifiers. Of course, there's also no internet connection, so we had to install that too. And we're talking about huge distances here, so we couldn't use the kind of equipment for home-use you find in retail stores. That's why we called in various contractors. For instance, a firm named Aruba from HP Enterprises furnished us with all the network hardware. This is so complex that you need help from specialized technicians. For us to even be able to cover these long distances between the various areas, we got help in the form of network cables from our partner Cordial Kabel. These high-performance cables really do make a difference. This is always a matter of whether a cable can cover 150 meters or only 100, and does an amplifier have to be installed in between? Cordial Kabel can really cover huge distances with a high bandwidth, which helps us a lot.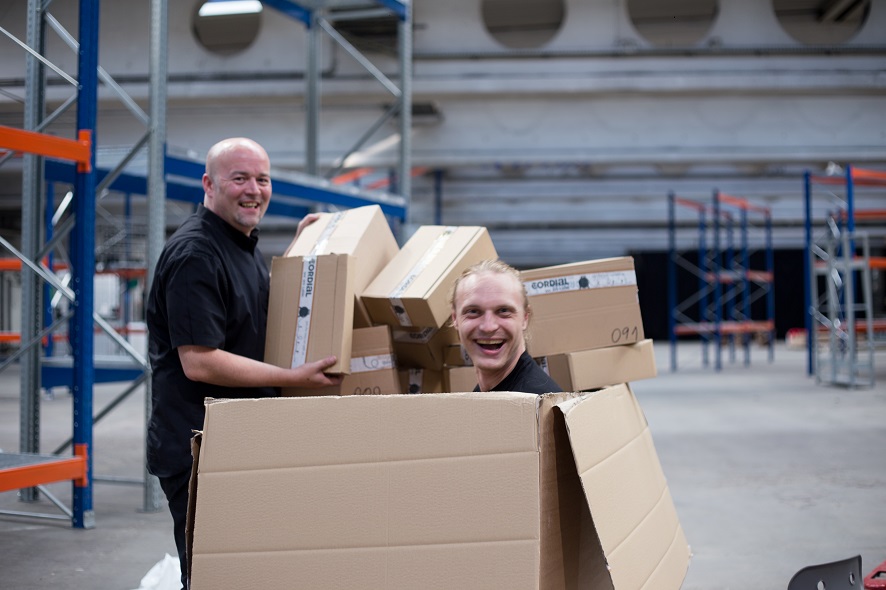 Credit: Vanessa Graf
How many meters of cable were laid here for the festival?
Karl Schmidinger: I can't say exactly, but just to give you an idea—we currently have about 300 10-meter extension cables, 300 5-meter extension cables, 500 three-slot extension leads and 200 five-slot extension leads. This year, we've really entered a new dimension, and there's no end in sight.
What are the technical considerations with works of media art?
Karl Schmidinger: First off, compatibility is a challenge. You have to figure out exactly what's needed in each case and then you have to find a solution that's as economical as possible. You have to assess the minimum preconditions for each individual project. We collect this data on the legendary Monster Needs List, a file that lays out everything required for the festival. From chairs & tables to computers and cables, it's all listed here and arranged accordingly.
And then there's the logistical challenge. All the various components from our suppliers have to be received, inventoried, insured, assigned to the individual projects, brought by the technicians to the project sites, set up—either by the artists or by us—and then they have to be maintained. You can't underestimate that. Once everything is set up, our job is to do maintenance. And finally, after the festival's over, it all has to be taken down. Every computer screen is checked for damage, and returned to the carton it was delivered in. This is a gigantic effort, which I get done with a crew of 40 full-time technicians and about the same number of temps.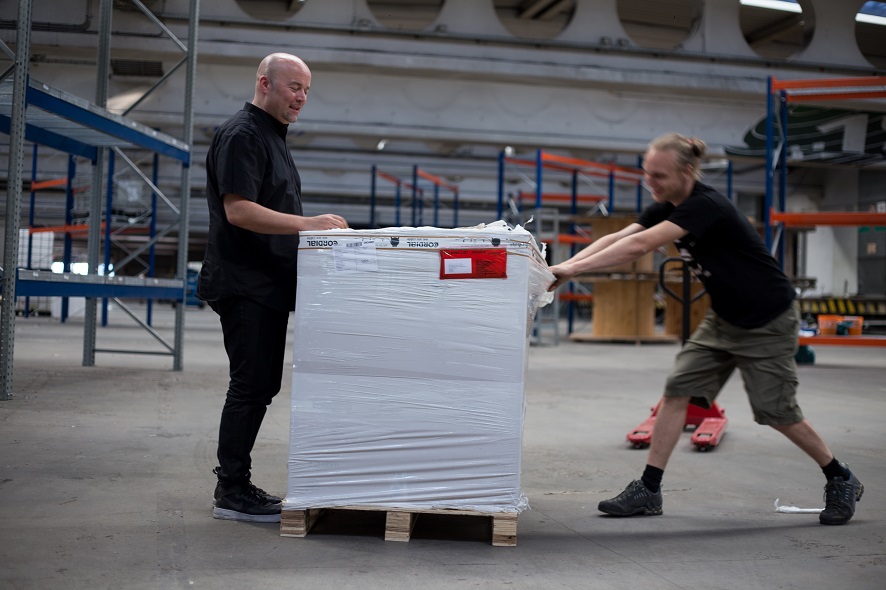 Credit: Vanessa Graf
What jobs does the technical crew have to perform during the festival?
Karl Schmidinger: We work in several shifts. The crew that starts in the morning usually isn't the same group that made the rounds the night before and turned off all the technical equipment. That wouldn't be feasible because the festival runs from early in the morning until late at night. What's most essential here is communication. For example, sometimes a device that wasn't shut down properly the night before won't start up the next day. And there are also devices that you can never shut off because they're set up in such a way that they have to run continuously.
What's your personal festival highlight?
Karl Schmidinger: This is my 18th festival, and I've been the technical director since 2006. Why this is still a lot of fun for me is because it's constantly evolving. Of course, every year it's all about media art, but that's a very wide-ranging field—in a technical sense too—so that, even after all these years, we're confronted by completely novel projects on an ongoing basis. I have a musical background, which is why the Big Concert Night is most definitely a highlight for me. Especially this year, with the new conductor of the Bruckner Orchester, the visualizations and the outstanding Jazz musicians—this will certainly prove to be a multifaceted experience and my top recommendation to everyone.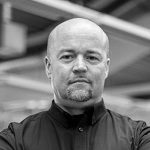 Karl Schmidinger ist seit 2006 technischer Leiter des Ars Electronica Festival und Prix Ars Electronica.

The 2017 Ars Electronica Festival is set for September 7-11 in POSTCITY Linz. The theme is Artificial Intelligence – The Other I. To learn more about the festival, follow us on Facebook, Twitter, Instagram et al., subscribe to our newsletter and visit our website at https://ars.electronica.art/ai/en/.