At 10 AM sharp, the Ars Electronica Festival 2017 opened its doors to the public. There was a huge turnout at the venues' box offices, especially in POSTCITY and the Ars Electronica Center. Visitors came to Linz from all over the world to experience the amazing lineup of events that will play out here today and over the four days to come.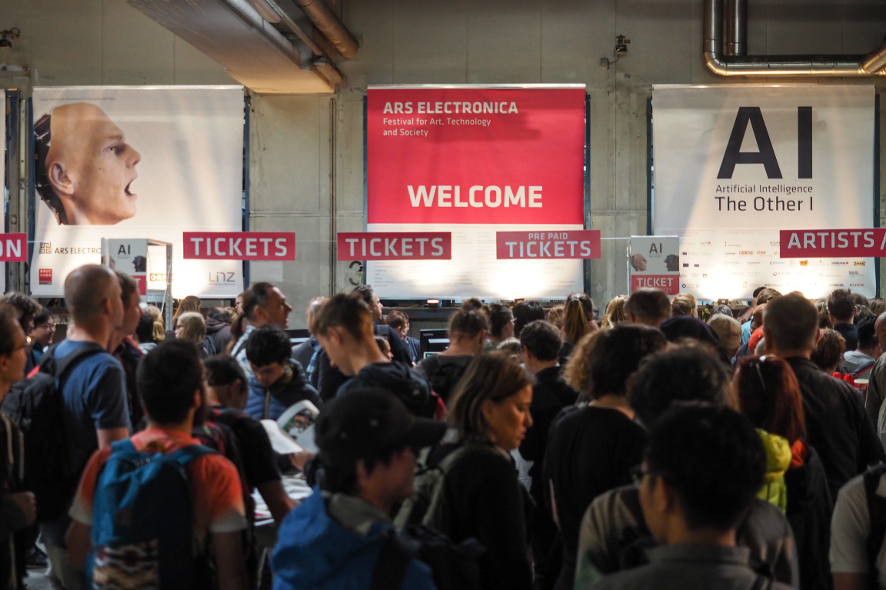 Credit: Martin Hieslmair
Greeting festivalgoers right in front of POSTCITY's entrance is an industrial robot that Emanuel Gollob transformed into a work of art. "Robot, Doing Nothing" accuses contemporary society of being incessantly busy even beyond the confines of everyday life in the workplace. Observing the changes the machinery's form constantly undergoes is meant to facilitate the segue into a meditative state of indolence. In this relaxed frame of mind and body, it's possible to focus on one's self and open up to sweet stasis.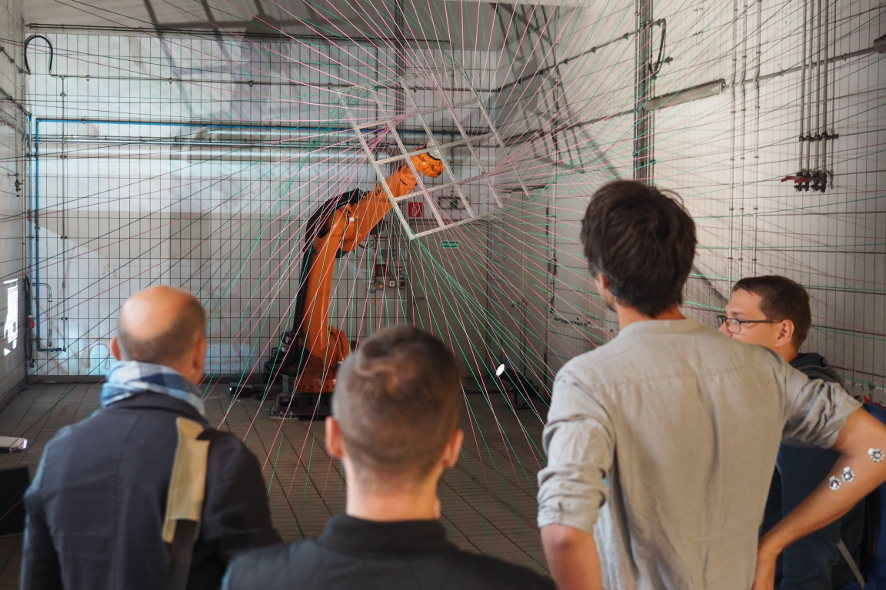 Credit: Martin Hieslmair
For all those to whom this installation seems familiar—you're right! "Robot, Doing Nothing" was on display in the Creative Robotics exhibition at the Ars Electronica Center last spring. And speaking of the Ars Electronica Center—the festival's opening was marked there by the premiere of several works in Deep Space. We caught "Bird Song Diamond," an interactive installation that dovetails evolutionary biology, artificial intelligence, life, ambient sound, mathematics and mechatronics…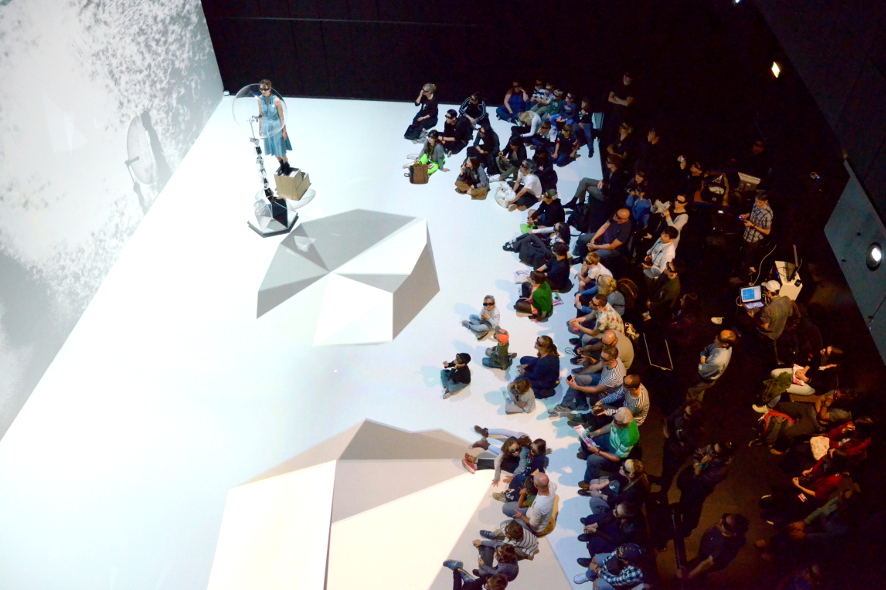 Credit: Magdalena Sick-Leitner
…and played PAC-MAN on the 16×9-meter wall & floor projection surfaces in Deep Space 8K.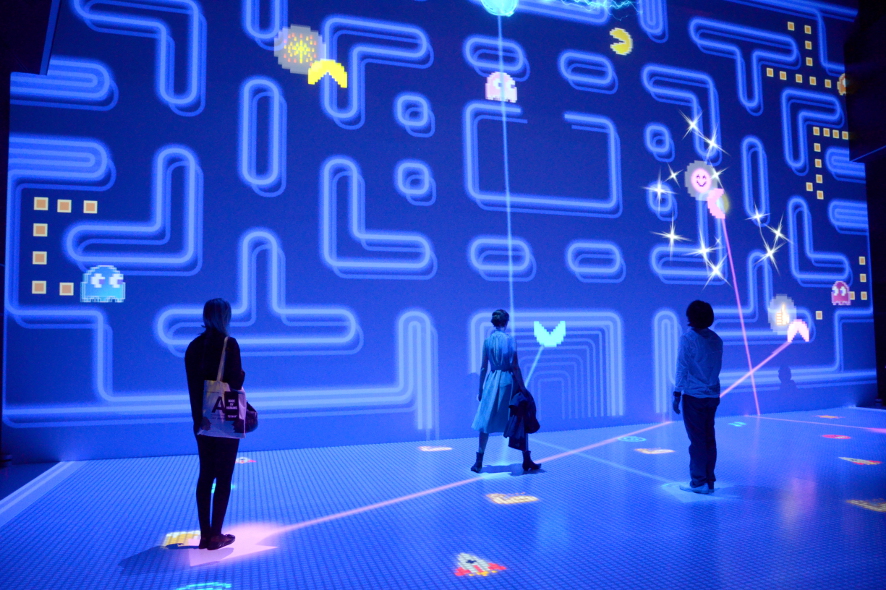 Credit: Magdalena Sick-Leitner
Nor was Deep Space the only setting for debuts in the Ars Electronica Center today! A lot of great new stuff has been added to the permanent exhibits over the last several weeks—for instance, "New Views of Humankind" now features a VRLab. One of the top attractions there is "Training 2038." In the safe space of a private virtual reality experience, a comprehensive interrogation is conducted in the form of a dialog between a so-called embodied conversational chatbot and a human user. How would an automated decision tree without moral consciousness behave in this situation?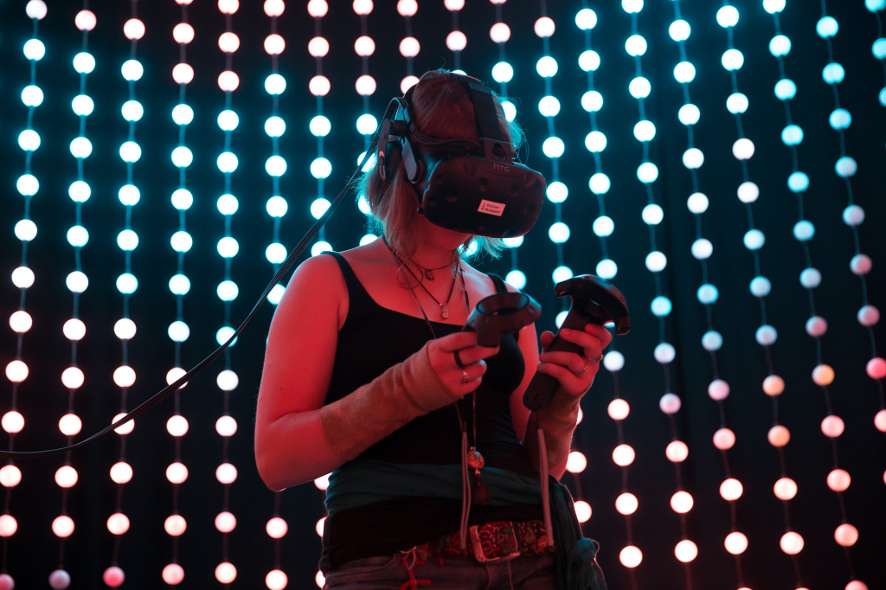 Credit: Florian Voggeneder
Meanwhile, back at POSTCITY… there were openings galore! Whoever wanted to see it all and find out all about it could join the Opening Tour conducted personally by Ars Electronica Artistic Director Gerfried Stocker.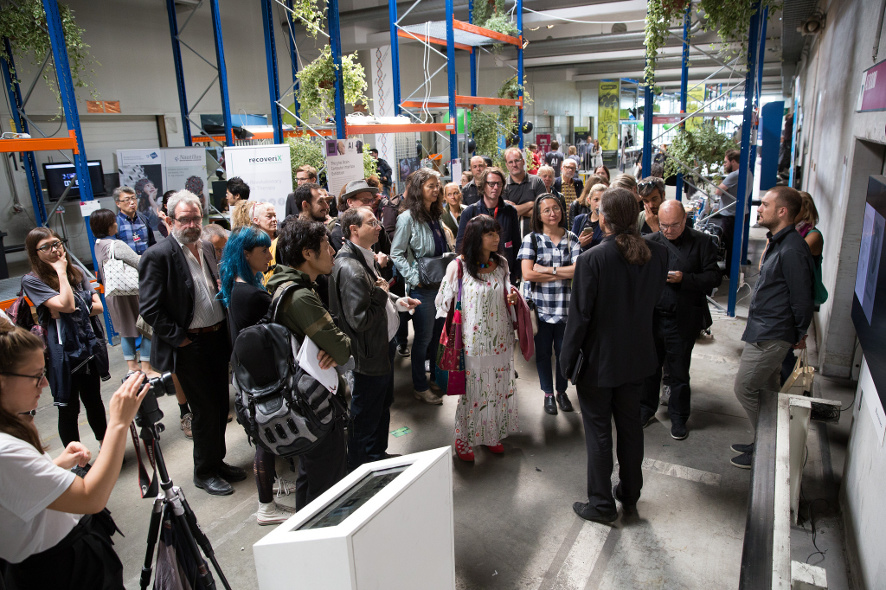 Credit: Florian Voggeneder
Among the many openings at the other festival venues was that of the Campus exhibition at Linz Art University, where the Interface Cultures program presents its annual showcase of works by undergrads in their final year. The 2017 Campus show is also exhibiting works by students, faculty members and alumni of 15 guest schools from all over the world.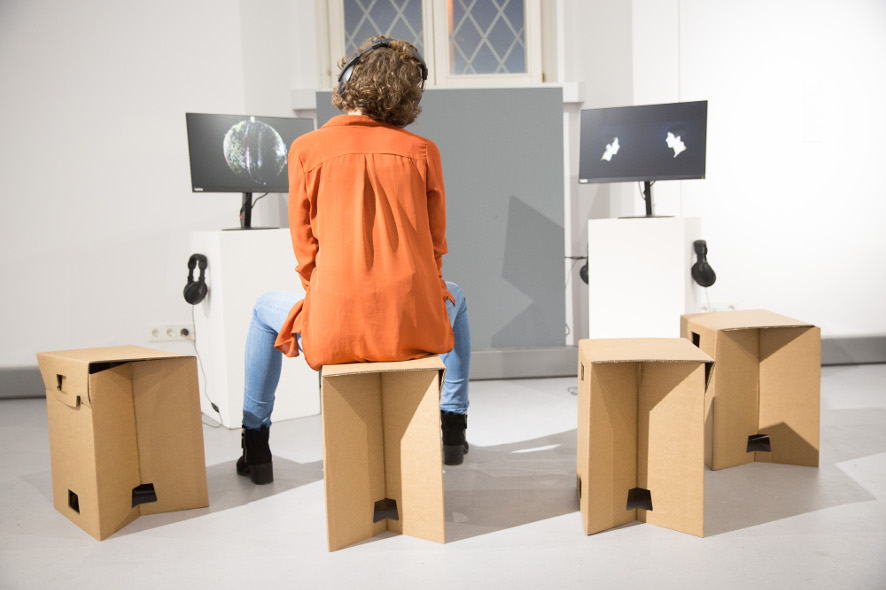 Credit: Tom Mesic
CyberArts 2017 opened at the OK Center for Contemporary Art. The works on display have all been singled out for recognition by the Prix Ars Electronica, the international showcase of excellence in digital media art today. The OK presents prizewinners in the Computer Animation/Film/VFX, Hybrid Art, and Digital Musics & Sound Art categories.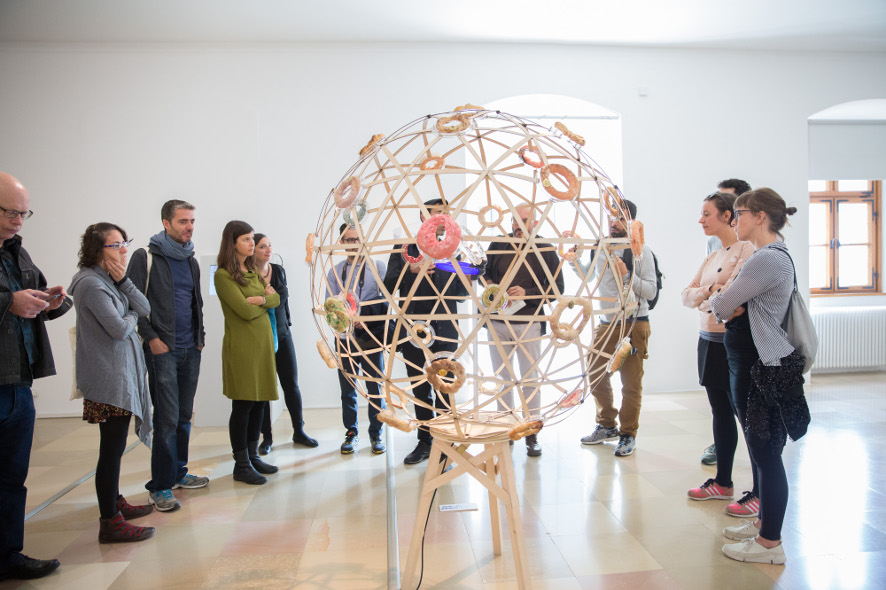 Credit: Tom Mesic
Once again this year, the POSTCITY premises consist of a vast array of exhibition spaces hosting encounters with a diversified assortment of themes. What they all have in common is a connection with artificial intelligence. One corner of POSTCITY is the current home of AIBO, a pet robot invented in 1999…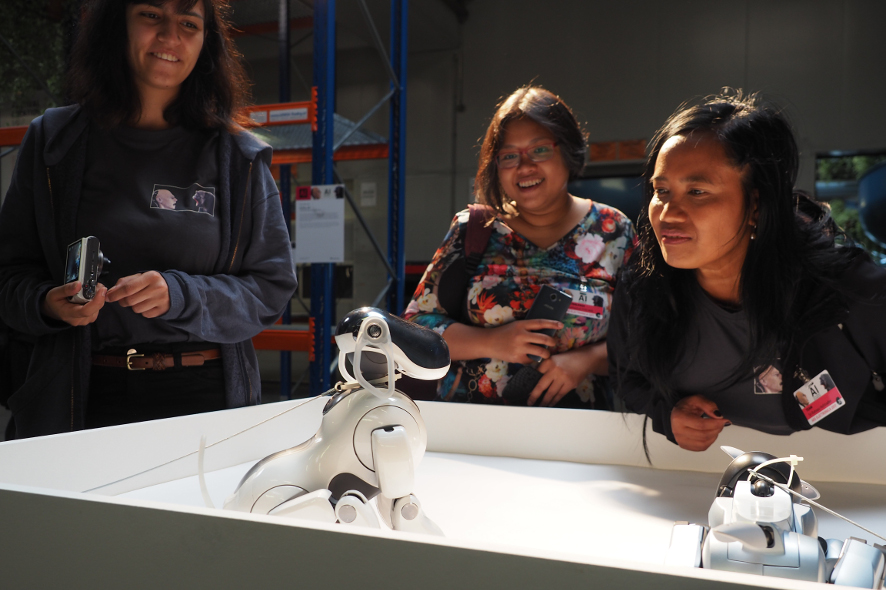 Credit: Martin Hieslmair
…and in another corner, you'll come upon Samantha. The festival's "red-light district" is entitled "Artificial Intimacy" and one of its denizens is a sex doll equipped with state-of-the-art technologies including artificial intelligence. Samantha likes to be touched, and offers various modes of interaction—for instance, romantic, sexy and familiar.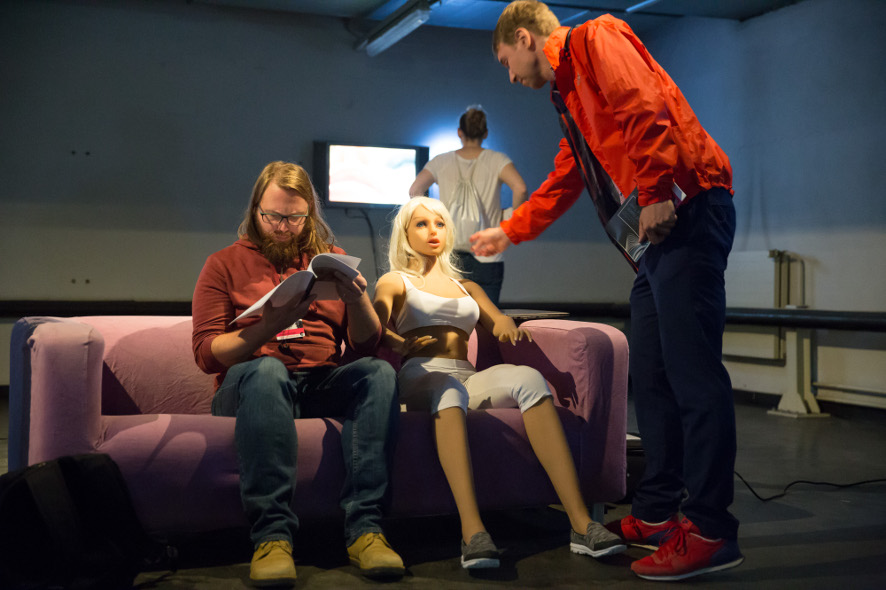 Credit: Florian Voggeneder
As evening rolled around, it was time for the big Ars Electronica Opening in POSTCITY. Before sound artist Ei Wada and his crew presented the "Sempookin Quartette" (electric fan quartette), we caught him at rehearsal in POSTCITY's courtyard. Ei Wada revives old electronic devices and transforms them into electronic musical instruments.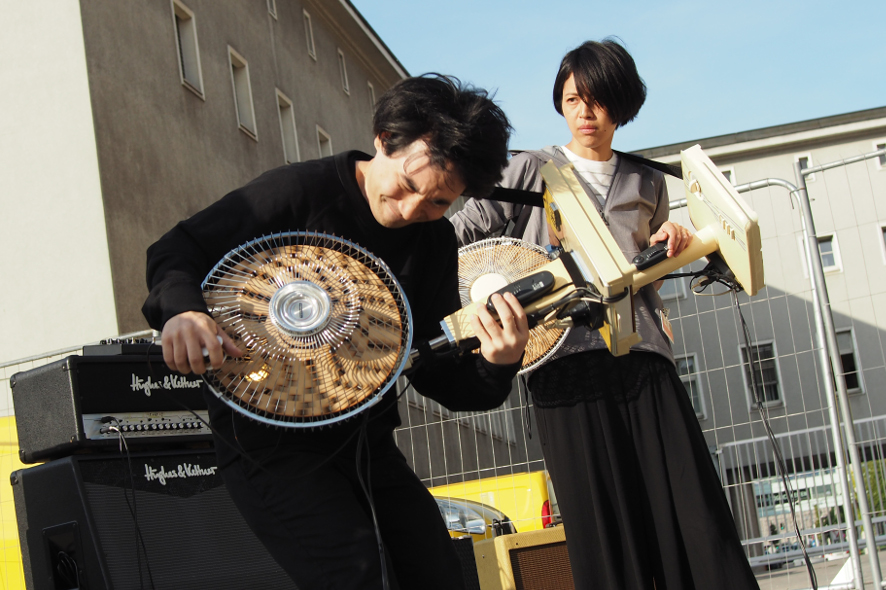 Credit: Martin Hieslmair
Another impressive performance on the Opening lineup was "cellF," Guy Ben-Already's neuronal synthesizer. Singularity came all the way from New Zealand to skillfully blend data, dance, music and architecture into a spectacular show for this year's Ars Electronica Opening. On the Mainstage, an interactive sound performance entitled "Breaking the Wall" under the direction of Oliver Hödl and Peter Purgathofer invited attendees to get actively involved with state-of-the-art technology and some leading-edge artists. L'Etude, a project by Vibert Thio and Duanger Du, compiled a live set from melodies specially created via app by former victims of the "Formosa Fun Coast – Explosion." Then, while still reeling from these unconventional sounds, the audience was transported into unprecedented terpsichorean realms by _nybble_ from Paris and Kyoka from the Raster-Noton label. Finally, patten, a Warp Records live act was conclude the night.
Credit: Florian Voggeneder
That was just a quickie recap of Day 1 at the 2017 Ars Electronica Festival. We still have four more exciting days to look forward to. More info about and photos of the 2017 Ars Electronica Festival as well as stories and live reportage direct from the various locations are available on our Instagram channel: https://www.instagram.com/arselectronica/