There was a big turnout right from the start this morning! It was the last day of summer recess for many pupils and students throughout this region, and many of our visitors from countries throughout the world would be embarking on their trip back home later in the day, so many festivalgoers took advantage of this Sunday to check out POSTCITY, the Ars Electronica Center and the other festival venues one more time. At the Ars Electronica Center, we kicked off the day's proceeding with a Best of Deep Space, and evidently the word was out that this was a don't-miss attraction.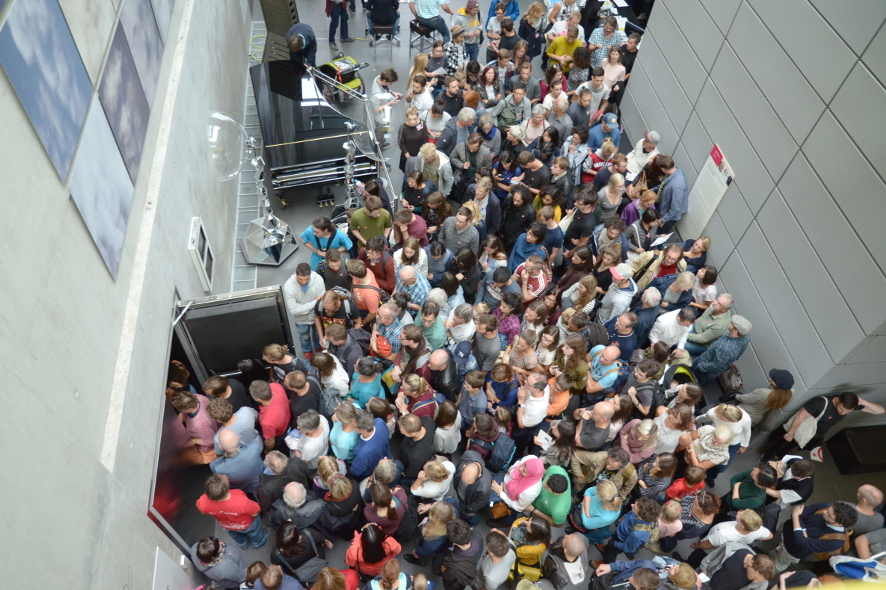 Credit: Magdalena Sick-Leitner
Meanwhile, Prof. Hiroshi Ishii of the MIT Media Lab's Tangible Media Group was opening the day's first panel in POSTCITY. At "Art Science: From Vision to Practice," the discussion focused on the transdisciplinary nature of creative work at the nexus of art, design, science and technology.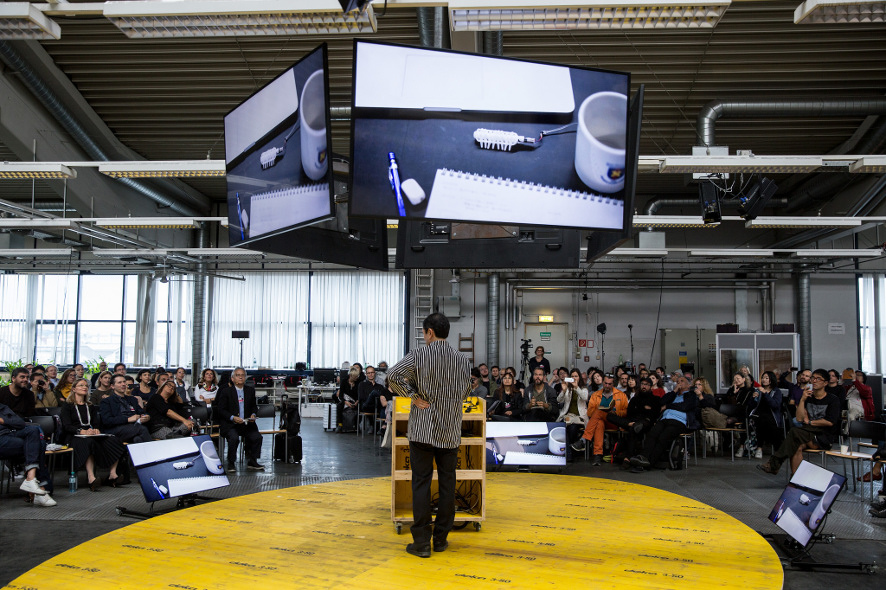 While Prof. Ishii was leading this fascinating discussion in the Conference Hall, a big crowd was gathering across the way in POSTCITY Futurelab to attend the live performance of "1:1," an account of a relationship between a human being and a robotic camera—how they manage, in a complex process that plays out gradually, to get acquainted with one another and to regard their respective counterpart on a 1:1 scale.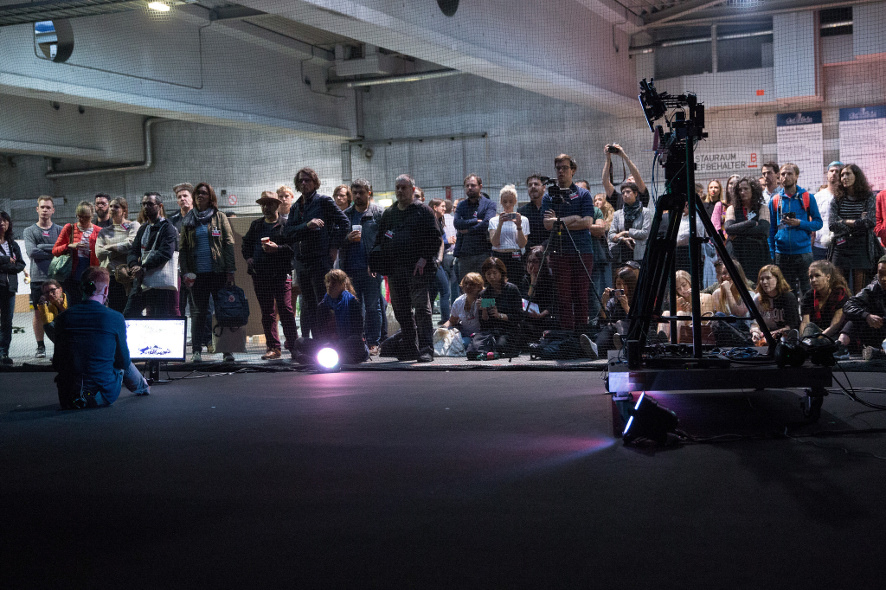 Credit: Florian Voggeneder
Not too far away, Dragan Ilić was offering an extraordinary interactive experience. His trans-technological performance/installation creates works of art by means of mechanical technology and audience participation. To make it happen, Ilić employs a complex system of brain-computer interfaces (BCIs) in which state-of-the-art technology enables him to control a high-tech robot with his thoughts.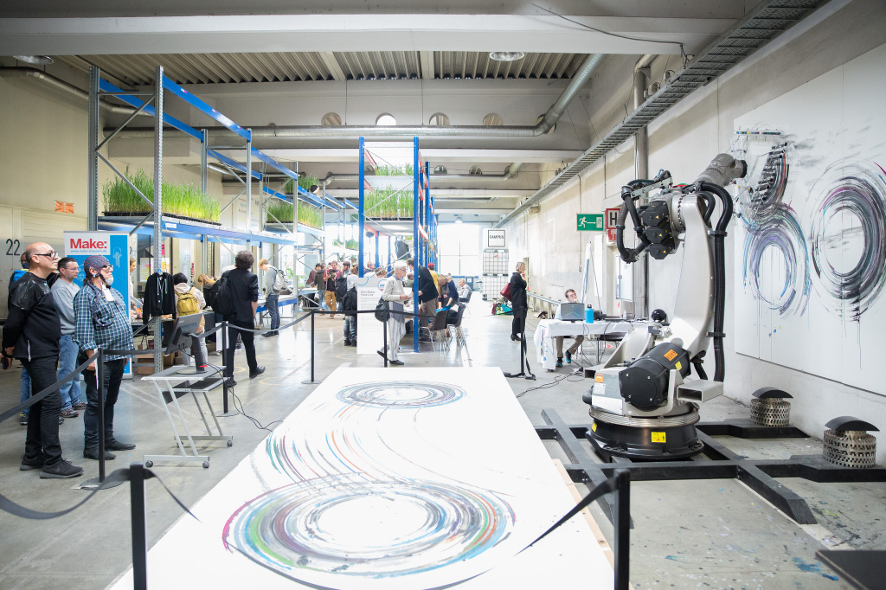 A BCI also comes into play right at the front entrance to POSTCITY. Ars Electronica Futurelab's collaboration with Wacker Neuson, a manufacturer of heavy-duty construction equipment, enables festivalgoers to utilize a leading-edge BCI and eye-tracking technologies to steer an ET 65 track excavator and manipulate its 7-meter-long backhoe using only their thoughts.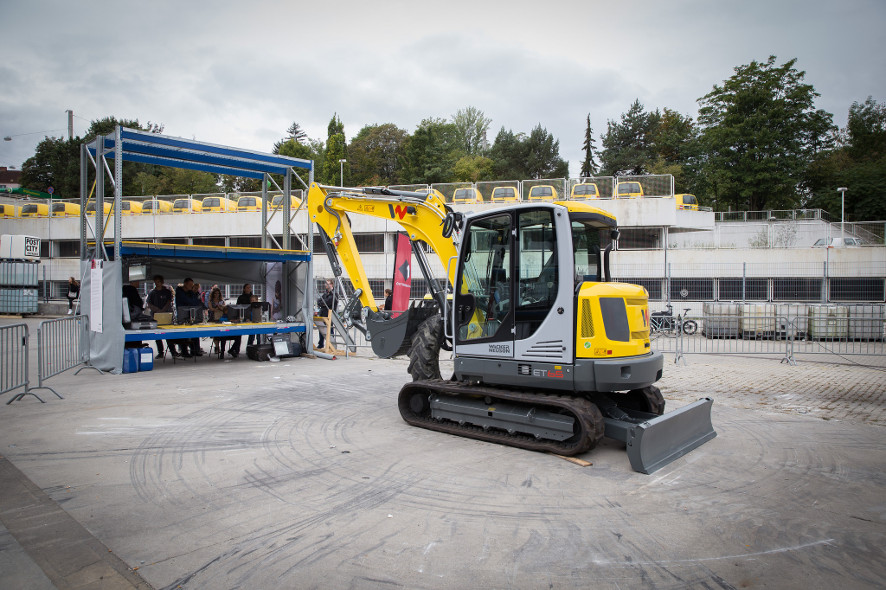 Credit: Florian Voggeneder
There are astounding discoveries to be made wherever you look in POSTCITY—on the plaza at the bottom of the entry ramp, throughout the premises, of course, and even on the building's roof. "Perpetuum Mobile" is a composition for a 12-channel sound installation in which 12 loudspeakers are arranged in a circle. At one-second intervals, a note resounds in a clockwise sequence. Over the course of the composition, the seemingly ordered rhythm becomes chaotic, breaks down, and then reorganizes in the sound of the individual notes.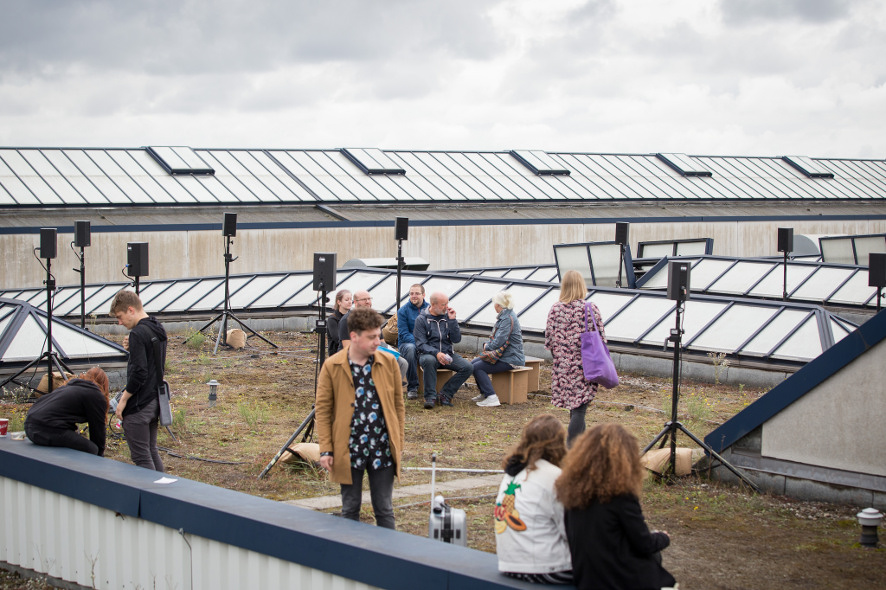 Credit: Florian Voggeneder
We now segue from the highest point on POSTCITY to the building's deepest, darkest corner: the former fallout shelter. This space—and, actually, the whole basement of this sprawling structure—is the site of a curatorial investigation of the nature of being human in contradistinction to the essence of being a machine and the "being" of data. One fine example is "Sculpture of Time," a part of the "toki-" series that deals with the question: What is movement and what does it mean to move?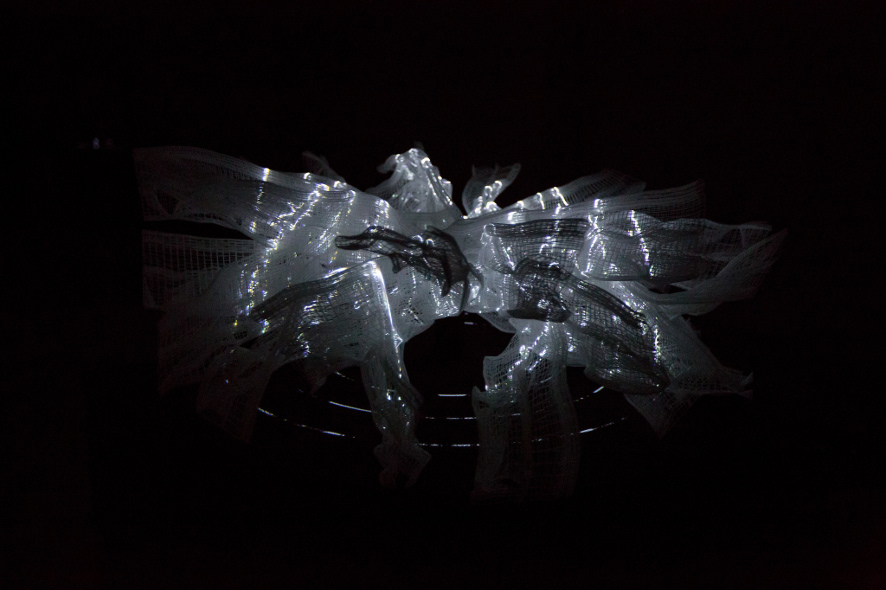 Credit: Tom Mesic
It was just as dark as in the bunker and there was at least as much tension in the air in Deep Space today during the presentation of "iOTA," a real-time performance that transformed the stage into a struggle of human vs. machine. The current version of iOTA is capable of machine learning. Audience members witnessed an audiovisual performance in which the dramatis personae were real artists and artificial intelligence assuming the role of an artist on this stage.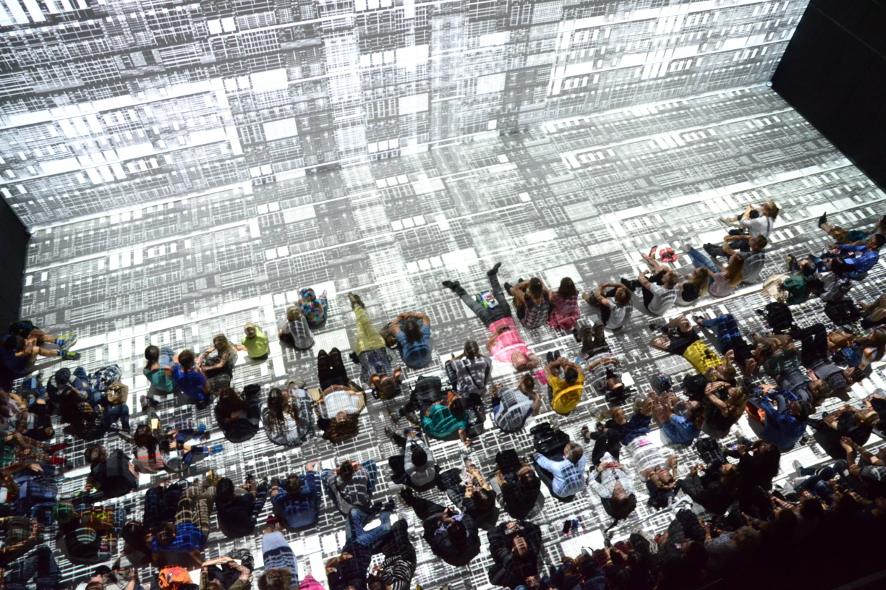 Credit: Magdalena Sick-Leitner
"Swarm Compass" entails artificial intelligence of a somewhat different sort—namely, swarm intelligence. Here, it's deployed as a navigational aid. To come up with a way to replace conventional traffic signage with a swarm-based social communications service, the Ars Electronica Futurelab is working together with Japanese telecommunications giant NTT, and their approach is to utilize Spaxels. This form of swarm infotainment that's demonstrated at the festival by unmanned aerial vehicles is a prototype being developed to provide Tokyo residents and visitors to that city with a playful way to reach their destinations in the year 2020. Festivalgoers got to see the first steps in the developmental process of a socially beneficial service on the basis of swarm intelligence.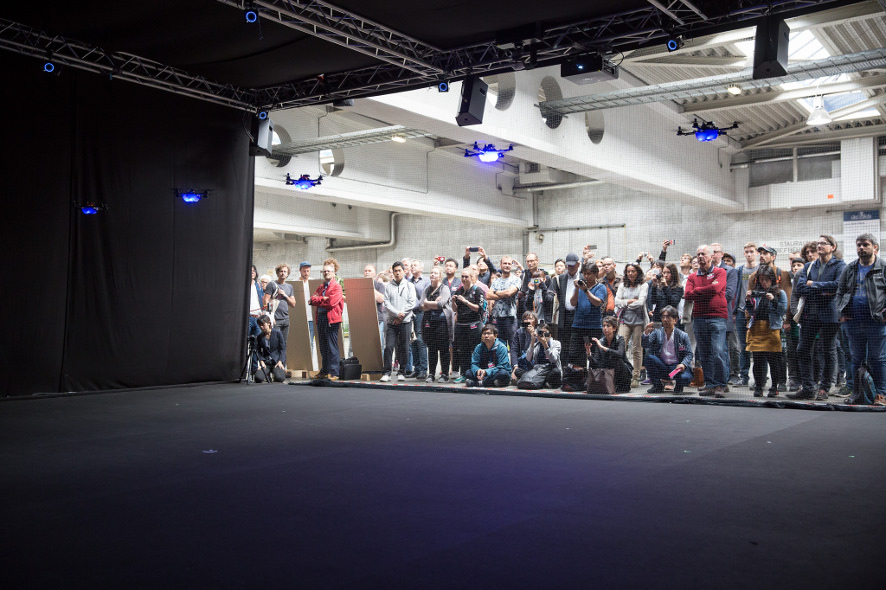 Credit: Florian Voggeneder
Even our youngest festivalgoers are being familiarized with artificial intelligence. AI Music doesn't do away with musicians and create music on its own; rather, it shares the instrument with the musician and attentively listens in. And as soon as it's heard enough, it can play the rest of the piece independently or even play along. AI Music learns from all members of an ensemble.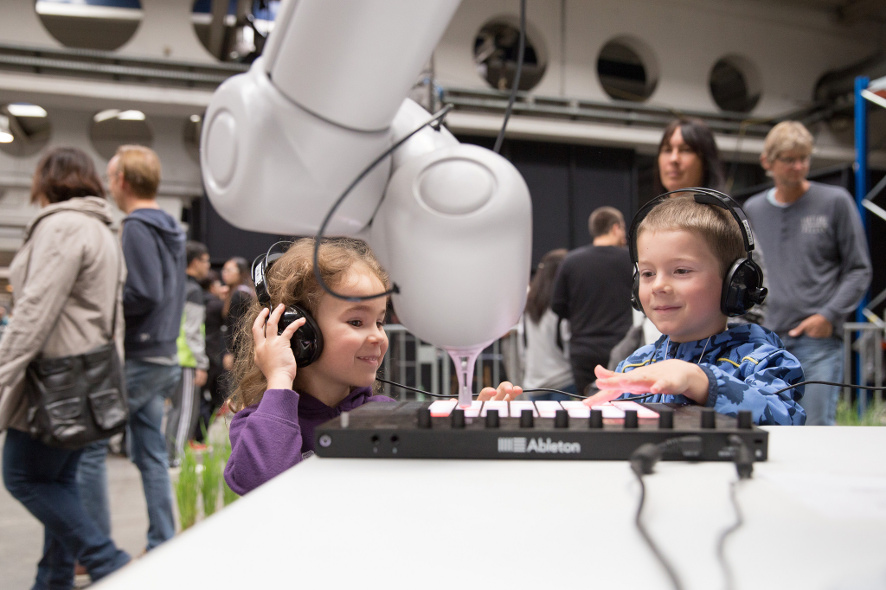 Credit: Florian Voggeneder
Now we move on to the movies in the Animation:Lab. This open interactive workshop invites creative people of all ages to immerse themselves in a collaborative universe of moving light paintings.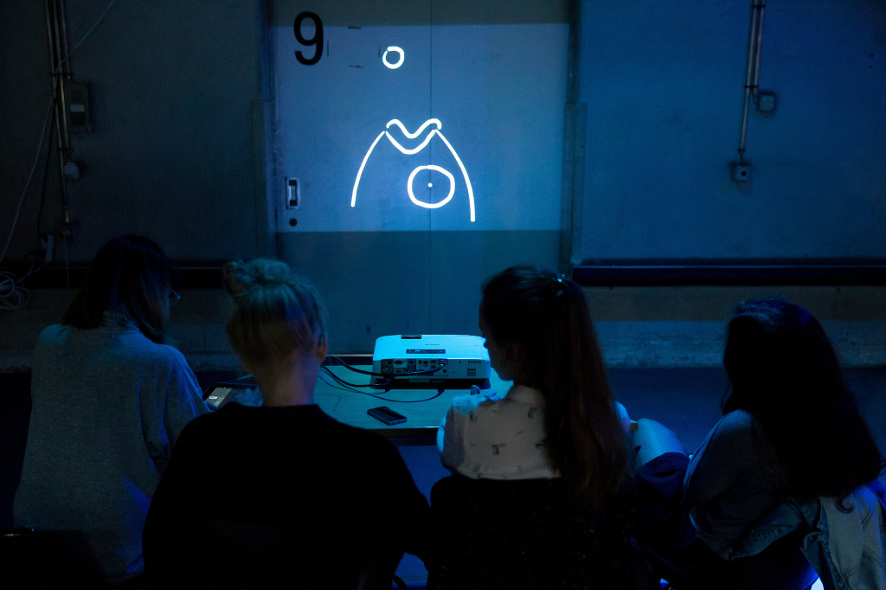 Credit: Tom Mesic
With Star Storm the evening in the POSTCITY began with a spectacular "explosive" performance by Aoife van Linden Tol. Taken on an emotional and physical journey the audience witnessed a series of explosive and pyrotechnic events, each of which represented a specific phenomenon taking place every moment in stars all across the universe. Each section of the performance was varied and distinct—created a wonderful contrast of energy and experience from exciting to meditative, from durational to instant, from order to chaos, reflecting the universe we live in and the discoveries we have made about it.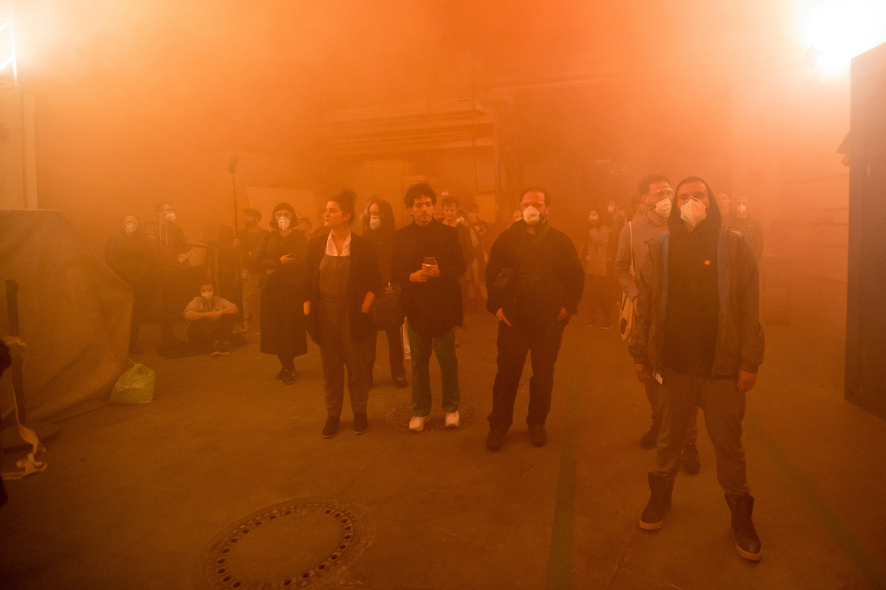 Credit: Florian Voggeneder
The highpoint of Festival Sunday was, of course, the Big Concert Night. Markus Poschner selected "Departure" as the theme of his debut as chief conductor of the Bruckner Orchester. And the new creative force at the podium in Linz has really stirred things up! The result was a mix of classical orchestral music, jazz, sound art and digital visualizations on multiple stages set up throughout the Gleishalle, with a peripatetic audience free to move about amongst them.
Credit: Tom Mesic
And now the show is drawing to a close. In only a few more hours, the 2017 Ars Electronica Festival will be history. But for all those whose appetite for world-class creativity hasn't quite been sated yet, there's an attractive option: Information and photos about the festival, as well as stories and live reportage direct form the various locations are available on our Instagram channel: https://www.instagram.com/arselectronica/.