THE ARTS+ was launched in 2016 as the Frankfurt Book Fair's very own business festival for people working in creative industries, science, publishing, museums, high-tech firms and innovative endeavors. Ars Electronica is on hand once again with one of this year's highlights. "There is a New Art in Town: STARTS – The Role of Art in Innovation Processes" is a series of presentations followed up by a panel discussion on October 11, 2017, when representatives of the European Commission's STARTS projects— VERTIGO STARTS, WEAR Sustain and the STARTS Prize—and artists working in these fields offer insights into their work. Veronika Liebl, STARTS Prize project director, is also on hand. Here, she gives us a briefing.
THE ARTS+ is being staged for the second time in conjunction with the Frankfurt Book Fair. Why was this new format launched and what does it aim to accomplish?
Veronika Liebl: As Holger Volland, vice-president and Board of Directors member of the Frankfurt Book Fair and cofounder of THE ARTS+, explained in his Ars Electronica Blog interview, THE ARTS+ was initiated to spotlight the upheavals occurring in the artistic & cultural sector as a result of digitization, to elaborate on them and take advantage of them. ARTS+ is meant to shed light on the potential of digital cultural creations and to help them achieve a breakthrough. This year's focus has been on new business models and establishing various forms of rights and licenses.
Ars Electronica took part last year too. What was your experience with THE ARTS+?
Veronika Liebl: THE ARTS+ is a festival within the fair. It hosts a highly diversified program of speeches and exhibitions designed to appeal to creative people, journalists, museum staffers, representative of high-tech enterprises and innovators. 150 speakers from all over the world and 51 exhibitors offer insightful future scenarios for the creative industries.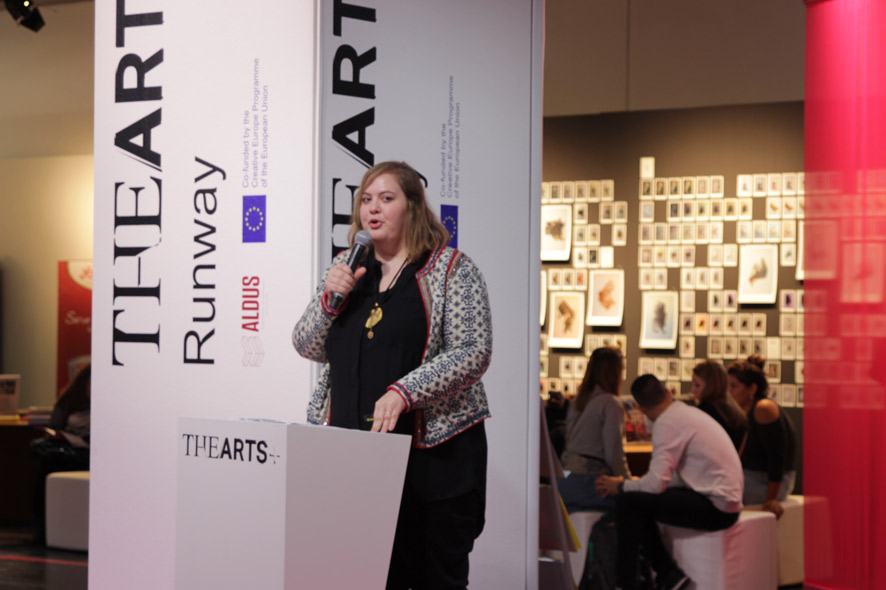 Veronika Liebl at the Frankfurt Book Fair, Credit: Ars Electronica
This year, Ars Electronica is featuring STARTS. Give us some background about this.
Veronika Liebl: STARTS—an acronym of science, technology and the arts—is an initiative of the European Commission to foster cooperation between art and technology. STARTS showcases outstanding best-practice examples and stages an extensive program of activities designed to demonstrate what a significant role art and creativity can play in innovation processes. The point is to show how technologies can be deployed in completely new ways, how important it is to critically scrutinize and reflect upon such new developments, how creative approaches that get off the beaten path can lead to new products, services, processes and even business models. And all of these are points we have in common with THE ARTS+.
Ars Electronica's association with the STARTS Prize makes us a part of this initiative, so this year we're presenting STARTS together with VERTIGO, the project of the STARTS Residencies, and WEAR Sustain, the project of STARTS Prototyping. Here, we're working with Petrus Aejmelaeus-Lindström who, together with his colleagues at the ETH–Swiss Federal Institute of Technology in Zurich, and the Self-Assembly Lab at MIT, developed the "Rock Print" project that was honored with this year's STARTS Prize in the Innovative Collaboration category, and Erwin Hoogerwoord, co-founder of the WEAR project "Solemaker", both of whom are give practical insights into their work in the STARTS realm.
The Waag Society has come on board this year as a new partner in the STARTS Prize consortium. What role is Waag Society taking on, and how will this play out?
Veronika Liebl: The Waag Society will be hosting our new discursive format, STARTS Talks to present the STARTS Initiative and the STARTS Prize worldwide. A key part of the mission of the programs staged in conjunction with STARTS is to present outstanding forms of cooperation and excellent projects to the general public and to spotlight the teams and creative individuals behind these trailblazing efforts. We're doing this by staging events throughout the world to call attention to the role of art and creativity in innovation processes and, at the same time, to show what new steps Europe is taking in the area of technological development. At a wide array of events, the creative thinkers who came up with the STARTS Prize projects will be joined by STARTS experts to discuss the importance of cooperation among art, science and technology and the challenges posed by this approach.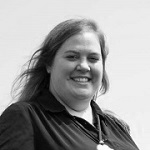 Veronika Liebl is currently Director of Organization and Finance at the department Festival/Prix/Exhibitions of Ars Electronica. She studied economic and business science at Johannes Kepler University in Linz (graduated in 2010) with study visits at the Harvard University (US) and Université de Fribourg (CH). Since 2013 she is enrolled in the Master of Business Administration program for Innovation Management at LIMAK Linz – Austrian Business School. After finishing her studies she was engaged in various commercial employments, amongst others for the Austrian Economic Chamber. Since 2011 she is in charge of cultural management for the department Festival/Prix/Exhibitions at Ars Electronica Linz GmbH. In this capacity she is responsible for finances, human resources, public funding, internal operations and project management. Recently, she is mainly in control of all European collaboration projects under Creative Europe, Horizon 2020 and Erasmus+ and executed in this position – together with her team – numerous EU projects both as project coordinator as well as partner.

This project has received funding from the European Union's Horizon 2020 research and innovation programme under grant agreement No 732019. This publication (communication) reflects the views only of the author, and the European Commission cannot be held responsible for any use which may be made of the information contained therein.