Young creative artists from Austria were once again invited to exhibit at this year's Digital Design Weekend September 22-24 in London. Irini Papadimitriou, curator of the Digital Programme at London's Victoria and Albert Museum, had commissioned Ars Electronica Export to select outstanding works by young artists in line with the "Bridging Open Borders" theme. The presentation was made possible by the Austrian Cultural Forum London (ACF) and received support from the Austrian Embassy London, the AVL Cultural Foundation (AT) and NIO Nextev Limited (UK).
The weekend's jam-packed calendar of events kicked off on Friday, September 22, 2017 with a "Bridging Open Borders" book presentation. We are once again especially proud and thankful that Irini Papadimitriou didn't stage the catalog presentation amidst the massive amounts of exhibition text and other assorted information in the V&A; instead, the publication was celebrated in a more intimate setting by a select group of interested individuals from the worlds of art, culture and creative engineering. ACF London Director Katalin Tünde Huber presided over the ceremony in which Irini Papadimitriou unveiled the Digital Design Weekend catalog.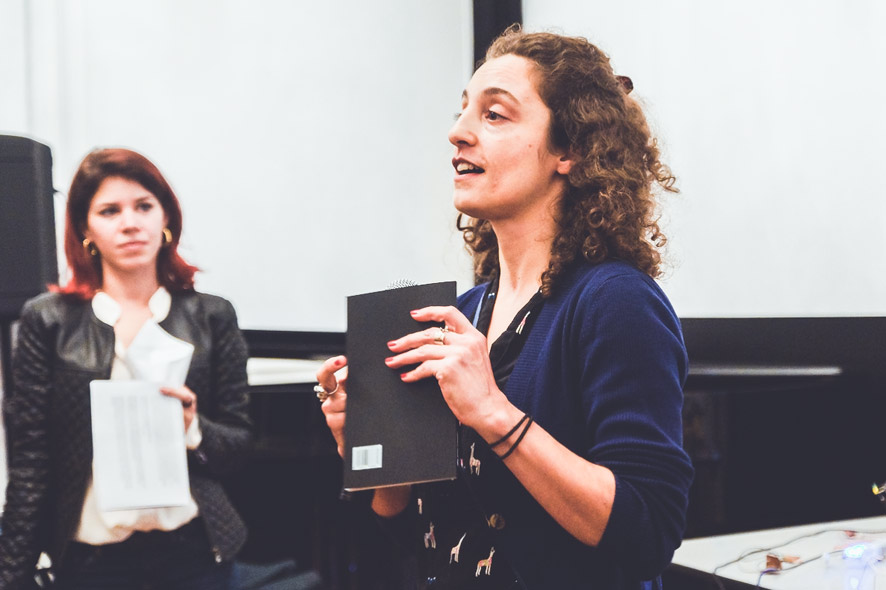 Irini Papadimitriou, curator of the Digital Design Weekend. Credit: Harvey Shepherdson-Beck
The evening lineup began with a screening of the film "Our Friends Electric" by Superflux. Anab Jain is co-founder and director of the Superflux design collective, as well as professor of industrial design at the University of Applied Arts Vienna. The film flashes a terrific sense of humor in its account of how three different artificially intelligent devices, which listen to us and attempt to understand us, could impact our lives.
This is a stark contrast to the work of Leo Peschta, an artist who loves machines precisely for their purity. He prefers to exhibit his apparatuses with their internal workings on clear display and intentionally dispenses with decorative shells. In ACF's library, Leo Peschta showed an installation entitled "17:40 – 18:40", a kinetic, robotic sculpture suspended from the space's ceiling; with its incessant movements, it replicates the artist's route through Vienna in one-minute intervals throughout the timeframe specified in the work's title.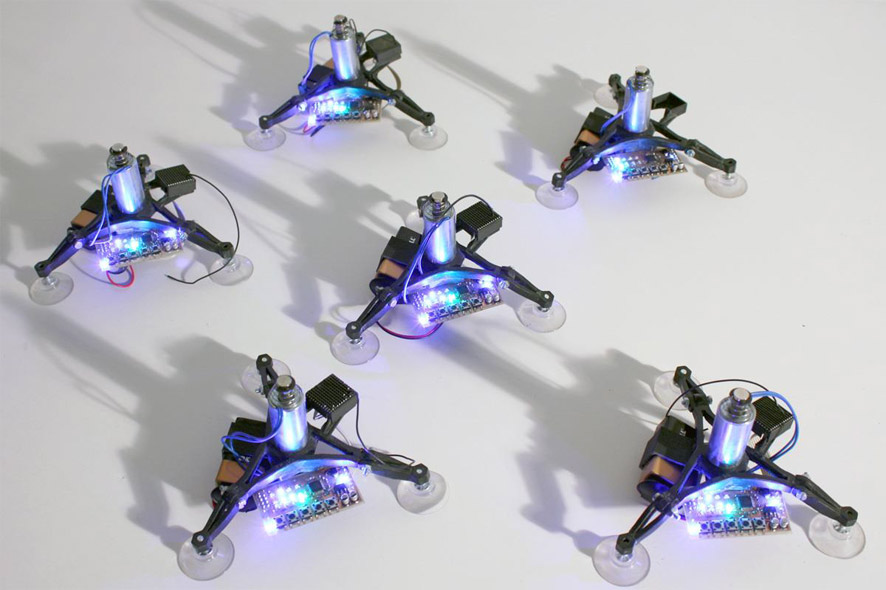 Credit: Leo Peschta / Galerie Lisi Hämmerle
He also performed with his BM MKIII percussion instrument robots, small drumming machines that play with the surface they're positioned on and the resulting resonating spaces. Such a sound performance is thus always a sort of local improvisation, and each outcome differs accordingly.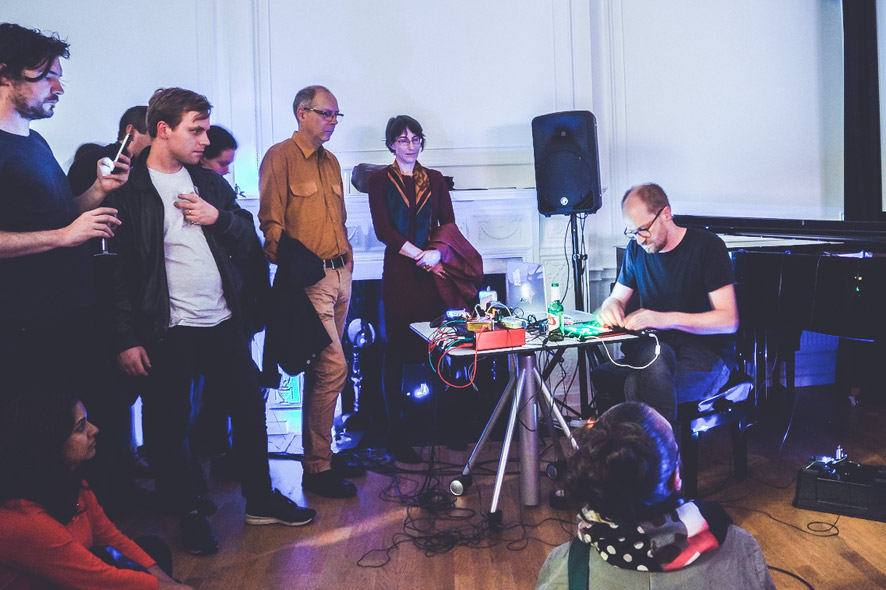 Leo Peschta plays "BM MKIII". Credit: Harvey Shepherdson-Beck
At the V&A, Peschta showed his electro-mechanical jewelry: magnificent necklaces in which tiny motors set the jewelry in motion and thereby cause constant reflections on the surface.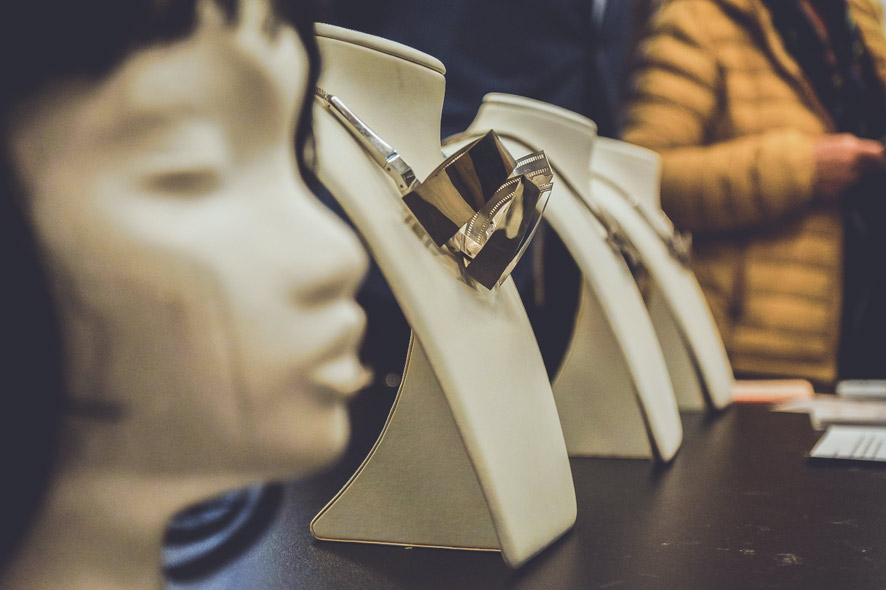 Credit: Harvey Shepherdson-Beck
A hair band that literally makes the wearer's hair stand on end fascinated a throng of spectators including Austrian Ambassador Martin Eichtinger and his wife.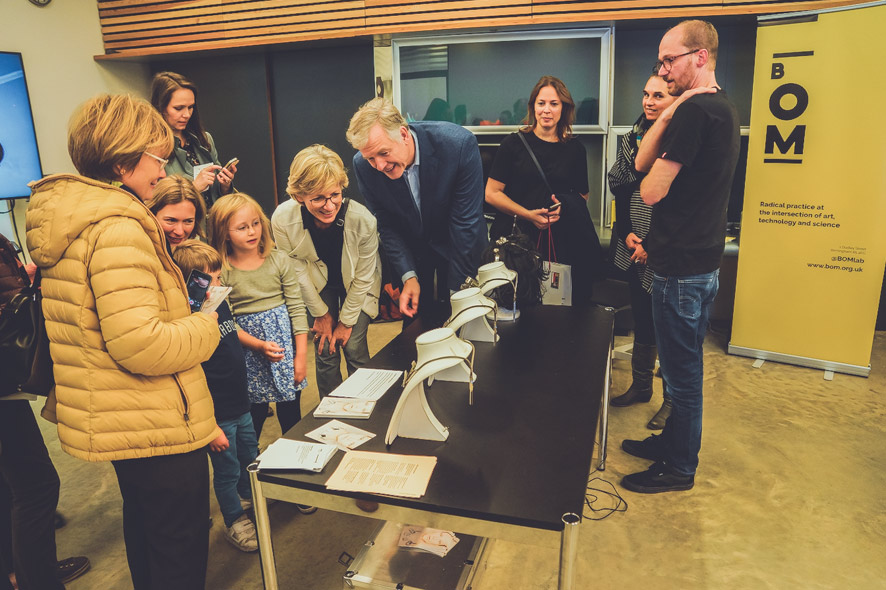 Credit: Harvey Shepherdson-Beck
The ACF was also the setting of a performance by Davide Bevilacqua "Ursuppe" [primordial soup] is the title of a modular synthesizer that interconnects organic and inorganic materials in an electrical circuit. Each individual module serves as the system's sound generator as artist Bevilacqua skillfully modifies the circumstances. He summons forth live worlds of sound based exclusively on the electrical networking of the individual elements.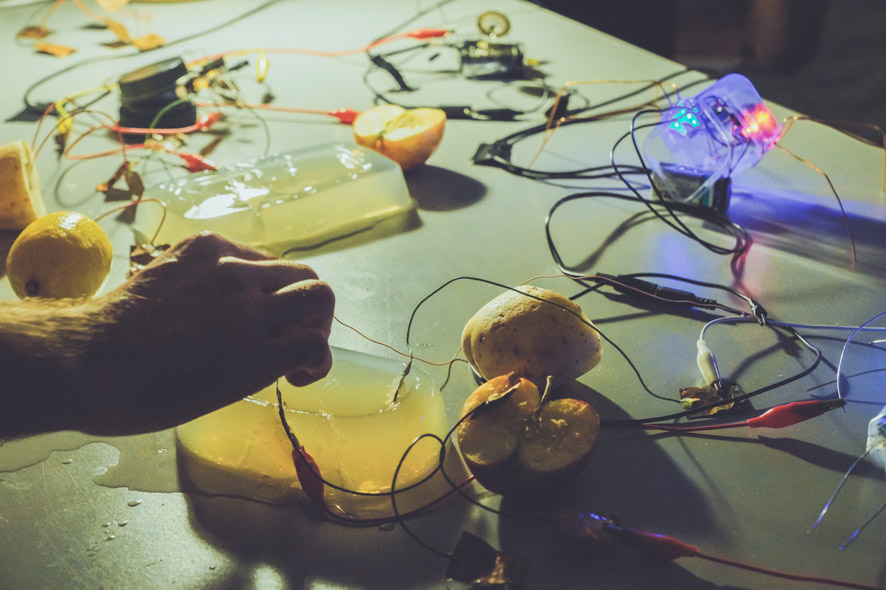 Credit: Harvey Shepherdson-Beck
In addition to the "Ursuppe" performance during Digital Design Weekend, Bevilacqua presented "Tischrechner" [tabletop calculator] together with Veronika Krenn.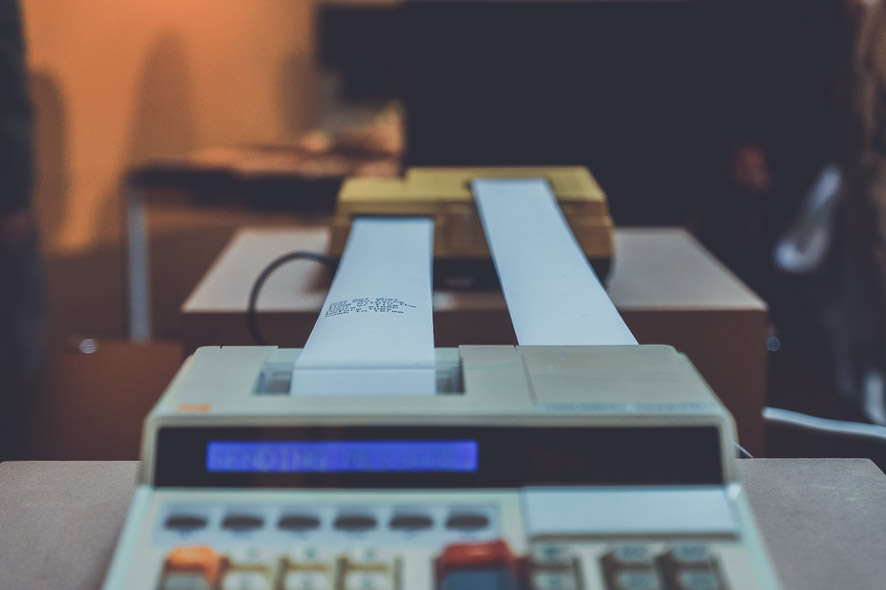 Credit: Harvey Shepherdson-Beck
This work consists of two old-fashioned adding machines that are interlinked and share information with each other—a sort of tongue-in-cheek take on the much-discussed topic of artificial intelligence in which Karl Marx and Max Weber seem to meet up and transmit statements on the subject of economics to one another.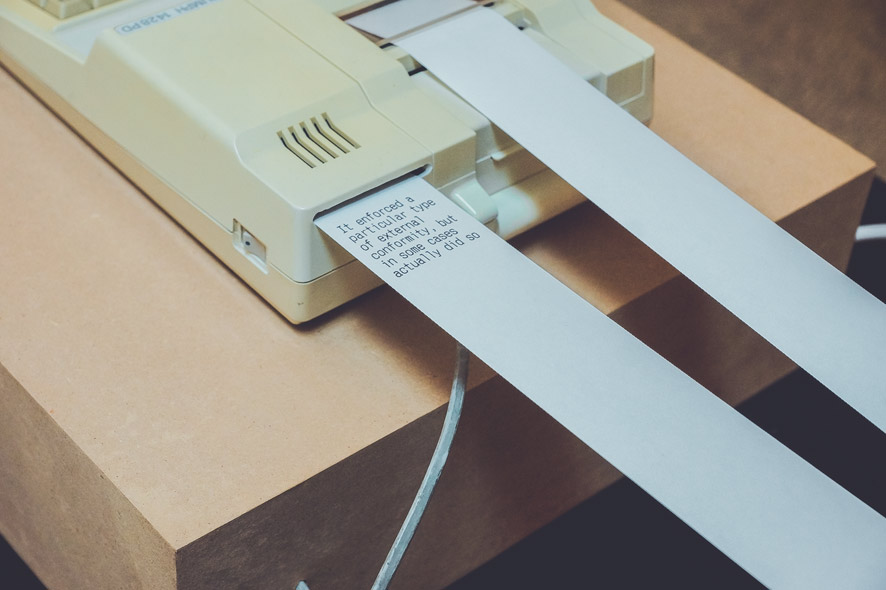 Credit: Harvey Shepherdson-Beck
Another project by Veronika Krenn—this time elaborated in collaboration with Vesela Mihaylova—is "Data Slicers", a collection of cutting devices based on amassed data and statistics.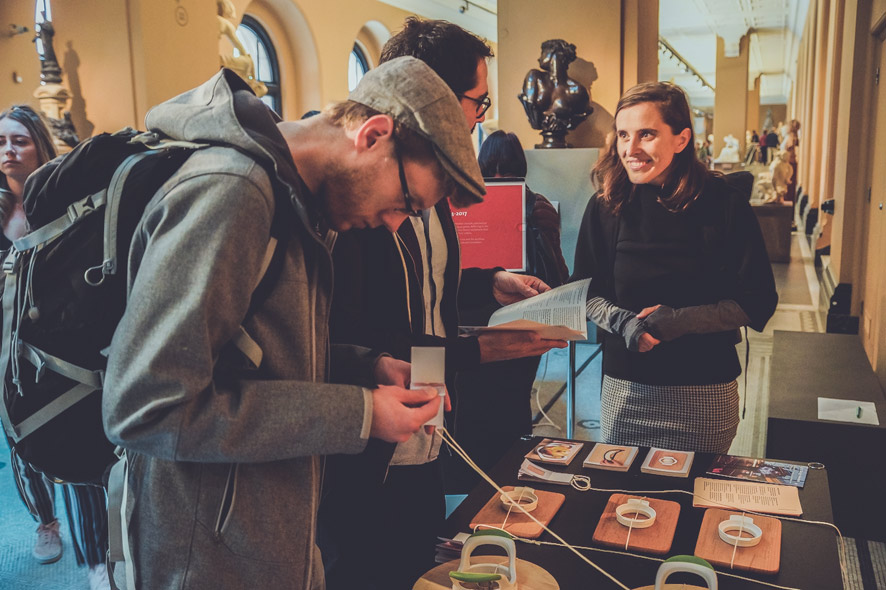 Credit: Harvey Shepherdson-Beck
Prazlab—the name they've chosen for their two-woman collective—sees its primary mission as questioning data, visualizing digital information and, above all, making it palpable.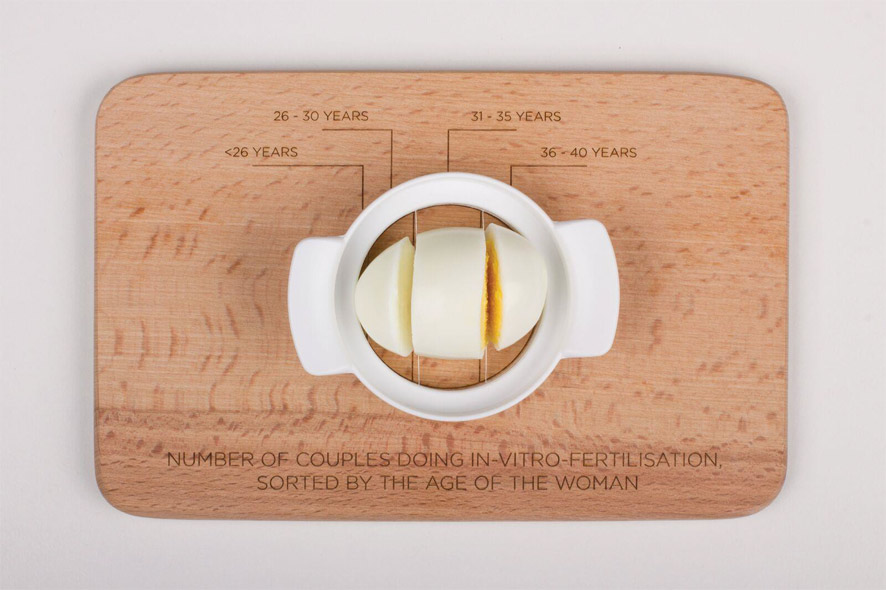 Credit: prazlab
Prazlab gave a taste of this in a performance at ACF in which they served up chips associated with British immigration statistics. The countries that were sources of increased immigration into the United Kingdom were each associated with a particular spice, and spectators had to guess which sack of chips alluded to which wave of immigration in the year imprinted on the paper wrapper.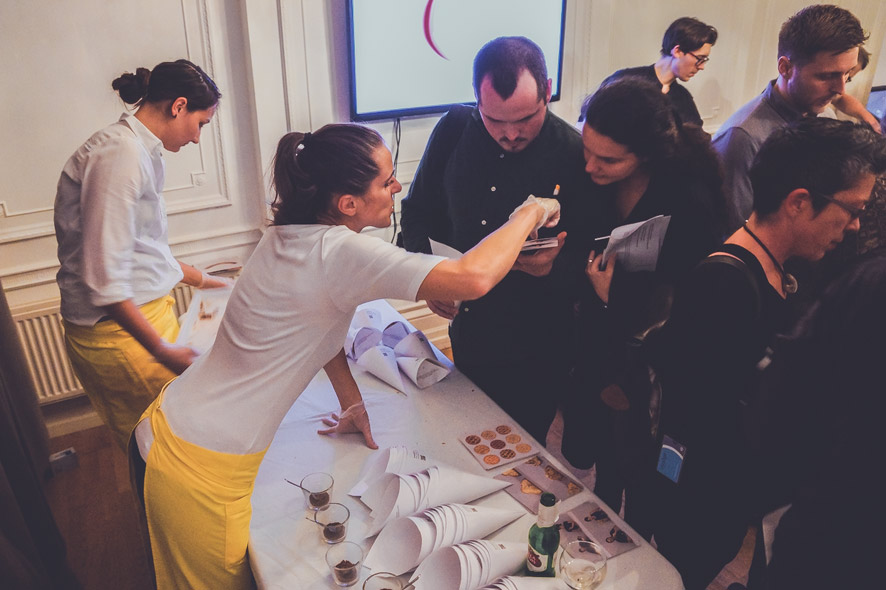 Credit: Harvey Shepherdson-Beck
This was a guessing game with a critical wink-of-the-eye that significantly lightened up the atmosphere on that evening that was, after all, set amidst the Brexit negotiations, "insular" thinking in general, and increasingly closed borders.
Irene Posch, a young artist and scholar who's currently working on her Ph.D. at the Vienna University of Technology, has spend considerable time studying practices in the field of textile processing, and she adeptly combines them with electro-technical systems—decorative pins made of conductive material, crochet hooks that measure electrical current, and embroidered magnetic accessories that are set in motion by induction phenomena. Irene Posch, who collaborates with her studio colleague Ebru Kurbak on the "Stitching Worlds" research project, exhibited her DIY tools and their first electromagnetic prototypes at the V&A.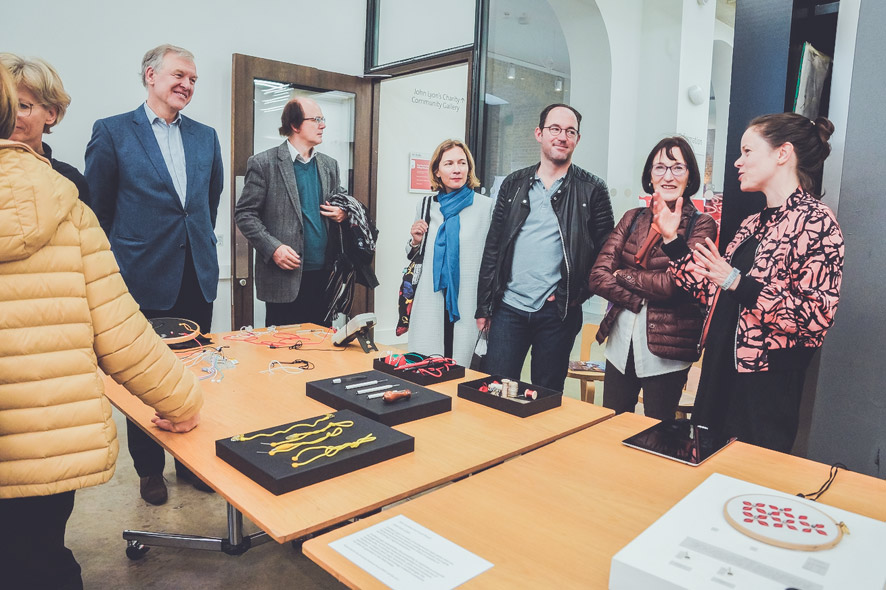 Credit: Harvey Shepherdson-Beck
At the ACF on Sunday, workshop participants were able to get hands-on experience with these tools and come up with ideas for garments that entail batteries and various other sources of electrical impulses that make these articles of clothing light up, move and thereby transform themselves.
Thus, our response to Digital Design Weekend in London was to reiterate that "the longing for new worlds knows no bounds". This assertion is an allusion to Nicolas Camille Flammarion, an outstanding individual at the nexus of science and science fiction, one whose scientific writings and fantastic tales influenced, among others, the Paris surrealists. This yearning for new worlds is not only the driving force propelling the wanderer in "Flammarion's Engraving"; it's also what motivates the artists that Ars Electronica Linz showcased on Digital Design Weekend and at the ACF in London.
Note: Sarah Kriesche reported for Radio Ö1 on the Digital Design Weekend in London. More on oe1.orf.at.