What an unforgettable scene that was at the 2017 Ars Electronica Festival! About 100 hackers, designers, artists and makers tinkering, tooling, soldering and programming on approximately 20 brain-computer interface (BCI) projects amidst the hustle and bustle of festivalgoers and exhibitions.
BCIs—interfaces at the nexus of human and machine—once again occupy the focal point of this year's BR41N.IO Hackathon. Their respective missions: hacking and artistic projects to, for instance, operate tiny robots or household appliances via the power of the user's thoughts, draw dream images, upload content to system media sites, and construct headsets. And to accomplish their various objectives in only 24 hours!
Everyone who takes on this challenge has a chance to win one of three BR41N.IO prizes, as well as the IEEE Brain Prize, a trip to San Diego to the IEEE Brain Initiative Workshop. Participants will have access to up-close-and-personal assistance from programmers and developers, artists and designers, makers and experts in a broad spectrum of disciplines.
The BR41N.IO Hackathon is organized by g.tec medical engineering GmbH. In this interview, we get a foretaste from g.tec founder and CEO Christoph Guger, and Sarah Breinbauer, the company's marketing and event manager.
This is the second consecutive year that the Ars Electronica Festival is hosting a BR41N.IO Hackathon. What did you learn from producing the 2017 event?
Christoph Guger: Last year, we had almost 100 participants, slightly more than half of whom were programmers and developers. The others were designers and artists. In the programming field, the teams worked on things like drones and smart homes—in fact, the smart home project ended up being the winning project. This was really funny—the team had a cocktail mixer that they could control via brain waves, so bright and early in the morning, they mixed a cocktail for everybody. They also had a microwave oven, and used it on the first day to make popcorn, which they passed out. There was also a team from the Ottobock Company, who built a thumb onto the hand orthosis. They really did some serious tooling to modify the hardware! Another team programmed virtual reality games with Unity and built in secret doors with secret logos that could only be opened with a BCI. This was a really cool idea for integrating BCI systems into games. Normally, it makes no sense to replace a joystick with a BCI because nothing is faster than a joystick. But secret doors that can be opened with a BCI introduce a whole new aspect into gaming. There were also teams who built EEG headsets, and this was also the source of some really creative stuff.
Sarah Breinbauer: Another example was the group from HBLA Lentia, a fashion design school. They worked with headsets.
Christoph Guger: There were eight high school students who carried on their work for half a year as a school project. They even designed headsets for our company, since the Unicorn—the EEG headset that we use at the Hackathons—is now on the market. We wanted to offer it in various designs, and these students came up with them. There were other headset projects at the Hackathon—the winner, for example, designed an ant each of whose feet was equipped with an EEG electrode. You could simply place it on your head, and it looked really funny.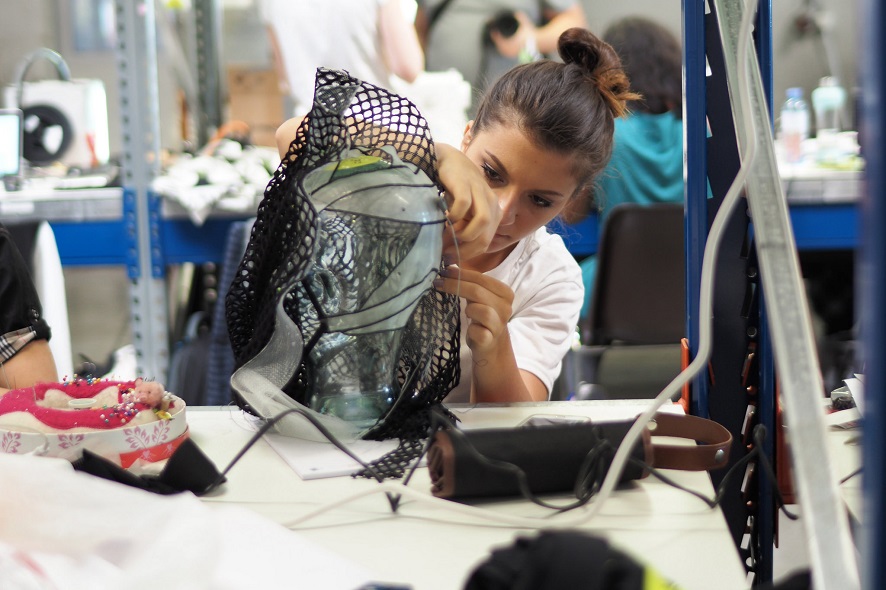 Credit: Martin Hieslmair
The projects were divided into hacking and artistic categories. Was there some degree of overlap?
Christoph Guger: Of course, people were going around and checking out what the others were doing. What we want to intensify a bit this year is to get the programmers to use the artistic headsets. That way, there'll be direct feedback and we can merge teams together.
Sarah Breinbauer: This year, we want to motivate firms to take part in the Hackathon. For example, they can get involved as sponsors, or they can bring in their own ideas or prototypes and test them at the Hackathon. They can also contribute certain things that the hackers can then work with, as Wacker Neuson did last year when they enabled participants to drive an earthmover via BCI. We want to integrate more projects like this into the Hackathon.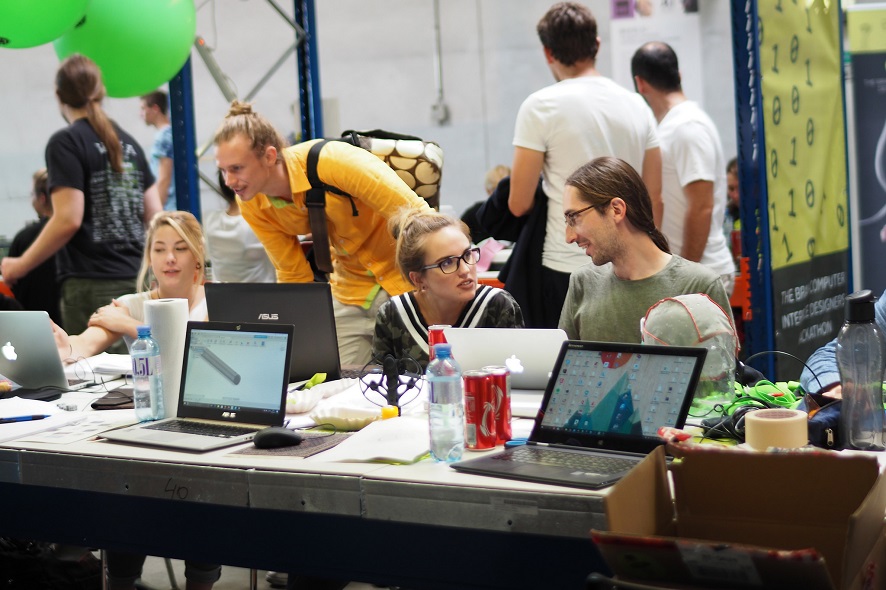 Credit: Martin Hieslmair
What projects will the hackers be tinkering with this year?
Christoph Guger: There'll be programming projects entailing robotics again. For example, you'll be able to manipulate a Sphero, a tiny glowing ball that can be moved around. You can use to develop games or draw something. There was a marvelous project at a BR41N.IO Hackathon in Valencia last year—one team used a Sphero in an augmented reality game in which virtual tanks were projected onto the floor. The BCI user had to destroy the tanks by running into them with the Sphero.
We'll also have another project with Unity. At a BR41N.IO Hackathon in Canada, there was an amazing project in which the team perfected neurosurgical applications. A virtual neurosurgeon operated on a virtual patient, and the proper surgical instruments were provided to him via BCI. It was a remarkable feat that the team was able to create this game in only 24 hours! Once again, there'll be medical projects in which team members can manipulate orthoses, which can enable locked-in patients or quadriplegics to move objects. There's also a project that involves functional electro-stimulation—stimulating muscles to make them move. Participants always have a blast with this, using a BCI to control the movements of another person.
BCIs can also be utilized to draw or create an object of art—for example, you can analyze EEG data and generate images from them, or even access social media sites via BCI. For the artistic projects, we'll again be providing 3-D printers and other equipment that can be used to design headsets.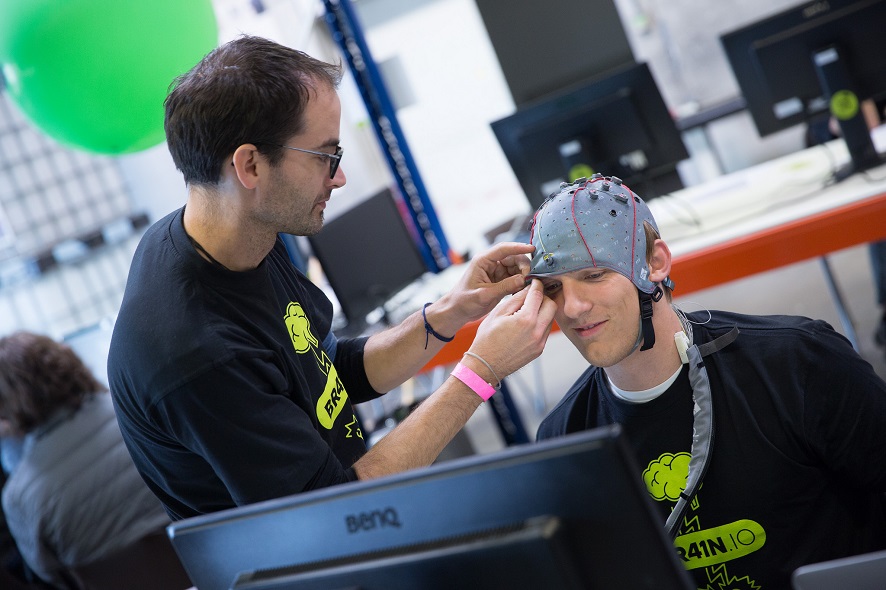 Credit: Tom Mesic
What are the prerequisite skills that participants need to have to take part in the Hackathon?
Christoph Guger: For the programming projects, you have to be proficient with C or C# or MATLAB Simulink or Unity. The BCI systems are basically prefabbed and functional, but they can be modified. The control output from the BCI can be routed into other applications. People who know how to work with microcontrollers or smart home software can apply their skills to working with a BCI. Those with experience in internet technologies or Java can channel the control inputs to them to operate applications. Or you can work with signal processing. For the 3-D printing projects, you either have to be highly creative and team up with someone who can use 3-D rendering software, unless you have experience yourself with 3-D design software packages. There's been quite a bit of progress in the materials that can be used in 3-D printing; you can now print highly elastic plastics. So, knowledge about materials is definitely an advantage. In the sewing machine projects, sewing and design skills are a big plus.
Credit: Tom Mesic
How do you form the teams?
Christoph Guger: People with highly diverse skills team up with each other. If someone in a programming team knows Unity, for example, and someone else is familiar with BCIs, and another person has experience with Usability, then these skills complement one another very well in a team. But if they're all programmers, then it doesn't make sense. And the same holds true if all are creative. The teams have to blend in such a way that all forms of expertise are represented, since that makes for a much more creative outcome.
Sarah Breinbauer: It's a real production cycle. It takes a lot of different qualifications and knowhow to go from idea to conception to implementation. It's totally cool to be able to bring something to fruition within 24 hours.
Christoph Guger: Last year, we had a few high school students who didn't normally do programming. They got into brain painting, controlled robots, and then created works of art. We also had some therapists who were primarily interested in the medical applications and the orthoses. These are people with highly diverse educational backgrounds.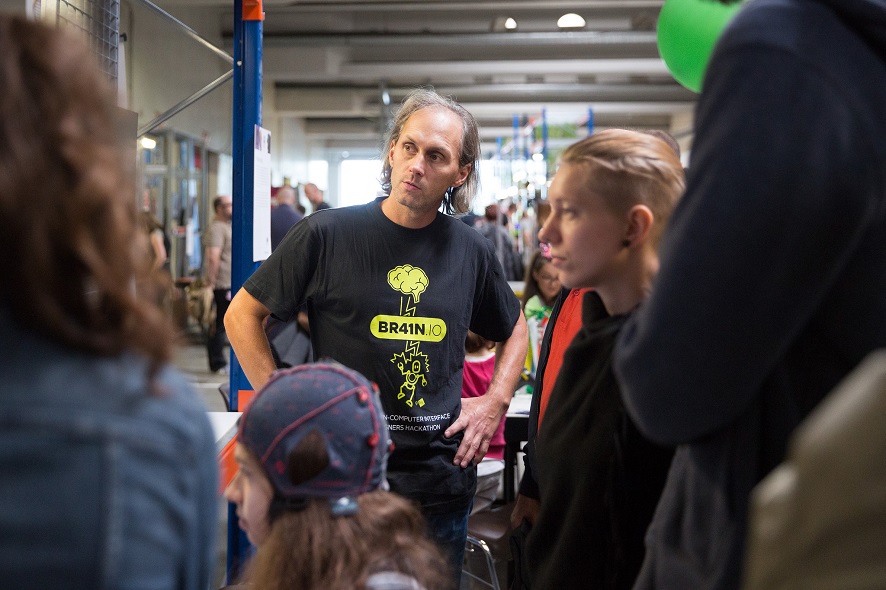 Credit: Tom Mesic
The Hackathon was held amidst the hustle & bustle of the festival. Did you take notice of what was transpiring all around you?
Sarah Breinbauer: It was totally cool because we were literally surrounded by festivalgoers! In the middle was the Hackathon, with two tracks, so to speak, and roundabout were the spectators, who could look on and ask questions. It was very open, so people could easily see what the participants were fabricating and tinkering with and assembling. On the morning of the second day, some of the participants were still asleep while the first festivalgoers were already making their rounds! They asked questions and the hackers told them what they were up to and explained what a Hackathon is. They did a very nice job getting across what this is all about.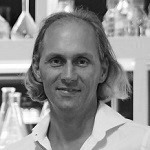 Christoph Guger is the founder and CEO of g.tec medical engineering GmbH. He studied bio-medical technology at Graz University of Technology and at Johns Hopkins University in Baltimore, USA, where he developed the first brain-computer interface that records and processes brain signals in real time. Christoph enjoys the peace and quiet of rural Austria and the country's mountains, which is why g.tec is now headquartered in Schiedlberg. Accordingly, he's delighted that there's a view of the Alps from the site of the BR41N.IO Hackathon in POSTCITY.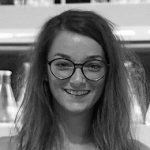 Sarah Breinbauer is a genuine native Linzer. While working full-time, she completed her studies in Health, Social Welfare and Public Management at the Upper Austria University of Applied Sciences' Linz Campus. Her responsibilities at g.tec include marketing and events. Her career path has included stops in Argentina and at the Ars Electronica Center, where she first encountered the creative aspects of marketing and the countless application possibilities of brain-computer interfaces.
The BR41N.IO Hackathon at the Ars Electronica Festival will take place on Saturday & Sunday, September 8-9, 2018 in POSTCITY Linz. The Hackathon's orientation program kicks off at 10 AM on Saturday; the hacking gets going at 1 PM. Program details and the registration form are online at the BR41N.IO website. Hackathon participants receive a free pass entitling them to admission to all exhibitions and events at the 2018 Ars Electronica Festival.
To learn more about the Ars Electronica Festival, follow us on Facebook, Twitter, Instagram et al., subscribe to our newsletter, and check us out online at https://ars.electronica.art/error/.