Together, the two are called any:time architects, they have known POSTCITY like their own back pockets, and have been part of the Ars Electronica Festival for over ten years. Jürgen Haller and Christoph Weidinger talk to us in this interview about the upcoming innovations for the 2019 Dernière, the final POSTCITY event, which special construction elements will be used for the first time this year, and why they would like these objects to return at the new location as well.
One last time POSTCITY – what does that mean for you as architects? Are you looking towards the end with a laughing or a crying eye?
Jürgen: I don't think it's the last time (laughs).
Christoph: Actually with both eyes, so on the one hand laughing, on the other hand crying. Weeping to the effect that this place, which is very exciting to occupy, is lost for the city, especially for temporary things. And the laughing eye, because you can redevelop such a location and win it over as a future district in order to perhaps give an impulse for this area, which is very busy with traffic.
Jürgen: Laughing too – you can feel it in the team – because we are looking forward to something new, a different location. As much as we know the building and as much as we appreciate it – but somehow something new would be exciting for us once again.
How will you architecturally implement this last time in the unique environment of POSTCITY? How can the festival theme "Out of the Box" be integrated into the architecture?
Christoph: This year we will try to implement the design with two materials. On one hand with PERI formwork elements. With these we will try to break up the grid that the element defines in a couple of corners and fill it with the most diverse works of art. The second material is the IBC containers, which are box-like water containers that we again try to use to create space.
Jürgen: I find it very exciting this year, with PERI, when you look at the history of Ars Electronica in POSTCITY, that we started with waste paper pressed into bundles, with shelves, construction scaffolding… PERI is now perfect for this purpose! It's totally fun and the material that houses the art, holds, encloses, can do so much that I would also like it at another location. Out of the box, so to speak, the same material that also fits somewhere else.
What are the characteristics of these two materials – the containers and the PERI elements?
Jürgen: The PERI elements are like Lego. You can build anything with it, with a certain resolution. So we are reaching our limits – some people want to have round shapes, and of course this is not possible. But you can build almost anything very quickly, it's not that hard. Last year we worked with normal steel formwork elements, each weighing 90 kilograms. Here the heaviest, the largest part, has 25 kilograms – that's of course a huge difference, also in terms of handling, assembly times,… And with PERI we are sometimes open, sometimes closed, that's what we need all the time. And when a surgical procedure is needed, you are flexible because you can simply screw things on, there are fixing holes everywhere. It's truly very good for our purpose!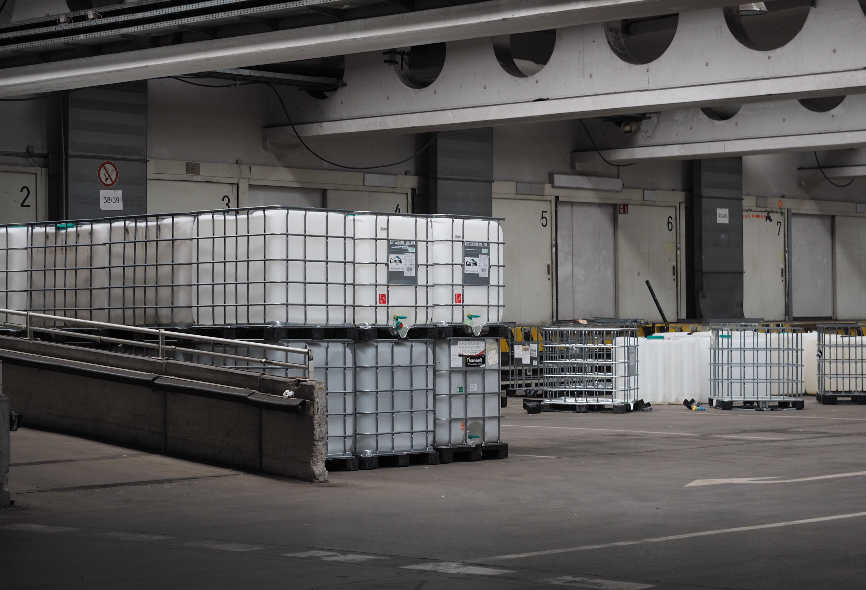 Will you use the PERI elements on all levels or only in the big hall on the first floor of the POSTCITY?
Jürgen: Mainly in this level, on the first floor, and less in the lower areas. This has become a traditional practice in the lower areas, which are so strong in their characteristics that no external architectural elements can be brought in there – apart from a few benches, a few separating elements,… And we don't want to take away the bunker's character by adding other things to it.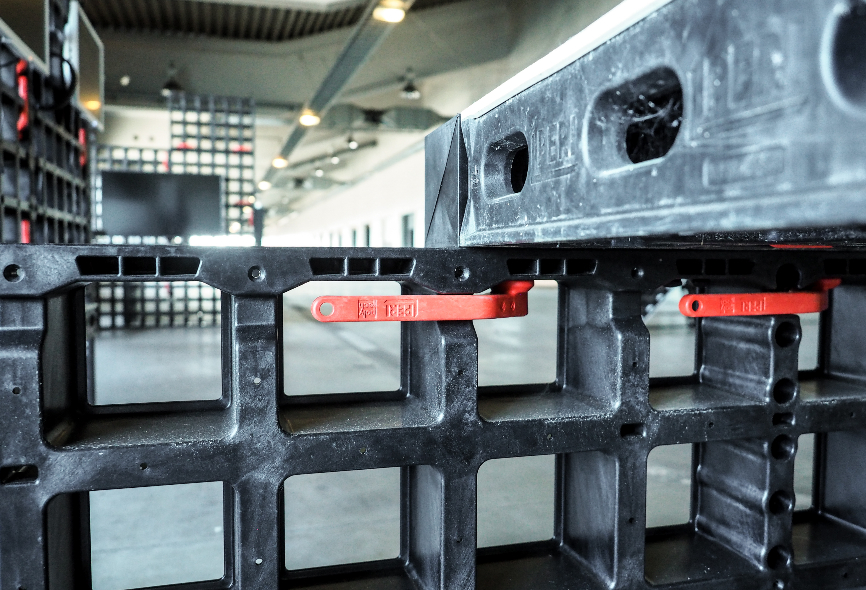 In recent years plants have always been very present at the festival. Can we look forward to a lot of greenery again?
Christoph: They are still there, yes, because for us it is an essential instrument, element, with which we can give the venue a different atmosphere. To give this simple functional building something warm and green. We will again work with the same or similar plants as last year. They are currently flourishing in the municipal gardens of Linz. And we will try some new things, a few experiments have begun to grow upwards.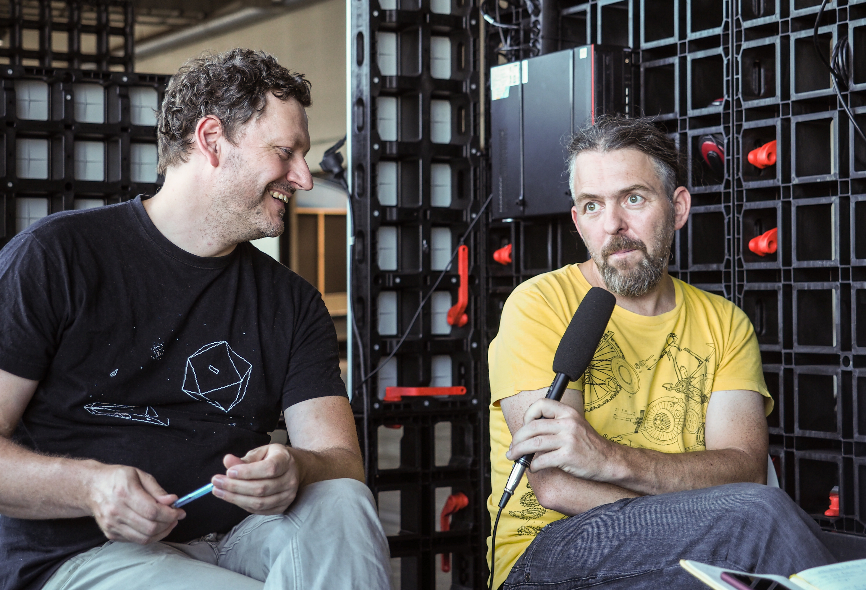 Finally, can you tell us a few little secrets, what's new, what's already planned, what highlights will be there?
Jürgen (to Christoph): That's a bit difficult for us. Because it's still in a constant flow. In any case, our highlights are installations that are particularly pleasing to us, far from the architecture that is our daily business. Simply because they appeal to us personally. In the area of large kinetic sculptures there will be a few very beautiful things.
Christoph: I think we shouldn't satisfy the curiosity already, but rather visit the festival and be surprised!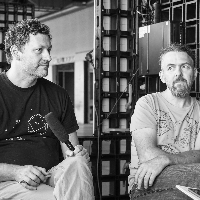 Jürgen Haller, born in 1973 in Linz, studied architecture at Linz University of Art. He ist the co-founder of pixelhotel and of the e-mobility enterprise b turtle, as well as co-owner of gentletent gmbh. Christoph Weidinger, born in Linz, was a master of carpentry before he studied architecture at Linz University of Art. He is the initiator of zeroLab, co-founder of pixelhotel and chairman at Architekturforum OÖ (afo). Together, they make up the team of ANY:TIME ARCHITECTS. 
To really experience the exhibition architecture right up close, visit the Ars Electronica Festival  September 5-9, 2019 in POSTCITY Linz. To learn more about the festival, follow us on Facebook, Twitter, Instagram et al., subscribe to our newsletter and visit our website at https://ars.electronica.art/outofthebox/en/.