Covid-19 really changes everything, that much is certain. For the seven jury members of the STARTS Prize of the European Commission this means, in extreme cases, meeting online for a morning coffee or in near-sleep mode and selecting the winning projects from hundreds of submissions. Within one weekend.
The hardest hit are Japan and California – Nobu Ide has the day behind him, Clara Blume forces herself into work. Even if it seems impossible at first, the discussions get going quickly – with each new day, more restrictions on the projects, more detailed discussion motives, the jury comes together faster. But with each additional day, a little more melancholy sets in, deprived of the opportunity to get to know each other personally.
In a three-day process, the STARTS Prize 2020 jury selected winning projects in the two categories Innovative Collaboration and Artistic Exploration, which will be announced in mid-June. We met with the three jury members Mara Balestrini, Clara Blume and Domhnaill Hernon (online) and talked about the influence of Covid-19, the difference between design and art, circular economy and the benefits of Excel lists.

How was the jury weekend for you? How was the atmosphere among the jury members? How did everyone handle the situation that everything was online?
Clara Blume: Personally, I found the process really smooth. All the jurors were very professional, very committed, very serious. Nobody rushed through the projects, ambiguities were explained, the background of individual artists was studied. In addition, everyone treated each other very respectfully – which is of course because we were these little tiles on a screen and nobody wants to interrupt anyone. But of course that's also something I observe in all the virtual meetings I have at the moment – the lack of visual cues, of non-verbal physical interaction. It takes the pace out of the conversation and makes you feel that if we were physically in a room it would have been more of an interactive discussion.
The degree of inhibition was also higher in my case because it was six in the morning. So I had my first morning coffee, whereas in Tokyo it was already 10 p.m. So some people were approaching the end of the day and their mental capacity, while others were awakening. Such different physical and mental states make a difference. And let's face it, many things are discussed during coffee breaks. You could tell that we had no opportunity to discuss things off the record.
Mara Balestrini: This was my first time as a member of the STARTS Prize jury, so I was really looking forward to coming to Linz and meeting everyone. Which wasn't possible, but I really hope to make up for it…
I enjoyed the discussions with the other members of the jury massivly. I tried to be very fair in my assessments and I needed the opinion of my colleagues. The opportunity to bounce back ideas and help clarify certain points, certain aspects of the various projects was very valuable. And this whole process was something that I enjoyed very much.
Domhnaill Hernon: I found the composition of the jury very interesting and diverse, which is of crucial importance, because if we all think the same, it doesn't have much value. The members of the jury had different perspectives and experiences, and each one expressed their thoughts and concerns in a professional and transparent way.
It is easier to understand another person's perspective when you get to know them personally. I, for example, have a rather direct way, which can seem slightly aggressive. But if you know me, you know that this is not really my intention, it's just the way I communicate. That is the challenge of remote communication. And of course I would have liked to get to know the other members of the jury better.
But the way we as a jury handled the projects worked well. The Ars Electronica team left a lot of flow and flexibility and made sure that the discussions could develop organically. In the end, the right projects were selected.
Are you satisfied with how the situation was handled, what tools have been used and how the communication developed?
Mara Balestrini: Something that seemed impossible became possible and manageable. When I received the message with the information about how many projects we had to judge and the fact that we had to choose two winners by Sunday, I just thought it was impossible. But the way the process was structured helped us to reach a consensus.
Domhnaill Hernon: I thought it worked well, too. I had never used these particular tools before and found them really helpful. On the split screen I could follow the moderator's movement while I could choose a different view in my own screen. I could also see my fellow jury members' facial expressions through the discussion which added to the context.
Mara Balestrini: I agree. I loved the whiteboard app. I'm such a visual person. On the whiteboard, the submitted projects were grouped and sorted by category, which made the decision-making process much easier.
Clara Blume: …otherwise some projects would have simply fallen through the grid. Because it's an immense amount of projects that you have to keep track of. And so it was possible for us to circle back and revive some forgotten projects that were not among the favorites at the beginning.

How did you approach the many projects that were submitted? Did you set up criteria for yourself to rate them?
Domhnaill Hernon: I used my own Excel sheet to which I copied all the projects from the database and added columns with the most important criteria: human-industrial need, originality, collaboration, diversity, fusion of science, technology and art. Then I looked at each project and awarded between one and five points for each category. It was very fast and beyond that I was able to evaluate each project consistently. That's important because if you look at more than 100 projects, if you don't have consistent criteria, you could rate the projects differently depending on the time of day and mood.
Clara Blume: I had a slightly different approach at the beginning. I looked at each project three times because I didn't trust myself the first time. So I re-evaluated them and re-evaluated them again – and was surprised to see how different my evaluations were in some cases. Domhnailll suggested some evaluation criteria that helped me to prioritize projects that had not been a priority for me in the beginning. I also clustered the projects into disciplines and approaches, thus identifying trends.
Each jury member evaluated slightly differently, depending on their professional background. These different approaches turned out to be enormously beneficial in the end because they all contributed to the final discussion and the decision was so broadly based.
Mara Balestrini: I first looked at all the projects, just to get an idea of what's there. Then I structured my time. I had five days, every day I took the same number of hours and then, after I had seen them all, I started to evaluate them according to my and the STARTS criteria. If I had doubts somewhere or was unsure, I marked the project with an asterisk and came back to it the next day. In some cases I am glad I did it because I changed my mind.
What were the central issues occurring over the jury process? Tell us about your main discussions.
Mara Balestrini: What does the artistic entail, when is something art, different opinions in general, also about the political message. Where do we stand and what does that mean? How do we position ourselves?
One particular remark I remember was that we are living right now in this Covid-19 crisis, how much space it occupies in our lives and what it means for humanity as a whole. What is our position as a jury in the face of this? What is the message of the project we make? Even if we do not articulate this statement in this way, it will be read as a message. And that was always to be taken into consideration…
Clara Blume: A recurring question was that of art versus design. Also, how to consistently evaluate projects when one has infinite resources and is institutionally broadly based, but the other is a small process that is carried out by an artist in a studio or in his or her living room. Can we really judge these two projects consistently and with the same understanding? I felt it was almost like boxing – I would have divided them into different weight categories.
Those were two of the big issues – and of course, as Mara has already pointed out, nothing really compares to the situation we are living in now. We were faced with a declaration of an unprecedented crisis and were confronted with projects that were not made or submitted in response to that crisis.
Domhnaill Hernon:  I have also experienced the debate about the differences between design and art. Many of the projects I evaluated were design projects. Some were simply design, others design plus a little bit of art and then some that I would call truly artistic. Fortunately, we got to the point in the jury process very quickly where we were talking about the really, really strong art projects.
Design and art get mixed up all the time, even though they are absolutely not the same thing. There are elements of art in design. Designers can be artistic. But the disciplines and the approach, the training and the way you approach things in art and design are different. That was a really big point of the debate, also a very exciting one.

Which topics were addressed most? Do you see any trends for 2020 and after? Are there any topics you missed?
Domhnaill Hernon: The most striking trend, or perhaps the trend that had the strongest submissions, was around circular economy, sustainability, recycling. There were also many design projects around wearables and transhumanism.
What I missed? I would have liked to see something that had never been there before. All projects, even the strongest ones, were a new way of looking at things or a new way of doing something that already exists. My enthusiasm for the fusion of science, technology and art comes from the fact that the arts can often bring a completely different perspective to what science and technology is. And I believe that this kind of deeply philosophical, shattering insight makes you think about something you've never thought about before. I didn't get that in this year's STARTS submissions – but this is an extremely rare experience!
Mara Balestrini: For me, the biggest topic was sustainability and circularity, material life, material composition – there were a lot of projects on these topics. Another thing is the relationship between people and plants, which has come up again and again in recent years and goes beyond sustainability. I would put it in a context of current technologies and the interconnectedness of all life forms. This is a discourse that has developed strongly over the last few years and produces concrete forms – like a lamp that is actually a plant, in other words a very tangible product.
What surprised me was the lack of projects on artificial intelligence. What I completely missed was the involvement or commitment of the public. I had expected to see many more participatory projects.
Clara Blume: I agree that the most dominant topic was the circular economy, which influenced our decision as a jury. In a broader social context, I found it fascinating to see how politics influences social perception and social reaction. And thus also shapes artistic output. 3D printing is on the rise, and of course experimenting with new textiles and wearable technologies continues. And VR. Virtual Reality is a tool for social empathy, for conveying situations in which people live. Almost like an empathy machine.
As for artificial intelligence, I was also very surprised to see so few submissions. It's a topic that is constantly being discussed in the media, almost omnipresent. That's why I think we've reached saturation point, because there was almost no artistic output on this topic this year. Maybe we have seen everything, tried everything.
I would like to mention one last thought when it comes to trends and the evaluation process in juries like this one. We often find the term storytelling in projects – that is, artistic storytelling with some kind of technical device. But it's not enough just to tell stories – it must really trigger a new kind of thinking process and inspire something that transcends limitations. Because if it does not, it will not stand out from the many other applications and exciting stories.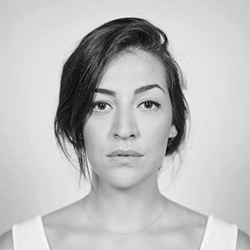 Clara Blume (AT), PhD, is Deputy Director and Head of Art, Science, and Technology at Open Austria, the Austrian Consulate and innovation office in Silicon Valley. She curates and promotes artistic projects at the intersection of art + tech while bridging Austria with the innovation ecosystem in the SF Bay Area. She is the current president of the newly founded EU National Institutes for Culture (EUNIC) cluster in Silicon Valley, where she spearheaded the creation of The Grid – a global network connecting artists and technologists. Before, she worked as a professional musician, songwriter, and internationally touring recording artist. Blume has an academic background in fine arts, composition, comparative literature, cultural studies, and history. She is a regular conference speaker and a published author.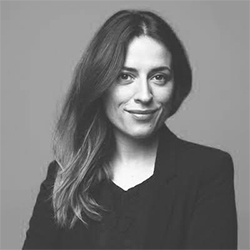 Mara Balestrini (IT) is a Human Computer Interaction (HCI) researcher and a technology strategist. She is currently CEO at the innovation agency Ideas for Change and a co-founder of SalusCoop, the first Spanish cooperative for citizens' health data. Mara's work sits at the intersection of civic technology, design and Action Research. She has authored over 30 publications on these subjects and coordinated projects such as Making Sense EU, Bristol Approach and #DataFutures. Mara earned a PhD in Computer Science from the Intel Collaborative Research Institute on Sustainable Connected Cities at University College London. Her work has been awarded at ACM CHI, ACM CSCW, Ars Electronica, among others, and featured in international media such as the BBC, The Guardian, The Financial Times and El País.

Domhnaill Hernon (IE) is an award-winning technology, innovation and creativity executive. Domhnaill received an undergrad in Aeronautical Engineering and a PhD in Aerodynamics from the University of Limerick and an executive MBA from Dublin City University, Ireland. He previously led R&D organizations and developed and executed strategies to overcome the "innovation valley of death". He is Head of Experiments in Art and Technology (E.A.T) which is a new initiative he founded to fuse art and engineering/science to develop solutions that humanize technology. Domhnaill' s work has been featured in Wired Magazine, Times Square, SXSW, Nasdaq, MWC and Inspirefest to name just a few and he advises cultural programs globally.