But it is not about this or that regulation or how it is to be interpreted. We are concerned with how events will look in the future, what they should, can and must achieve. We talked to Lisa Brandstötter, who heads the Eventservice at the Ars Electronica Center, about events that are not only corona-safe today but, above all, will also be attractive offerings tomorrow that open up new and exciting possibilities.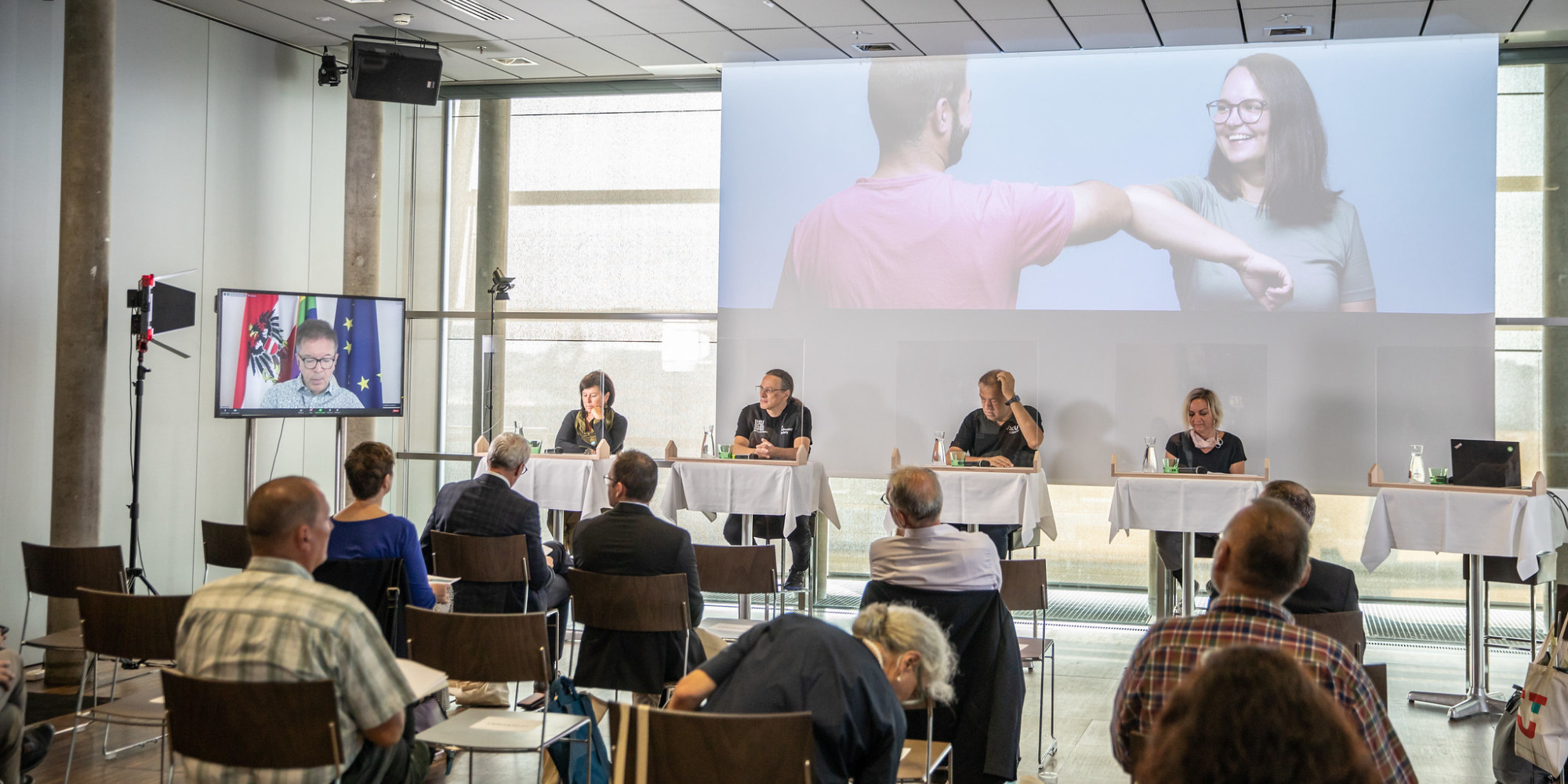 To get started, I'll ask you straight away: What does it mean to offer event services in times like these? Is that even possible?
Lisa Brandstötter: Of course you can! Just standing still and waiting for the reopening – I don't think anyone here at Ars Electronica would be able to hold out for long. No, we've been working on new strategies and formats with incredible passion and enthusiasm since April, and they still work now, during the pandemic. However, we realized pretty quickly that we don't want to just create a temporary "replacement program" but something new that will open up additional opportunities for us and our customers beyond the crisis. The classic on-site event is therefore from now on only one of our tracks. In the future, we will also offer hybrid events that take place here in Linz and use the unique infrastructure of our museum, plus purely virtual productions that involve colleagues in branches around the world as well as customers in any location. So the answer is yes, of course event service is also available now!
Then tell us what you mean by "hybrid" events? How can I imagine such a hybrid event?
Lisa Brandstötter: Hybrid Events are events that take place both in real and virtual form and can be dimensioned here and there as large or small and exclusive as desired. There is a whole range of formats that we can now implement as great hybrid events – for example, business events such as meetings, conferences, congresses, annual general meetings or even smaller meetings. Our services range from the "complete package", where we take care of the entire technical environment, the entire organization and the entire implementation, to very individual packages, where our customers say what they want to do themselves and need our support – depending on their wishes, we then take over things like the livestream, the direction or even the post production, so that our customer can post and share a great clip at the end.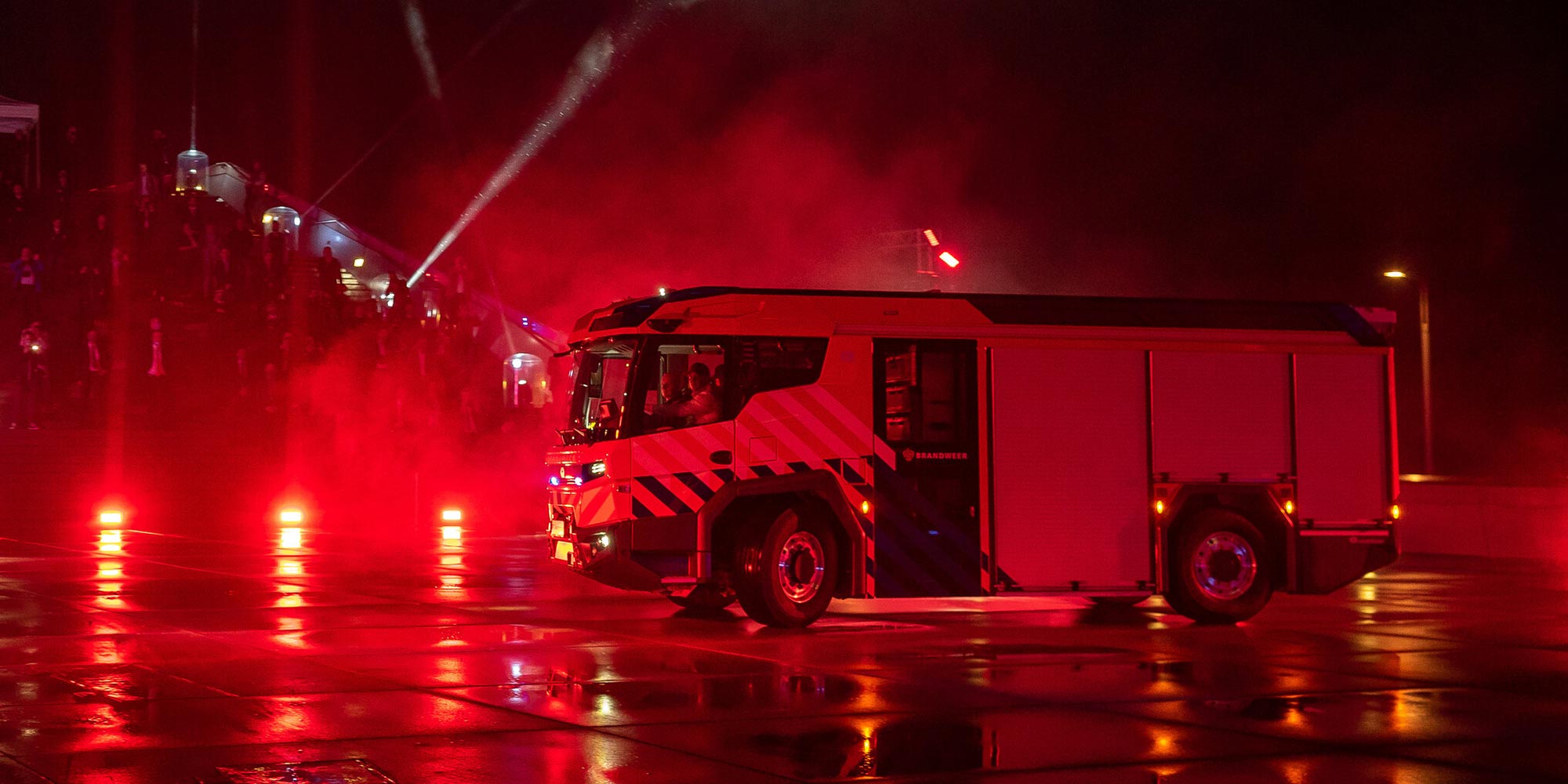 An example?
Lisa Brandstötter: The launch event of the Rosenbauer RT fire truck that Ars Electronica Solutions staged at the end of September. That was really great (the details, by the way, can be found here.) The program for this evening consisted of interactive presentations in our Deep Space 8K, camera circuits from the motorcycle and from the RT cockpits, shots of two camera drones, a light show and choreography on the Ars Electronica Center's Main Deck. The Ars Electronica Center's façade served as the backdrop for the lighting and was supported by additional spots and spotlights. All this was then shown as a live stream on YouTube and Facebook. And to make sure that all participants and onlookers were corona-safe on site, we distributed everyone to different rooms. The part with the most people took place on the Main Deck, i.e. outdoors.
Keyword Corona. At the moment we are in a lockdown again, the museum is closed. Are hybrid events currently possible? And if not, are there other solutions?
Lisa Brandstötter: In principle, hybrid events are also possible now, but of course only under very strict conditions – i.e. with very few participants on site. However, by dividing the event up into different rooms and making various technical connections, we can still guarantee a smooth course of events. Everyone is very careful at the moment and tries to avoid direct contact wherever possible. The safest way to play is of course the one that takes place exclusively in the virtual room. The audience can visit virtual trade fair stands via various online platforms, chat with exhibitors or participate in virtual keynotes with break-out sessions. We've really come up with a lot of ideas so that we can transport events of any kind to the respective audience. Through such stagings we transform real events into a virtual or hybrid format that can be experienced up close despite "physical distancing".
Who should take a closer look at your offer? Or asked in another way, for whom do you think your solutions are interesting?
Lisa Brandstötter: All of you without exception should have a look at our offers and especially book :) But seriously, we are convinced that hybrid or completely virtual events are the event format of the future. This will not go away and I'm sure that in the near future a lot of quite innovative approaches and many new ideas will come up. The reasons for this are obvious: virtual access to events increases their reach enormously, events become more ecological and cost-effective because all journeys – or even flights – are no longer necessary, and quite a few physical setups are no longer required, which means less waste.
Only virtual events?
Lisa Brandstötter: No, certainly not! We humans are social beings and cannot be without real interaction. When we communicate with each other "in real", more or less all our senses are involved – something that virtual communication will almost certainly never be able to achieve. In this respect, there can be no question of us only meeting virtually, but there are many things – and a number of events are undoubtedly among them – that are hybrid or even virtually super feasible and help us to move forward.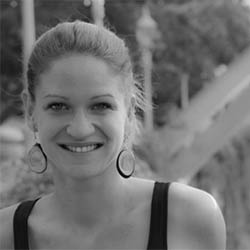 Lisa Brandstötter studied musicology and has been working in the field of cultural and event management for several years. For a good year now, she's been responsible for event services at the Ars Electronica Center.