by Horst Schlager
The social controversies that the last few years have brought are hard to ignore. Binary world views on the topic of climate, migration or vaccination. Sympathies with the Russian war of aggression, agitation against migrants and last but not least: against women. Outrage. Even in the closest circle of friends, it is best to simply stop talking about certain topics. And who among us can convincingly claim not to have gotten into one or another discussion with above-average conflict potential lately?
Discussions and disputes are a natural and important reaction to the world views that seem to be developing so divergently. But it seems increasingly difficult to have constructive debates. – What is the problem?
For the research for the Citizen Intelligence Workshop ""Toolbox for Civil Investigation" – this time on the topic of "Political Grievances" – a team of Citizen Scientists from the Ars Electronica Center ventured into the digital shallows of social media to get to the bottom of this question. Using the freely invented fictional character "Horst Schlager," they dove into the information bubbles of right-wing extremist communities on Facebook to try out how the mechanisms of disinformation and social discourse function there. It shared its experiences with visitors at a workshop on March 18 as part of the second Citizen Science Day at the Ars Electronica Center. Participants from as young as 14 years old were able to learn how quickly algorithmically controlled outrage and hatred can be amplified on social networks.
Horst Schlager and his friends of binary worldviews and conspiracy theories
Two red call signs are emblazoned behind "When right becomes wrong, resistance becomes duty," the profile on Horst Schlagers' Facebook profile. Since February 20, the fictitious character has been posing as a retired worker from an Austrian industrial company. That's because in order to discreetly research political grievances in various relevant groups in advance of the Citizen Intelligence Workshop Toolbox for Civil Investigation at the Ars Electronica Center, a team from the Ars Electronica Center created this fake profile of an elderly gentleman (with a randomly selected name) on Facebook. The alleged soccer and pop music fan is also said to be a lover of vintage tractors. But above all, he brings his large portion of patriotism and his penchant for conspiracy myths into the discourse on the social platform.
The first result of a free image generator available on the net was chosen as the profile picture. Even the mediocre result that could be achieved with the prompt "a sympathetic 70-year-old man in his living room" seems to serve as proof of its existence. Suspicious pixel constellations were concealed by a bit of artificial blur and sepia effect as a precaution. In this way, it should also become more difficult for any Facebook algorithms to unmask the media art figure "Horst Schlager" as a fake.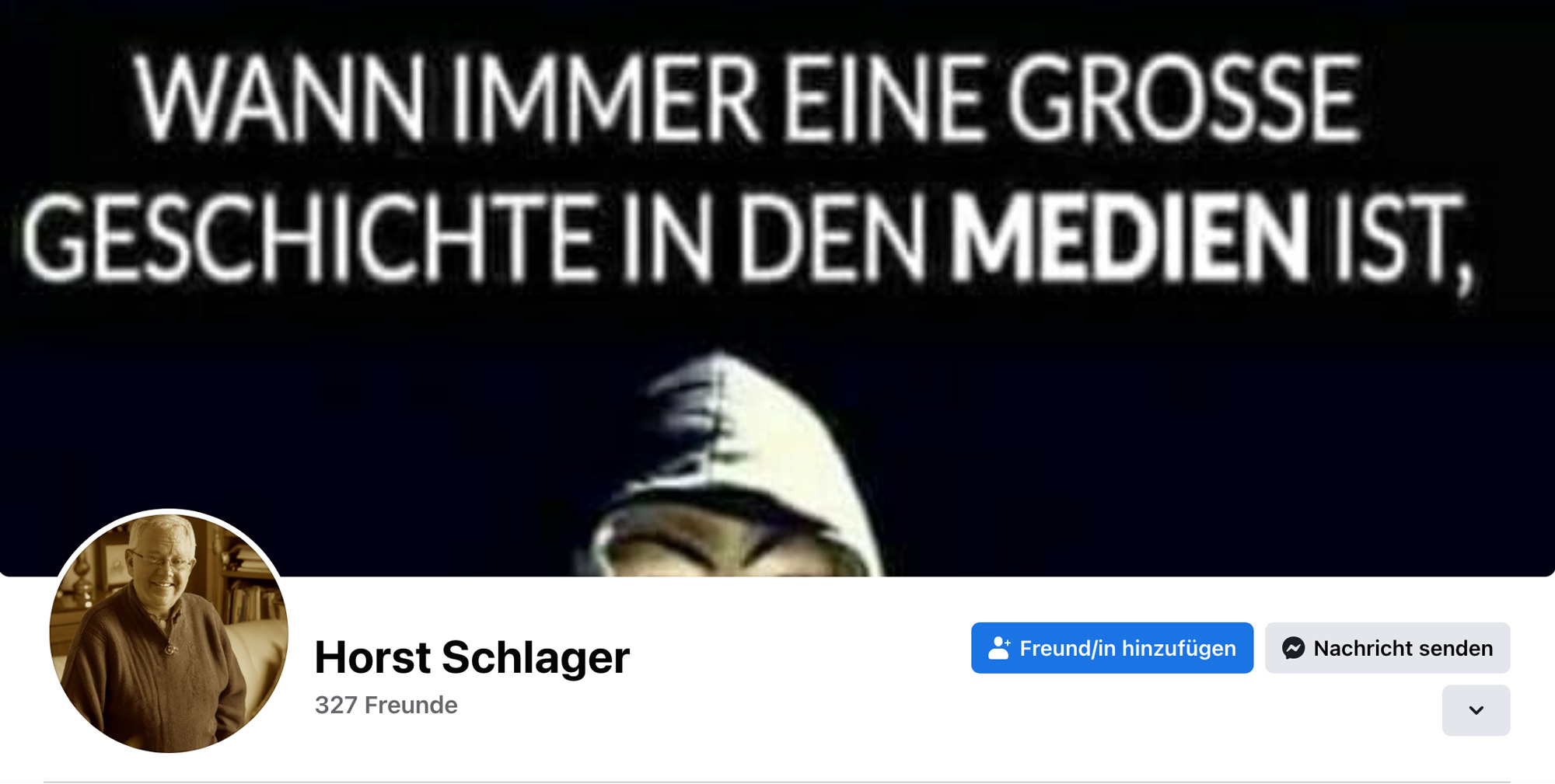 His occasional postings – the shared Wiener Schnitzel or the invitation to one or the other relevant demonstration – not only testify to his political views and bad humor. Commented on with teary-eyed laughter or high-red, swearing emojis, they enhance the credibility of the fictional character. To appear even more authentic, Horst Schlager follows the channels of relevant media.
A community has to be built up to establish him in the conspiracy and extremism scene. With statements of outrage about political content, Horst Schlager quickly generates his first friends and likes. After just under 24 hours, he already has 70 contacts who interact with his postings and comments. Even after the first confirmed friend requests from unknown users, he succeeds in networking with relevant opinion leaders from the scene. He is thus quickly in contact with the Who's Who of Austria's far-right conspiracy scene.
As a result, the Facebook algorithm helps the character achieve further fame. Just one week later, friend requests from sympathizers of the scene start pouring in, and soon the character is acquainted with activists of the 'Identitären' (also known as "The Austrians") and their closest confidants. But during their research, the Ars Electronica Center's civilian agents discover more and more ideologues and ideologies in Horst Schlagers' profile.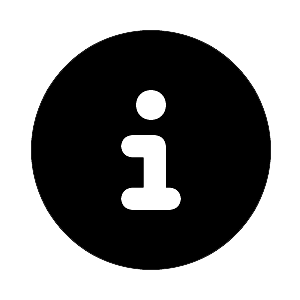 Digital Toolbox
Stand up to political grievances and hate on the web! Right-wing extremist comments, such as denial of the Holocaust, concentration camps or gas chambers, can be reported to the Extremism Reporting Office of the Office for the Protection of the Constitution (DSN). Criminal offenses such as incitement to hatred and re-offending can be reported to the authorities in this uncomplicated way (screenshot, link). Same can also be reported to the public prosecutor's office. If you don't want to contact the authorities directly, you can also make reports like these with just a few clicks using the Banhate app and have the facts checked there before Banhate takes further steps itself if necessary.
Climate, migration, vaccination, eating insects, The Great Reset and Russia – all a presumed conspiracy; of the elites, of course. Binary worldviews and conspiracy myths are often found in Horst's group of friends. Profiles that openly sympathize with the Russian war of aggression or incite against migrants also increasingly appear in his environment. And last but not least, he has a subterranean sense of humor toward women, transgender people, and climate activists.
A little later, under a false name, a person with a Facebook profile that cannot be viewed by the public leaves a comment from the drawer of revivalism in the profile of an acquaintance of the editor who is behind Horst Schlagers fake profile. It denies the Holocaust, denies the existence of concentration camps and gas chambers. Because Horst Schlager – by coincidence – has already established a Facebook friendship with her, which qualifies him to view her profile, the true identity behind this statement is quickly identified. The incident could thus be reported to the police and the person soon has to answer for her statement. She suspects one of her colleagues of having misused employee data for this purpose. In fact, Horst Schlager discovered a posting in her profile that revealed her real name and date of birth.
The business of fear and uncertainty
Where insecurities increase, there are always enterprising people who hope to gain an advantage from the fear of others. In Horst Schlagers bubble, too, you can find appeals for donations, sales campaigns and lectures on many different topics, in addition to extremist ideas. In addition to the mood of an irritated, fearful society, entrance tickets, retreats and relevant seminars obviously also move money.
The fictional character Schlager receives an invitation to give a lecture on CO2. Not necessarily to be expected, given the bubble in which he is now stuck. A physicist gives a lecture entitled "CO2 forever". He is known to be a climate change denier. Both his expertise and his motivation could be challenged. But the fact that he is neither a climate nor an atmospheric scientist, but has worked much more for a semiconductor institute in Moscow and for an aircraft manufacturer, does not seem to be of great importance to his audience.
Uncertainty and fear serve as a unifying element between actors, like this one, and their crowd of followers. In the digital bubbles of social media, many of them have found each other because of their political sentiments. The old farmer from Maria Neustift networks here flux with the pagan metal fan from Berlin. – Perhaps it would have been a difficult friendship in real life; but in the virtual illusory world of their bubble, the two feel very comfortable together.
If you ever come across Horst Schlager on Facebook, just don't follow him. For all of you who now want to make a difference in this world yourself, we've also put together another digital toolbox with cyber tools to combat environmental crime. And soon, we'll also be reporting on the last workshop in this series right here on the Ars Electronica Blog. Just stay tuned!