He had to know everything, question everything, Walter Haupt once said. He composed, conducted and staged. In 1979, he created a spectacular opening of the very first Ars Electronica with the Klangwolke, thus making a major contribution to the success and permanence of what was then a new festival for art, technology and society. On May 17, 2023, Walter Haupt passed away in Munich at the age of 88. We would like to express our deepest sympathy to his family and his many friends around the world.
He actually wanted to become a priest. But somehow he ended up in the world of art. Walter Haupt took acting lessons, studied piano, timpani and percussion, then conducting and composition. No matter which instrument and which role, whether on or off stage, he was always attracted by the new, the different, the experiment. Walter Haupt wanted to take his music and his productions outside, into the urban space, the landscape, and he was always and everywhere looking for new strategies of staging, in order to make art an experience for as many people as possible …
Barely at the Munich State Opera, he founded a soon legendary experimental stage in 1969. Shortly afterwards, he and others launched the "New Dance Festival", and in the course of the 1970s he attracted attention with multivisual musical performances in the open space – not least with his audiovisual "Laser-Light-Environment", which he designed for the opening of the 1972 Olympic Games in Munich.
At the end of the 1970s, Walter Haupt was contacted by a certain Hannes Leopoldseder, who was about to launch a new festival called "Ars Electronica" with the electronic musician Hubert Bognermayr, the music producer Ulli A. Rützel and the cyberneticist and physicist Herbert W. Franke. For Leopoldseder, a journalist and director of ORF Upper Austria, it was clear that his "Festival for Art, Technology and Society" needed a popular twin – something like the "Klangwolken" ("Clouds of Sound") that Walter Haupt had already staged in Weißenstein in 1973 and in downtown Munich in 1987. Soon after, Hannes Leopoldseder and Walter Haupt set about implementing their vision with their characteristic enthusiasm.
"Even before the first "Linzer Klangwolke" with Anton Bruckner's 8th Symphony was performed in 1979, I was fiercely attacked by Bruckner puritans and traditionally ambitious concert-goer circles during the preparatory phase and reaped little goodwill for my efforts. When in the evening the Bruckner Symphony became a listening experience not for 1500 concertgoers as usual, but for 100,000 people in the Donaupark, the ban was over. The "Linzer Klangwolke" became an integral part of the International Bruckner Festival and an important contribution to Ars Electronica, which took place for the first time in the same year." (Walter Haupt: The Expansion of an Idea)
This is how Walter Haupt recalls the invention of the Linzer Klangwolke when he works in 1984 – again together with Hannes Leopoldseder – on the staging of the 6th Linzer Klangwolke, which is once again an experiment: "Numerous technical improvements in the field of loudspeaker development are […] tried out, the synchronous sound center is expanded and the loudspeaker dynamics are amplified to over 60,000 watts. The individual sound towers are used differently and only at the culmination point do all seven sound stations resound."
The 9th Symphony by Ludwig van Beethoven shall be performed. And it is a "very special personal concern of Walter Haupt […] to declare this symphony with its call from Schiller's "Ode to Joy": "All men become brothers" as a demonstration for worldwide peace." For, he wrote further at the time, "At a time when a new wave of rearmament is being initiated in Europe, not only with atomic but also with chemical and conventional weapons, when the U.S. is planning a gigantic rearmament in outer space, when the policy of high armament is at the same time leading to ever greater impoverishment and to intensifying political conflicts in the Third World, when the Soviets are reacting with appropriate countermeasures, we should all stand up for worldwide peace and worldwide disarmament and international understanding."
These are lines that are disturbingly relevant today, almost 40 years later.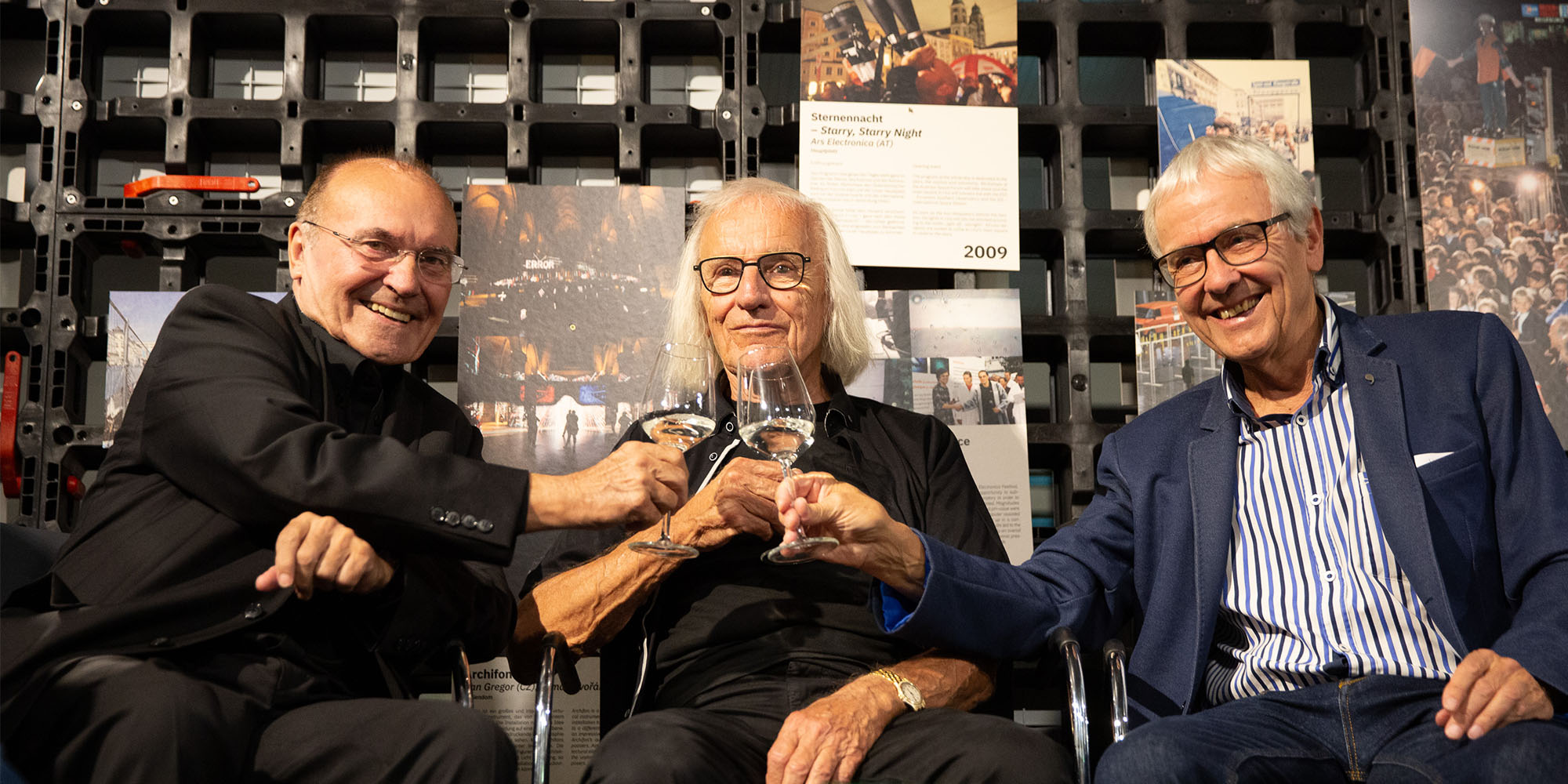 On May 17, 2023, Walter Haupt passed away at the age of 88. His irrepressible curiosity, his openness and willingness to experiment, his efforts to bring art out of its hallowed halls to as many people as possible, and his call for peace will be missed.
"Summer 1979 – one of the many program sessions for the first Ars Electronica. Hannes Leopoldseder was looking for a spectacular OpenAir to open the first festival. It was supposed to attract a broader audience. The young Walter Haupt – composer, musician conductor – was suggested, who had already realized musical performances in open spaces in Munich and Weissenstein using sophisticated sound reinforcement techniques. After a first inspection of the location, the idea of a sound cloud was quickly born: the 8th symphony by Anton Bruckner was to fill the Donaupark. An LP recording was divided into the 4 orchestral groups high and low strings, wood and brass and played together from 4 huge loudspeaker towers. This was accompanied by large-scale laser projections over the Danube as a visual center. 20,000 visitors were expected at best, but 100,000 came. A new Linz landmark had been born and Walter Haupt became an internationally sought-after open-air staging artist. Through his spectacular stagings of the Klangwolke, he had become not only one of the main pillars of Ars Electronica's pioneering years, but also a dear friend. That's what he'll remain in our hearts in the future. Adieu Walter!" (Christine Schöpf)