Golden Nica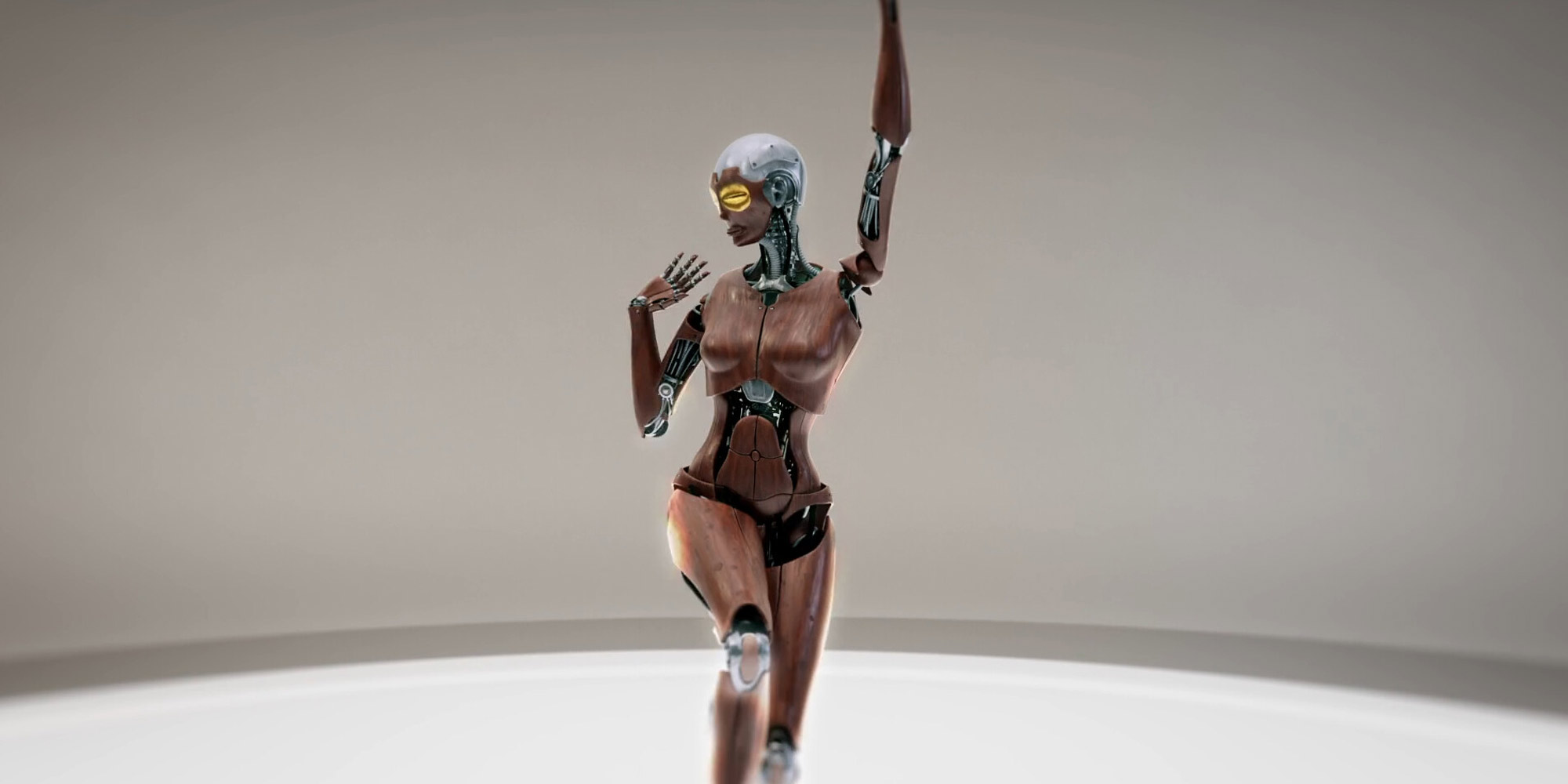 The postcolonial concept of Worlding introduced by Gayatri Spivak in 1985 claims the worlding "power" as that which records and "instructs". It is a cartography of being-in-the world which forces the colonized to embody the domineering framework of oppression. Cultural resistance to these supremacist legitimating norms and ideas flowered during The Harlem Renaissance (1920-1935). This black cultural mecca birthed a distinctly black and Latino LGBTQ+ performance culture where aspects of identity like race, gender, and sexuality were celebrated as fluid and intersecting. Black bodies, safe to move, gliding in forgotten rhythmic ways became en vogue! Marionettes on sacred, hidden strings—like the AI Being (2019-2022) in Rashaad Newsome's monumental, celebratory installation Assembly (2022). Ballroom culture with its embodied lexicon is lionized in workshops, large-scale video-mapping, a collage and sculpture installation, and performance. Newsome's oracular AI Being (2019-2022) unites the disparate parts of Assembly (2022), guiding audience members with their non-gendered voice and linguistic bodily movements. A towering, humanoid, bronze colossus Being (2019-2022) iterates Voguing as a philosophical event of spiritual re-awakening and a political project with the ability to break the orthodox worldview. Rashaad Newsome's dark, hallowed halls are a witness to acts of psycho-geographical poiesis. A deeply thoughtful masterwork of un-worlding.
Awards of Distinction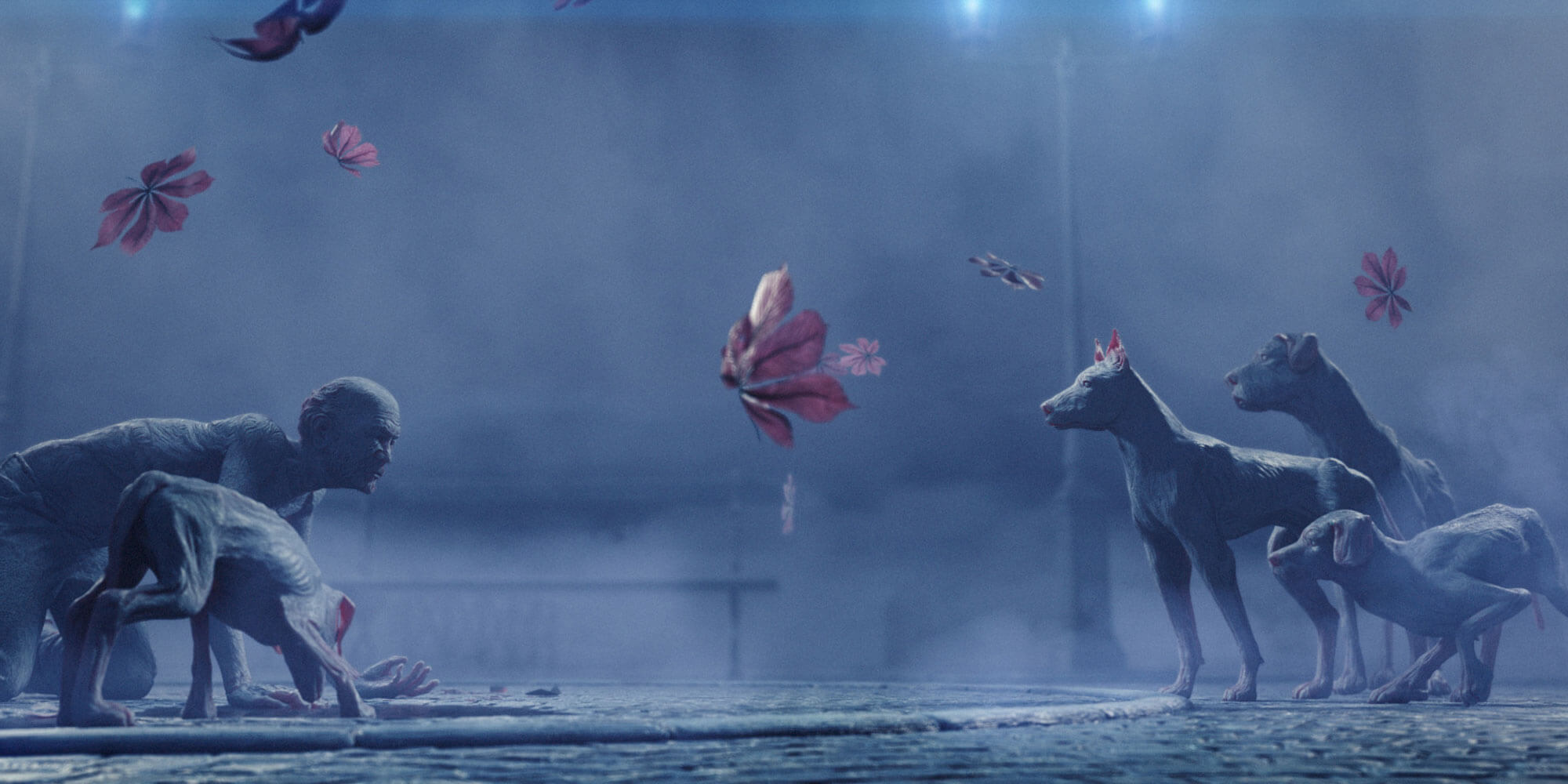 Marc Hericher's spiraling single-shot film is an allegorical tale of one man's socio-political identity eclipsing his immediate human presence. We watch this delicately CG-sculpted figure collapse in a city square—an environment that evokes the type of a bare theatrical set we might find in the staging of a Samuel Beckett play. The protagonist's involuntary action triggers a circus of media attention, selfie ops, and ultimately a televised political debate. As this figure slowly transforms from finely carved flesh into a melting block of ice, we are left with the absurd sensation of something that is missing from the treatment of this man—empathy, care, basic consideration. In a stunning display of technical prowess and stylish aesthetics, this film leaves us pondering the relationship between journalism, politics, and information exchange in a grotesque display of human absence.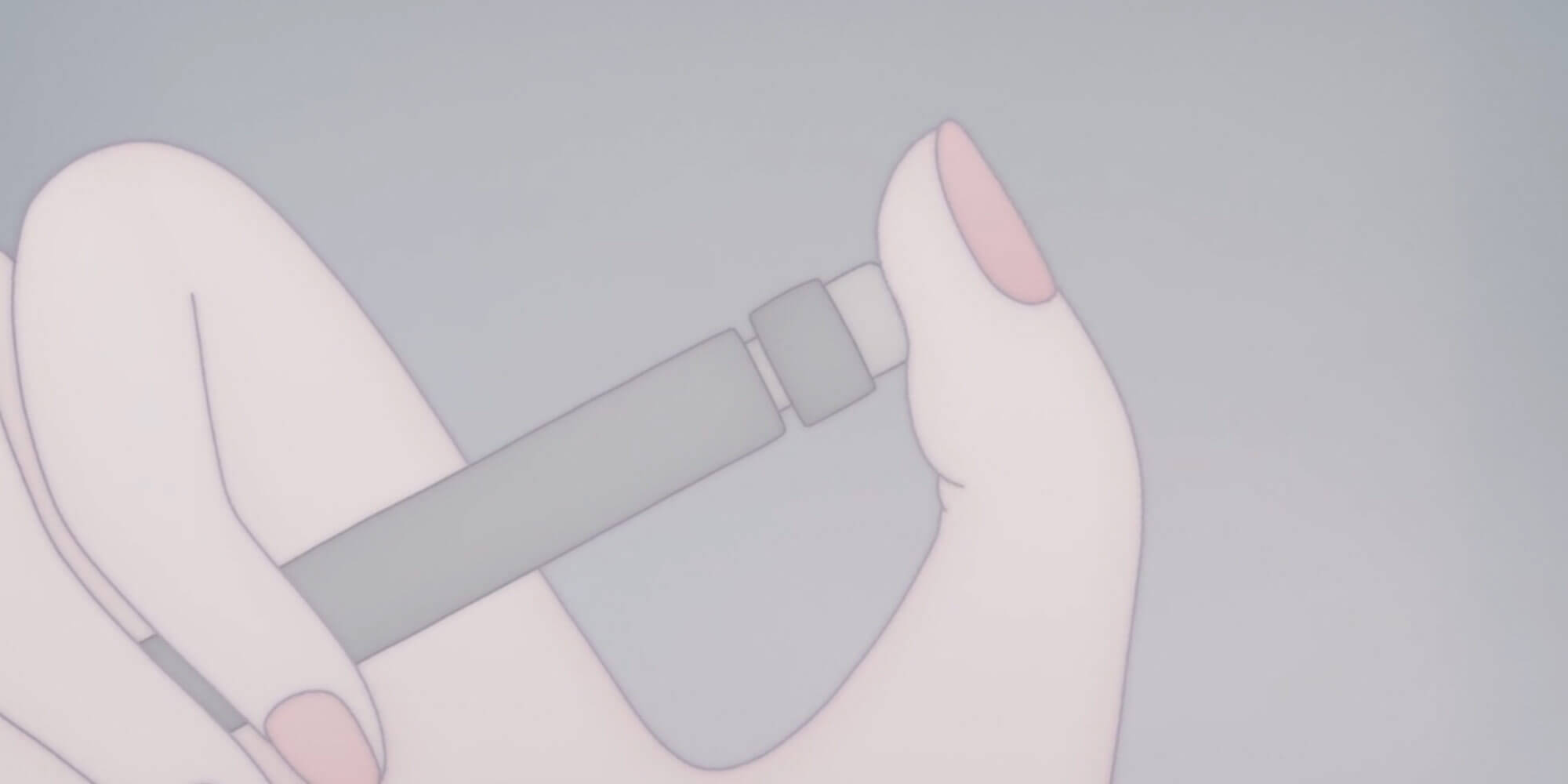 We often talk about the power of images that can manipulate minds but also heal us. To heal us by colors, by a vision of the world passed to the rainbow. An image that speaks to our senses, an image that feels more than intellectualizes and that directly addresses our body, in a body to body relationship through the screen. This is what Yoriko Mizushiri seeks to provoke: empathy through the softness of colors, curves, and geometric shapes that we daily encounter, but also sensations of strangeness, physical discomfort, and anxiety, so that the spectators can feel "viscerally" this tactile and sensuous animation.
Honorary Mentions
Jury Statement
Bodyworks and the Rhythms of Worlding
Isabell Avers, Peter Burr, Daito Manabe, Rebecca Merlic, Helen Starr
Rhythm does not privilege singular ways of being but rather insists, in advance, that collaborative engagement is necessary to who and what we are. As we groove—even if alone—we collaborate with tunes, poetics, and styles, fusing the ostensible disconnect between science (sound vibrations, physiological movements, flesh and blood) and narrative (musical score, lyric, cultural text). Rhythm might be conceptualized as one way to invite collaborative worlding; rhythm lays bare not only emotions and imaginations but also their scientific underpinnings.(1)
As a jury we all come from different backgrounds, continents, and countries. Our different specializations in the fields of computer animation made our discussions and decisions fruitful and unique. While we did not always agree, all jury members felt listened to and included in every step of the transparent and fair decision process.
The many intersecting characteristics and perspectives of the jury supported an unbiased and fair process of choosing the 15 winners of this year's Computer Animation category of Prix Ars Electronica. A few of the topics which caught our eye were of the body, digital skins, embodiment and dreamscapes of transforming bodies. Many artists were also dealing with collective trauma, socio-political themes, and ethics of media surveillance. This concentration on the impact of the pandemic on our digital and analogue selves is clearly visible in this year's competition. And big emotional themes with a strong focus on the human condition were seen in the works. The language of classic computer animation delivered many transportive artworks. However, the increasingly sophisticated use of Game Engine, Virtual Realities, and GAN (generative adversarial network) technologies prominent among this year's artists heralded a seismic change for the (art) world of moving images. This increased interactivity and innovation produced artistic experiences that were immersive and embodied. Making viewers aware that what they are seeing they are also participating in, is a great way to engage wider audiences to tackle the most important issues of our time. Crucial issues, both political and personal but perhaps overshadowed by the pandemic, were brought bodily into focus with this year's artworks.
The uptake of GAN applications, (a class of machine learning frameworks), for artistic expression has been trending in the last year or so. A significant number of submissions trialed various methods of inputting data to try to control the output of the AI. Game Engines were also used to produce interactive art games and other forms of animation works. Video games have undoubtedly become the most widespread form of entertainment, and their impact on representational stereotypes is huge.
The game engine as a "mother" is a safe platform for multiple different artworks for this year's Computer Animation category. What defines a computer animation work? If it consists of a multitude of ways for the spectator/user to experience? The path of animation work can be predefined in the traditional way, but what we experienced in this year's jury when we played the games was that the artists opened seemingly endless possibilities to experience their works. We as a jury experienced VR works with our bodies with VR headsets in categories such as health games, worldbuilding, animations, and narrational art pieces.
We felt honored to be able to experience all the amazing entries and especially the co-creative inclusive project by Rashaad Newsome, this year's Golden Nica winner. This project went beyond a singular artwork and builds strong ties with human bodies through our relationship with a machine. An AI, like us, moving between teacher and the human spectator, always in transition and learning and with the ability to fail. A computer-generated metastructure individual named BEING, trained by the vogueing community in the language of Vogue, helps you to heal from invisible wounds.
These artworks diversify the modes of representation and the politics of people from across the world. They offer a greater diversity of narratives, of heroic epics, and they open us up to other fantasy worlds. To occupy the virtual space, it is interesting to mix ancestral knowledge with the digital because the virtual allows different layers of realities and modalities of presence. Ron Eglash, in his text on the positive perception of race in design, shows that beyond denouncing the sexist, racist, ageist etc. biases that exist in artificial intelligence and on the Internet, we need to decolonize the algorithms by appealing to ancestral knowledge and pre-humanist modes of visual representation in order to derive mathematical formulas that are also used in cybernetics.
These chosen artworks suggest ways to turn to the visual, spiritual, and mathematical representations of the ancestral world in order to remove the biases of our understanding of the present and world-build a better planet for the future. Planet B.

1 McKittrick, Katherine, O'Shaughnessy, Frances H., Witaszek, Kendall (2018). Rhythm, or On Sylvia Wynter's Science of the Word, Johns Hopkins University Press

The Golden Nicas of "Computer Animation" since 1987