Multitouch table for the Climate and Energy Fund

Ars Electronica Solutions are working intensively to bring strategies of sustainable improvements for the future issues of climate, energy, society and mobility out into the world. With our eyes wide open, we're on the lookout for examples that can be emulated, especially when they happen right on our doorstep.
Interwoven into the "There is no Planet B" exhibition at the Ars Electronica Center, projects from the Climate and Energy Fund's showcase regions can be experienced interactively at the multi-touch table, which is always kept up to date.
Here, users have the opportunity to find out about successful projects in Austria and to exchange ideas on the spot. Meaningful images and videos provide an in-depth look at the implementation of current concepts. A map of Austria additionally locates the undertakings. The aim is to use these best-practice examples to motivate visitors to think about innovative solutions for a sustainable energy strategy in Austria and to call for them.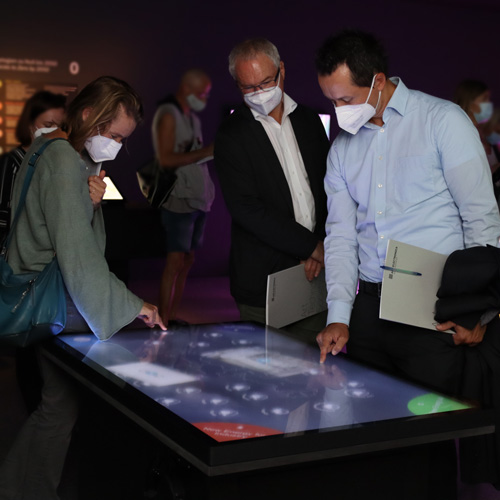 The Climate and Energy Fund says: "With the "Energy Showcase Region", the Climate and Energy Fund launched a superlative innovation initiative in 2017. The stated goal is to develop and apply internationally competitive and innovative energy technologies in Austria in order to export them around the world."
Project Credits:
Ars Electronica Solutions: Manuela Gruber, MyTrinh Müller-Gardiner, Patrick Müller
Ars Electronica Center: Veronika Krenn, Alexander Wöran, Dietmar Peter
Extern:
Garamantis
Foto Credits:
My Trinh Müller-Gardiner