Founded in 2008, the Speculum Artium Festival is an annual project in the field of new media art and contemporary techno culture that takes place in the industrial city of Trbovlje.
"The festival deals with topics such as information technology, robotics, biomechanics and virtual reality and tries to act as a mediator between art, technology and society.
Ars Electronica Solutions was on site with the installation "Inside – Outside ML 1.0″."
In cooperation with Ars Electronica Solutions and the Ars Electronica Center, Erika Mondria presented a fascinating opportunity to take a look inside one's own body. The retina is the point of the eye where the light of the outside world is transformed into images of our inner world of vision. The retina is thus a kind of outpost of our brain – because wherever we direct our eyes, that's where our attention is directed.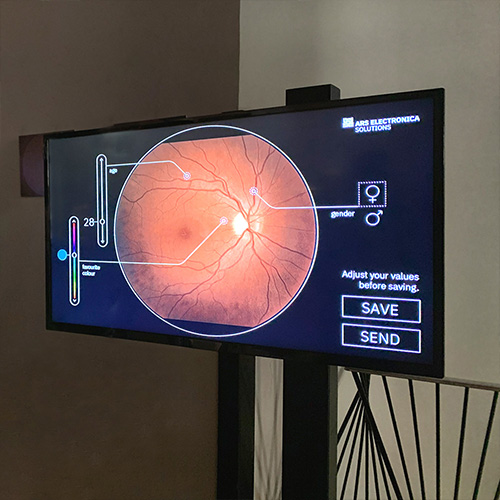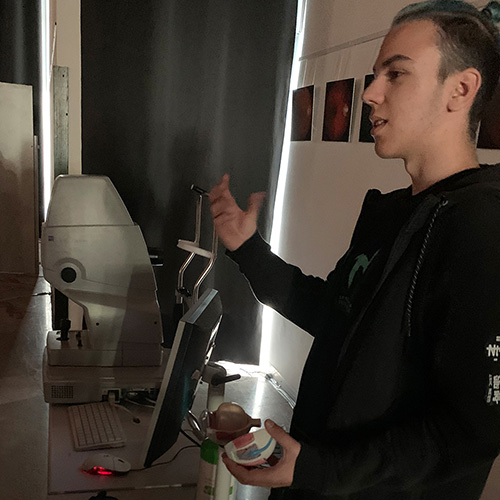 "Inside – Outside ML 1.0" uses a Visucam to create images of the retina and sends the data obtained to a Machine Learning System, which analyses and calculates three values: Age, gender and favourite colour – sometimes very close to the true values of the visitors, sometimes not quite so accurate. But what happens next? Could artificial intelligence also use such analyses for forecasting the future? Predict or calculate professional career, age, gender, preferences, convictions or choice of partner?

PROJECT CREDITS
Team Solutions: Michael Mondria, Stefan Dorn
Künstlerin&Forscherin: Erika Mondria
Team Extern: Peak Impact, Florian Cossee, Klaus Dieterstorfer, Garamantis