The Future is part of the past.

In the museum of the ZEISS technology group in Oberkochen, visitors can view 1,000 exciting, often unique exhibits on 1,000 square meters. In ten themed areas, visitors can learn interesting, informative and unexpected facts about the development history of product and technology areas that are important to ZEISS.
Ars Electronica Solutions has now supplemented the ZEISS Museum of Optics with two interactive media installations devoted to the past, present and future of ZEISS.
An interactive milestone wall allows a personal and self-determined time travel through the history of innovation at ZEISS:
A slide presenter, which is a movable touchscreen, animates the analog timeline behind it and makes it possible to experience it via the screen. A position-related evaluation allows the respective milestones to be stored and animated with additional interactive information that can be called up. The information can be updated and changed at any time via a CMS, so that further milestones in the history of ZEISS can be added in the future.
A huge wall of 28 synchronized Seamless Displaysuses a passive interaction model to convey the metaphorically depicted far-sightedness of ZEISS and its multi-layered perspectives on the technological and social developments that can be expected.
This ZEISS Seeing beyond wall reflects 175 years of history and visions of the company into a view of the future. On the one hand, it becomes a mirror of the museum space in front of it and, on the other, a window into the future. It presents a visualization that can be interpreted in many different ways, but obviously draws its inspiration and formal language from the creative circle of ZEISS. At the center of a constantly changing system of orbits (and bytes) is a stylized iris that focuses on the most important megatrends for ZEISS, depending on user interaction. A thematic multiverse opens up that constantly shifts between microcosm and macrocosm. Whether it's a planetary system, a lens system, or the data streams of a chip circuit board, it's ultimately up to the viewer to decide – in keeping with the motto "Seeing beyond"!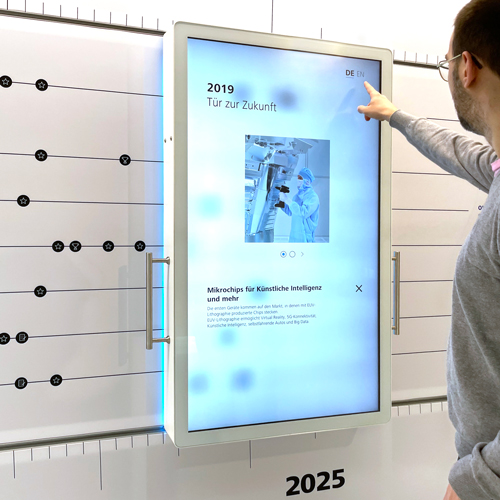 Project Credits:
Team:
Michaela Fragner, Chris Bruckmayr, Markus Wipplinger, Stefan Dorn, My Trinh Müller-Gardiner, Stepha Farkashazy, Patrick Müller, Dominik Trichlin, Andreas Pramböck, Otto Naderer
Extern:
Garamantis, Max Sondermayer GmbH, BONMOT
Foto Credits:
ZEISS, Michaela Fragner