Conceived as a participatory research process in the southwest of Colombia, the films gathered here, Cartographies of the Unseen meander through a vertical landscape shaped by territorial conflicts and resistance in the region between the Andes and the Amazon. The project includes films produced in collaboration with Ñambi Rimai, an Indigenous Media Collective established in 2019 with members of the Awá, Inga, Kamnesta, Quillasinga, and Siona nations.
Together, the artists have traversed altitudinal zones across a fiercely contested territory near the Ecuadorian border, guided by the upward movements of water from the forest to the mountain. For centuries this area has been the epicenter of ecological and epistemic violence against land, rivers, clouds, and all kinds of living forest beings. So these works are two-fold: they invite the viewer to join a filmic journey across vertical layers of the territory, while documenting an ongoing biocultural peace-building process sustained by indigenous spirituality and governance.
Credits
Support from: Fachausschuss Film und Medienkunst Basel and PROHELVETIA – COINCIDENCIA, Colombian Ministry of Culture. Thanks to: AWAI Territorial Agency, The Putumayo River, Sumak Kawsay Foundation, Kustruktur and Camilo Pachón (AMA).
This project is presented in the context of the More-than-Planet project co-funded by the Creative Europe Programme of the European Union.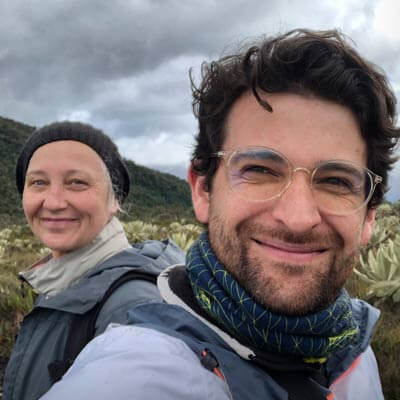 Felipe Castelblanco (CO)
Felipe Castelblanco was born in Bogotá in 1985. He is a multidisciplinary artist living in Basel, holds an MFA from Carnegie Mellon University, Pittsburgh USA, and earned a PhD at the University of the Arts, Linz, AT in cooperation with the Academy of Art and Design Basel, FHNW CH.
Lydia Zimmermann (CH)
Lydia Zimmermann was born in Barcelona in 1966. She is a filmmaker and artist living between Barcelona and Zurich. Lydia studied at the Victorian College of the Arts, Melbourne, AU, and holds an MA in Transdisciplinary Arts from University of the Arts, Zurich.