I want to delete it all, but not now is an unsolvable escape game that challenges our personal motives for escaping the data industry. Apps, platforms and social media have become an essential part of our daily lives. The downside is that our online behavior is continuously being registered and resold and we have basically no idea what we are giving permission for. We all have thought about going offline or exploring alternatives, but that has not led to any action so far. What is holding us back?
The installation is based on an escape room, a popular game form where you and your friends lock yourselves up in a game room and find the exit by solving puzzles. Roos chose to disrupt the typical elements of an escape room. The familiar door – through which you eventually must escape – is no longer there. The linearity is also gone. Instead, the puzzles continuously loop, rendering it impossible to finish the game. The room blurs with the real world. How can you still escape? And from what?
Credits
With contributions from: Geert Lovink, Cyanne van den Houten, Derk Over, Isa van Weert, Remco Akkerman und Ruben Baart.
Commissioned by Tetem (Enschede, NL).
Presented with the kind support of Creative Industries Fund NL.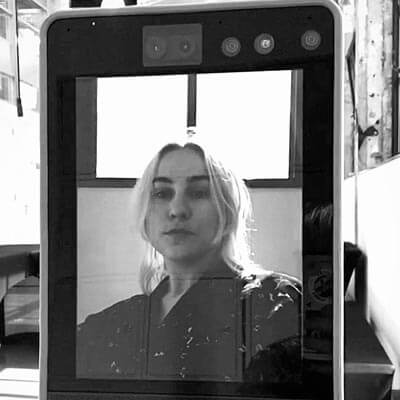 Roos Groothuizen (NL)
Roos Groothuizen is a media artist who fights for digital human rights. Through her individual practice and with the artists' collective Telemagic, she explores the human aspect of invisible algorithms, information filters and unfair distribution. By incorporating game elements into her work, she encourages the audience to actively engage and assume roles within these themes. In previous works, she provoked thoughts with casinos, whodunnits, oracles and drinking games.