The artist's room in Bahareque
This piece is a fabric of the survival of the artist's working-class family, an open and essential dialogue through time fueled by the observation of the sky in their daily tasks; the sky as a reference in the construction of them as social individuals in their individual myths. The universe contained in the artist's room indicates consciousness as a memory where the point of origin is in the white slipper located on the central wall of the work from which a constellation of objects with history emerges as a collective, infinite calendar.
The artist's room in Bahareque is a tribute, an objective portrait of the artist's family treated with glazes and transparencies of mud and dust that somehow represents millions of Colombian people and particularly indigenous people forcibly displaced from their homelands. The technique used for this work is an installation-intervention made with paper, wood, metal, bone, plastic and various objects. The artist's room in Bahareque is built in a walkable space of 3 x 3 x 3 meters and once inside, on each of the walls, the public will be able to observe dozens of metal mesh boxes containing various objects collected by the artist.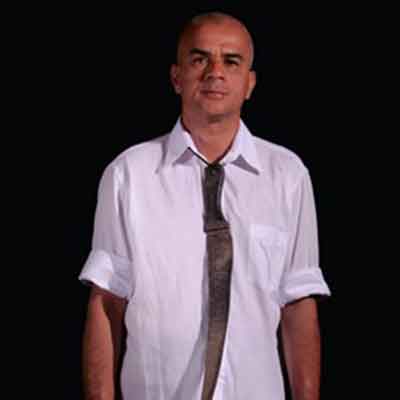 Rosemberg Sandoval (CO)
Born in 1959 in Cartago-Valle, Colombia, he studied at the School of Fine Arts in Cali and at the Universidad del Valle where he worked as a teacher in the Department of Visual Arts of the Faculty of Integrated Arts from 1995 to February 2016. He has exhibited since 1981 in important museums and cultural centers in Germany, Mexico, Argentina, Brazil, Venezuela, Ecuador, Spain, Switzerland, Italy, the Czech Republic, Canada, Uruguay, France and Colombia. His work can be found in private collections, such as the Museum of Modern Art in New York (MOMA), Daros in Zurich, Prometheus in Italy and modern art museums in our country (Colombia), such as: El MAMBO in Bogotá, Museo de Antioquia in Medellín, La Tertulia in Cali, MAM in Cartagena and Barranquilla and in galleries, such as Casas Riegner in Bogotá.