Due to the inability of politician Keiko Fujimori to tell the truth, I trained an AI voice to do so. It was 2021, and she was running for president for the third time. But where is the truth? Does it exist? In 2002, the Truth and Reconciliation Commission (CVR) collected public hearings from armed conflict in Peru. These have been available on CDI-LUM's YouTube channel to encourage reflection and memory since 2016. There, I found Liz Rojas Valdez denouncing her mother's disappearance as a victim of state terrorism in 1991. The desire to honor a person's pain took hold of me.
This audiovisual installation is a dialogue of times in which the truth is finally acknowledged, but what is said was written from my visceral response to the visualization of Liz's video testimony. A guerrilla AI was configured. I am hopeful that perhaps this impossible confrontation will bring some restitution. Pain does not prescribe. Truth exists, even if it is artificial, and in the learning process.
Credits
Original idea. Viewing Keiko Fujimori's speeches. Audio and transcript cleaning: Cecilia Vilca.
AI training was performed by Cecilia Vilca using a TensorFlow Implementation of DC-TTS by Kyubyong Park.
The video testimony by Liz Rojas Valdez was broadcast live and recorded on public television (Peru, 2002). Today it is available for viewing on CDI-LUM's YouTube channel.
This project is presented in the context of the More-than-Planet project co-funded by the Creative Europe Programme of the European Union.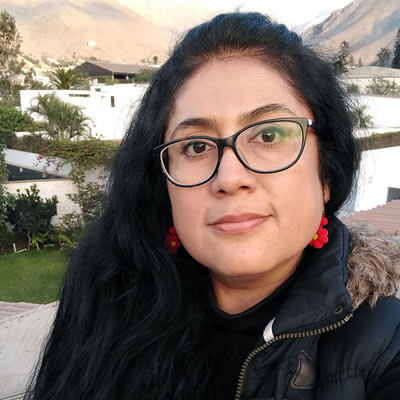 Cecilia Vilca (PE)
Peruvian transartist, feminist chola techno-witch and language activist. M.A. Digital Arts, UPF, BCN. Her projects are born from her personal crusades and are therefore micropolitical flesh. From a decolonizing vision, she exercises her epistemological rebellion using technology as a tool and object of reflection. Founding member of the creative division of MyAP, Electron Microscopy Lab. ISEA2020 Montreal and ISEA2023 Paris IPC Member. TTT2023 Malta Scientific & Artistic Committee member.