SPEKTR Z – Sensor Polygon for Electromagnetism, Communication, Technology, Research and Sensing is a hybrid mobile laboratory which started operating in July 2022, during the devastating fires in the Karst region, the largest natural fire in Slovenia's recent history. The laboratory is of a hybrid nature, consisting of modules and equipment for remote sensing, reception and processing systems for sensor data. Also, a special department of the laboratory is devoted to public presentations of activities and cooperation with tactical media workers, artists, creative and high-tech industry, research as well as state institutions.
Oculos Super Ignes Vigilantes Volavimus uses the Common Data Processing and Display Unit (CDPDU), a data display and processing architecture built to open hardware and software standards, developed within the Arctic Perspective Initiative.
The work presents various layers of data gathered within the laboratory's operation during fires in the Karst region and allows the visitors to freely navigate through and manipulate these layers of data.
Credits
Production: Projekt Atol Institute within the konS ≡ Platform for Contemporary Investigative Art Partners 2022: C-ASTRAL, Institute for Forest Management of Slovenia, Slovenian Armed Forces, GOZDIS – Forestry Institute of Slovenia IOS – Institute for Ecology and Sensors, Civil Defense Corps of Slovenia, Triglav National Park, Center of Excellence SPACE-SI, ZRC SAZU – Remote sensing section
Phase 1 of the project was conducted by the SPEKTR Z collaborators: Matej Bone, Dr. Urša Kanjir, Boštjan Košiček, Matej Kravanja, Dr. Martin Lamut, Dr. Aleksandra Lobnik, Bogdan Magajna, Miha Mayer, Jernej Moderc, Dr. Leon Pavlovič, Marko Peljhan, Dr. Tomaž Rodič, Dr. Mitja Skudnik, Samo Stopar, Ana Urbas, Uroš Veber as well as multiple members of the 1st and 72nd Brigade of the Slovenian Armed Forces and 15th Air Force Squadron including members of the 154th JTAC company and 107th Air base communications and air traffic control group.) Production of the work is supported by the Republic of Slovenia (MK) and Republic & the European Regional Development Fund of the EU
Special support: C-ASTRAL
This project is presented in the context of the More-than-Planet project co-funded by the Creative Europe Programme of the European Union.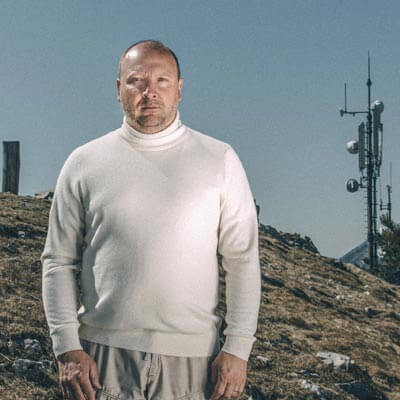 Spektr Z (SI)
SPEKTR Z (Sensor Polygon for Electromagnetism, Communication, Technology, Research and Sensing) is a polygon for research art initiated by conceptual artist and researcher Marko Peljhan, a recipient of numerous awards for his work, including the UNESCO digital media award, and the first award of the Prešern fund for intermedia arts in Slovenia. In 2001 he received the Golden Nica at Prix Ars Electronica with Carsten Nicolai for their collaborative work Polar, and was the Ars Electronica featured artist in 2007. In 2019 he represented Slovenia at the 57th Venice Biennale. His program ISOLABS was selected as one of the multi-year events within the Cultural Capital of Europe GO2025 Nova Gorica-Gorizia program. He was also one of the instrumental actors for the creation and launch of the first Slovenian microsatellite NEMO-HD, which was launched in space on an Ariane Vega launcher in 2020. In the radio spectrum he operates as S54MX.