This project seeks to create a parallelism between prisons, due to the nature of these places as a space of high social contrast, and the symptomatology of the "free" society (outside prisons).
My ten-year experience in a prison for bank robbery allowed me to see and be part of the affiliation process in the prison, and the eventual loss of the image and jurisprudence of your own body, which becomes the intellectual property of the justice system.
Outside of prisons, society has compacted, the methods are much more subtle, the walls are conceptual, ideological, religious: a simple yellow line is already a bi-dimensional wall able to socially redesign.
Always more subtle, technology and its sensors around society have transformed human beings into simple, quantifiable data, such as temperature. We are in anyway, although still free, stripped of our own image.
Creativity inside of prisons has always been a topic of life and death, a necessity for those stripped of freedom, to break with the architectural limitations that have been designed to limit the human beings that live in them. It allows them to find ways to re-signify their own bodies to establish new ways of communication when silence is a punishment. Simple but strong ways to affect their environment and even the physical laws that keep them away from the rest.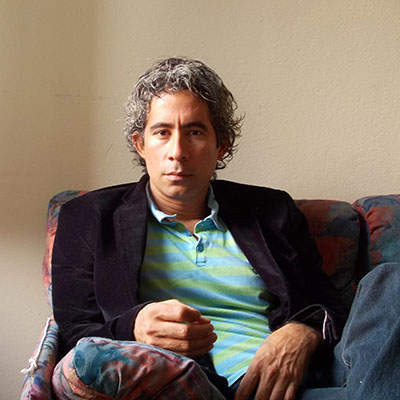 Jhafis Quintero Gonzalez (PA)
Jhafis Quintero (Panama, 1973) lives and works in Europe as a sculptor and writer. Jhafis Quintero began his career as an artist while serving ten years in prison in Costa Rica, at the hands of the artist Haru Wells, who was determined to demonstrate that art is an effective substitute for crime. His prison experience plays a prominent role in his work, with a unique perception of the passage of time and its implications for a body immersed in that particular time frame, and a constant reflection on death that slides over the life of those interned. His artistic practice arises from his personal experiences in the prison world, silence, insecurity, but also imagination and creativity aimed at finding a means of survival. He has had personal and group exhibitions in museums in New York, Texas, Madrid, London, Barcelona, Istanbul, Brazil, Argentina and Tasmania, among other places, and his work is part of private collections, such as Daros (Switzerland), Cisneros and the Centre national des arts plastiques Paris. He is the author of Máximas de seguridad, Los dueños del mundo and La Casa de los Geckos.