Inspirational Prototype of Precision Garden as a Possible Scenario for Sustainable Food Production
StellaVerde is a vertical garden arrangement, in which a functional connection between animals, plants and robots allows plants and animals (in this case fish) to use robots according to their needs. The project accumulates several conceptual vectors addressing future food production, one of them being CARE via PLANT-MACHINE intercognition and interaction, which is tied to a better understanding of plants and animals inhabiting the established circular ecosystem.
With the implementation of a comprehensive and constantly upgraded array of sensors for soil moisture, temperature, light, humidity, gasses in the ecosystem and individual plants and fish tanks, we are able to provide radical care to plants growing in radical conditions, according to their specific individual needs. The machine, in this case a five-legged spiderbot and custom-developed computer code for its locomotion, and an algorithm for the plants' well-being, interprets the data and translates it into a watering rout(in)e for the spiderbot.
Credits
Authors: Gregor Krpič and Simon Gmajner
Scientific collaborators: Dr. Jan Babič, Dr. Marko Jamšek, Gal Sajko (Jožef Stefan Institute)
Technical solutions: Uroš Mehle, Marsel Osmanagić, Andraž Tarman, Luka Žagar, Martin Konič, Jure Sajovic
Hands-on assistance: Nastja Ambrožič, Eva Debevc
Producer: Lea Lipnik
Innovation catalyst: Jurij Krpan, Kersnikova
The project development was supported by the European Commission – DG Connect, S+T+ARTS Regional Centers initiative.
The prototype solution was supported by the konS project, co-financed by the Republic of Slovenia and the European Regional Development Fund of the European Union.
This project is presented in the context of the More-than-Planet project co-funded by the Creative Europe Programme of the European Union.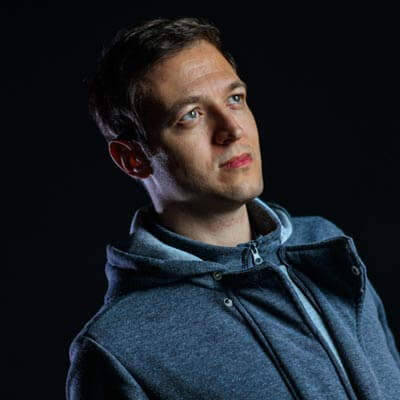 Simon Gmajner (SI)
Simon Gmajner has been working in the cultural field for the past 15 years, mostly as a project developer and producer at Kersnikova Institute. He develops and manages international projects in the field of contemporary investigative art, more specifically in hybrid arts, facilitating national and international transdisciplinary collaborations between art, technology and science. His interests lie in the field of artistic investigation of living systems, and the ethics connected to working with life systems in an artistic context, which he implements in his role as the coordinator of Vivarium (Laboratory for Plants, Animals and Robots) at the Kersnikova Institute.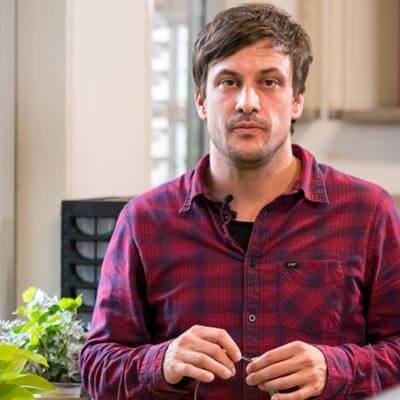 Gregor Krpič (SI)
Gregor Krpič studied Electronics at the Faculty of Electrical Engineering, University of Ljubljana. His interests in art, music and designing (audio) electronic devices led him to the field of intermedia art. Since 2018, he has been actively participating in various contemporary art research projects with artists such as Mojca Založnik (Boundary Indeterminacy, Kapelica Gallery, 2019), Staš Vrenko (Separate Values, Eighth / for, 2021), Špela Petrič (Pl'AI, Kapelica Gallery, 2020), Zoran Srdić Janežič (Biobot, Kapelica Gallery, 2021), Brane Zorman (Duh Dreves | Touch, Zone, 2021), Tanja Vujinović (MetaVrt Sfera2, 2019), Januš Aleš Luznar (IctusCordis, 2019), … of which perhaps his most resounding co-authored work is Boundary Uncertainty.