Digital Musics & Sound Art
Honorary Mention
Archives have always been framed in a guise that promotes a Western perspective of representations of the Other, a modernity in which the institutions and museums frame these archives and collections. These ways of representing the artifacts, tangible or intangible, problematize the mode in which the knowledge or histories of the peoples are communicated. Most African traditions are passed through apprenticeship and other oral traditions, usually put out of context and reconfigured in a Eurocentric dimension. Written sources in the West are deemed ontologically concrete and immune to individual distortion, whereas oral sources seem nebulous and subjectively constituted.(…)
Temporary Stored is a repatriation project which questions the significance of sound archives in museums. Using selected sounds from an archive from the Sound Archive of Royal Museum of Central Africa, a fixed media piece is developed, re-contextualizing what the archived sounds reveal about the cultural heritage of countries in East and Central Africa. The piece focuses on narratives through different sounds from the archive, field recordings, and synthesizers, reconfiguring ways of thinking sonically through recorded pasts and (futures).
Jury Statement
Temporary Stored is an important outcry and in what better medium than within sound? The Great Star of Africa diamond, the world's largest diamond, was stolen*) in South Africa in 1905. Most recently, May 2023, the diamond, set in the Sovereign's Sceptre, was pompously paraded around during the coronation of King Charles III. The normalization of the admiration and consumption of stolen*) artefacts from former colonies is a deeply recurrent European issue. Temporary Stored is nonetheless not a rehashing of European colonial violence—this piece rather uses sound as a conjuring of specters of oral and cultural histories of Central and Eastern Africa. Its haunting sounds are reminiscent of old orientalist views of an 'other' as an evil, whilst at the same time carrying a stark ironic contrast that sounds are in fact manifestations of ever living sources of knowledge. This sculpture is not an object for European consumption. It is a deeply political task of excavation—this time being carried out by those to whom this (hi)story rightfully belongs.

Auszug aus dem Jury Statement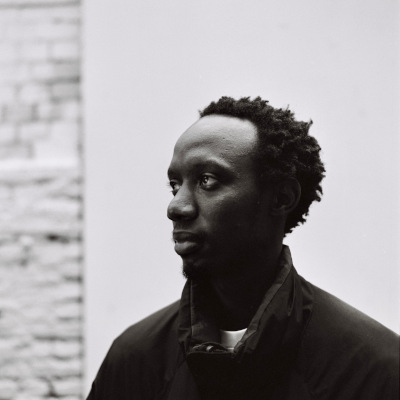 Joseph Kamaru (KE)
For Joseph Kamaru (KMRU) a Nairobi-born Berlin-based sound artist, sound is a sensorial medium through which social, material and conceptual interpretations are manifested in his works. KMRU carries with him a repository of listening experiences from Nairobi and beyond, expanding his sonic practices, bringing an awareness of surroundings through creative compositions, installations, and performances. He has earned international acclaim from his performances and releases at the Barbican, Berlin Atonal, Présences électronique, and releases on Editions Mego, Subtext, Seil Records. KMRU has carved out a serious and definitive space on the list of essential authors in ambient experimental music and is one of the most prolific and innovative artists in his field.